D5243, 5243, 25093
25093 - twenty eight transfers in eighteen years!!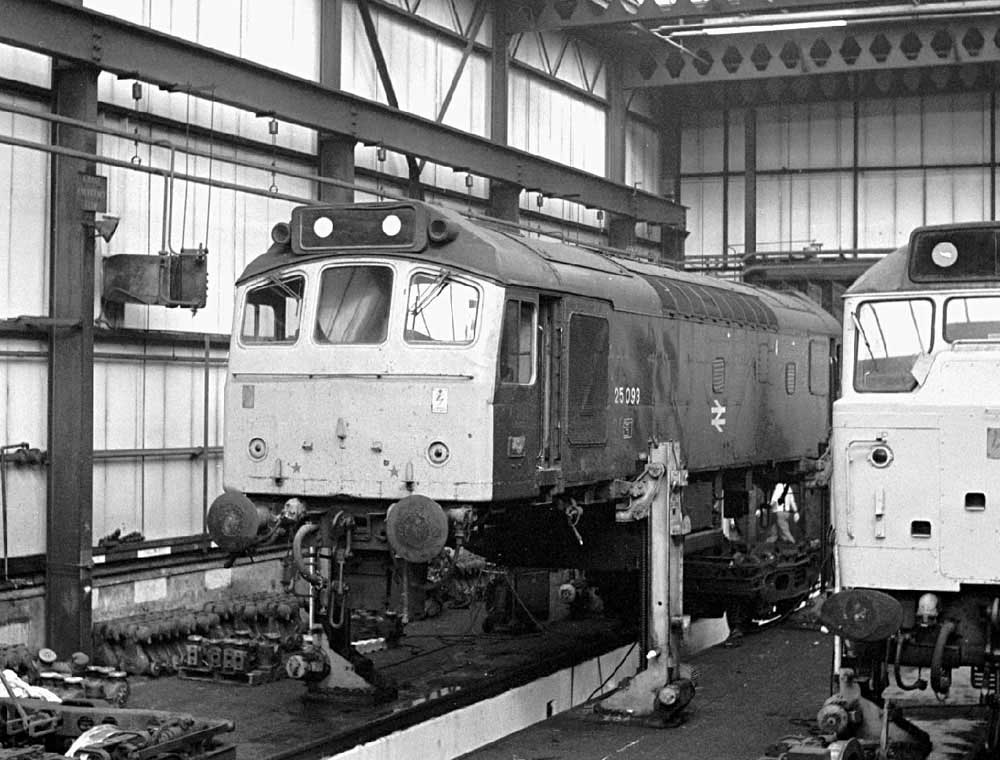 Photograph courtesy Tony Sayer
25093 is lifted clear of its bogies at Toton on September 18th 1982. 25093 has about seven weeks left in service.
With a multitude of transfers in its eighteen year ten month career D5243/25093 was one of the most transferred Class 25s, with allocations to London Midland, Southern, Scottish and Western Region depots.
Built: BR Derby Locomotive Works.
Time between last Classified repair and withdrawal: ?? months.
Time between withdrawal & scrapping: 64 months.
Allocations
D5243 was new to Toton (16A) on January 8th 1964. Further transfers were:
September 1964 to Southern Region.
December 1964 to Toton (16A).
January 1965 to London Division Midland Lines LMML.
April 1965 to Saltley (2E).
April 1966 to Birmingham Division (D02).
April 1966 to London Midland Midland Lines LMML.
August 1966 to London Division (Midland) (D14) on loan.
November 1966 to Nottingham Division (D16).
March 1967 to London Midland Western Lines LMWL.
March 1967 to London Midland Midland Lines LMML.
June 1968 to Nottingham Division (D16).
May 1973 to Toton.
February 1974 to Eastfield.
February 1974 to Haymarket.
October 1974 to Springs Branch.
February 1975 to Toton.
February 1975 to Longsight.
May 1975 to Bristol.
August 1975 to Laira.
October 1975 to Haymarket.
November 1975 to Inverness.
May 1976 to Eastfield.
July 1976 to Inverness.
July 1976 to Eastfield.
November 1978 to Crewe.
March 1980 to Toton.
July 1980 to Cricklewood.
November 1980 to Toton.
April 1981 to Cricklewood.
November 1981 to Bescot.
Withdrawn November 11th 1982.
Renumbered April 1974.
25093 was the 143rd Class 25 to be withdrawn, one of twelve Class 25s retired during November 1982.
After withdrawal 25093 was stored at Bescot until February 3rd 1983 when it moved to Derby Works with 25248. It remained at Derby until July 23rd 1985 when 25093, 25105/164, 25234/248/260, 25312/319 ran as the 9X12 17.05 Derby Works - Swindon Works hauled by 45060.
Whilst at Derby Works it was noted that the builder's plate attached to the No.1 cab had been heavily damaged in attempts to remove it.
Despite 25093 being dragged down to Swindon Works for scrapping, events overtook this action with the Works closing and clearance of the scrap locomotives being consigned to Vic Berry of Leicester. The locomotives were removed by rail to their Leicester facility, possibly due to the presence of asbestos within some of the locomotive carcasses. Thus on June 3rd 1987 25093, 25126/134/161/164/180/193, 25207/208/260, 25306/327 were moved from Swindon Work to Cocklebury Yard. Later that day 25093, 25180/193 & 25306 were towed from Cocklebury Yard to Vic Berry's, Leicester arriving the next day (June 4th).
25093 was added to the stack during October 1987, but by the first week of March 1988 25093 had been scrapped.
Works Visits
Works visits (records incomplete).
Noted Derby Works December 1970.
Visited Glasgow Works sometime between October 1975 - November 1978 for a Classified repair (maybe 1st quarter 1976).
Noted Derby Works November 1979 (N4 repairs).
Highlights
1964
D5243 was constructed at Derby Works during the last quarter of 1963, being delivered to Toton (16A) during January 1964.
On January 3rd D5243 made its Works test run to Corby.
The Southern Region experienced a number of problems with some of their electric locomotives, with many temporarily sidelined awaiting attention. This created a shortage of locomotives leading to D5240 - D5245 & D5247 moving to Hither Green (73C) during September. Despite this somewhat unusual transfer there are no reports of how the locomotives were used or any photographs of them during their brief stay south of the Thames. D5243 returned to Toton (16A) in November.
1965
D5243 spent some time at Saltley (2E), providing adventures in the Birmingham area, including Birmingham New Street - Gloucester passenger workings, at least as far as Worcester where a Western Region steam locomotive took over, so noted on May 15th was D5243 giving way to Hall Class No. 5971.
The increasing fleet of Brush Type 4's were now frequent visitors on the passenger workings out of St Pancras. This did not stop the Type 2s continuing to blaze a trail over this route on July 23rd D7553 & D5243 covered the 12.12 Sheffield - St Pancras.
1968
Condition June: two-tone green livery with full yellow cabfronts, straight sided sandboxes, three rung bogie mounted footsteps, no blanking plates, hand/footholds present, engine exhaust in original position.
1970
On June 27th & July 4th 5243 was noted on the Midlands services to Yarmouth, jointly with 5242 on July 4th.
1971
On June 17th the 07.10 Peterborough - Cambridge was worked by 5243.
1973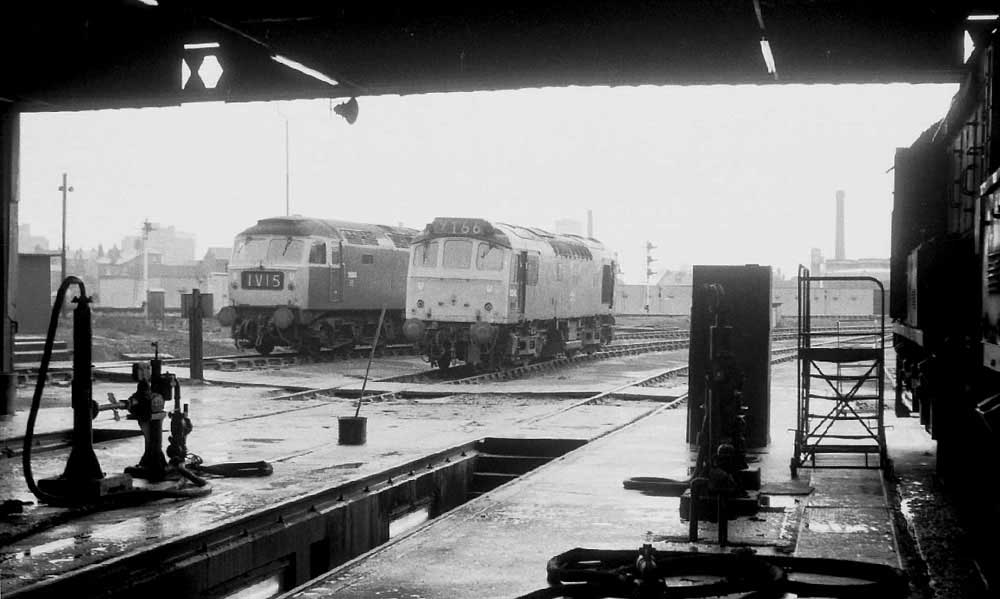 Photograph courtesy Tony Sayer
A damp day at Saltley on April 23rd 1973 finds 5243 and a Brush Type 4 sitting outside the fuelling shed.
The Derby - Norwich - Yarmouth - Norwich - Walsall diagram was worked by 5243 & 5251 on July 14th.
1974
5243's first allocation to the Scottish Region was brief, between February 1974 & October 1974, spending time at Eastfield & Haymarket depots.
1975
The 1975 transfers for 25090 - 25094 present a very mixed situation as detailed below:
February - 25093 & 25094 moved to Toton, by month end both are at Longsight.
March - 25094 moves to Springs Branch.
May - 25093 & 25094 move to Bristol.
July - 25090 - 25092 to Eastfield.
August - 25090 - 25092 do not stay long at Eastfield, 25090 moves to Longsight, 25091 to Bescot and 25092 to Toton. After all these individual moves 25091 - 25094 move to Laira.
October - 25091 - 25094 to Haymarket.
November - 25092 & 25093 go even further north - to Inverness - presumably their lack of boilers kept them only on freight workings.
25093 spent the summer of 1975 allocated to Western Region depots, including Bristol and Laira, the latter allowing for some local passenger workings in the Exeter area.
On July 18th a Waterloo - Exeter St. Davids service with 33007 required assistance from Sherborne after the Class 33 failed, 25093 & 25155 dragged the service to Exeter St Davids.
The 12.20 Barnstaple - Exeter St. Davids was worked by 25093 on August 23rd.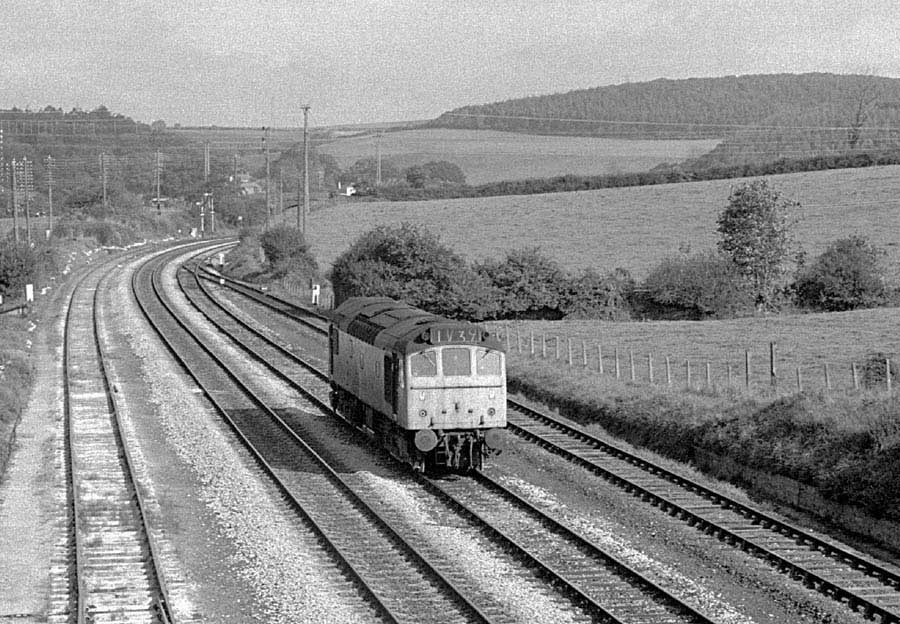 Photograph courtesy Tony Sayer
The Cornish countryside dwarfs 25093 running light engine near Lostwithiel on September 17th 1975. 25091 - 25094 spent August & September allocated to Laira.
25093 was noted double headed with 46004 at Newquay on September 20th on an unidentified northbound passenger service (headcode 1M95).
October 4th found 25093 & 25096 in charge of the 09.35 Penzance – Wolverhampton working throughout, one can only imagine those fortunate enough to get such a long run behind these Type 2's with the Devon banks and Lickey incline thrown in for good measure!
The second set of allocations to the Scottish Region for 25093 began during October 1975 when it was transferred from Laira to Haymarket, it would remain for three years on the Scottish Region.
1976
The frenzied transfer activity of 1975 was not followed this year, during May 25093 moved to Eastfeld, moved north to Inverness during July, and was back at Eastfield by the end of July.
On March 8th the 11.52 Dundee - Glasgow Queen Street was worked by 25093.
1977
The 07.38 Dundee - Glasgow Queen Street was worked by 25093 on August 15th.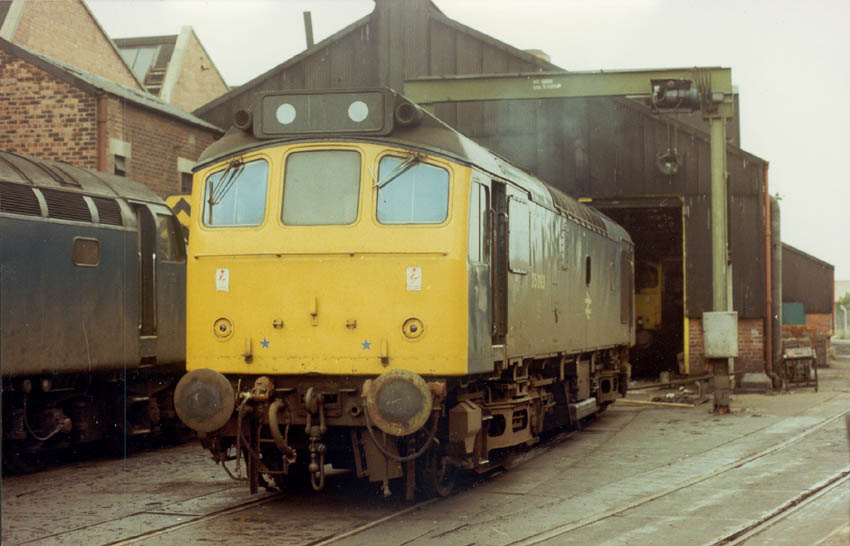 Photograph courtesy Danny Preston, collection Neil Johnson.
25093 stands by the workshops at Polmadie, date unknown. Whatever else attention it needs, the driver's side windscreen wiper needs serious help, including fitting of a blade.
1978
Although not boiler equipped the use of 25093 on a number of summer Scottish passenger workings was noted. On July 1st 25093 worked the 09.08 Glasgow Queen Street - Aberdeen, whilst on July 31st the 08.15 Inverness - Glasgow Queen Street with 26025 & 26045 was piloted by 25093 between Inverness & Dalwhinnie.
25093 was noted at Perth on the morning of August 15th.
On September 8th 25093 worked two Dundee - Glasgow Queen Street roundtrips for a passenger mileage of 332 miles. Four days later (12th) 25093 was noted on the 11.29 Stirling - Dundee (was the 10.44 Glasgow but started from Stirling).
After three years allocated to Scottish Region depots 25093 was transferred from Eastfield to Crewe during November.
1979
The summer dated roundtrip Nottingham - Llandudno Town on June 23rd was worked by 25093.
1980
On the afternoon of April 17th 25093 was noted passing Peterborough with a Kings Lynn dock - Toton train of steel imports.
On May 25th 25093 was noted at Norton Bridge with a ballast working. On May 30th 25093 was noted passing Oxford with a lengthy parcels train.
On June 15th the 5M20 08.35 Glasgow Central - Manchester Red Bank arrived at Preston behind 84003, 25093 took the train forward to Red Bank. On June 25th 25093 was noted at Bescot.
The second week of July was busy for 25093. On July 7th a roundtrip Burton on Trent - Skegness was worked by 25093 & 25133. The next day (8th) the same pair worked a roundtrip Derby - Skegness. On July 11th 25093 & 25038 worked the 15.35 Birmingham New Street - York and the return 19.31 York - Penzance to Bristol Temple Meads.
On August 16th the 12.32 Skegness - Leicester was worked forward from Nottingham by 25093, having replaced 20081 & 20139.
On September 3rd 25093 was noted at Lenton South Junction westbound with a parcels train, possibly the 4M22 Peterborough - Crewe parcels.
25093 & 25123 were noted heading south at Sileby with a short stone train and two brakevans on November 24th.
1981
25093 was transferred to Cricklewood during April, later being transferred to Bescot in December.
August 29th saw 25093 working the 09.28 Leeds - Morecambe and the 11.45 Morecambe - Leeds.
25093 was stabled at Cockshute on October 10th.
On November 22nd 25093 was noted at Coventry on permanent way duties with five other Class 25s.
1982
On February 24th 25093 worked the 6E01 Kingmoor - Healey Mills freight.
On the North Wales mainline April 24th found Type 2s in abundance on Manchester – Bangor passenger workings including 25093 working the 7.42 Manchester – Bangor and 11.03 return. Just over a month later on May 29th the 07.38 Shrewsbury - Aberystwyth and 10.07 Aberystwyth - Euston to Wolverhampton were worked by 25093 & 25180.
25093 was stabled at March on August 22nd.
A roundtrip Stoke on Trent - Nottingham football excursion on October 2nd was worked by 25093 & 25134. Was this 25093's last passenger working?
25093 was withdrawn on November 11th 1982. The withdrawal of 25093 was unremarkable apart from it being BR's most transferred machine at that time, with twenty eight moves to its credit. Following its withdrawal the honour for the most transferred passed to 47556 with twenty four moves.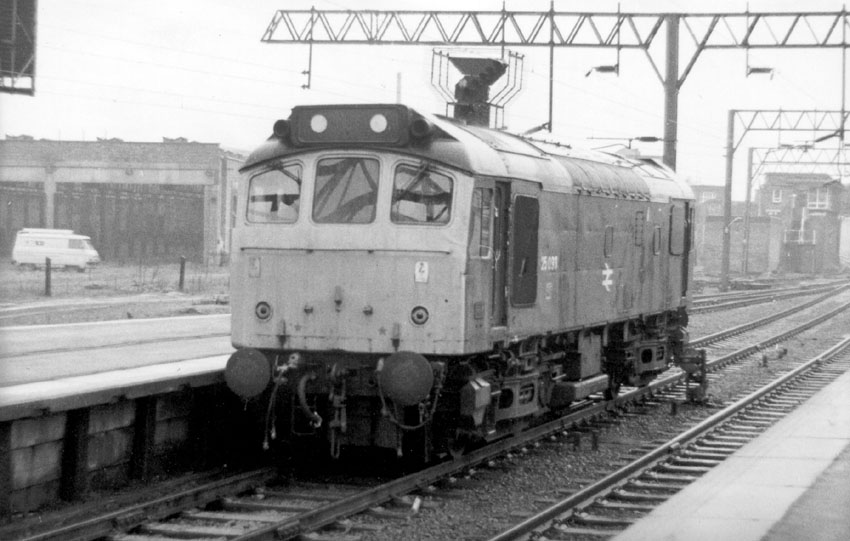 Photograph collection of webmaster.
In some fine dismal, damp weather 25093 passes through Stafford, date unknown. The locomotive has acquired two-rung bogie mounted footsteps.
Distinguishing Features
Non-BIS side: two light scrape marks from driver's side cab corner to about half way along the body side, lower scrape at number height, upper scrape almost at height of bodyside windows: at least April 1978 until withdrawn.
40/3558
flk 0817
Not all known passenger workings are recorded on this page.
Page added September 1st 2004.
Last updated March 26th 2019.