D5244, 5244, 25094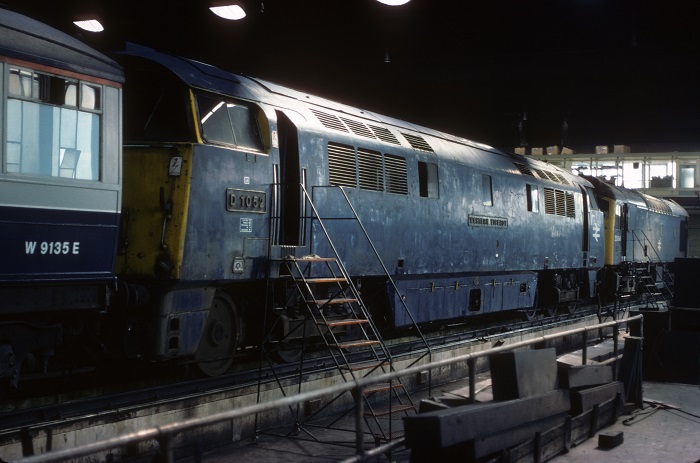 Photograph courtesy Roger Geach
Class 52 No.1052 & Class 25 No.25094 inside Laira depot on September 21st 1975. Within a month 25094 will be transferred to Haymarket.
With a multitude of transfers in its seventeen year career, D5244/25094 was one of the most transferred Class 25s, with allocations to London Midland, Southern, Scottish and Western Region depots.
Built: BR Derby Locomotive Works.
Time between last Classified repair and withdrawal: ?? months.
Time between withdrawal and scrapping: 16 months.
Allocations
D5244 was new to Toton (16A) on January 20th 1964. Further transfers were:
September 1964 to Southern Region.
December 1964 to Toton (16A).
January 1965 to London Division Midland Lines (LMML).
February 1966 to Nottingham Division (D16).
April 1967 to London Midland Midland Lines (LMML).
August 1967 to Stoke Division (D05).
August 1967 to Birmingham Division (D02).
January 1968 to Longsight (9A).
May 1968 to Springs Branch (8F).
June 1968 to Liverpool Division (D08).
May 1969 to Nottingham Division (D16).
May 1973 to Toton.
March 1974 to Eastfield.
May 1974 to Haymarket.
October 1974 to Spring Branch.
February 1975 to Toton.
February 1975 to Longsight.
March 1975 to Springs Branch.
May 1975 to Bristol.
August 1975 to Laira.
October 1975 to Haymarket.
August 1976 to Eastfield.
October 1976 to Toton.
August 1977 to Kingmoor.
October 1977 to Crewe.
March 1980 to Toton.
August 1980 to Cricklewood.
November 1980 to Toton.
Withdrawn February 1st 1981.
Renumbered April 1974.
25094 was the 89th Class 25 withdrawn, one of twelve retired during February 1981.
After withdrawal 25094 was stored at Etches Park, then noted at Derby Works by April 1981 and scrapped there by June 1982.
Works Visits
Works visits (records incomplete).
Noted Crewe Works November 1965.
Noted Derby Works April 1972.
Presumed repair Glasgow Works 1976/1977 (not before September 1976).
Highlights
1964
The frames for D5294 were laid down at Derby Works during the last quarter of 1963, being completed and delivered to Toton (16A) during January 1964.
On January 3rd 1964 D5244 made its test run to Corby.
The Southern Region experienced a number of problems with some of their electric locomotives, with many temporarily sidelined awaiting attention. This created a shortage of locomotives leading to D5240 - D5245 & D5247 moving to Hither Green (73C) during September. Despite this somewhat unusual transfer there are no reports of how the locomotives were used or any photographs of them during their brief stay south of the Thames. D5244 returned to Toton (16A) during November.
1965
Condition March: two-tone green livery with small yellow warning panels, straight sided sandboxes, three-rung bogie mounted footsteps.
1967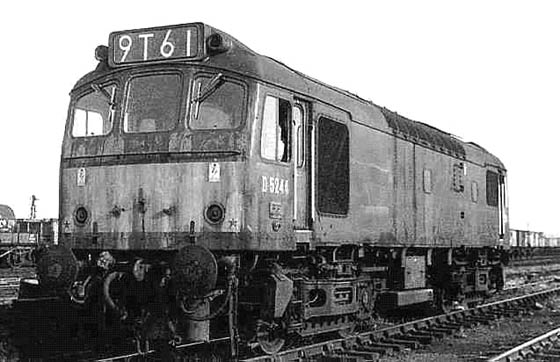 A begrimed D5244 is seen here in pretty much original condition, apart from the dirt. The washing of the cab windows has created a somewhat streaky mottled effect on the cab front. Photographer not known.
1969
On June 12th 5244 was noted at Lincoln working the 10.38am Yarmouth - York.
1970
On July 11th the 07.55 Walsall - Yarmouth was worked to Norwich by 5244 & 5232.
1971
On August 4th a Derby - Skegness roundtrip was worked by 5244 & 7508.
On October 6th a Temple Mills - Whitemoor freight was worked by 5241 & 5244.
1972
The Derby - Norwich - Yarmouth - Norwich - Walsall diagram was worked by 5244 & 5236 on June 10th.
1973
At about 7am on February 8th 5244 was noted at Manchester Victoria with a down freight.
1975
The transfer situation for the much travelled group of locomotives (25090 - 25094), including 25094 presented quite a tangled web during 1975:
February - 25093 & 25094 moved to Toton, by month end both are at Longsight.
March - 25094 moves to Springs Branch.
May - 25093 & 25094 move to Bristol.
July - 25090 - 25092 to Eastfield.
August - 25090 - 25092 do not stay long at Eastfield, 25090 moves to Longsight, 25091 to Bescot and 25092 to Toton. After all these individual moves 25091 - 25094 move to Laira.
October - 25091 - 25094 to Haymarket.
November - 25092 & 25093 go even further north - to Inverness - presumably their lack of boilers kept them only on freight workings.
On June 14th 25094 worked the 15.58 Exeter St. Davids - Barnstaple.
25094 removed seventeen milk tanks from the Hemyock branch on August 20th, the Unigate Factory having recently converted to road haulage, the only tanks remaining were for emergency use until the branch closed completely on October 31st. On August 23rd 25094 worked the 17.55 Barnstaple - Exeter St. Davids. On August 25th 25094 worked the 15.58 Exeter St. Davids - Barnstaple, the 17.55 Barnstaple - Exeter St. Davids and the 20.15 Exeter St. Davids - Newton Abbot.
1977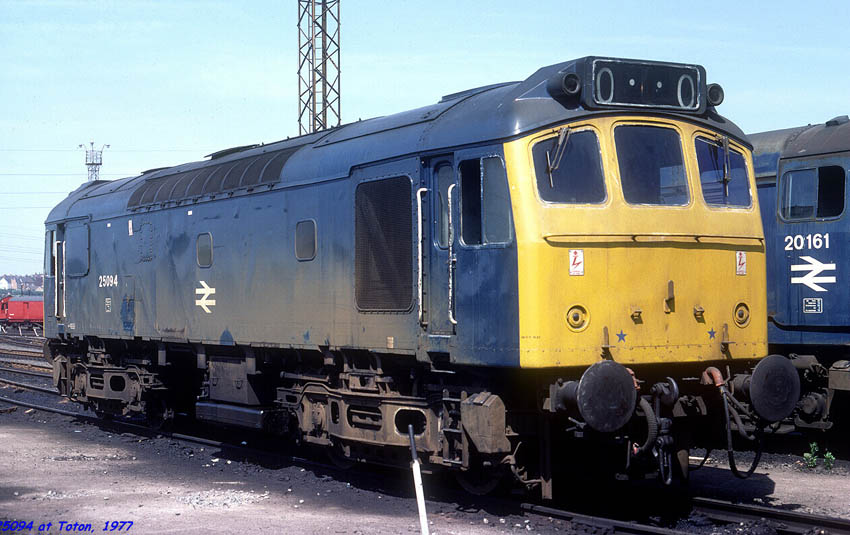 Photograph courtesy Steve Jones / Old Buffers
On a gloriously sunny day in 1977 25094 stands at Toton. During 1977 25094 was allocated to Toton, Kingmoor & Crewe.
1978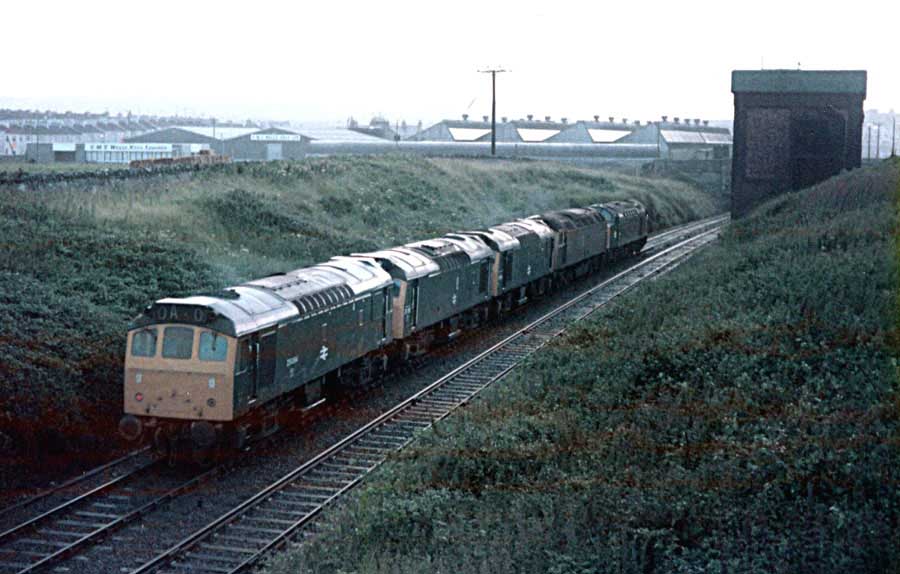 Photograph courtesy Steve Morris.
25094/165/304, 47241 & 40028 return from permanent way duties on a very damp, overcast on July 23rd 1978.
On August 19th the summer dated roundtrip Nottingham - Llandudno Town was worked by 25094 between Chester & Llandudno Town having replaced 25317 and between Llandudno Town & Stoke-on-Trent on the return leg, being replaced by 25136.
The 13.30 Manchester Victoria - Llandudno Town was worked by 25094 on September 9th.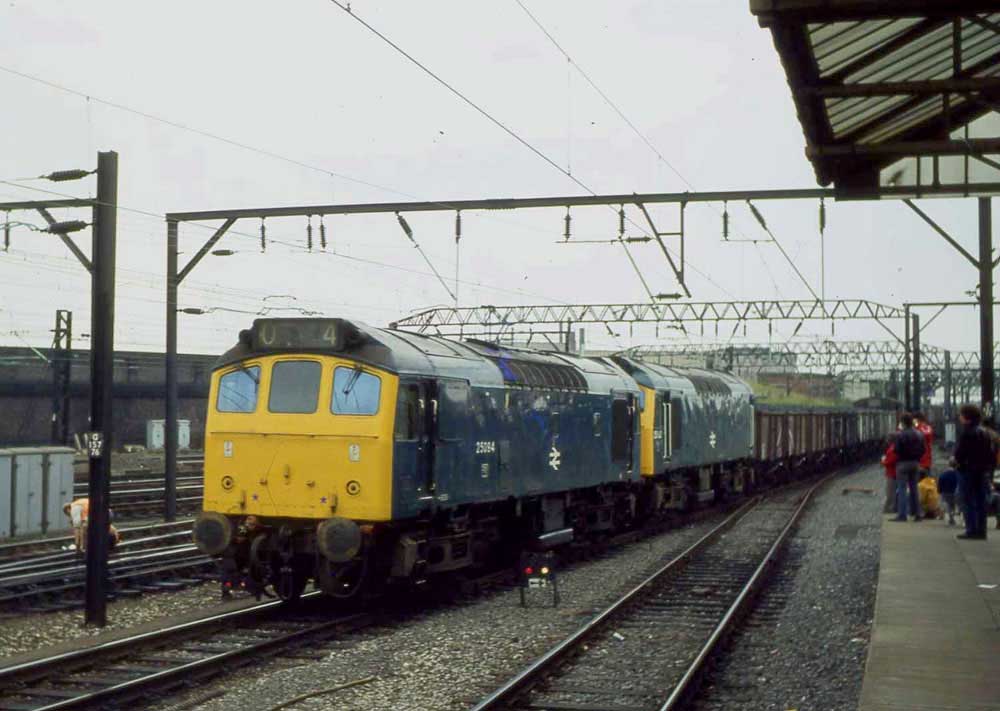 Photograph courtesy John Powell
A familiar scene at Crewe as 25094 and a relatively ex-works 25133 head north through the station with a mixed freight on August 23rd 1978.
1979
25167 & 25094 were noted at Seacombe Junction on iron ore empties on March 25th.
On August 9th 25094 worked the 17.10 Cardiff - Crewe and a week later on August 16th worked the 13.20 Holyhead - Crewe relief.
25094 & 25056 worked to Hither Green with October 16th's 11.45 ex Brent returning with the 10.57 Shepherdswell – Cricklewood.
1980
A lengthy trip on August 7th saw 25094 work the relief 11.30 Paignton - Wolverhampton throughout. The next day (8th) the 13.34 Birmingham New Street - York and the return 17.26 York - Birmingham New Street were worked by 25094 & 25071. The following day (9th) the same pair worked the 08.02 Walsall - Yarmouth to Norwich, returning from there with the 14.15 Yarmouth - Derby.
1981
25094 was withdrawn on February 1st 1981.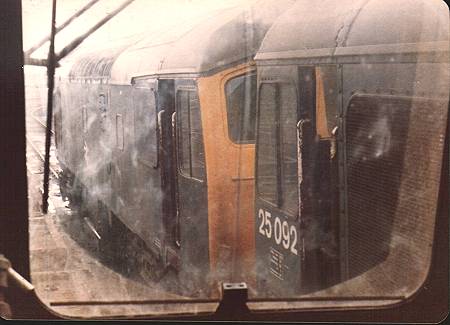 Photograph courtesy Mark Bennett
25092 & 25094 from the cab of another Class 25, Derby Works
1982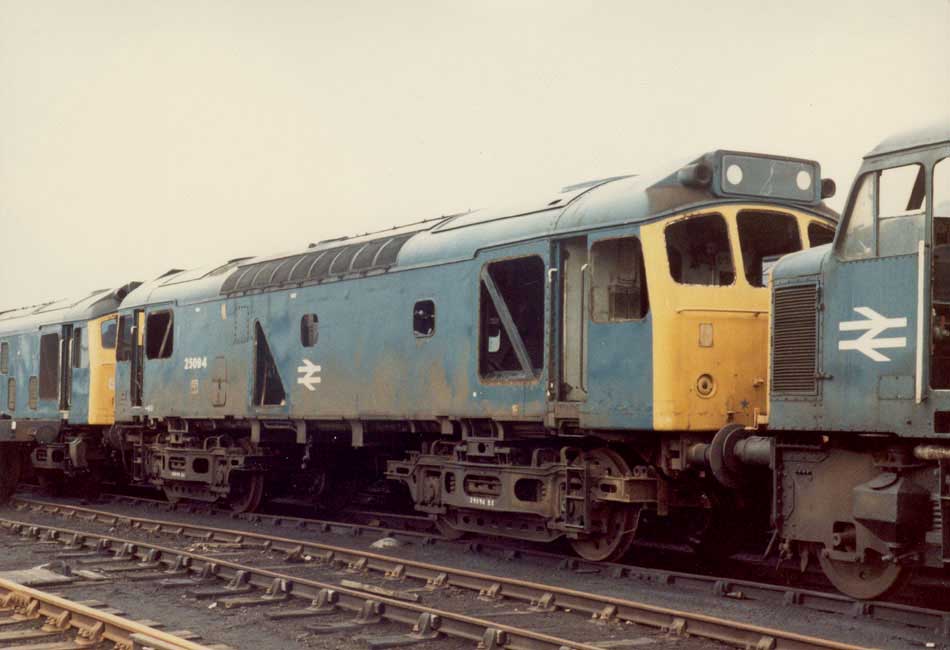 Photograph courtesy Jerry Glover
A stripped out 25094 awaits scrapping at Derby Works, seen here on February 6th 1982.
Not all known passenger workings are recorded on this page.
19/1992
flk 0617
Page added September 1st 2004.
Last updated February 23rd 2020.