D5246, 5246, 25096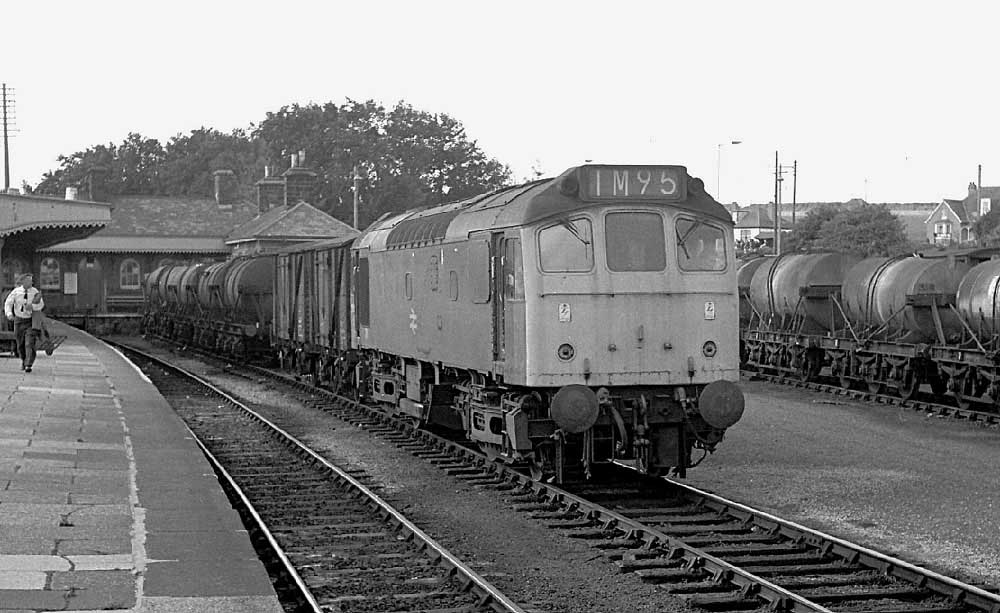 Photograph courtesy Peter Lovell.
Class 25s from the 25090 - 25099 batch were some of the most re-allocated locomotives on BR. 25096 was no exception, after ten years randomly moving about the LMR 25096 then saw the delights of Eastfield & Haymarket, a brief return to Bescot, then Bristol & Laira before heading north again to Scotland, this tour including a stay at Inverness. Seen here at St Erth on September 15th 1975.
With twenty four transfers during its operating history D5246/25096 was one of the most transferred Class 25's, with allocations to Western, Scottish and London Midland depots.
Built: BR Derby Locomotive Works.
Time between last Classified repair and withdrawal: ?? months.
Time between withdrawal & scrapping: 6 months.
Allocations
D5246 was new to Nottingham (16A) on January 24th 1964. Further transfers were:
August 1964 to Derby (16C).
November 1964 to Cricklewood West (14B).
January 1965 to London Division Midland Lines (D14).
April 1965 to Saltley (2E).
April 1966 to Birmingham Division (D02).
April 1966 to London Midland Midland Lines LMML.
August 1966 to London Division Midland Lines (D14) on loan.
November 1966 to Nottingham Division (D16).
March 1967 to London Midland Western Lines LMWL.
March 1967 to London Midland Midland Lines LMML.
June 1968 to Nottingham Division (D16).
July 1968 to Liverpool Division (D08).
May 1969 to Nottingham Division (D16).
May 1973 to Toton.
March 1974 to Eastfield.
May 1974 to Haymarket.
October 1974 to Bescot.
May 1975 to Bristol.
August 1975 to Laira.
October 1975 to Haymarket.
November 1975 to Inverness.
May 1976 to Eastfield.
October 1976 to Toton.
October 1977 to Eastfield.
Stored unserviceable October 25th 1977.
Withdrawn December 31st 1977.
Renumbered April 1974.
25096 was the 20th Class 25 withdrawn, one of two retired during December 1977.
After withdrawal 25096 was moved to Glasgow Works and scrapped there during June 1978.
Works Visits
Works visits (records incomplete).
Noted Crewe Works September 1966.
Noted Crewe Works February 1968.
Noted Derby Works April 1968.
Noted Derby Works March 1969.
Noted Derby Works October 1970.
Highlights
1964
On January 22nd D5246 was noted light engine at Derby station, presumably very ex-works.
1965
Despite being allocated to many depots, 5246/25096 had minimal recorded passenger workings. The first recorded passenger working took place on June 29th 1965, with D5246 & D5247 working the 06.35 Birmingham New Street - Bradford to Leeds (?).
1967
On the afternoon of July 22nd D5246 was noted at Manchester Victoria with the Up 1M35.
1968
On June 22nd 5246 & 5255 worked the summer dated roundtrip Nottingham - Llandudno Town service.
1969
On June 21st 5246 & 5236 worked the summer dated roundtrip Nottingham - Llandudno Town service.
On the evening of November 10th (?) 5246 & 7504 worked a 22.00 Narborough - Hamworthy special going as far as Eastleigh, thence returning light to Banbury, where they were procured to work the 11th's 12.10 Banbury - Reading West and 14.50 return.
1972
The failure of Class 45 No.97 on September 11th 1972 working the 16.50 St. Pancras - Derby saw 5246 & 7619 bring the service into Derby from ??
Three months later on December 14th the 13.50 Derby - St. Pancras was worked to Leicester by 5246 & 5291.
1973
5246 managed at least one round trip to Skegness, from Leicester on July 22nd 1973 with 5268.
Substituting for Class 45s on coal trains destined for the Kent area, May 14th found 5231 & 5246 on a Brent - Southfleet service and the return Betteshanger - Toton.
1974
On April 27th a Glasgow - Inverness service suffered locomotive problems south of Perth, one of the replacement locomotives for the remainder of the run to Inverness was 25096.
Wagons of wood pulp in December 16th's 05.25 Margam – Geli freight derailed between Cefn Junction and Tondu, the Margam breakdown train arrived behind 25096, a most unusual choice for this area.
1975
At about 7pm on August 15th at Exeter St Davids in the Up direction were 25096 & 25098 with the 6Z98 loaded stone train. At the same time 25093 & 25094 were on Exeter stabling point.
On August 21st 25096 worked the 9B73 15.05 Whimple - Exeter Riverside freight.
25096 spent about two months allocated to Laira, whilst here it acquired a fine piece of passenger haulage. On October 4th 1975 25096 & 25093 worked the 09.35 Penzance - Wolverhampton throughout, a total of 310 passenger miles.
1976
On August 6th the 10.04 Glasgow Queen Street - Dundee was worked by 25096 & 26004.
In South Wales the use of Class 25s for working regular diagrams was finished, Class 37s now taking up these diagrams out of Cardiff and Newport, though Class 25s would frequently deputise for a non-available Class 37. A number of workings brought foreign Type 2s into the area, on November 24th 25096 (IS) arrived with the 22.58 6V88 Warrington - Margam ingot train.
1977
The last recorded passenger working for 25096 produced another lengthy journey, on July 17th 1977 25096 & 25073 worked the 18.15 Barmouth - Alfreton & Mansfield, the return leg of a day excursion, a run totalling 204 miles.
14/1592
flk 1115
Not all known passenger workings are recorded on this page.
Page added April 1st 2013
Last updated July 11th 2020.
Back to 25095
Forward to 25097