D5247, 5247, 25097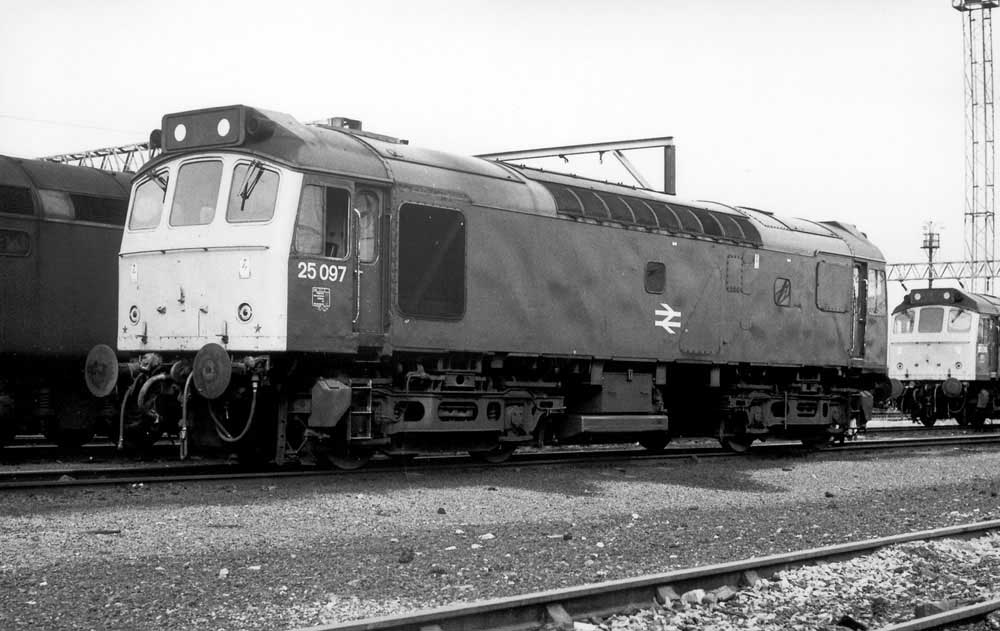 Photograph collection of webmaster
25097, date & location unknown, but possibly at Crewe.
The career of D5247/25097 lasted two months short of twenty years allocated almost entirely to London Midland depots apart from a brief spell on the Southern Region.
Built: BR Derby Locomotive Works.
Dual brake equipped (December 1977).
Time between last Classified repair and withdrawal: 70 months.
Time between withdrawal & scrapping: 14 months.
Allocations
D5247 was new to Nottingham (16A) on January 31st 1964. Further transfers were:
September 1964 to Southern Region.
December 1964 Toton (16A).
January 1965 to London Midland Midland Lines LMML.
April 1965 to Saltley (2E).
April 1966 to Birmingham Division (D02).
April 1966 to London Midland Midland Lines LMML.
June 1968 to Nottingham Division (D16).
July 1968 to Liverpool Division (D08).
June 1969 to Nottingham Division (D16).
June 1972 to Manchester Division (D09).
May 1973 to Longsight.
November 1980 to Springs Branch.
November 1981 to Kingmoor.
February 1982 to Toton.
Withdrawn November 13th 1983.
Renumbered May 1974.
25097 was the 201st Class 25 withdrawn, one of two retired during November 1983.
After withdrawal 25097 was stored at Bescot, then moved to Swindon Works on February 10th 1984 and scrapped there by the middle of January 1985.
Final movement: 08153 (Chester), 25186/25308 (Crewe), 25097 (Bescot), as the Chester – Crewe - Bescot - Swindon on February 10th 1984.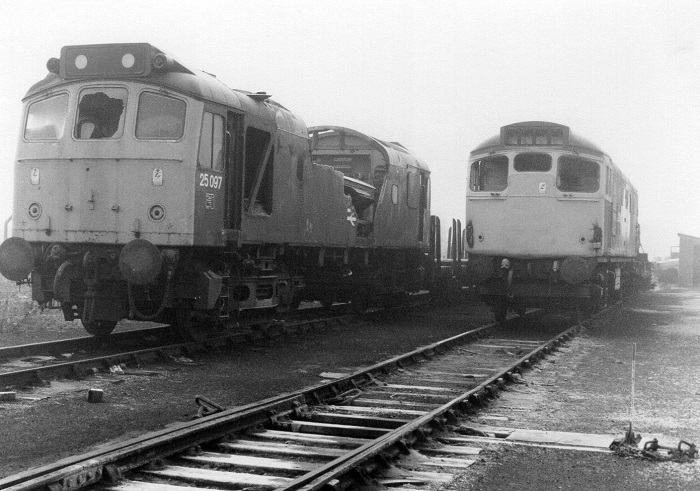 Photograph courtesy Roger Geach
25097 & 27028 at Swindon Works on December 11th 1984.
Works Visits
Works visits (records incomplete).
Noted Derby Works March 1966.
Noted Crewe Works February 1968 (ex works).
Noted Derby Works November 1969.
Noted Derby Works February 1970.
Noted Derby Works November 1976 & January 1977 (Classified).
Highlights
1965
An early frequent passenger working for pairs of Type 2s for a short time was the 06.35 Birmingham New Street - Bradford to Leeds, on June 29th 1965 worked by 5247 & 5246.
1967
Two Nottingham - Llandudno Town round trips were handled in the early years, on August 26th 1967 with 5225 and on June 1st 1968 with 5193.
1971
On December 18th 1971 5247 & 7647 were on rescue duty at Wellingborough when 91 working the 13.30 St. Pancras - Nottingham failed, the Type 2s taking the train on to Nottingham.
1972
At about 7am on October 12th 5247 was noted passing Manchester Victoria with an up van train (5J83).
1974
25097 is not recorded as visiting any of the east coast seaside resorts during its early years, perhaps the nearest it got was on July 20th 1974 with 25303 working the 09.19 Manchester Piccadilly - Yarmouth as far as Lincoln Central, returning with the 09.15 ex-Yarmouth.
25097 worked a Nottingham - Lincoln parcels on August 15th.
1977
25097 & 25283 were noted on a 'Weekly Herald Special' at Barrow in Furness on October 1st.
1978
Another rescue job took place on June 1st when the 18.05 Newcastle - Liverpool failed at Stalybridge behind 40050, 25097 dragged the train to Liverpool. Then followed a true mixture of passenger workings. On July 23rd the 15.07 Plymouth - Manchester Piccadilly was hauled by 25097 between Gloucester and Birmingham New Street. Two weeks later on August 8th 1978 worked the 17.10 Cardiff - Crewe. The North Wales mainline saw a couple of trips, on August 23rd the 11.11 Manchester Victoria - Holyhead was followed by the 18.05 Holyhead - Euston to Crewe. And on August 26th 25097 again worked the 11.11 Manchester Victoria - Holyhead.
The early evening Tyne - Healey Mills freight was worked by 25097 on December 20th.
25097 was stabled at Northwich on December 26th.
1979
25089 & 25097 worked the morning Mountsorrell - Kennett stone train on June 13th.
1980
25097 was the Manchester Victoria pilot on May 30th.
Three workings were handled on July 26th 1980, the 09.42 Llandudno Town - Manchester Victoria, the 14.40 Manchester Victoria - Llandudno Town and the 18.17 Llandudno Town - Manchester Victoria.
1981
Only one working was recorded in 1981, on June 27th 25097 worked the 13.15 Birmingham New Street - Norwich throughout.
1982
During February 25097 received an 'E' examination at Tyseley.
During 1982 the Cambrian line was visited at least three times, with 25072 on July 3rd working the 07.40 Euston - Aberystwyth from Shrewsbury, returning with the 14.00 Aberystwyth - Shrewsbury. On the weekend of August 14th/15th 25097 & 25185 were very busy, on 14th they worked the 10.10 Euston - Aberystwyth from Birmingham New Street, returning with the 16.05 Aberystwyth - Shrewsbury. The next day they worked the 08.45 Birmingham New Street - Aberystwyth from Shrewsbury, then the late afternoon Aberystwyth - Machynlleth round trip followed by the 18.15 Aberystwyth - Euston to Wolverhampton.
Forteviot accident victim 47522 arrived at Crewe on August 2nd behind 25097, other locomotives that had brought 47522 south were 27210 (to Falkland Jct) and 20179/191 (to Carlisle?).
1983
25097's last recorded passenger workings took place during 1983. On May 30th a roundtrip Derby - Skegness relief was worked with 25244. On July 11th 25097 worked the 21.44 Preston - Liverpool (ex 18.20 Glasgow), followed the next day by the 10.16 Barrow - Nottingham to Preston.
25097 was withdrawn on November 13th 1983.
00/00
flk 1115
Not all known passenger workings are recorded on this page.
Page added April 3rd 2013.
Last updated January 24th 2020.