D5264, 5264, 25114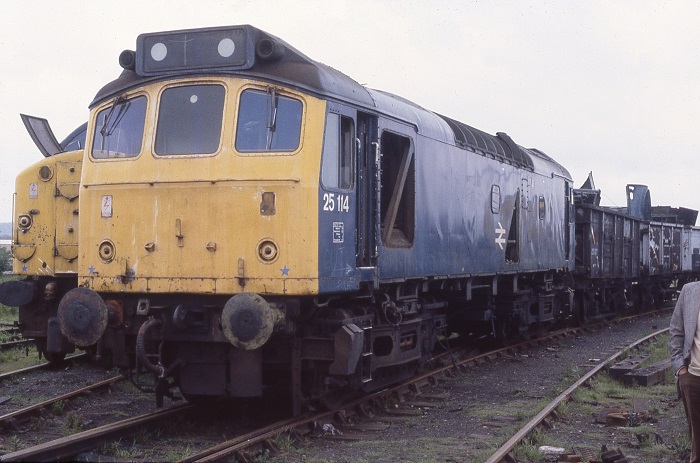 Former Cricklewood based 25114 awaits in Swindon Works yard on June 6th 1981 for the cutters, the wagons behind the Class 25 are already filled with recogniseable bits of locomotives. This was one of the Class 25s to have the boiler room grille sheeted over, just visible at the far end of the locomotive. 25114's stay at Swindon was brief, withdrawal had come in February 1981, the end would come a month after this view, in July 1981.
The almost seventeen year career of D5264/25114 was spent allocated to a variety of London Midland depots.
Built: BR Derby Locomotive Works.
Boiler room grilles sheeted over (1977).
Time between last Classified repair and withdrawal: 42 months.
Time between withdrawal & scrapping: 5 months
Allocations
D5264 was new to Nottingham (16A) on April 17th 1964. Further transfers were:
May 1964 to Nottingham (16D).
December 1964 to Nottingham (16A).
January 1965 to Nottingham Division (D16).
October 1967 to Springs Branch (8F).
March 1968 to Longsight (9A).
May 1968 to Springs Branch (8F).
June 1968 to Liverpool Division (D08).
May 1973 to Springs Branch.
October 1975 to Carlisle (KD).
May 1976 to Springs Branch.
October 1977 to Crewe.
May 1978 to Cricklewood.
Withdrawn February 1st 1981.
Renumbered February 16th 1974.
25114 was the 91st Class 25 withdrawn, one of twelve retired during February 1981.
After withdrawal 25114 was stored at Cricklewood until moved with 25112 to Swindon Works on March 20th 1981, and broken up by the third week of July 1981.
Works Visits
Works visits (records incomplete).
Noted Crewe Works July 1968.
Noted Derby Works January & February 1970.
Noted Derby Works November 1973.
Noted Derby Works October 1974.
Noted Derby Works April - July 1977 (Classified).
Highlights
1965
On September 21st the 17.40 Manchester Central - Chester (Northgate?) was worked by D5264, this was normally a diesel multiple unit turn.
1973
At about 7.30am on March 16th 5264 was noted passing Hooton on a down freight. At about 6pm on March 22nd 5264 was noted at Manchester Exchange with a down van train (4P05).
At about 6pm on April 18th 5264 was noted at Manchester Exchange waiting to work the 4P05 van train.
D5264/25114 worked a minimal number of passenger services. It was first noted on June 30th working a Llandudno Town - Manchester Victoria service.
At about 5pm on July 26th 5264 was noted passing Olive Mount Junction with an up freight. At about 5.30pm on July 27th 5264 was noted at Manchester Exchange with an up van train (4P05). At about 6pm on July 30th 5264 was noted at Manchester Exchange waiting to work the 4P05 van train.
At about 6pm on August 1st 5264 was noted at Manchester Exchange waiting to work the 4P05 van train. On August 11th 5264 worked the 09.50 Llandudno - Manchester Victoria and the 13.30 Manchester Victoria - Bangor. At this time this was normally a Class 40 turn.
1974
The 23.45 Euston - Barrow was worked forward from Crewe to Barrow by 25114 & 25099 on June 16th.
1975
At about 7am on June 5th 25114 was noted at Manchester Exchange on a down van train.
On August 16th 25114 & 25192 worked the 09.20 Manchester Piccadilly - Yarmouth to Lincoln Central, returning from their with the 09.30 Yarmouth - Manchester Piccadilly.
On the morning of December 6th 25114 was noted eastbound through Wakefield light engine, later in the morning it returned hauling 47372 & 47373.
1976
1976 produced just one working, on July 31st 25114 worked the 09.00 Llandudno Town - York.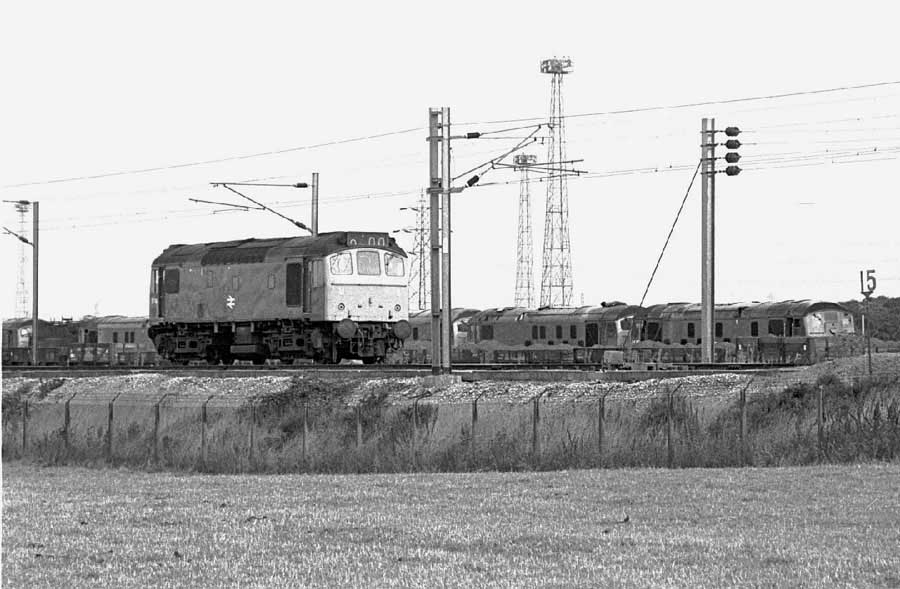 Photograph courtesy Tony Sayer.
Its the end of the road for many Class 24s at Kingmoor as 25114 runs by on September 7th 1976, at which time it was allocated to Springs Branch.
1977
Likewise 1977 produced just one working, 25114 was on its running-in turn ex-Derby Works, on July 25th working the 10.05 Derby - St. Pancras as far as Leicester, 45108 was the train engine.
1978
25114 was noted at Northwich on May 13th.
December 5th found 25067 & 25114 in charge of the 39 vehicle 21.50 Northampton – Willesden freight, whilst passing through Tring thirteen of them derailed, three overturning, closing the slow lines for four days.
1979
1979 produced possibly 25114's longest passenger working, on July 7th 25114 with at least nine Mk1s worked the 16.08 Bristol Temple Meads - Newcastle, presumably throughout, for a total of 313 miles. On September 15th 25114 worked the 14.40 Manchester Victoria - Llandudno Town.
1980
The meagre number of passenger workings improved slightly during 1980 when 25114 visited seaside resorts several times. On June 14th 25114 & 25081 worked the 07.40 Euston - Aberystwyth forward from Wolverhampton, returning with the 17.55 to Wolverhampton.
Late on the evening of August 1st 25114 & 25126 were noted at Wolverhampton with an unidentified return leg of an excursion. The next day (2nd) the same pair worked the 10.10 Euston - Aberystwyth forward from Birmingham New Street, returning with the 16.10 to Shrewsbury. The last two passenger workings for 25114 involved Skegness, on August 23rd 25114 & 25112 worked the 08.51 Leicester - Skegness as far as Nottingham, where they were failed and replaced by 47201. By August 26th the same locomotives worked a relief 09.53 Nottingham - Skegness and 18.15 return. Ironically 25112 & 25114 would make their last journey together from Cricklewood to Swindon during March 1981 for scrapping.
1981
25114 was withdrawn on February 1st 1981.
17/1580
flk 1115
Not all known passenger workings are recorded on this page.
Page added March 20th 2013.
Last updated February 16th 2020.