| | | | | | |
| --- | --- | --- | --- | --- | --- |
| Load | Speed | Amps | Volts | Notes | Other |
| 1 | - | - | - | - | - |
No.2 A sticking at 650
A side radiator sight glass leaking
B side radiator low
A side crankcase door free end
Oil on B side bedplate to investigate cause
FVF2 valve in boiler room blowing
No.2 cab water leaks above and around front windows to rectify.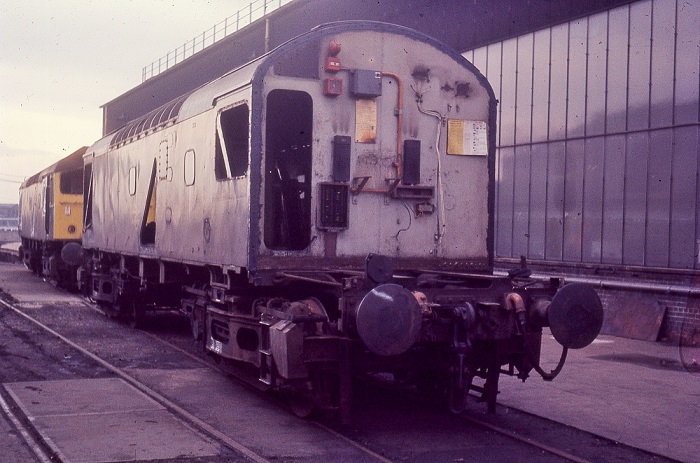 Derby Works, January 8th 1977, 25113 receives its last Classified repair.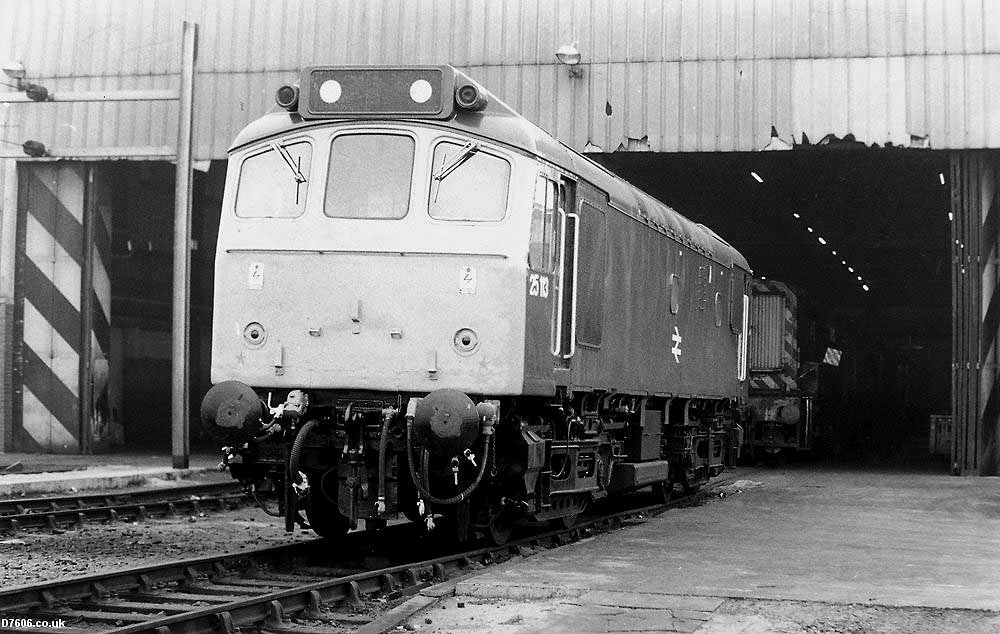 Photograph collection of Ian Hammond.
25113 in very ex-works condition at Springs Branch, date unknown, but probably around April 1977 after outshopping from Derby Works following a Classified repair. It would retain its boiler room grille blanking plates until withdrawn.
On April 15th the 22.42 Whitemoor - Ipswich freight derailed near Kennett damaging 400 yards of track. Remarkably the Finsbury Park crane was brought to the scene by 25113 (KD).
On the evening of July 30th 25113 & 25263 were working empty coaching stock between Shrewsbury and Oxley. On July 31st 25113 & 25263 worked the 08.45 Birmingham New Street - Barmouth and 17.30 return.
Three weeks later on August 20th 25113 worked the 08.20 Preston - Barrow.
1978
On June 10th 25113 was stabled at Saltley.
For 1978 Nottingham was the start of 25113's passenger workings. On June 17th 25113 worked the 07.30 Nottingham - Llandudno Town as far as Derby. And on July 26th 25113 & 25213 worked a relief 09.53 Nottingham - Skegness and the 18.15 return.
The 6L27 Mountsorrel - Radlett stone special of August 1st was in the hands of 25113 & 31244.
On the morning of August 9th 25113 was stabled at York.
On the evening of September 12th 25113 was noted at Lancaster on a permanent way turn.
On a wet October 26th 25113 was at Crewe Diesel depot.
1979
On April 6th snowplough equipped 25113 was westbound at Manchester Victoria with three parcels coaches.
On April 7th 25113 was the Manchester Victoria banker.
On April 16th 25113 & 25152 worked the 08.45 Leicester - Skegness and the 18.30 return.
On May 13th 25113 was stabled at Buxton.
On June 11th 25113 was at Crewe Diesel depot.
On July 28th 25113 was noted at Preston with a passenger service for Barrow.
On August 23rd 25113 was noted at Carnforth with a short parcels train headed towards Barrow.
Engineering work on the WCML on September 16th saw 25113 assisting electric multiple units between Rugby & Bletchley on the 08.38 Rugby - Euston and the 12.33 Rugby - Euston. On September 28th & 29th 25113 worked Crewe - Cardiff services.
25113 was on empty coaching stock duty at Liverpool Lime Street on November 4th.
1980
During March approximately six hundred locomotives were awaiting attention of which only one third (about 160) were out of traffic for scheduled repair. For the Class 25s fifty eight were laid up with eight Class 25s out of traffic for at least three months (25035/42, 25113/147/177/191, 25234/252).
On April 10th 25113 was stabled at Bristol Bath Road.
On the morning of July 19th 25113 was noted at Barrow station.
Three short trips took place on August 2nd between Preston & Blackpool North, with long distance workings from/to Stranraer Harbour and to Edinburgh.
On the morning of October 20th 25113 was noted north of York with a trip freight, later stabling at York depot.
On November 19th 25113 was northbound at Watford Junction with a short container train.
On the morning of November 27th 25113 was stabled at York.
1981
On the evening of March 4th 25113 & 25285 were stabled at Ladywell sidings, Preston.
On the afternoon of April 29th 25113 was stabled at Derby.
On May 5th 1981 passengers on a York - Aberystwyth special spent more time on the train between Shrewsbury & Aberystwyth (6.5 hours) than at the destination. The original pair of Class 25s (25035 & 25219) were failed and dragged from Westbury to Welshpool by 25113 & 25033. After dropping off the two failed Class 25s more trouble ensued when 25033 failed between Welshpool & Newtown and was left at Machynlleth along with four coaches (also reported as occurring on August 9th).
On June 6th 25113 was westbound at Guide Bridge with loaded ballast hoppers.
25113's next passenger working was also in rescue mode, on June 10th it assisted a failed 87013 on the 20.00 Manchester Piccadilly - Euston forward from Watford Junction. Two days later (12th) 25113 & a 2nd Class 25 handled two Motorail workings between Kensington Olympia & Willesden.
On September 9th 25113 was back on the Cambrian lines, now with 25139 working the 04.10 Shrewsbury - Aberystwyth and 10.07 Aberystwyth - Euston to Wolverhampton.
The last working for 1981 occurred on December 17th assisting an ailing 40118 on the 17.42 Manchester Victoria - Llandudno Junction forward from Abergele.
1982
On January 7th 25113 was noted at Skelton Junction.
The last two recorded passenger workings for 25113 were also rescue jobs. On February 16th a Class 45 failed at Washwood Heath on the 07.44 Cardiff - Newcastle, 25113 assisted to Derby.
On the morning of June 22nd 25113 & 25173 were noted at Cricklewood.
On the evening of July 1st 25113 was stabled at York.
On July 3rd 25113 was southbound at Cudworth with a six coach parcels train.
On the afternoon of July 31st 25113 was stabled at Leicester shed.
On August 6th 25117 & 25113 were noted at Manchester Victoria with the Carlisle London Road - Earles Sidings twenty empty PCA cement tanks.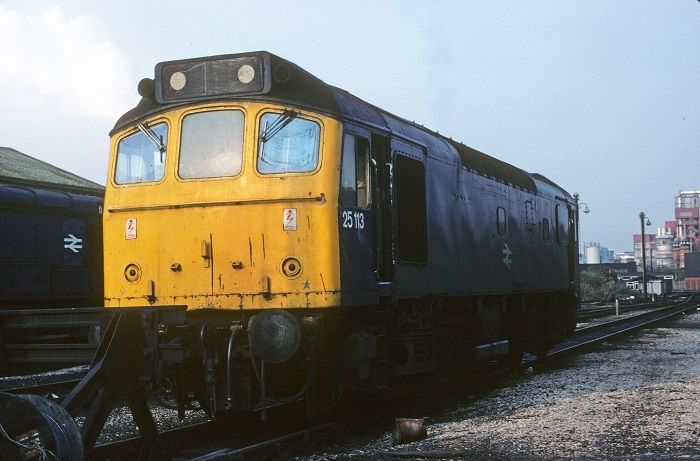 Photograph courtesy Roger Geach
25113 at Warrington Arpley on October 10th 1982.
1983
On January 2nd 25113 was stabled at Reddish.
On March 25th 25113 & 25097 worked the Ellesmere Port - Cranmore bitumen tanks (noted at Westbury).
And finally on May 3rd 25113 & 25231 assisted the 06.15 Bradford - Paignton HST between Gloucester & Bristol Temple Meads.
25113 was withdrawn on June 26th 1983.
Distinguishing Features
No.1 end cab front: multiple streaks of black paint on driver's side: (not before September 1979) at least April 1982 until withdrawn.
No.1 end cab front driver's side: missing paint where horizontal handrail meets cab front: at least April 1982 until withdrawn.
30/1977
flk 0623
Not all known passenger workings are recorded on this page.
Page added March 20th 2013.
Last updated June 24th 2023.
Back to 25112
Forward to 25114