D5263, 5263, 25113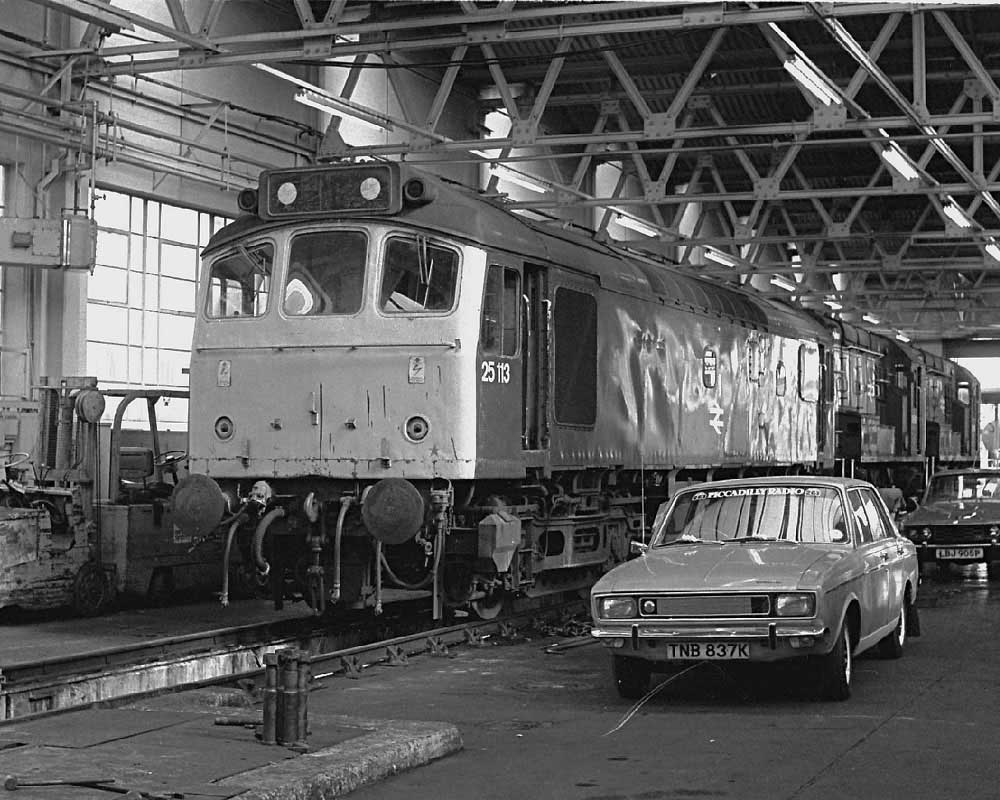 Photograph courtesy Tony Sayer
On April 24th 1982 a fine vintage 1972 Coventry built Singer Gazelle sits next to a April 1964 Derby built 25113. The first car I ever owned was a chesnut brown 1972 Hillman Hunter. It spent many a Sunday touring the Manchester area sheds, including many visits to Longsight. By the time of this view it was just so much rust becoming the inevitable uneconomic-to-repair MOT failure. Happy Days & Fond Memories!!!
The nineteen year career of D5263/25113 was spent allocated to a variety of London Midland depots, particularly those in the north-west.
Built: BR Derby Locomotive Works.
Dual brake equipped (February 1977).
Time between last Classified repair and withdrawal: 76 months.
Time between withdrawal & scrapping: 4 months.
Allocations
D5263 was new to Nottingham (16A) on April 14th 1964. Further transfers were:
January 1965 to Nottingham Division (D16).
October 1967 to Springs Branch (8F).
March 1968 to Longsight (9A).
May 1968 to Springs Branch (8F).
June 1968 to Liverpool Division (D08)
May 1973 to Springs Branch.
October 1975 to Carlisle (KD).
February 1981 to Springs Branch.
October 1982 to Crewe.
Withdrawn June 26th 1983.
Renumbered April 7th 1974.
25113 was the 184th Class 25 withdrawn, one of three retired during June 1983.
After withdrawal 25113 was stored at Carlisle until August 27th 1983 when it moved to Swindon Works, and broken up by the middle of October 1983.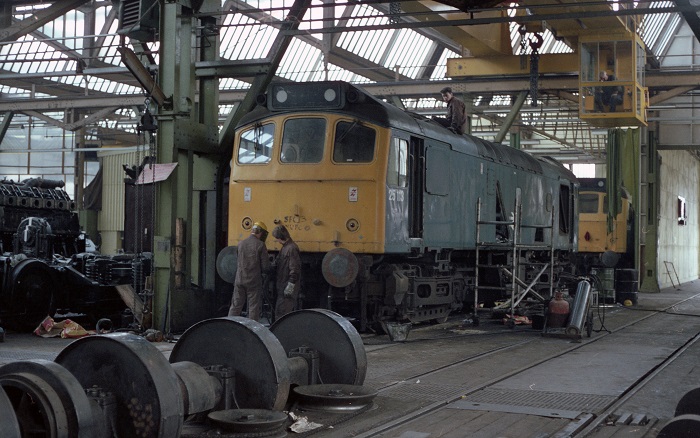 Photograph courtesy Roger Geach.
On September 19th 1983 25113 is being relieved of various parts prior to being moved outside for cutting up. 25215 is in the background.
Works Visits
Works visits (records incomplete).
Noted Derby Works February 1967.
Noted Derby Works March 1972.
Noted Derby Works December 1976 - February 1977 (Classified - dual brake equipped).
Noted Derby Works February 1980 (N4 repairs).
Highlights
1964
On July 5th stabled at Toton were D5184, D5185, D5234, D5243, D5244, D5245, D5247, D5249, D5251, D5257, D5262, D5263, D5268, D5277, D5279, D5280 & D5281.
1966
An hour at Derby from 12.30pm to 1.30pm on Saturday August 27th (the Loco Works Open Day) produced:
D5286, D5298, D7524 & D7553 as individual light engines
D5263: down freight
D5212: down empty coaching stock.
On September 25th the 10.25 Leeds - Glasgow arrived at Carlisle with 70010, being replaced by 70034. At Dumfries 70034 was removed and replaced by D5263.
On the afternoon of October 15th D5280, D5285 & D5294 were stabled at Burton on Trent while D5263 & D5295 were on a down freight.
1967
On the morning of September 16th D5233 & D5263 were southbound at Springs Branch with a twelve coach passenger? train (1T07).
On November 18th noted at Springs Branch were D5263, D5262, D7636 & D7610.
1968
Noted at Guide Bridge on the afternoon of January 27th were D5137 light engine, D5263 on a down unfitted freight (4J05), D5172 & D5097 light engines and E27001 & E27005 on Woodhead line passenger services.
Stabled at Rose Grove on the afternoon of July 9th were D5263, D5286 & D7543 and were in the company of steam locomotives 45382, 44690, 44809, 48519, 45287 & 48448.
1969
On the afternoon of May 4th 5263 & 7639 were eastbound at Hartford Junction with a freight.
On June 21st 5263 & 5205 were noted at Llandudno Town with an unidentified passenger service.
1970
On June 30th 5263 was noted at Leyland with a crane.
1971
5263 was the Manchester Victoria banker on June 13th.
1972
At about 2.15pm on May 29th 5263 was noted at Leyland with a permanent way train.
1973
At about 7.20am on July 18th 7636 & 5263 were noted at Newton le Willows on permanent way trains.
At about 6pm on August 30th 5263 was noted passing Manchester Exchange with a down van train (4P05).
1974
On December 20th 25113 worked the 4M03 05.07 Leeds City - Manchester Victoria vans, later that day 25113 was noted passing Newton Heath depot.
1975
25113 was noted at Manchester Victoria on January 16th with the 4J16.
At about 5.30pm on June 5th 25113 was noted at Earlestown on a permanent way train. On the morning of June 26th 25113 was noted at Manchester Victoria.
25113 was noted at Featherstone with the Healey Mills breakdown crane on July 4th.
On September 15th 25113 was noted at Exeter St. Davids on an unidentified passenger working (on the Exmouth branch service?) following a diesel multiple unit failure. It was later noted on Exeter depot.
1976
On June 19th 25113 & 25125 worked the Walsall - Norwich (for Yarmouth) - Derby diagram, the next day (20th) the same pair worked a Skegness service (from Derby or Leicester). A week later on June 26th 25113 & 25198 worked the 09.20 Manchester Piccadilly - Yarmouth to Lincoln Central, returning from there with the 09.15 ex-Yarmouth.
1977
On February 9th 25113 made a test run from Derby Works.
The snag sheet for February 9th recorded:
No.2 end leading.
25113; February 9th 1977; 1C64
| | | | | | |
| --- | --- | --- | --- | --- | --- |
| Load | Speed | Amps | Volts | Notes | Other |
| 1 | 28 | 850 | - | - | - |
Recordings above were made from Nottingham, those below from Loughborough.
| | | | | | |
| --- | --- | --- | --- | --- | --- |
| Load | Speed | Amps | Volts | Notes | Other |
| 1 | - | - | - | - | - |
No.2 A sticking at 650
A side radiator sight glass leaking
B side radiator low
A side crankcase door free end
Oil on B side bedplate to investigate cause
FVF2 valve in boiler room blowing
No.2 cab water leaks above and around front windows to rectify.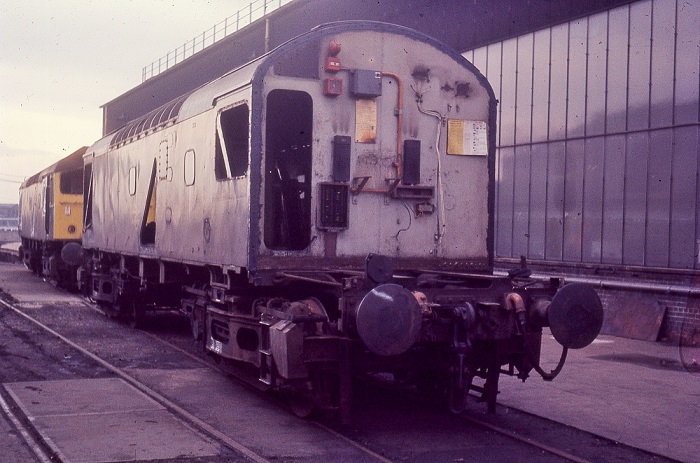 Derby Works, January 8th 1977, 25113 receives its last Classified repair.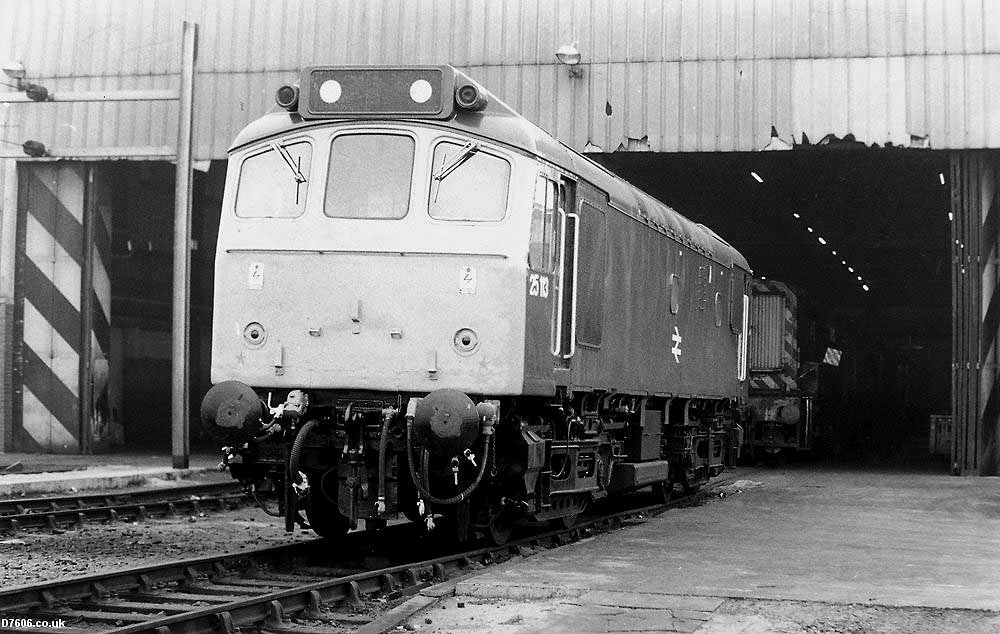 Photograph collection of Ian Hammond.
25113 in very ex-works condition at Springs Branch, date unknown, but probably around April 1977 after outshopping from Derby Works following a Classified repair. It would retain its boiler room grille blanking plates until withdrawn.
On April 15th the 22.42 Whitemoor - Ipswich freight derailed near Kennett damaging 400 yards of track. Remarkably the Finsbury Park crane was brought to the scene by 25113 (KD).
On the evening of July 30th 25113 & 25263 were working empty coaching stock between Shrewsbury and Oxley. On July 31st 25113 & 25263 worked the 08.45 Birmingham New Street - Barmouth and 17.30 return.
Three weeks later on August 20th 25113 worked the 08.20 Preston - Barrow.
1978
For 1978 Nottingham was the start of 25113's passenger workings. On June 17th 25113 worked the 07.30 Nottingham - Llandudno Town as far as Derby. And on July 26th 25113 & 25213 worked a relief 09.53 Nottingham - Skegness and the 18.15 return.
The 6L27 Mountsorrel - Radlett stone special of August 1st was in the hands of 25113 & 31244.
On the morning of August 9th 25113 was stabled at York.
On the evening of September 12th 25113 was noted at Lancaster on a permanent way turn.
1979
On April 16th 25113 & 25152 worked the 08.45 Leicester - Skegness and the 18.30 return.
On August 23rd 25113 was noted at Carnforth with a short parcels train headed towards Barrow.
Engineering work on the WCML on September 16th saw 25113 assisting electric multiple units between Rugby & Bletchley on the 08.38 Rugby - Euston and the 12.33 Rugby - Euston. On September 28th & 29th 25113 worked Crewe - Cardiff services.
25113 was on empty coaching stock duty at Liverpool Lime Street on November 4th.
1980
During March approximately six hundred locomotives were awaiting attention of which only one third (about 160) were out of traffic for scheduled repair. For the Class 25s fifty eight were laid up with eight Class 25s out of traffic for at least three months (25035/42, 25113/147/177/191, 25234/252).
On the morning of July 19th 25113 was noted at Barrow station.
Three short trips took place on August 2nd between Preston & Blackpool North, with long distance workings from/to Stranraer Harbour and to Edinburgh.
On the morning of October 20th 25113 was noted north of York with a trip freight, later stabling at York depot.
On the morning of November 27th 25113 was stabled at York.
1981
On the evening of March 4th 25113 & 25285 were stabled at Ladywell sidings, Preston.
On the afternoon of April 29th 25113 was stabled at Derby.
On May 5th 1981 passengers on a York - Aberystwyth special spent more time on the train between Shrewsbury & Aberystwyth (6.5 hours) than at the destination. The original pair of Class 25s (25035 & 25219) were failed and dragged from Westbury to Welshpool by 25113 & 25033. After dropping off the two failed Class 25s more trouble ensued when 25033 failed between Welshpool & Newtown and was left at Machynlleth along with four coaches (also reported as occurring on August 9th).
25113's next passenger working was also in rescue mode, on June 10th it assisted a failed 87013 on the 20.00 Manchester Piccadilly - Euston forward from Watford Junction. Two days later (12th) 25113 & a 2nd Class 25 handled two Motorail workings between Kensington Olympia & Willesden.
On September 9th 25113 was back on the Cambrian lines, now with 25139 working the 04.10 Shrewsbury - Aberystwyth and 10.07 Aberystwyth - Euston to Wolverhampton.
The last working for 1981 occurred on December 17th assisting an ailing 40118 on the 17.42 Manchester Victoria - Llandudno Junction forward from Abergele.
1982
The last two recorded passenger workings for 25113 were also rescue jobs. On February 16th a Class 45 failed at Washwood Heath on the 07.44 Cardiff - Newcastle, 25113 assisted to Derby.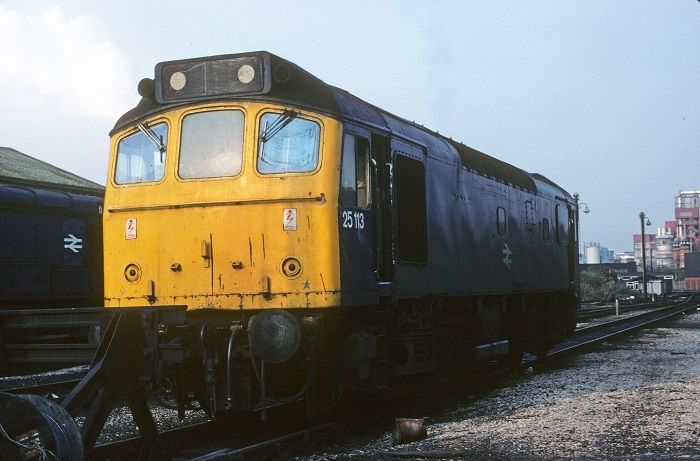 Photograph courtesy Roger Geach
25113 at Warrington Arpley on October 10th 1982.
1983
And finally on May 3rd 25113 & 25231 assisted the 06.15 Bradford - Paignton HST between Gloucester & Bristol Temple Meads.
25113 was withdrawn on June 26th 1983.
Distinguishing Features
No.1 end cab front: multiple streaks of black paint on driver's side: (not before September 1979) at least April 1982 until withdrawn.
No.1 end cab front driver's side: missing paint where horizontal handrail meets cab front: at least April 1982 until withdrawn.
30/1977
flk 1115
Not all known passenger workings are recorded on this page.
Page added March 20th 2013.
Last updated September 12th 2022.
Back to 25112
Forward to 25114