D5266, 5266, 25116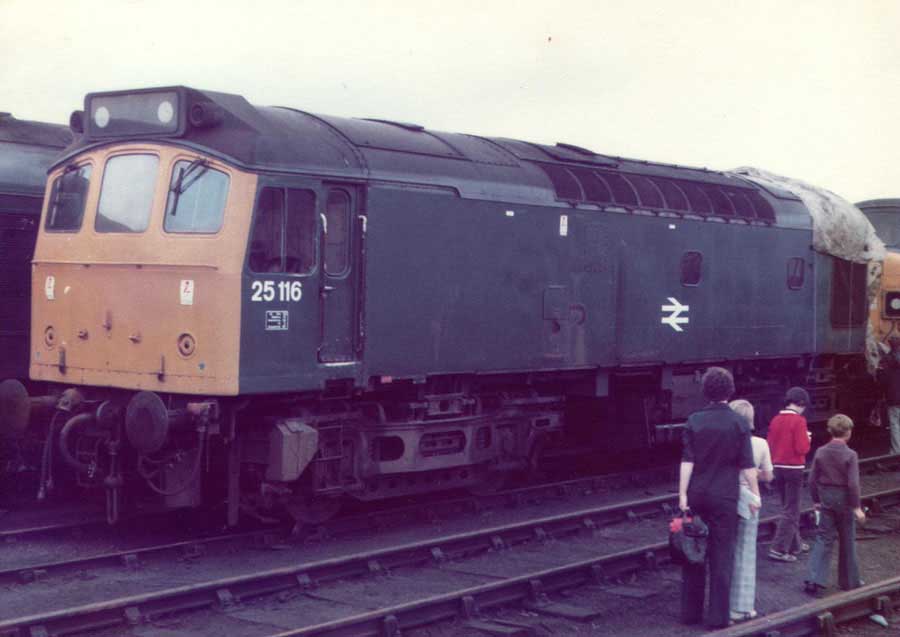 Photograph courtesy Graham Turner.
25116 at Derby Works on August 5th 1978, with the No.1 end cab missing.
The sixteen and a half year career of D5266/25116 was spent allocated to a variety of London Midland depots.
Built: BR Derby Locomotive Works.
Boiler room grilles sheeted over.
Center lampbracket & other fittings removed (No.1 cab only).
Time between last Classified repair and withdrawal: 57 months.
Time between withdrawal & scrapping: 21 months.
Allocations
D5266 was new to Nottingham (16A) on April 29th 1964. Further transfers were:
May 1964 to Derby (16C).
January 1965 to Nottingham Division (D16).
January 1965 to Saltley (2E).
April 1966 to Birmingham Division (D02).
April 1966 to London Midland Midland Lines (LMML).
December 1967 to Nottingham Division (D16).
April 1968 to London Midland Midland Lines (LMML).
June 1968 to Nottingham Division (D16).
July 1968 to Liverpool Division (D08).
December 1969 to Manchester Division (D09).
November 1970 to Nottingham Division (D16).
May 1973 to Toton.
February 1976 to Carlisle.
May 1976 to Cricklewood.
October 1976 to Toton.
May 1978 to Cricklewood.
Withdrawn November 2nd 1980.
Renumbered February 27th 1974.
25116 was the 57th Class 25 withdrawn, one of seventeen retired during November 1980, including shedmate 25112.
At withdrawal 25116 was briefly stored at Springs Branch before moving with 25047/74/99 to Swindon Works on November 21st 1980. 25116 was scrapped here by the end of July 1982.
Works Visits
Works visits (records incomplete).
Noted Crewe Works January 1969.
Noted Derby Works September 1971.
Noted Derby Works January 1976 (Classified).
Noted Derby Works August 1978 - January 1979 (accident repair).
Highlights
1968
On August 24th 1968 5266 recorded its first known passenger working, the round trip Nottingham - Llandudno Town summer dated service with 5196.
1970
On April 4th the 09.05 Euston - Blackpool South was worked forward from Preston by 5266.
1972
At about 7am on May 4th 5266 was noted passing Manchester Victoria with a down freight.
On June 10th 5266 & 5284 worked the 13.50 Derby - St. Pancras throughout.
On July 12th the 19.25 Sheffield - St. Pancras was worked to Nottingham by 5266.
On September 2nd 5266 & 7564 worked the Derby - Norwich - Yarmouth - Norwich - Walsall diagram.
1973
A day excursion on May 27th saw 5266 & 5237 work a Leicester - Yarmouth roundtrip (presumed).
At the end of the summer season, on September 29th 5266 & 5271 worked the 08.00 Walsall - Yarmouth to Norwich and is presumed to have returned on the 14.30 ex-Yarmouth.
1974
At about 11am on September 7th 25116 was noted at Derby with an up freight (8V63).
On December 27th 25116 & 25100 were noted at Exeter with the 6V47 freight comprised of 34 van fits. The locomotives came off and retired to the stabling point.
1975
25116 worked a Doncaster - Newcastle parcels on May 10th.
25116 was noted at Tyne Yard on November 24th.
1976
On July 18th the 21.20 Kensington Olympia - Perth motorail was worked to Willesden by 25116 & 25071. July 29th was probably a typical day at Nuneaton, being noted were returning empty ballast workings with 25150 from Beighton Junction, 25046 from Bordesley Junction and 25116 from Lenton, with two Class 31 hauled workings from the southern end of the Eastern Region.
1977
On July 3rd 25116 & 25276 are assumed to have worked the 08.45 Birmingham New Street - Barmouth forward from Shrewsbury since they were noted on the return working, the 17.30 Barmouth - Birmingham New Street as far as Shrewsbury.
25116 was one of four Class 25s stabled at Nuneaton on August 29th.
Two months later on September 3rd 25116 & 25243 worked the 08.52 Leicester - Skegness to Nottingham, they were replaced here by 47325.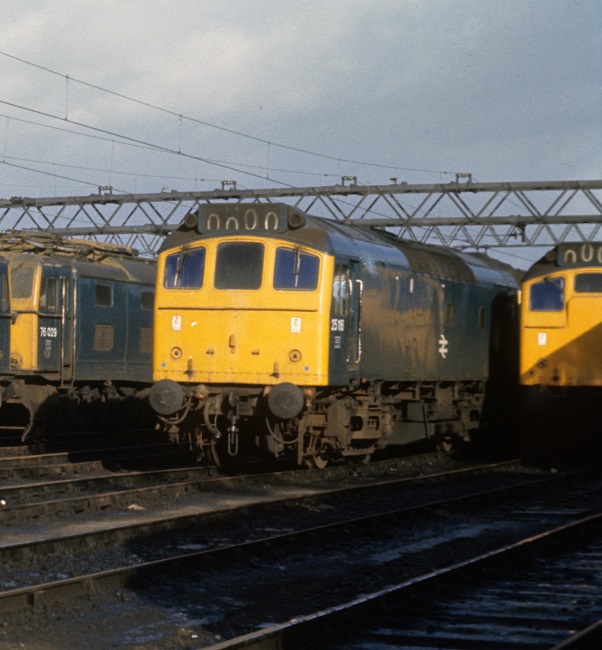 Photograph courtesy Roger Geach.
25116 at Guide Bridge sometine during the afternoon of a September day in 1977.
1978
On Thursday May 25th 25116 worked the 09.55 Willesden to Norwood and the return 12.10 Norwood to Willesden. On Wednesday May 31st 25116 (presumably) worked the 09.55 Willesden - Norwood and the return 12.10 Norwood to Willesden.
On Wednesday June 21st 25116 worked the 09.55 Willesden to Norwood and the return 12.10 Norwood to Willesden.
Breakfast time on June 27th found the 03.58 Ripple Lane - Hawksbury oil train derailing five of its wagons at the site of Brandon & Wolston station (between Coventry & Rugby), destroying several hundred yards of the down line. The rerailing coach from Saltley arrived quickly behind 25142, the line being cleared early on 28th, leaving room for 25116 & 25190 to bring in a train of fresh ballast.
1979
On Thursday March 1st 25116 worked the 09.55 Willesden to Norwood and (presumably) the return 12.10 Norwood - Willesden.
1980
25116 & 25204 were stabled at Bedford on the afternoon of January 13th.
On April 18th 25116 was noted at Bedford on an engineers train.
25116 was noted at Nuneaton on July 26th.
The final recorded passenger working for 25116 took place on August 2nd with 25116 & 25129 working the Derby - Norwich - Yarmouth - Norwich - Walsall diagram.
At about 4pm on August 9th Class 25s noted at Stonebridge Park were 25067, 25069, 25116, 25125, 25140, 25173, 25176, 25182, 25266, 25301 & 25311.
On the morning of October 18th at Rugby 25116 was on a down van train, 25309 was the up pilot with 25107 & 25316 in the yard.
25116 was withdrawn on November 2nd 1980.
1981
A shortage of locomotives in November led to at least ten Class 46s being reactivated from Swindon. For this 25116 & 25197 were used to assist in reviving these Type 4s prior to their return to Gateshead.
21/2074
flk 1115
Not all known passenger workings are recorded on this page.
Page added March 24th 2013.
Last updated April 17th 2021.
Back to 25115
Forward to 25117