D5267, 5267, 25117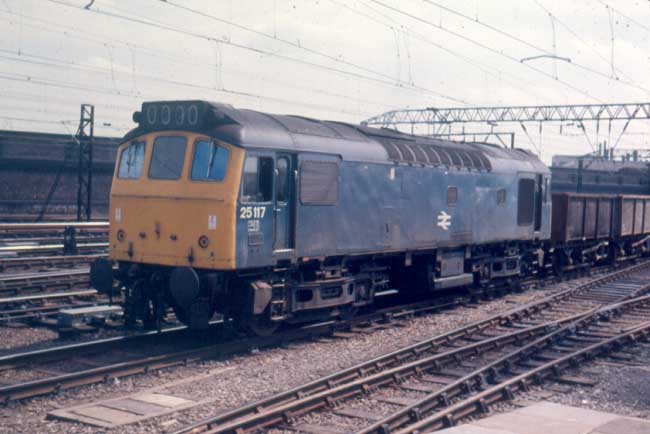 25117 passing through Crewe during June 1976.
The almost twenty year career of D5267/25117 was spent allocated to a small number of London Midland depots along the Midland mainline.
Built: BR Derby Locomotive Works.
Dual brake equipped.
Time between last Classified repair and withdrawal: 80 months.
Time between withdrawal & scrapping: 4 months.
Allocations
D5267 was new to Nottingham (16A) on April 29th 1964. Further transfers were:
May 1964 to Derby (16C).
August 1964 to Nottingham (16A).
January 1965 to Nottingham Division (D16).
May 1973 to Toton.
November 1977 to Cricklewood.
February 1982 to Toton.
March 1983 to Cricklewood.
Withdrawn January 22nd 1984.
Renumbered February 23rd 1974.
25117 was the 211th Class 25 withdrawn, one of five retired during January 1984.
After withdrawal 25117 was stored at Cricklewood until moved to Swindon Works between February 9th - 14th 1984 and scrapped here by the third week of May 1984.
Works Visits
Works visits (records incomplete).
Noted Crewe Works February 1968.
Noted Derby Works September 1971.
Noted Derby Works February 1974.
Noted Derby Works May 1976.
Noted Derby Works February - March 1977 (Classified).
Highlights
1964
With an allocation history attached to depots along the Midland mainline, it is no surprise that many of the passenger workings handled by D5267/25117 involved the east coast seaside resorts.
The first recorded passenger working occurred when D5267 was about one month into traffic, on May 17th 1964 D5267 & D113 worked the 17.18 Sheffield - Manchester Central. On the same day it had also worked a Chinley - Sheffield local.
1965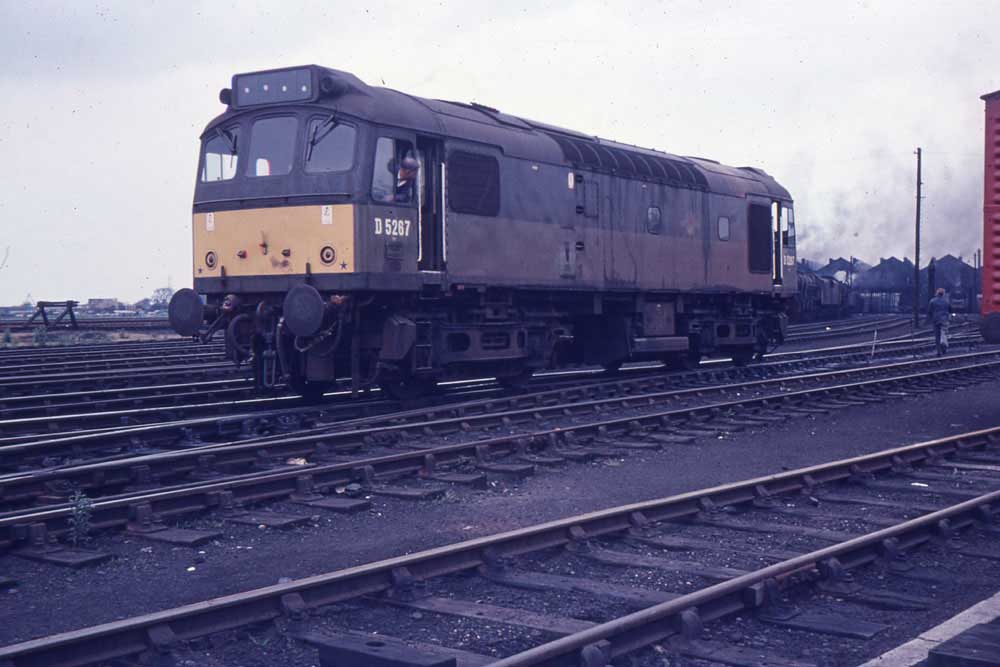 Photograph courtesy Geoff Coward
A work-stained D5267 at Carlisle Kingmoor on June 5th 1965.
1967
The next recorded passenger working took place on July 15th 1967 handling a roundtrip Nottingham - Llandudno Town with D5262.
1970
Workings of Toton Class 25s into March were nothing unusual, but their use by March for local trips took them to somewhat unusual places including a visit to Broxbourne by 5267 on June 4th.
1971
On November 20th the daily coal train on the Redditch branch featured 5267, this day handling two loads in and three empties out.
1974
25117's first recorded passenger trip to Skegness took place on June 1st 1974 working the 08.50 Leicester - Skegness with 25268.
1975
A maintenance supervisors strike during March/April 1975 created diesel multiple unit shortages, on April 3rd 1975 25117 worked the 16.55 St. Pancras - Bedford with a ten coach load.
1976
1976 brought a number of visits to Skegness & Yarmouth. On July 10th 25117 & 25049 worked the Derby - Norwich - Yarmouth - Norwich - Walsall diagram. The next day (11th) the same pair were noted on railtour duty working the Torbay Explorer from Birmingham New Street to Severn Tunnel Junction? 25117 & 25122 worked the Derby - Norwich - Yarmouth - Norwich - Walsall diagram on July 31st.
The next weekend, August 7th, 25117 worked the roundtrip 07.35 Nottingham - Llandudno Town and 13.00 return. On August 8th & 10th worked a roundtrip Derby - Skegness, followed by a Derby - Norwich - Yarmouth - Norwich - Walsall job on August 14th.
Photograph collection of webmaster
25117 & 25122 on a damp day somewhere, possibly alongside the refuelling shed at Derby?
1977
The weekend of June 18th/19th 1977 was busy for 25117 & 25207 starting on the 18th with the Derby - Norwich - Yarmouth - Norwich - Derby diagram followed by a Derby - Skegness roundtrip on the 19th.
On July 24th 25117 worked one of its longest passenger workings, accompanied by 25269 they handled a Leeds - Barmouth excursion out & back from Crewe.
25117 & 25120 worked a round trip Derby - Norwich (for Yarmouth) on September 3rd 1977.
On November 1st 25117 was noted southbound at Hunslet with a thirteen wagon freight (488 tons), going at least as far as Derby.
1978
On April 25th the 17.35 Northampton - Three Spires Junction freight derailed two wagons, damaging track for 1½ miles on the Northampton line, the two locomotives, 25117 & 25190 were not involved.
25111 & 25117 were noted at Claydon on May 19th with a lengthy coal train, presumably bound for Aylesbury Coal Concentration Depot.
1979
During October 25117 received an 'E' examination at Toton.
On October 10th 25117 was noted passing Lidlington with a barrier coach and two vehicles from the Royal train, no doubt headed for Wolverton.
1980
After no recorded passenger activity in 1978 & 1979 whilst 1980 & 1981 each produced a small number of workings.
On April 10th 25117 was noted at Stafford with loaded ballast hoppers. The next day (11th) 25117 assisted an electric multiple unit forward from Nuneaton to Stafford after the unit failed on an ex-Rugby passenger job.
On September 27th 1980 25117 & 25178 worked a Walsall - Norwich (for Yarmouth) roundtrip.
1981
25117 was stabled at Newton Heath on April 11th. 25117 was noted westbound at Guide Bridge with a parcels train on April 16th.
One working for 1981 was very short, just the 2 miles between Kensington Olympia and Willesden on October 23rd with 25209 on the 20.50 to Stirling, which was reported as the last motorail service out of Kensingon Olympia. On December 20th the 20.45 Barrow - Euston required assistance from Willesden for the six miles to Euston because of the power being off for engineering works.
1982
On March 23rd 25117 & 25076 were busy at Manchester Victoria on engineering works.
1982 produced several interesing workings. On May 13th the 11.35 Poole - Leeds required the assistance of 25117 from Sheffield after 45017 failed and was replaced. A week later on May 20th 25117 & 25190 worked the 07.20 Liverpool - Poole between Coventry & Reading, returning north with the 09.42 Poole - Newcastle to Birmingham New Street, then heading back to Reading with the 09.50 Newcastle - Poole, and then back to Birmingham New Street with the 17.05 Poole - Derby, for a total of 377 passenger miles this day.
On June 5th there was a trip over the Cambrian with 25205 on the 07.38 Shrewsbury - Aberystwyth and 10.07 Aberystwyth - Euston to Wolverhampton. On June 14th 25117 was noted at Ashton with empty tube/pipe wagons.
On July 24th 25117 became a casualty at Acton Grange Junction whilst working the 15.45 Manchester Victoria - Bangor. 40170 assisted in the rear to Chester where 25117 was removed, 40170 continued to Llandudno Junction where the train was terminated.
On October 14th 25117 was noted at Dunstable returning five short wheelbase cement tanks to Luton for forwarding to Northfleet.
An engineering possession between Formby & Hall Road on December 5th saw 25202 & 25117 handling a ballast train.
1983
On February 5th 25117 was noted at Birkenhead depot attached to a short engineers train.
On March 11th 25117 replaced 25303 as the Coventry standby locomotive. On March 28th & 29th 25117 worked the 22.47 Crewe - Blackpool forward from Preston.
25229 & 25117 were noted through Featherstone with sand hoppers for the British Industrial Sand plant at Knottingley.
On the evening of July 4th the southbound 4E78 Forders - Kings Cross fletliner was worked by 25193 & 25117. On July 9th 25117 was stabled at Stonebridge Park. On July 19th 25206 & 25117 came to the rescue of 56031 after the Class 56 suffered a turbo-charger failure working an ARC stone train at Verney Junction, the Class 25s taking the working to Wolverton and then the broken Class 56 to Bletchley for examination.
The last recorded passenger working for 25117 took place with 25237 on August 27th handling the 07.35 Euston - Aberystwyth forward from Rugby as far as Dovey Junction where 25237 failed and the train terminated. 40135 was used to push the train into the goods yard ay Machynlleth.
25117 was stabled at Speke on November 25th 1983.
25190 & 25117 with a train of oil tanks were noted at Cadishead BTP on December 6th.
1984
25117 was withdrawn on January 22nd 1984.
Distinguishing Features
No.1 cabfront: two rust spots below handrail in center of cabfront: June 1982 - March 1983.
51/4684
flk 0817
Not all known passenger workings are recorded on this page.
Page added March 27th 2013.
Last updated May 10th 2019.