D5271, 5271, 25121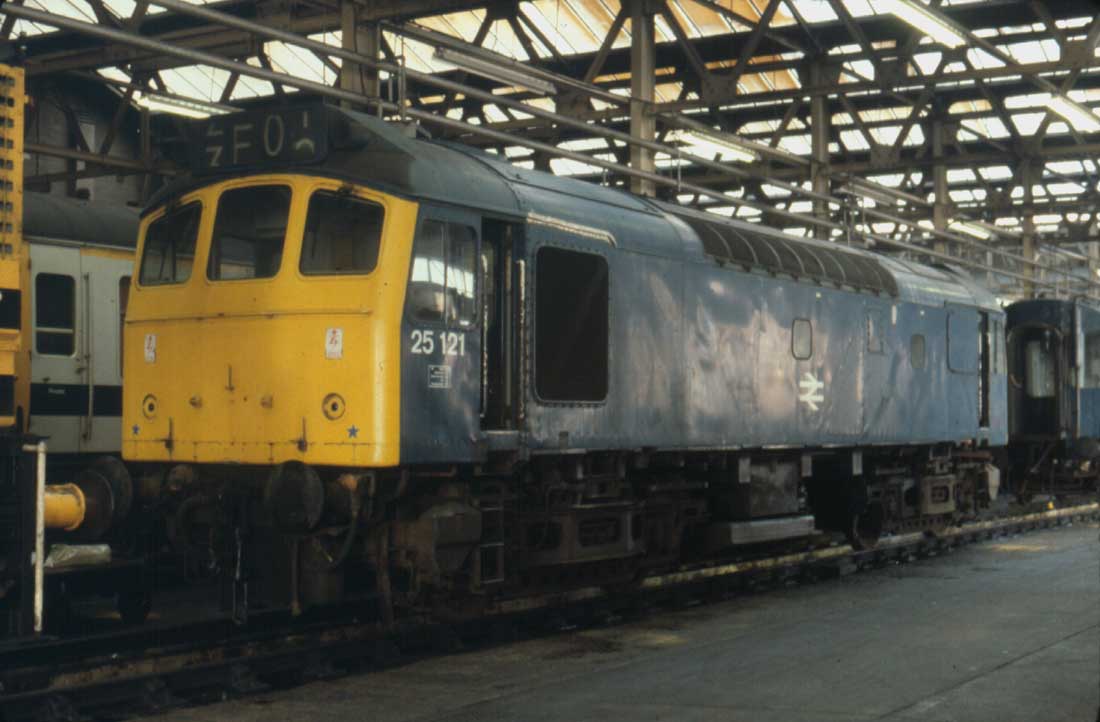 Keeping company with diesel multiple units and shunters, 25121 stands in Longsight shed on September 16th 1979. The locomotive has just over a year left in service.
The sixteen year career of D5271/25121 was spent entirely at LMR depots, particularly in the Midlands and London areas.
Built: BR Derby Locomotive Works.
Time between last Classified repair and withdrawal: 58 months.
Time between withdrawal and scrapping: 21 months.
Allocations
D7511 was new to Nottingham (16A) on May 15th 1964. Further transfers were:
July 1964 to Leicester (15B).
September 1964 to Nottingham (16A).
January 1965 to Nottingham Division (D16).
January 1966 to London (Midland) Division (D14).
June 1968 to London (Western Lines) Division (D01).
January 1969 to Birmingham Division (D02).
February 1970 to London (Western Lines) Division (D01).
March 1971 to Liverpool Division (D08).
October 1972 to Nottingham Division (D16).
May 1973 to Toton.
Withdrawn November 2nd 1980.
Renumbered February 28th 1974.
25121 was the 58th Class 25 to be withdrawn, one of seventeen Class 25s withdrawn during November 1980.
After withdrawal 25121 was stored at Toton, during January 1982 it moved to Bletchley. From here it is reported that 25121 moved from Bletchley to Swindon on June 21st 1982 with 08403/457/629/704. By the middle of August 1982 25121 had been broken up.
Works Visits
Works visits (records incomplete).
Noted Derby Works April 1967.
Noted Derby Works October 1967.
Noted ??? very ex-works August 1971 (blue/yellow livery).
Noted Derby Works December 1975.
Highlights
1964
D5271 was noted at Derby on June 7th in ex-works condition showing headcode 0T49 (from its test run?)
1970
November: two-tone green with yellow ends.
1972
5271 was on empty coaching stock duty at Liverpool Lime Street on June 7th, 8th & 9th.
On October 19th 5271 & 5285 were noted at Exeter stabling point off 6Z58 Hope - Exeter cement, they would later return north with the empties.
1973
On March 12th 5271 was in charge of the 06.00 Westbury - Northampton stone train. Regrettably its progress was halted near Northampton by the derailment of the five rear wagons. Two days were required to repair over a mile of the up & down lines damaged in this incident.
On September 22nd the 14.30 Yarmouth - Walsall was worked from Norwich by 5271 & 5266.
1974
On July 27th 25121 & 25181 worked the Walsall - Norwich (for Yarmouth) - Derby diagram.
1975
The Derby - Norwich - Yarmouth - Norwich - Walsall diagram was worked by 25121 & 25137 on June 7th & June 28th.
1976
25121 & 25122 were noted at Crewe Station with a down coal train on June 9th.
A Norwich - Aberystwyth day excursion was worked from Shrewsbury to Aberystwyth and return by 25121 & 25066 on July 31st.
On August 15th an Alfreton - New Hadley via Shrewsbury special was noted changing locomotives at Birmingham New Street with 47477 giving way to 25121 & 25260.
25121 was stabled at Millerhill on October 9th.
1977
On April 9th 25121 worked the Holyhead - Manchester vans (4H07).
On July 9th 25121 worked to the North Wales coast on the 07.35 Nottingham - Llandudno Town and 13.05 return.
1978
25121 was noted passing Attenborough with a short freight on May 16th.
1979
25121 & 25136 were noted passing through Oxford on March 30th with a mixed freight.
On May 26th 25245 & 25121 were noted at Machynlleth with a Rambler Charter Train from the Wolverhampton area.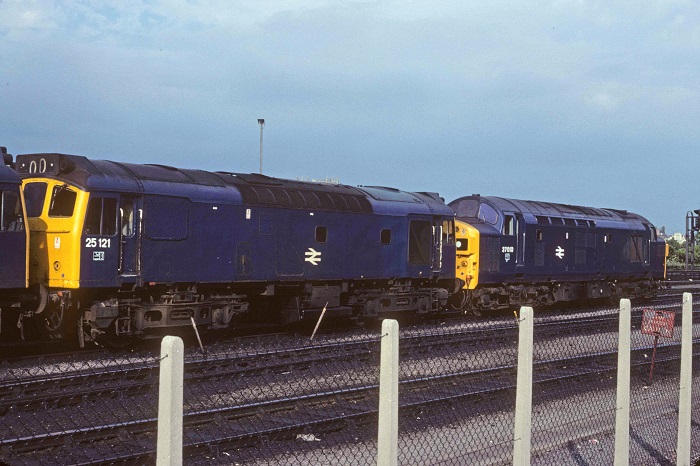 Photograph courtesy Roger Geach
25121 & 37010 at York depot during July 1979.
During August whilst visiting the Exeter area 25121 was commandeered for some local passenger workings including on August 10th the 14.10 Exeter St. Davids - Paignton and the next day's 13.40 Exeter St. Davids - Barnstaple and the 15.52 return.
On September 1st 25121 & 25043 worked the 16.02 Crewe - Cardiff, and the next day's (2nd) 14.15 Cardiff - Crewe and the 18.17 Crewe - Cardiff. On September 8th the 14.40 Manchester Victoria - Llandudno Town and the 18.17 Llandudno Town - Manchester Victoria were worked by 25121.
1980
25121 was noted passing Huddersfield hauling 37171 to Crewe on February 15th.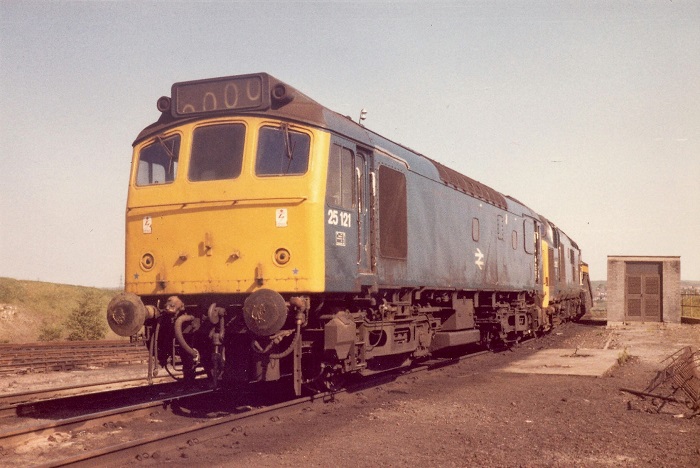 Photograph courtesy Jerry Glover
25121 & 37135 at Tinsley on May 18th 1980.
During 1980, its last year of service, 25121 ran up quite a few passenger miles which included possibly its longest one day passenger outing. May 31st saw 25121 handle a Nottingham - Llandudno Town working as far as Derby.
June 21st saw 25121 & 25123 on the Derby - Norwich - Yarmouth - Norwich - Walsall diagram. On June 28th 25121 was noted running light engine at Manchester Victoria. On June 30th 25121 worked a Llandudno Town - Manchester Victoria turn.
On the morning of July 8th 25121 was noted at Edge Hill. On the morning of July 11th 25121 was noted at Guide Bridge with a down freight. 25121 was noted at Crewe depot on July 26th.
On August 20th Bescot turned out 25121 & 25127 for a Wolverhampton - Bridlington day excursion, a total of 380 miles, possibly 25121's longest passenger day out. A visit to the Cambrian lines was made on August 30th with 25121 & 25124 working the 07.40 Euston - Aberystwyth from Wolverhampton returning with the 16.10 Aberystwyth - Shrewsbury.
On September 13th 25121 & 25188 went on a Derby - New Clee football excursion, 25121's last recorded passenger working. 25121 was the Manchester Victoria banker (T42) on September 21st.
Withdrawal took place on November 2nd 1980.
34/4046
flk 0817
Not all known passenger workings are recorded on this page.
Page added February 1st 2013.
Last updated May 10th 2020.
Back to 25120
Forward to 25122