D 5283, 5283, 25133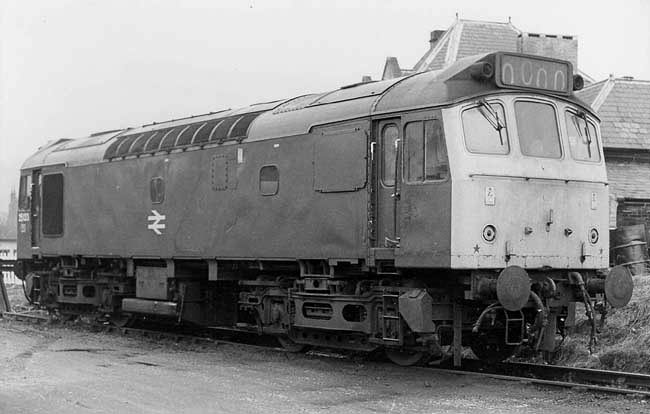 Photographer unknown at this time.
25133 provides a fine detailed portrait during the corporate blue era, at Skipton on an unknown date, circa 1977/1978.
The nineteen year two month career of D5283/25133 saw allocations only to a variety of London Midland Region depots.
Built: BR Derby Locomotive Works.
Boiler room grills sheeted over (1978).
Time between last Classified repair and withdrawal: 62 months.
Time between withdrawal & scrapping: 46 months.
Allocations
D5283 was new to Toton (16A) on July 2nd 1964. Further transfers were:
July 1964 to Cricklewood West (14B).
September 1964 to Toton (16A).
September 1964 to Nottingham (16D).
January 1965 to Nottingham Division (D16).
July 1965 to London Midland (Midland) Lines LMML.
November 1965 to Nottingham Division (D16).
January 1966 to London Division (Midland) (D14).
November 1966 to London Midland (Midland) Lines LMML.
August 1967 to Stoke Division (D05).
May 1968 to Allerton (8J).
June 1968 to Liverpool Division (D08).
November 1968 to Preston Division (D10).
April 1972 to Nottingham Division (D16).
May 1973 to Toton.
July 1973 to Springs Branch.
September 1973 to Toton.
April 1982 to Kingmoor.
November 1982 to Toton.
January 1983 to Kingmoor.
Withdrawn August 28th 1983.
Renumbered October 10th 1973.
25133 was the 191st Class 25 withdrawn, one of six retired during August 1983.
After withdrawal 25133 reached Derby Works by October 1983 for stripping. It remained here for almost almost eighteen months until the vast majority of the condemned locomotives were made roadworthy for one last move, the Type 2s for Swindon and the Type 4s to Doncaster. Thus on February 3rd - 4th 1985 25133 and eight other Class 25s made the move to Swindon. A number of these machines were broken up very quickly but 25133 escaped the cutter's torch at Swindon, witnessing the Works closure in March 1986!
Although Vic Berry, Leicester had been contracted to clear the site of all scrap, it would be awhile until 25133 made a move. On May 26th 1987 eleven locomotives, including 25133 were moved from the Works to Cocklebury Yard, making the final journey to Berry's Leicester yard on June 2nd - 11th 1987. From Oxford to Leicester 20019 & 20197 hauled the motley consist.
Vic Berry finally cut up 25133 at their Leicester yard by the first week of July 1987.
Works Visits
Works visits (records incomplete).
Noted Brush Works, Loughborough May 1966.
Noted Derby Works May 1978 (boiler room grills sheeted over, full repaint).
Highlights
1964
D5283 was delivered new to Toton at the beginning of July 1984. D5283 did not linger long at Toton, during July it moved south to Cricklewood West, then back to Toton in September and then on to Nottingham.
1965
On August 28th 5283 worked the relief 07.37 Lincoln St. Marks - Nottingham
1966
Because of the heavy workload at Derby Locomotive Works, several Type 2s were sent to the Brush Works, Loughborough for repair, including collision damaged D5021, D5218 & D5283.
With regard to the June 10th directive to begin painting locomotives in blue & yellow livery, on August 2nd Brush wrote to the CM&EE BR at Derby with concern over three points: would the polyurethane paint be used on those locomotives being refurbished at Loughborough; would it be used on new locomotives from the current order and would BR take their stocks of green paint off them if the change to blue livery was to include those locomotives at Brush? The CM&EE BR responded in the affirmative for each question. At the end of 1966 Brush held three collision damaged Type 2s: D5021, D5218 & D5283, instructions had been received to repaint them green, this took place for D5021 & D5218 but on January 5th 1967 instructions were received from A.E.Robson, Chief Engineer (T&RS) to repaint all three in the new blue polyurethane livery. However D5021 & D5218 were outshopped with old-style small yellow warning panels and both received the old style crest!
1967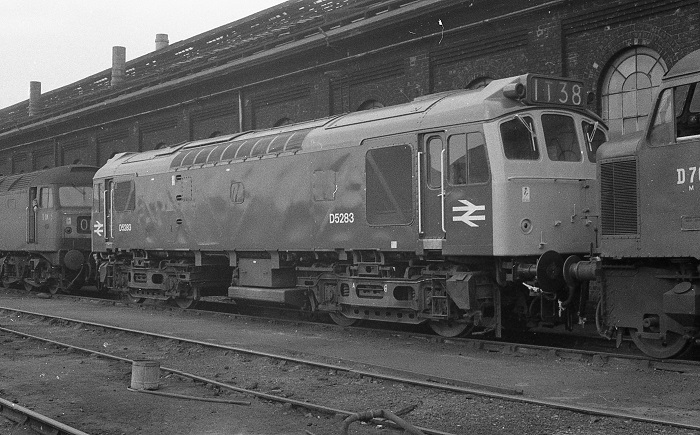 Photographer collection of webmaster.
Recently outshopped D5283 stands alongside Derby Shed on March 4th 1967 after repair and repaint at Brush, Loughborough. The bogies and underfame gear appears not to have been repainted. The headcode suggests the locomotive has recently been on its acceptance trials after outshopping. The bodyside window nearest the radiator screen has been sheeted over. It was in this condtion when it entered the Brush Works. At some later point the window was refitted (see view below).
Paired Type 2s were still frequently allocated to Midland mainline passenger services, D5283 & 5198 worked October 17th's 12.30pm Manchester – St Pancras.
1969
On August 1st 5283 & 7551 worked the 23.45 Newcastle - Stranraer Harbour throughout, returning with the 2nd's 13.50 Stranraer Harbour - Newcastle.
1971
An Open Day on May 22nd at Carlisle Kingmoor diesel depot featured thirty three locomotives including four Type 2's, 5192, 5283, 7544 & 7554.
1972
On March 24th the 1E06 13.05 St. Pancras - Sheffield was worked by 5283 & 54 throughout (?)
1973
5283 moved to Toton in September, where it would remain for the next eight & a half years.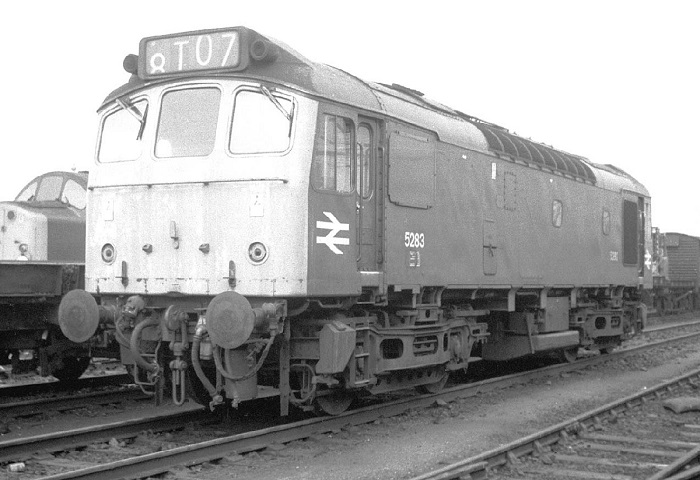 Photographer courtesy Tony Sayer.
5283 stands at Bescot on April 23rd 1973, a frequent visitor to the Birmingham area whilst allocated to the Nottingham Division (D16).
1974
On July 6th 25133 & 25099 worked a roundtrip Leicester - Skegness service.
On July 13th 25133 worked the 2B99 12.20 Barnstaple - Exeter, 15.55 Exeter - Barnstaple, 17.55 Barnstaple - Exeter and the 20.40 Exeter St. Davids - Newton Abbot. On July 14th 25133 was on the Hemyock branch duty.
On August 10th 25133 & 25254 worked a roundtrip Leicester - Skegness service.
On Saturday October 19th locomotives stabled at Exeter included 25077, 25133, 25151 & 25274. Later 25133 worked the 6B18 14.50 Exeter - Chard Junction milk (six tanks) and the 6B58 17.00 Chard Junction - Exeter milk (four tanks).
The 18.00 Riverside - East Usk was worked by 25133 on October 21st. The evening Huddersfield - Wakefield parcels was worked by 25133 on October 28th.
1976
On the morning of July 25th 25133 was noted at Healey Mills depot.
On August 7th 25133 & 25280 worked a roundtrip Derby - Skegness service.
1977
25133 worked two roundtrip Nottingham - Llandudno Town services, on June 4th & July 23rd.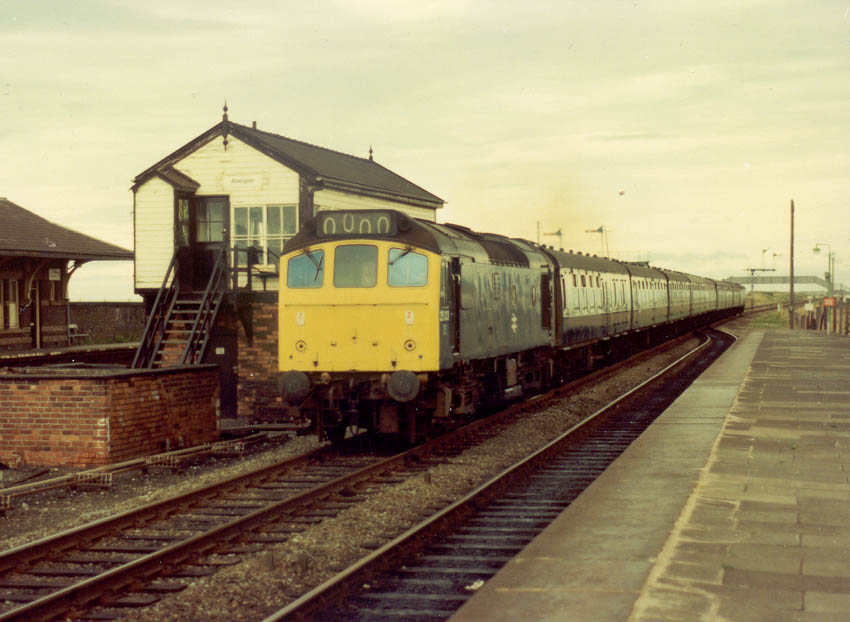 Photograph collection of webmaster.
25133 heads through Abergele, belived to be on a very dull July 23rd 1977 with the 07.30 Nottingham - Llandudno Town.
25133 & 37033 arrived at Ipswich on the afternoon of August 9th with a heavy load of prefabricated track, both machines being replaced by a Class 31/37 combination!
1978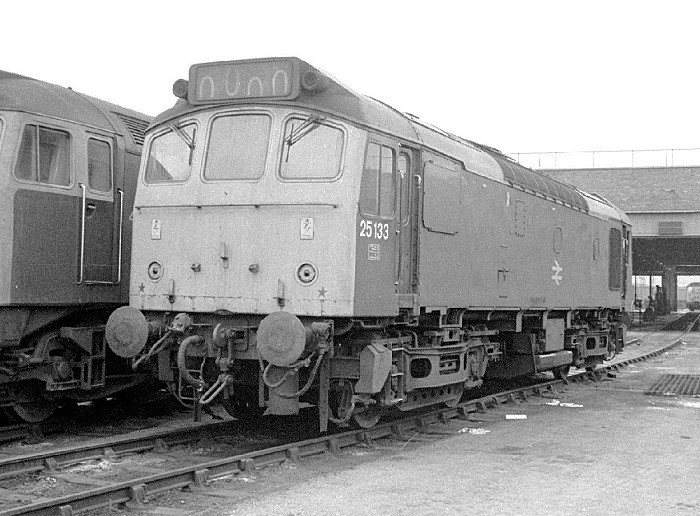 Photograph courtesy Tony Sayer.
On April 22nd 1978 25133 is photographed stabled at Thornaby awaiting its next turn of duty.
A visit was made by 25133 to Derby Works during May.
On July 17th 25133 was noted ex-works at Newcastle with a parcels train and was also noted light engine at Sunderland on this day. The third week of July was quite a busy one for 25133. On July 22nd 25133 & 25254 worked the 09.19 Manchester Piccadilly - Yarmouth to Lincoln Central, returning from there with the 09.15 Yarmouth - Manchester Piccadilly. Then followed four days on various Skegness services, all with 25254: from Derby (23rd), Leicester (24th, 25th & 26th).
More trips to Skegness took place early in August, 25133 & 25073 worked relief Nottingham - Skegness roundtrips on August 2nd, 3rd & 9th. On August 16th the 10.25 Nottingham - Glasgow Central was worked by 25133 & 25115 between Nottingham & Leeds?
On August 17th 25115 & 25133 worked a roundtrip Nottingham - Southport excursion (for the flower show).
On December 17th 25133 & 25157 were noted at Chester depot.
1979
On January 17th 25133 worked a load of empty grain wagons from Whitworth's Flour Mill, Wellingborough. This service used the connection from the Midland mainline to the former ex-LNW Peterborough - Northampton line. It is possible that the empty grain train was the last revenue earning service to visit Whitworth's. A Divisional Manager's special with 46002 would visit the mill on April 3rd 1981.
March continued to see the 15.15 Plymouth - Manchester receive mixed power from Gloucester, observed were 25095 (13th), 25133 (14th) and 25118 (22nd), the latter in charge of ten coaches.
On May 8th 25133 was noted at Willesden Low Level hauling brake vans. On May 25th 25133 was noted at Winwick with a lengthy van train.
25133 worked the 08.03 Peterborough Kings Cross on June 19th.
On July 7th 25133 & 25118 worked a roundtrip Leicester - Skegness service. 25133 was noted at Wellingborough depot on July 29th.
The 07.30 Nottingham - Llandudno Town was worked to Derby by 25133 on August 11th.
On the morning of August 21st 25133 was noted at Exeter stabling point, it later worked the 2B93 17.45 Barnstaple - Exeter St Davids. An unusual sight on August 25th was 25133 dragging dead 25105 & 47107 from Bristol to Derby, the journey up Lickey Incline saw the assistance of the bankers 37158 & 37298!
On October 14th 25133 was noted at northbound at Normanton on Soar with a premanent way train.
1980
On March 29th a Manchester Piccadilly - Norwood Junction football special was worked roundtrip between Willesden & Norwood Junction by 25133 & 25099.
On the afternoon of May 25th 25133 was noted at Edge Hill with a permanent way train.
A Blythe Bridge - Blackpool North extra was hauled by 25133 & 25118 on July 3rd. Four days later (7th) 25133 & 25093 worked a roundtrip Burton on Trent - Skegness service whilst on July 8th the same pair worked a roundtrip Derby - Skegness service. On July 19th the roundtrip Nottingham - Llandudno Town service was worked by 25133.
The latter half of August was busy for 25133. On August 16th the Walsall - Norwich (for Yarmouth) - Derby diagram was worked by 25133 & 25136. The next three days saw the same pair make trips to Skegness: from Derby (19th) & Leicester (20th, 21st). On August 23rd 25133 & 25131 worked the Derby - Norwich - Yarmouth - Norwich - Walsall diagram. On August 25th 25133 & 25131 were noted at Bristol with the 16.59 Weston-Super-Mare - Wolverhampton.
25133 was stabled at Tinsley on Christmas Day.
1981
31255 & 31273 working a southbound stone train on February 25th replaced 25133 & 25324 on the northbound Fletliner at Wellingborough, the stone train continued south behind 46047, one presumes there was a problem with the Class 25's.
On March 1st 25133 was noted at March depot.
On the morning of May 29th 25133 was noted at Manchester Victoria with a down permanent way train.
On June 21st the 14.36 Manchester Victoria - Llandudno Town and the 19.00 Llandudno Town - Manchester Victoria were hauled by 25133.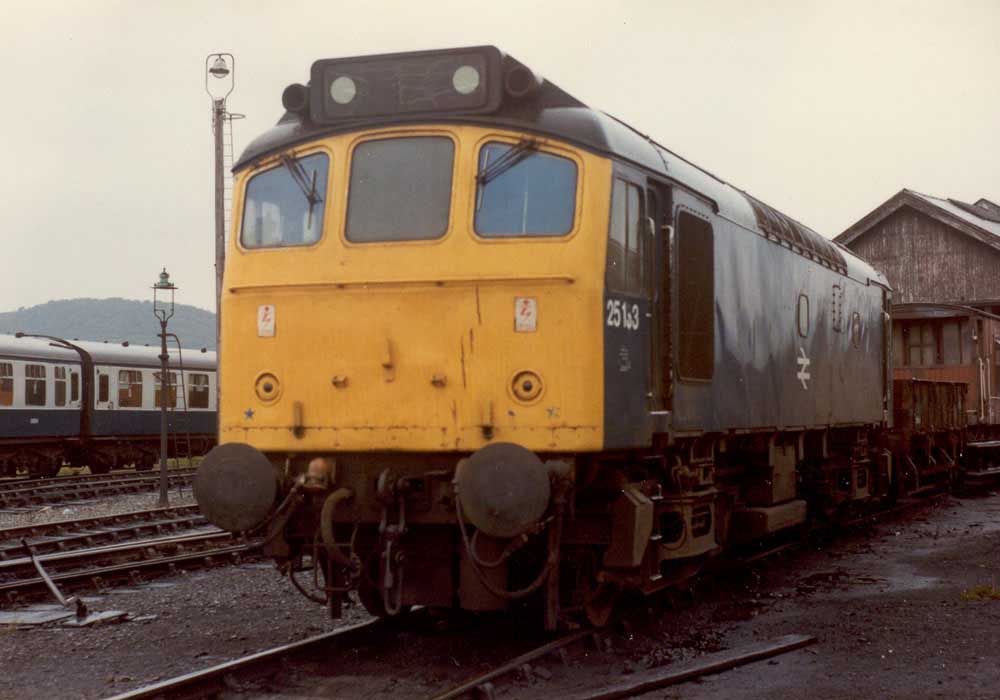 Photograph courtesy Jerry Glover.
A wet June 27th 1981 finds 25133 at Llandudno Junction.
On October 7th a late afternoon Leicester - Birmingham New Street service was hauled by 25133 following the failure of the scheduled diesel multiple unit, 25133 then worked the next leg of the diagram, the 18.00 Birmingham New Street - Derby.
1982
From April to November 25133 was allocated to Carlisle Kingmoor, leading to a different selection of passenger trains being worked during the summer months.
On May 8th an eleven coach Sutton Coldfield - York school special utilised 25044 & 25133, the latter failing en route, 25044 successfully reaching York unaided. On May 15th 25133 was noted passing through Derby with two short wheelbase wagons and a brake van.
On June 4th 25133 was noted shunting the sidings at Brownedge and later parked at Bamber Bridge for the lunch break. On June 6th the 16.30 Holyhead - Manchester Victoria was hauled by 25133. On June 26th the 07.45 Manchester Victoria - Bangor failed at Chester behind 40004, 25186 & 25133 took the service forward to Bangor and returned with the 11.57 Bangor - Manchester Victoria.
25133 & 25224 worked the 07.38 Shrewsbury - Aberystwyth and the 10.07 Aberystwyth - Euston to Wolverhampton on July 3rd.
On August 11th 25133 was noted at Birmingham New Street with a parcels train for Curzon Street.
25133 was stabled at Northwich on October 23rd.
During November & December 25130, 25131 & 25132 were all retired, 25133 would remain in service for a little longer, 25133 was allocated back to Toton from November 1982 to January 1983.
1983
On January 19th 25133 was noted eastbound at Chester with an engineer's train.
The last transfer for 25133 occurred during January with a move back to Kingmoor.
On March 30th 25133 was noted north of Wolverton with a permanent way train.
25133 was noted stabled at Stonebridge Park on April 24th. Six days later (30th) 25133 was noted at Warrington Bank Quay with a northbound van train.
On May 7th 25133 was noted at Nuneaton with an electrification train. Bewdley received two excursions on May 22nd, a diesel multiple unit from Four Oaks and an excursion from Warrington with 25133 & 25138 working the Wolverhampton - Bewdley roundtrip. On May 28th the 10.10 Euston - Aberystwyth from Birmingham New Street and the 17.15 Aberystwyth - Shrewsbury were worked by 25133 & 25124.
On June 11th 25133 worked the 21.15 Manchester Victoria - Blackpool North. During June 25133 worked several Cardiff - Crewe services. On June 13th 25133 worked the 08.01MO Crewe - Cardiff and 11.40 return whilst on June 27th 25133 worked the 08.01 Crewe - Cardiff and the 11.40 return.
On July 3rd 25133 was stabled at Llandudno Junction. The 1E05 07.48 Leicester - Leeds was worked to Nottingham by 25133 on July 22nd. The next day (23rd) the 06.45 Derby - Leicester and the 07.48 Leicester - Leeds to Nottingham were worked by 25133.
25133 was withdrawn on August 28th 1983.
Resources:
Vic Smith - location details.
80/7661
flk 0221 (1)
Page added October 10th 2001.
Page updated February 26th 2021.
Back to 25132
Forward to 25134