D5284, 5284, 25134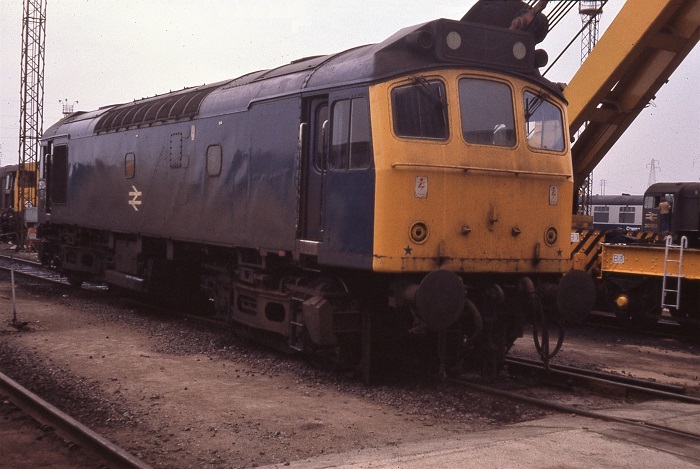 Its Toton Open Day on June 9th 1979 and 25134 and the Toton breakdown crane are being used to show visitors how the derailed locomotives are placed back on the tracks.
The eighteen and a half year career for D5284/25134 was spent allocated to a variety of London Midland depots.
Built: BR Derby Locomotive Works.
Boiler room grilles sheeted over (1977).
Time between last Classified repair and withdrawal: 60 months.
Time between withdrawal & scrapping: 62 months.
Allocations
D5284 was new to Nottingham (16A) on July 9th 1964. Further transfers were:
July 1964 to Cricklewood West (14B).
September 1964 to Nottingham (16A).
September 1964 to Derby (16C).
October 1964 to Cricklewood (14B).
January 1965 to London Division (D14).
April 1965 to Saltley (2E).
April 1966 to Birmingham Division (D02).
April 1966 to London Midland Midland Lines (LMML).
June 1968 to Nottingham Division (D16).
July 1968 to Liverpool Division (D08).
October 1968 to Preston Division (D10).
April 1972 to Nottingham Division (D16).
May 1973 to Toton.
July 1973 to Springs Branch.
September 1973 to Toton.
October 1982 to Bescot.
Withdrawn December 20th 1982.
Renumbered May 28th 1974.
After withdrawal 25134 was stored at Newton Heath from January 1983 to June 1984, it was moved to Swindon Works on June 25th 1984. The Works closed before 25134 could be scrapped, it moved to Cocklebury Yard on June 3rd 1987, reaching Leicester Humberstone Road by June 5th 1987 and into Vic Berry's yard by June 8th 1987. It would become part of the infamous stack. 25134 was broken up during the first week of March 1988.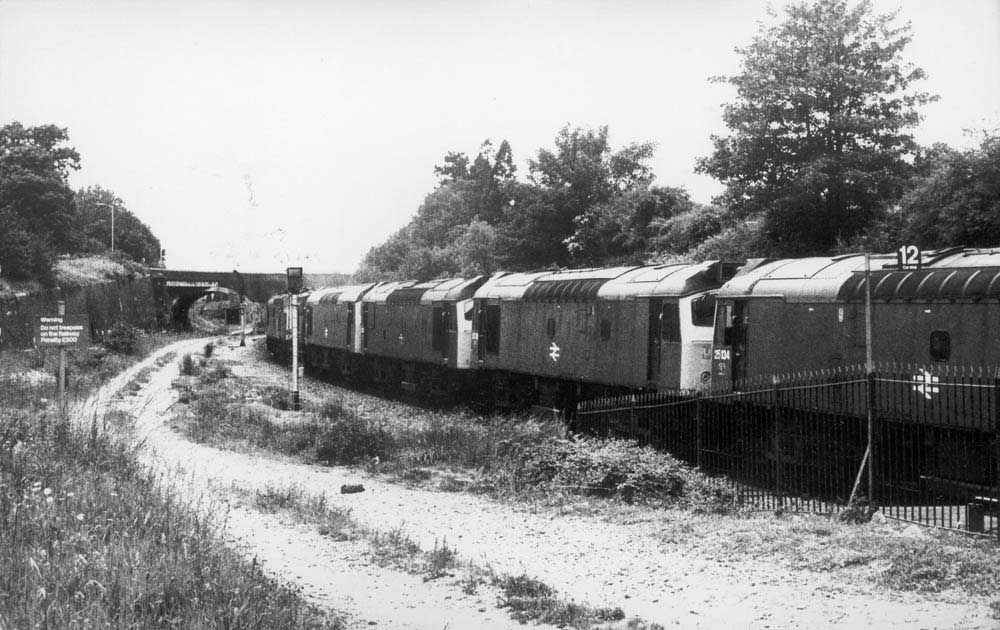 Photograph collection of webmaster
On June 22nd 1984 a consist of five locomotives headed south through Cheltenham. An unidentified Class 37 was in charge of 25126, 25134, 25158 & 25208 on their movement towards Swindon Works for scrapping.
Movement details:
25126/134/158, 25208 Newton Heath – Swindon Works June 25th 1984
25093, 25126/134/161/164/180/193, 25207/208/260, 25306/327 Swindon Works – Cocklebury Yard, June 3rd 1987.
25126/134/164, 25260 Cocklebury Yard – Vic Berry, Leicester June 5th - 8th, 1987
Works Visits
Works visits (records incomplete).
Noted Derby Works February 1965.
Noted Derby Works June 1970.
Noted Derby Works April 1973.
Noted Derby Works November & December 1977.
Highlights
1968
On July 27th D7641 & D5284 worked the 11.11 Blackpool North - Leeds relief.
1970
With considerable time spent allocated to the Nottingham Division depots 5284/25134 acquired a respectable scorecard with regard to its recorded passenger workings. Its first noted workings were on the Stirling - Newton Abbot motorail from Stirling to Carlisle, on September 25th 1970 with 5195 and on September 30th 1970 with 5193.
1972
On June 10th 5284 & 5266 worked the 13.50 Derby - St. Pancras throughout.
1973
Pairs of class 25s substituted for Class 45s on coal trains destined for the Kent area, on May 18th 5272 & 5284 were noted.
At about 7.30am on November 15th 5284 was noted passing Olive Mount Junction with an up freight.
1974
25134 would be a frequent visitor to Skegness, its first recorded passenger visit was on August 26th handling a roundtrip Alfreton & Mansfield Parkway - Skegness relief with 25074.
The continuing shortage of power on the Western Region allowed many strangers to reach deep into WR territory, on November 22nd the 20.40 Bradford – Plymouth parcels arrived behind 25134 (Toton allocated).
On November 25th 25134 was noted at Exeter with empty continuously welded rail bogie flats headed in the Up direction.
1975
On August 23rd 1975 25134 & 25023 worked a roundtrip Leicester - Skegness.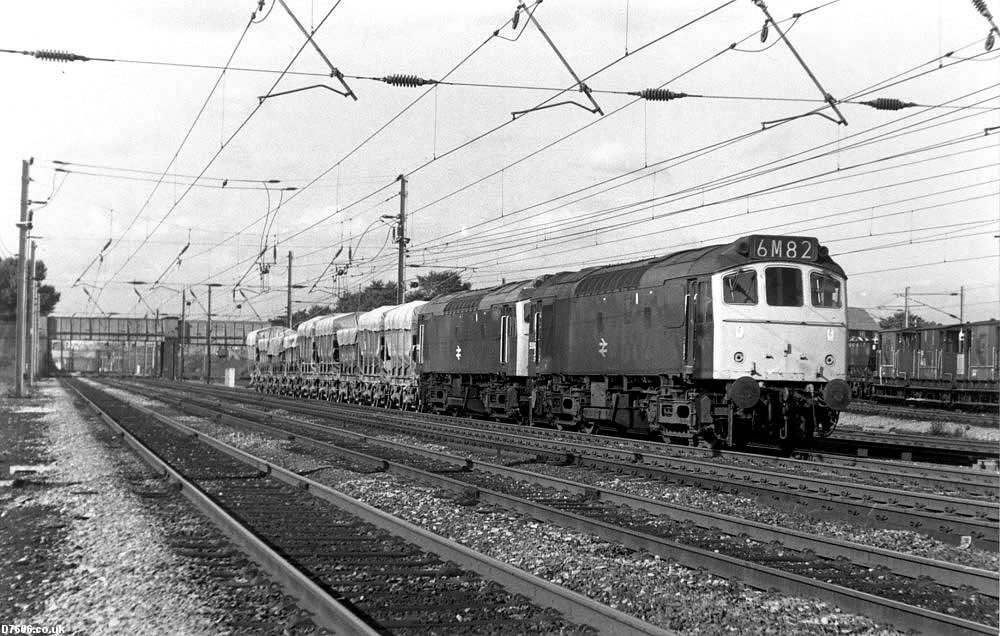 Photograph collection of Ian Hammond
Glory days for 25134 & 25103 near Springs Branch on the Gunnie - Wrexham cement on November 10th 1975.
1976
25134 & 25219 were noted at Gloucester on March 21st, 25134 had been noted at Severn Tunnel Junction earlier.
An east – west cross country working which occasionally featured Class 25's was the evening Norwich – Liverpool Lime Street parcels, 25134 was noted on May 4th
The second week of August produced three passenger workings for 25134 & 25117. There were two roundtrips to Skegness, from Leicester on 8th & Derby on 10th. The Derby - Norwich - Yarmouth - Norwich - Walsall diagram (370 passenger miles) was worked on August 14th.
On August 18th 25134 was noted at Exeter with the 4B10 15.57 Bristol - Plymouth parcels (six vans).
1977
25134 departed Frodingham westbound on March 11th with empty fitted mineral wagons.
On August 6th the Derby - Norwich - Yarmouth - Norwich - Derby diagram was worked by 25134 & 25126. The same pair then worked two roundtrips to Skegness, from Derby on 8th and Leicester on 9th.
A Leicester - Skegness roundtrip was worked by 25134 & 25122 on September 4th.
1978
January 31st's 8K80 Toton - Stoke parcels failed at Weston on Trent behind 25134, rescuers 20160 & 20007 were slow to arrive due to manning problems and were further delayed by a points failure at Sheet Stores Junction, lateness reached ninety minutes.
On July 2nd 25134 was noted at Bristol Bath Road depot.
During the last week of July 25134 ended up working several North Wales coast passengers services. These commenced on July 25th with the 13.30 Manchester Victoria - Llandudno Town and the 16.42 Llandudno Town - Crewe. On July 27th & 28th the following diagram was completed: 09.42 Llandudno Town - Manchester Victoria, 13.30 Manchester Victoria - Llandudno Town, 16.42 Llandudno Town - Crewe, 20.30 Crewe - Bangor and the 22.45 Bangor - Llandudno Junction. On July 29th 25134 returned to the East Midlands working the 13.02 Llandudno Town - Nottingham forward from Crewe, having replaced 47227. Passenger mileage for the period July 25th - 29th was 861.
25134 and three parcels coaches were noted at Luton on August 10th. 25134 was noted on the 22.45 Bangor - Llandudno Junction on August 27th & 28th.
1979
On a snowy January 2nd 25134 was noted southbound passing Finedon with a single parcels van.
1979 was a quieter year for 25134, but it did produce a couple of interesting workings. On July 15th 25134 & 25140 worked a special between Manchester Piccadilly and Bath. The next day (16th) 25134 & 25204 worked a Burton on Trent - Skegness turn forward from Nottingham and the entire return leg back to Burton. The same pair returned to Skegness the next day (17th), working the 18.50 Skegness - Leicester, having replaced 25136 & 25164.
It was a busy day out with 25270 on August 7th working a Birmingham New Street - Plymouth as far Bristol Temple Meads, then returning with a Plymouth - Liverpool from Bristol Temple Meads to Liverpool. The previous day this pair had been hauling mineral wagons on the Market Harborough - Northampton line, possibly a Draycott - Wolverton sand train.
25134 was noted on Bristol Bath Road on the afternoon of August 21st.
On September 7th 25134 worked the 17.10 Cardiff - Crewe. On September 16th (a Sunday) six coal trains were worked from South Wales to Corby. Four of the coal trains were held at Didcot and two at Oxford, with Banbury providing locomotives to work the trains forward to Corby. Two pairs of Class 25s were used, 25141 & 25274 and 25134 & 25212, other types included Classes 20 & 47.
On December 3rd 25134 was noted westbound at Bristol Temple Meads with cement tankers.
1980
On February 28th 25134 & 25126 worked the 15.15 Plymouth - Manchester Piccadilly forward from Gloucester to Birmingham New Street.
The early afternoon Peterborough - Crewe parcels was worked by 25134 on March 19th, 20th & 21st.
A roundtrip Blyth Bridge - Llandudno Town relief was worked with 252134 & 25115 on June 28th.
1981
The only passenger working so far recorded in 1981 occurred on May 16th with 25073 on an Old Hill - York day excursion, a roundtrip of 264 miles.
The Royal Wedding Day on June 29th saw much of the nation watching the Royal Wedding, 25134 was parked up in the sun at Skipton stabling point.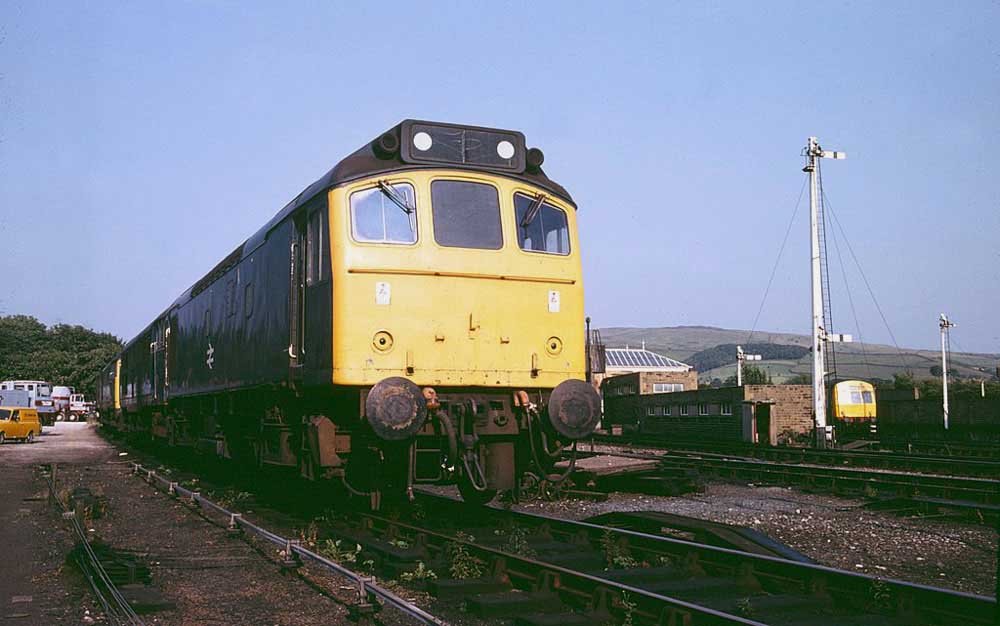 Photograph courtesy Andy Hoare.
A gloriously sunny day at Skipton in July 1981 finds 25134 and some other items in the holding sidings at the north end of the station.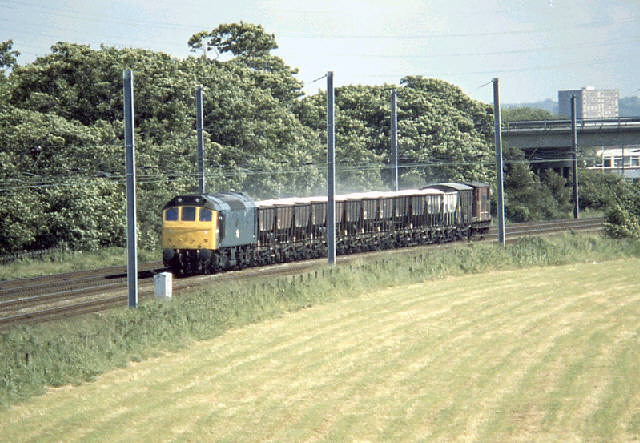 Photograph courtesy Kevin Jones, collection of Phillip Moore
25134 at Winwick Junction on July 1st 1981.
On the afternoon of August 10th 25134 was noted at Edge Hill with an up van train. At 04.35 on August 20th 25134 arrived at Holbeck off the E27 job. On August 23rd 25134 was noted at Wellingborough with the drain cleaning train.
On September 17th 25 25134 was noted passing Heaton Lodge Junction, Mirfield with train of coal empties.
1982
On March 22nd 25134 was noted arriving at Croes Newydd with loaded ballast hoppers, from ARC Blodwen?
25134 was noted at Crewe depot on May 22nd.
25134 & 25086 were noted westbound through Lawrence Hill with a down freigt on June 23rd.
Although 1982 was the last year in service for 25134 it ran up over 750 passenger miles on a variety of workings. Two days in early August saw 25134 & 25278 very active. On 6th they worked the 12.46 Portsmouth - Leeds forward from Birmingham New Street, returning to New Street with the 21.56 Leeds - Portsmouth. The next day (7th) the same pair were on the Derby - Norwich (for Yarmouth) - Derby, working forward from Norwich to Yarmouth on the 07.10 Chesterfield - Yarmouth service and returning to Norwich with the 13.46 Yarmouth - Leeds before taking the train to Derby. On August 11th 25134 was noted at Toton with a train of condemned (?) London Underground stock, presuambly for scrapping in Yorkshire.
The final two workings were a roundtrip Stoke-on-Trent - Nottingham football special on October 2nd with 25093 and November 6th's 08.40 Carlisle - Glasgow Central. Its perhaps a little ironic for a locomotive never allocated to a Scottish depot that its first and last passenger workings were both north of the border.
25134 was withdrawn on December 20th 1982.
57/5362
flk 0817
Not all known passenger workings are recorded on this page.
Page added March 16th 2013.
Last updated September 27th 2020.
Back to 25133
Forward to 25135