| | | | | | |
| --- | --- | --- | --- | --- | --- |
| Load | Speed | Amps | Volts | Notes | Other |
| 1 | 28 | 900 | - | - | - |
No pin in over voltage regulator (OVR)
OVC sticking
A side crankcase door issue
No.1 cab driver's side door seal unserviceable
B side crankcase seam leaking (generator end)
No.1 bulkhead seal unserviceable
Fuel return leaking at unions
Turbo-charger banging under load
No.1 cab no maximum speed
Radiators unbalanced
No.1 2nd man's side window issue
Unequal brake pressure on goods working.
On April 29th 25136 was noted at Hathersage with an up van train.
On May 27th 25136 & 25129 worked the Walsall - Norwich (for Yarmouth) - Derby diagram. A week later on June 3rd 25136 & 25195 worked the 09.19 Manchester Piccadilly - Yarmouth to Lincoln Central, returning with the 09.15 ex-Yarmouth. 25136 was in rescue mode on June 8th when the 07.58 Peterborough - Kings Cross failed at Huntingdon behind 31201, the entourage was dragged to Kings Cross by 25136.
On June 10th 25136 & 25127 worked the Walsall - Norwich (for Yarmouth) - Derby diagram, the next day the same pair went out on the 08.40 Leicester - Skegness and 18.30 return. 25136 was back at Skegness on July 7th with 25115 on a day excursion from Birmingham New Street.
At lunchtime on August 8th 25123 & 25136 were noted northbound with a merry-go-round coal train at Kingsbury.
At about 12.20pm on August 10th 25129 & 25136 were noted running light engines through Exeter St Davids. Elsewhere at the station the 1B44 09.35 Paddington - Penzance arrived behind 08646 & 50016, the Class 50 had failed on the approach to Exeter with traction motor fan problems. 47117 was taken off the 6V32 02.35 (TTho) Ripple Lane - Exeter to work the 1B44 forward.
On August 12th 25136 & 25129 worked the Derby - Norwich - Yarmouth - Norwich - Walsall diagram, but taking over on the outbound run from two Class 25's at Nottingham. On the morning of August 16th 25136 was at Gloucester shed. The 13.02 Llandudno Town - Nottingham on August 19th was worked forward from Derby by 25136. The second trip involving Kings Cross occurred on October 26th when 25136 worked the 17.18 Kings Cross - Peterborough.
1979
On March 30th 25136 & 25121 were noted at Oxford with a mixed freight.
On June 3rd 25136 was stabled at Chester.
On July 3rd 25136 & 25149 worked a Nuneaton - Scarborough excursion as far as Alfreton where they were failed, 20158 & 20088 provided assistance to?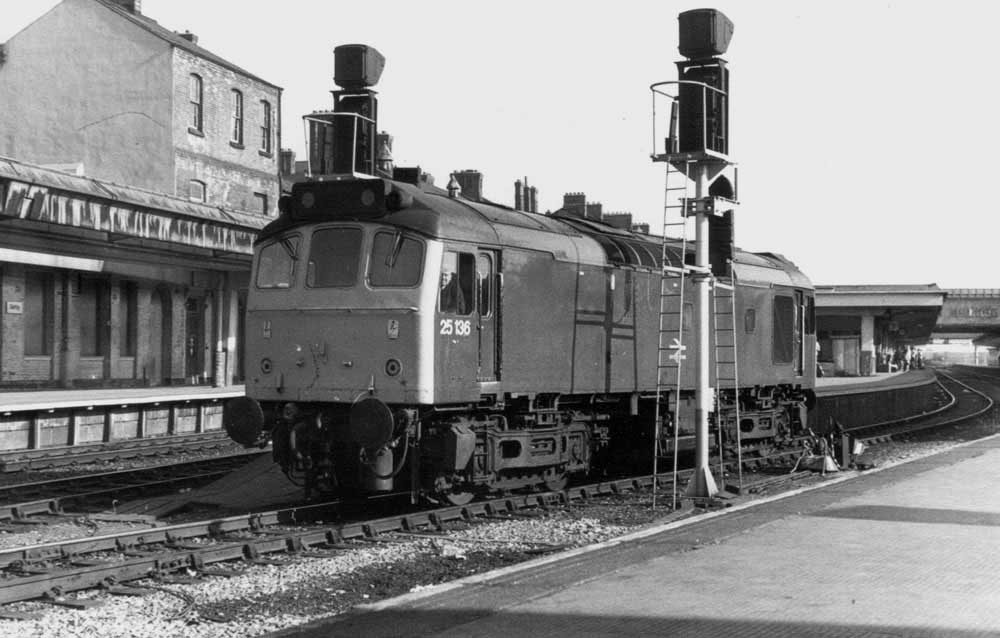 Photograph courtesy Graham Turner
As all the through platforms at Derby were reversible train & light engine movements could be unpredictable. Seen here On July 14th 1979 at the south end of Platform 3 is 25136 heading southwards.
The middle of July produced a six day period when 25136 was busy on the seaside workings. The six days started out on July 14th working the 07.30 Nottingham - Llandudno Town and 13.00 return. Then followed five days (15th - 19th) of working the roundtrip Leicester - Skegness with 25164 (15th/16th/18th/19th), on July 17th they worked the Derby - Skegness outwards and came back with the Skegness - Leicester, a total of just over 900 miles for these five days. On the afternoon of July 23rd 25136 was noted at Cricklewood depot. On the late afternoon of July 27th 25136 & 25115 were noted passing Old Oak Common.
On August 18th 25136 & 25127 worked the Derby - Norwich - Yarmouth - Norwich - Walsall diagram. On August 26th 25136 & 25167 were noted at Seacombe Junction on iron ore.
1980
1980 was another year of trips to Skegness and Norwich/Yarmouth. However a rescue job on March 1st saw the 05.54 Derby - Weymouth require assistance from Oxford (?) to Reading by 25136 & 25100 following the failure of 47234.
On the morning of April 4th 25136 was noted at Preston on a down freight.
On the afternoon of May 10th 25136 was stabled at Saltley.
On May 21st 25136 took steam locomotives 673, 4027 & 13809 and one coach from the Midland Railway Center, Butterley to Bold Colliery, via Chesterfield and the Hope Valley line, in order to attend the Rainhill festivities. At the end of May there were four days of passenger activity, on May 26th 25136 & 25125 worked a roundtrip (?) Leicester - Manchester Piccadilly day excursion. On May 27th - 29th 25136 & 25125 trips were made to Skegness, from Derby (27th & 28th) and Burton (29th).
On June 7th 25136 & 25115 worked the Derby - Norwich - Yarmouth - Norwich - Walsall diagram.
A month later on July 5th 25136 worked the 13.15 Birmingham New Street - Norwich and the 18.32 return, another 348 miles run up.
On July 31st 25136 was stabled at Saltley.
The third week of August was busy for 25136. On August 16th 25136 & 25133 worked the Walsall - Norwich (for Yarmouth) - Derby diagram. The same pair of locomotives then followed up with three visits to Skegness, from Derby (19th) and Leicester (20th & 21st). The seaside was involved again on August 24th, this time with 25214 working a Rhyl - Hinckley day excursion (return leg only?).
On September 24th 25129 & 25136 were southbound at Ratcliffe on Soar with a loaded coal train.
On October 24th 25136 was at Oxford with a freight.
On the morning of October 28th 25136 was noted shunting at Conington (ECML).
1981
On May 24th 25136 was stabled at March.
The passenger activities of 1979 & 1980 were not sustained for the following three years. Two workings occurred in 1981, on June 15th 25136 & 25275 worked the 08.25 Manchester Piccadilly - Cardiff forward from Birmingham New Street and returned with the 15.35 Cardiff - Manchester Piccadilly as far as Birmingham New Street.
1982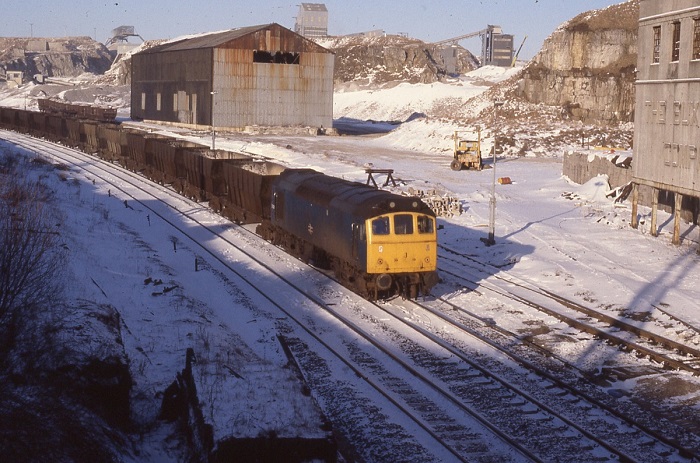 As the sun starts to set in the west on this chilly January 1982 afternoon another train of empties arrives behind 25136. The train has just crested the 982' summit, and as can be seen snow was a frequent visitor to the north Derbyshire hills.
On the afternoon of April 21st 25136 was light engine at Toton.
On May 7th 25136 was southbound at Goose Hill Junction with a mixed freight.
For some period during the ASLEF strike (July 4th - 18th) 25048 was stabled at Cardiff Canton.
1982 produced two days of passenger workings. On July 19th 25136 worked two Cardiff - Crewe roundtrips, another 556 miles run up. Two weeks later on July 31st 25136 & 25181 worked the 07.40 Euston - Aberystwyth forward from Wolverhampton, returning with the 14.00 Aberystwyth - Shrewsbury.
On the morning of October 11th 25136 was stabled at York.
1983
25136 was stabled at Springs Branch on January 29th.
On February 18th 25136 was note at Banbury.
The spectacular derailment of a Stanlow – Bishopbriggs oil tank train south of Acton Grange viaduct on March 3rd behind 47225 led to a major fire which closed the line for several days. On 5th, with the Chester line still closed a permanent way train was noted behind 25136 & 40022 at the scene.
Like many others the last working for 25136 was a rescue job. On February 12th the 09.03 Cambridge - Birmingham New Street failed at Nuneaton Midland Junction behind 25058. The train was dragged to Birmingham New Street by 25136.
25136 was withdrawn on March 28th 1983.
flk 0623 (2)
89/10593
Not all known passenger workings are recorded on this page.
Page added March 18th 2013.
Last updated June 17th 2023.
Back to 25135
Forward to 25137