D5285, 5285, 25135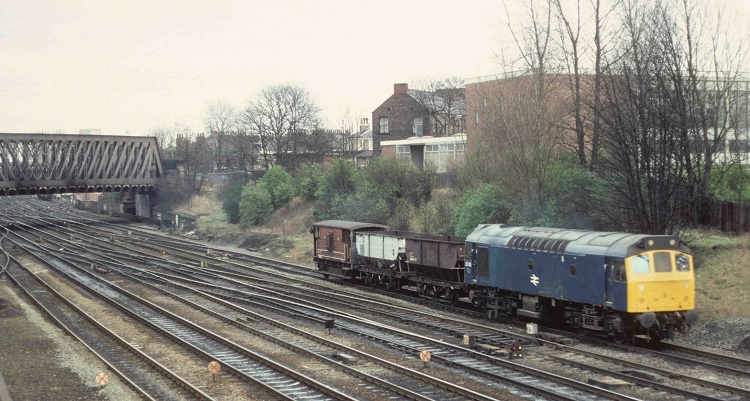 Photograph courtesy Roger Geach
25135 heads south past York Holgate with a short trip freight on January 9th 1981.
D5285/25135 was another Class 25 to spend its entire career allocated to London Midland Region depots and entertaining eighteen transfers in its nineteen year six month career.
Built: BR Derby Locomotive Works.
Boiler room grilles sheeted over (1977).
Time between last Classified repair and withdrawal: 55 months.
Time between withdrawal & scrapping: 42 months.
Allocations
D5285 was new to Nottingham (16A) on July 9th 1964. Further transfers were:
July 1964 to Cricklewood West (14B).
September 1964 to Nottingham (16A).
September 1964 to Derby (16C).
October 1964 to Cricklewood (14B).
January 1965 to London Division (D14).
June 1965 to London Midland Midland Lines (LMML).
April 1966 to Nottingham Division (D16).
March 1967 to London Midland Midland Lines (LMML).
August 1967 to Stoke Division (D05).
May 1968 to Carlisle (12A).
June 1968 to Preston Division (D10).
May 1970 to Liverpool Division (D08).
January 1972 to Preston Division (D10).
October 1972 to Nottingham Division (D16).
May 1973 to Toton.
July 1973 to Springs Branch.
October 1973 to Toton.
October 1982 to Bescot.
Withdrawn January 16th 1983.
Renumbered March 16th 1974.
25135 was the 165th Class 25 to be withdrawn.
After withdrawal 25135 was stored at Crewe until March 29th 1984 when it was moved with 25132/136/143 to Gloucester, reaching Swindon Works on April 2nd 1984, and broken up by the end of July 1986. The cabs were transported to Vic Berry, Leicester for disposal.
Works Visits
Works visits (records incomplete).
Noted Crewe Works June 1968.
Noted Derby Works September 1976.
Noted Derby Works March - May 1978.
Noted Derby Works May 1979.
Highlights
1968
On February 18th D5285 was noted towing D1747 (failed?) at Hazel Grove, possibly a very early visit for a Class 47 to this line.
1971
On or about June 11th 8116 dragged 5119 & 5127 from Polmadie to Carlisle, with 5285 taking the locomotives forward for eventual delivery to Derby Locomotive Works for overhaul.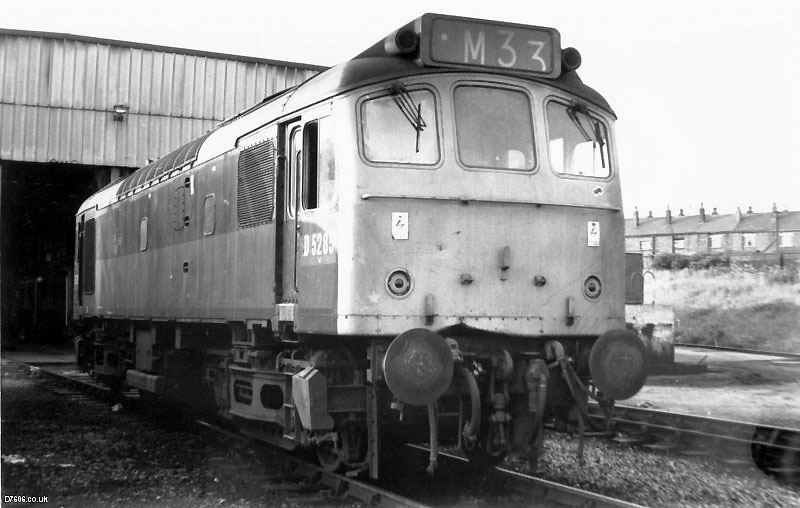 Photograph collection of Ian Hammond
Three years after the end of steam this 1971 view at Springs Branch still shows 5285 with its 'D' prefix. Also still visible is the through steam pipe connection, which over time would be removed from the non-boilered examples.
1972
On October 19th 5271 & 5285 were noted at Exeter stabling point off 6Z58 Hope - Exeter cement, they would later return north with the empties.
1973
5285 was noted during March still carrying green livery.
1974
During February energisation of the overhead took place from Garstang to Carlisle. Diesel powered test trains operated between Preston & Carlisle, various test vehicles and vans were used including 5285 on March 4th.
On June 1st 25135 & 25035 worked the 08.00 Walsall - Yarmouth to Norwich returning with the 14.15 Yarmouth - Derby from Norwich. The next day (2nd) the same locomotives worked a roundtrip Derby - Skegness service.
On July 20th the 14.30 Blackpool North - Leicester was worked to Nottingham by 25135 & 25299.
An Alfreton - Yarmouth special was worked by 25012 & 25135 on August 28th.
On October 31st 25135 worked the 6B58 15.05 Whimple - Exeter Riverside (two vans).
1975
1975 brought only one recorded working so far, on July 19th 25135 & 25038 worked the 08.00 Walsall - Yarmouth to Norwich returning to Derby with the 14.15 ex-Yarmouth.
1976
During the late afternoon of April 13th 25135 was shunting at Ely.
On June 8th 25135 removed 24086 from Derby Works en-route to Doncaster Works for scrapping. Four days later (12th) 25135 & 25125 worked the Derby - Norwich - Yarmouth - Norwich - Walsall passenger diagram.
July 28th found 25135 working the 13.33 Taunton - Cardiff and the 17.45 Cardiff - Bristol Temple Meads.
On September 11th 25135 & 25184 worked the Derby - Norwich - Yarmouth - Norwich - Walsall passenger diagram.
1977
On June 16th 25135 worked the 9P08 Tyne Yard - Ponteland freight.
On July 16th 25135 & 25205 worked the 12.30 Skegness - Leicester forward from Nottingham, having replaced 25131 & 25173.
On August 6th 25135 worked the 18.35 Birmingham - Norwich from Leicester to March, the Class 25 replaced a failed Class 31 and a Class 37 took over at March. On August 13th 25135 & 25267 worked the 09.20 Derby - Skegness and the 13.05 return.
1978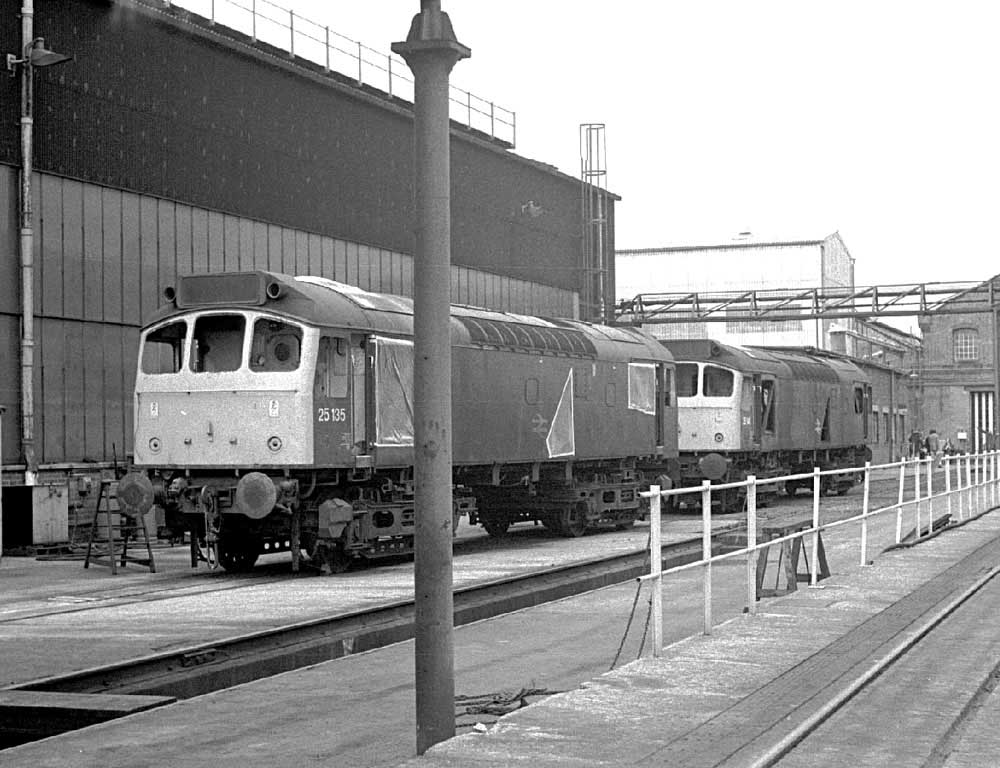 Photograph courtesy Tony Sayer
Its March 18th 1978 and 25135 (& 25141?) have been stripped of most parts and are currently in the process of having the asbestos content dealt with, which included the covering of all bodyside openings with plastic sheet.
1979
On May 26th 25135 & 25130 worked the 08.00 Walsall - Yarmouth to Norwich and returned from Norwich with the 14.15 Yarmouth - Derby. Two days later (28th) the same pair worked the 19.15 Llandudno Town - Leicester. On May 29th 25135 & 25130 worked the 09.28 Derby - Skegness and the 18.39 Skegness - Derby. The next day (30th) the same diagram was worked as of the 29th, but 25135 was now paired with 25270.
25135 was noted passing Bytham on July 25th with a lengthy parcels train.
On August 25th a special flyash working from the LMR was noted at Peterborough with 25131 & 25135. The same locomotives worked roundtrips to Skegness from Derby on August 26th and Leicester (27th, 29th & 30th).
September 4th's Southam trip proved a little too strenuous for 25243 as it caught fire at the site of Marton station. 25131 & 25135 rescued the train several hours later.
On September 29th the 09.55 Derby - Newquay was worked to Birmingham by 25135 & 25073 with 45026 replacing the Type 2s. Three days later (Oct 2nd) 25135 was even further down the NE/SW mainline, working a Bristol Temple Meads - Plymouth additional service to cover a late running train.
1980
On March 22nd a Chesterfield - Accrington charter was worked by 25135 and eight coaches on its return leg following the failure of the diesel multiple unit.
On April 18th 25135 was noted southbound at Knighton South Junction with a Class 8 freight, by 5pm the locomotive was noted at Wellingborough.
On May 31st 25135 & 25124 worked the Walsall - Norwich - Yarmouth - Norwich - Derby diagram and on June 7th 25135 worked the 07.35 Nottingham - Llandudno Town and 13.00 return.
1981
25135 was noted on a down van train at Crewe on the afternoon of February 14th.
A diesel multiple unit failure on March 3rd saw 25135 work the 16.37 Leicester - Birmingham New Street and the 18.00 Birmingham New Street - Derby. On July 3rd (?) 25135 was reported on an unidentified Glasgow Central - Carlisle service.
1982
25135's last passenger workings took place in 1982. On January 11th the 06.20 Wolverhampton - Chester was worked by 25135 with two coaches. Three weeks later on February 6th 46035 encountered brake trouble at Derby whilst working a Walsall - Chesterfield football special. 25135 took over at Derby and handled the return working back to Walsall. On July 22nd another failure required the assistance of 25135 when 31316 working the 15.37 Carlisle - Leeds failed at Lowhouse Crossing, 25135 dragging the Class 31 and its train on to Leeds.
On August 12th at about 19.15 25085 & 25135 arrived at Leeds Holbeck off the Z26 job.
The final passenger working for 25135 took place on September 1st working a roundtrip Coventry - Southport day excursion, a total of 251 miles.
25135 was noted working a short 6T90 Arpley - Burscough Bridge freight on November 2nd 1982.
On November 14th 1982 25135 was noted at Liverpool Lime Street on a short engineers train.
1983
25135 was withdrawn on January 16th 1983.
51/5465
flk 0116
Not all known passenger workings are recorded on this page.
Page added March 16th 2013.
Last updated June 24th 2020.
Back to 25134
Forward to 25136