D5288, 5288, 25138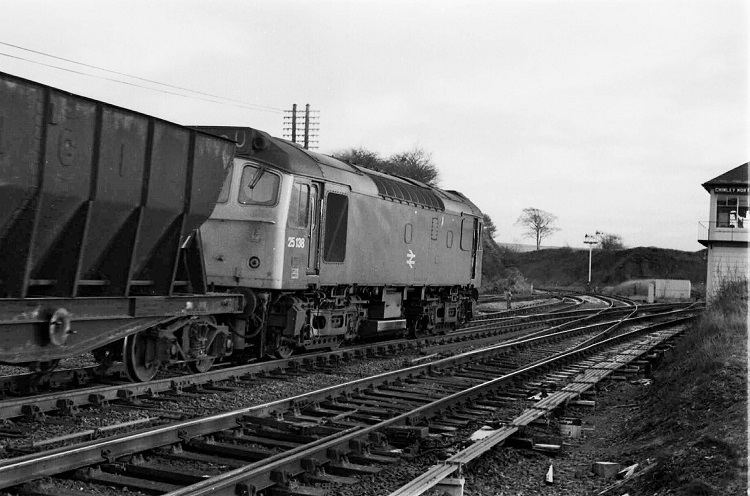 Photograph collection of webmaster
25138 returns a train of empty bogies hoppers to Tunstead on January 4th 1978, seen here at Chinley North Junction.
The nineteen year five month career of D5288/25138 was spent allocated to a variety of London Midland Region depots.
Built: BR Derby Locomotive Works.
Boiler room grilles sheeted over (1979).
Time between last Classified repair and withdrawal: 35 months.
Time between withdrawal & scrapping: 35 months.
Allocations
D5288 was new to Nottingham (16A) on July 30th 1964. Further transfers were:
August 1964 to Derby (16C).
October 1964 to Cricklewood West (14B).
January 1965 to London Division (D14).
June 1965 to London Midland (Midland) Lines.
April 1966 to Nottingham Division (D16).
March 1967 to London Midland (Midland) Lines.
August 1967 to Birmingham Division (D02).
November 1967 to Stoke Division (D05).
November 1968 to Liverpool Division (D08).
May 1973 to Springs Branch.
October 1982 to Crewe.
Withdrawn December 11th 1983.
Renumbered February 26th 1974.
25138 was the 203rd Class 25 withdrawn, one of six retired during December 1983.
After withdrawal 25138 was stored at Crewe until February 21st 1985 when it moved to Swindon Works and was cut up there by the end of November 1986. The cabs were sent to Vic Berry, Leicester for final processing.
Works Visits
Works visits (records incomplete).
Noted Crewe Works May 1968.
Noted Derby Works October 1971.
Noted Derby Works August 1975 (full repaint).
Noted Derby Works November 1979 - January 1980 (Intermediate repair).
Highlights
1964
The recorded passenger workings for D5288/25138 were few. An early sighting put D5288 at Skegness on August 31st 1964 on an unidentified passenger working. A day excursion on May 12th 1973 saw 5288 & 5285 on a roundtrip Burton-on-Trent - Spalding working.
1965
On August 29th D5088 was used to haul D5288 & D6843 from Saltley to Derby. Whilst exiting the down goods loop at Elford D6843 became derailed and ended up blocking all lines, the line was not cleared until the evening, with the help of the Bescot & Saltley breakdown cranes.
1966
On the afternoon of August 18th D5288 was light engine at Sheffield.
1967
On the morning of April 10th noted at Washwood Heath as light engines were D5204, D5225, D5238 & D5288.
On the afternoon of November 13th D5288 was shunting at Radway Green.
1968
On the afternoon of July 11th D5288 was westbound light engine at Bamber Bridge, returned eastbound a couple of hours later with a freight and later that evening ran westbound light engine.
On the afternoon of August 2nd D5288 was at Crewe with the 1P39 15.27 Euston - Heysham parcels.
1969
On the afternoon of February 8th 5288 was at Kingmoor.
On June 13th 5288 worked a Southport-Bickershaw empty coal train.
1973
At about 7.30am on June 14th 5288 was noted in the colliery yard near Newton le Willows.
At about 7am on July 12th 5288 was noted at Newton le Willows on a permanent way train.
1975
On February 12th 25138 was noted at Manchester Victoria with the 4A20. On February 13th 25138 was noted at Manchester Victoria with the 8X43.
On May 14th 25138 was noted at Manchester Victoria with the 5J39. On May 15th 25138 was noted at Manchester Victoria with the 9T53.
25138 was on empty coaching stock duty at Liverpool Lime Street on August 7th.
1976
On the morning of December 1st 25138 was stabled at York.
1977
On the afternoon of December 6th 25138 was shunting at Newton-le-Willows.
1978
On the evening of November 11th 25138 was stabled at Cricklewood.
1979
25138 was noted at Hyde on ICI hoppers for Northwich on May 13th.
On August 17th the 11.05 Manchester Victoria - Holyhead was worked by 40097 & 25138, the return 15.03 Holyhead - Manchester Victoria being worked by 25138. The next day (18th) the diesel multiple unit on the 09.26 Llandudno Town - Mossley Hill was assisted at least to Chester by 25138. 'The Comet' railtour on September 29th 1979 was worked by 25138 between Guide Bridge & Stockport.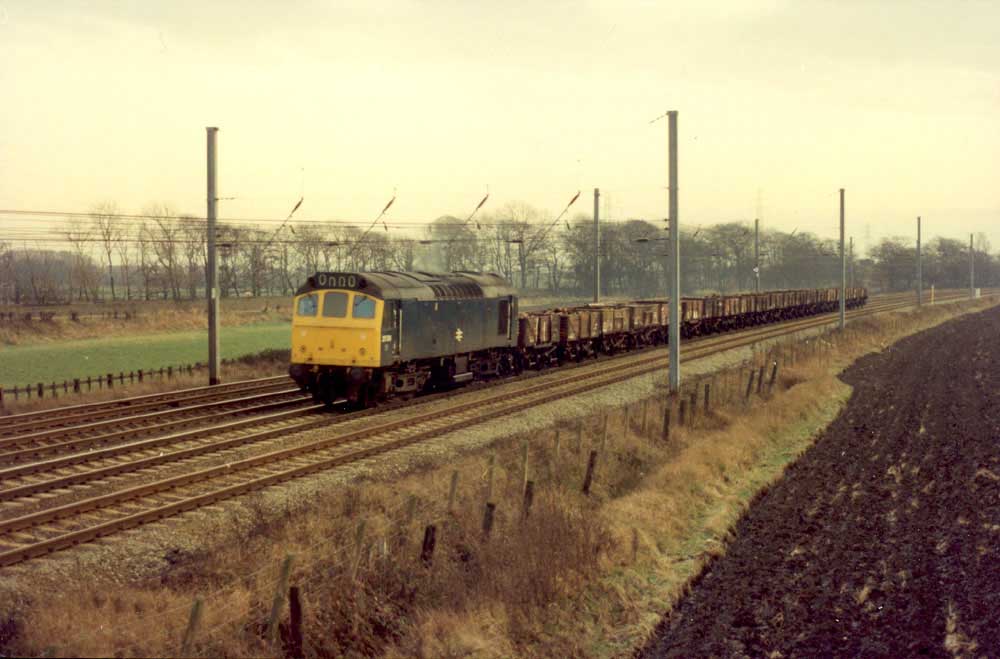 Photograph collection of webmaster
25138 rolls along the WCML somewhere near Winwick Junction, date unknown but before its last Classified repair at Derby Locomotive Works during November 1979.
1980
On June 21st the 10.10 Euston - Aberystwyth from Birmingham New Street and the return 16.10 Aberystwyth - Shrewsbury was worked by 25138 & 25154. The 09.42 Llandudno Town - Manchester Victoria on October 4th was hauled by 25138 forward from Warrington Bank Quay.
1981
On the afternoon of May 20th 25138 was noted at Warrington on a down freight. A short working on May 27th saw 25138 assist 25221 on the 17.10 Cardiff - Crewe between Willaston Signal Box and Crewe.
On August 5th 1981 the 14.38 Paignton - Leeds utilised 25138 & 25299 between Gloucester - Birmingham New Street, being assisted up Lickey by 37096 & 37303 due to problems with 25299. Early in August 1981 a weekend was spent on the Cambrian line. On 8th 25138 & 25158 worked the 04.10 Shrewsbury - Aberystwyth and the return 10.07 Aberystwyth - Euston to Wolverhampton. The next day (9th) the same pair worked the 08.45 Birmingham New Street - Aberystwyth from Shrewsbury, returning with the 18.00 Aberystwyth - Euston to Nuneaton.
1982
On May 8th a round trip Five Ways - Chester day excursion was worked by 25138 & 25072. A diesel multiple unit failure on November 15th 1982 saw the 07.05 Morecambe - Leeds reach Leeds behind 25138 from ?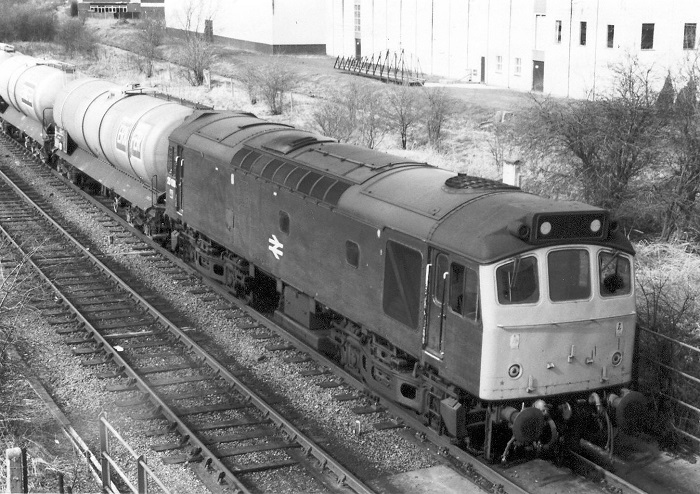 Photograph courtesy Mark Cook
25138 at Aylesbury on March 18th 1982.
1983
25138 was noted at Severn Tunnel Junction on March 12th. On March 17th 25138 & 25146 worked the 19.26 Bangor - Manchester Victoria from Chester following the failure of 25245.
On April 13th 25138 & 25215 worked the 8M20 Acton - Toton freight.
A Wigan N.W. - Bewdley day excursion on May 22nd 1983 was worked from Birmingham New Street and to Wolverhampton by 25138 & 25133. The final passenger working for 25138 took place on June 5th 1983 working a Stoke-on-Trent - Bournemouth to Nuneaton.
25138 was withdrawn on December 11th 1983.
Not all known passenger workings are recorded on this page.
flk 0316
19/1565
Page added July 24th 2013.
Last updated September 13th 2022.
Back to 25137
Forward to 25139