| | | | | | |
| --- | --- | --- | --- | --- | --- |
| Load | Speed | Amps | Volts | Notes | Other |
| 1 | 30 | 850 | 840 | - | - |
Voltage regulator top bolt to fit
Main generator bottom cover to fit
Auxiliary generator to secure
No.1 cab driver side sticking window stop ??
Radiator levels unbalanced B side low
A side engine seam leaking
Engine rocker cover leaking
B side crankcase door leaking
Nut on engine end cover door free
Adaptor to overspeed unit leak.
On August 25th 5289 & 5212 were noted at Inverness with either a passenger service from Edinburgh or Glasgow (headcode 1P20). At this time both were LMR locomotives, 5289 from Springs Branch and 5212 from Longsight, both a long way from home.
At about 5.45pm on October 12th 5289 was noted at Manchester Exchange with a down van train (4P05).
1974
At about 5pm on September 12th 25139 was noted at Wigan North Western with an up freight.
1975
On February 6th 25139 was noted at Manchester Victoria.
At about 5.15pm on July 28th 25139 was noted at Olive Mount Junction with an up freight.
On August 30th 25139 & 25105 worked the 09.20 Manchester Piccadilly - Yarmouth to Lincoln Central, returning with the 09.30 Yarmouth - Manchester Piccadilly. A Manchester – Edinburgh excursion arrived behind 25155 & 25139 on October 18th, a chilly trip if they worked throughout (but most likely only from Carstairs?)
1977
On May 8th 08450, 40003 & 25139 were noted together in Carlisle station.
1978
25139 with an engineers train was noted at Hoghton on April 23rd.
On August 8th 25139 was stabled at Buxton.
On September 2nd 25139 was stabled at Buxton.
On November 28th 25139 was noted at Birkenhead North with empty coaching stock for Horwich Works.
On December 26th 25139 was stabled at York.
1979
On April 19th 25139 was noted shunting a short train at Penmaenmawr yard.
On May 12th & 13th 25139 was stabled at Cockshute.
On June 3rd 25139 was stabled at Chester. The 19.30 Bangor - Manchester Victoria was worked by 25139 on June 18th.
The 17.33 Preston - Barrow was worked by 25199 & 25139 on July 19th. On the evening of July 20th 25139 was noted at Crewe on a down freight.
25139 was back in North Wales on August 9th working the relief 13.05 (?) Holyhead - Crewe. On August 29th 25139 worked the 12.25 Crewe - Cardiff.
25139 was stabled at Shrewsbury station on October 13th.
1980
25139 was stabled at Toton on April 6th. 25139 was stabled at Cockshute on April 24th.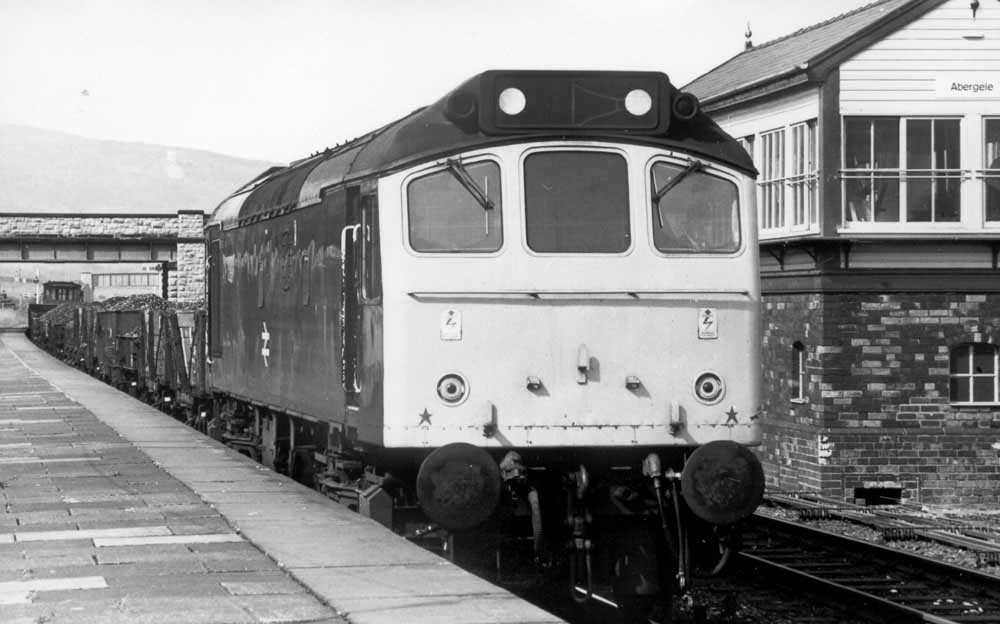 Photograph courtesy Larry Goddard.
25139 with its train of spent ballast fills the camera lens at Abergele on May 11th 1980.
On May 17th 25139 & 87019 were noted light engines at Carlisle station.
On July 12th 25139 worked the 10.15 Birmingham New Street - Norwich throughout. On July 13th 25139 was noted at Peterborough stabling point.
On July 18th 25132 & 25139 were noted at Longton with a freight headed for the Stoke on Trent area.
On August 18th 25139 was noted with a short freight at Wellingborough. On August 20th 25139 was southbound at Clay Cross with a lengthy train of empty mineral wagons. On August 25th & 26th 25139 & 25173 worked the 18.03/18.05 Blackpool North - Blythe Bridge.
A month later on September 20th the 10.10 Euston - Aberystwyth from Birmingham New Street and the 16.10 Aberystwyth - Shrewsbury were worked by 25139 & 25261.
On December 3rd 25139 came to the rescue of 47443 which had caught fire at Sharnbrook whilst working the 04.27 St Pancras – Derby. The remote location hindered the fire department in reaching the scene, 25139 worked through to Derby.
1981
Another rescue job on the Midland mainline took place on April 23rd with 25139 assisting the 08.09 St. Pancras - Derby from West Hampstead to Derby after 47439 failed.
On the morning of April 29th 25139 was noted at Peterborough with an Up ballast.
On the early afternoon of May 1st 25139 was noted at Crewe with a down freight. A rescue job took place on May 27th when 25139 & 25221 assisted the 17.10 Cardiff - Crewe from Crewe Sidings to Crewe. On May 25th the 07.35 Nottingham - Llandudno Town and 13.26 return were worked by 25139.
25139 was noted at Easenhall on July 14th with an engineers train.
On August 3rd 25139 & 25048 were noted at Chester with a ballast train. On the morning of August 4th 25139 was noted at Rhyl with up hoppers.
A run over the Cambrian line took place on September 12th with 25139 & 25113 working the 04.10 Shrewsbury - Aberystwyth and the 10.07 Aberystwyth - Euston to Wolverhampton. The 'T&N Severn Valley Ltd' railtour on September 26th from Bolton to Bewdley was worked from Birmingham New Street to Bewdley by 25139 & 25131.
1982
The return leg of a Leamington Spa - Mexborough day excursion on February 6th required the use of 25139 from Sheffield to Mexborough after the booked Class 47 failed.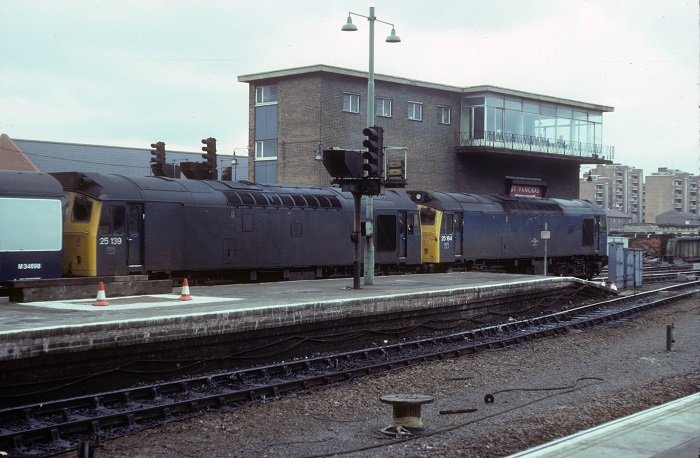 Photograph courtesy collection of Roger Geach.
25139 & 25164 on an unidentified working at St Pancras on March 16th 1982.
On March 23rd 25139 was noted on a Tunstead - Oakleigh loaded ICI limestone working.
A failed diesel multiple unit on May 6th saw an early morning Bedford - St. Pancras commuter service reach St. Pancras behind 25139.
On June 14th 25075 & 25139 were noted passing Warrington Bank Quay with a salt special from Winsford to Carlisle.
A slow journey on July 28th saw 25139 taking 08265/301/472/615 and brake van from Springs Branch towards Swindon Works. The first two Class 08s were for scrap.
On August 11th 25151 & 25139 worked a southbound stone train through Wellingborough.
25139 & 25097 were noted at Stoke on Trent on September 2nd with the 8F21 15.38 Cockshute Sidings - Ravenhead Junction sand train ex-Oakamoor.
The last passenger workings for 25139 took place on September 11th/12th, on the 11th it was the turn of the 13.45 Manchester Victoria - Bangor and 16.52 Bangor - Manchester Victoria, whilst on the 12th the 09.50 Manchester Victoria - Llandudno Town was worked. 25139 was noted at Warrington on September 20th with a parcels train.
25139 was withdrawn on November 7th 1982.
Not all known passenger workings are recorded on this page.
24/1943
flk 0421 (1)
Page added August 15th 2013.
Last updated June 5th 2022.
Back to 25138
Forward to 25140