D5290, 5290, 25140
Photograph collection of webmaster.
25140 at the south end of Preston station, date unknown but certainly before its visit to Glasgow Works during the summer of 1977.
The nineteen year career of D5290/25140 was spent allocated entirely to London Midland Region depots.
Built BR Derby Locomotive Works.
At time of withdrawal 25140 was jointly (with 25069 & 25084) the 11th remaining vacuum braked Class 25 in service.
Time between last Classified repair and withdrawal: 76 months.
Time between withdrawal and scrapping: 33 months (excluding cabs).
Allocations
D5290 was new to Toton (16A) on August 17th 1964. Further transfers were:
September 1964 to Derby (16C).
October 1964 to Cricklewood (14B), then to Midland Lines (D14).
June 1965 to London Midland (Midland) Lines.
February 1966 to Nottingham Division (D16).
March 1967 to London Midland (Midland) Lines.
August 1967 to Birmingham Division (D02).
November 1967 to Stoke Division (D05).
November 1968 to Liverpool Division (D08).
May 1973 to Springs Branch.
January 1979 to Crewe.
March 1980 to Cricklewood.
November 1981 to Carlisle Kingmoor.
Withdrawn December 18th 1983.
Renumbered March 30th 1974.
25140 was the 208th Class 25 withdrawn, one of six retired during December 1983.
After its withdrawal 25140 was stored at Carlisle from December 1983 until March 20th 1985 when it began its journey to Swindon with 25239 & 25258, picking up 08599 at Bescot, and reaching Swindon by April 3rd 1985. By the middle of September 1986 the locomotive had been broken up, the cabs however were transported to Vic Berry, Leicester and disposed of by September 1987.
Works Visits
Works visits (records incomplete).
Noted Crewe Works June 1968.
Noted Derby Works October 1974.
Noted Glasgow August 1977 (Classified repair).
Highlights
1972
At about 7am on January 28th 5290 was noted passing Manchester Victoria on an up freight.
1973
5290 was noted at Liverpool Lime Street with an Inspection saloon on the morning of June 27th.
At about 5pm on August 3rd 5290 was noted at Bangor with an up van train.
1974
At about 14.45 on November 4th 25140 arrived at Exeter stabling point from Riverside yard.
1975
On July 6th the 00.05 Glasgow Central - Bristol Temple Meads with 81012 was dragged between Hartford Junction and Crewe (via Sandbach) by 25140 & 25009, presumably due to engineering work.
1976
25140 was noted at York depot on October 10th.
1978
At lunchtime on September 4th 25140 became derailed at Prescot (Liverpool), requiring the local passenger services to have bus substitutions. Late in the afternoon 25027 arrived with the Wigan breakdown crane, the unfortunate 25140 was back on the rails by 6pm.
1979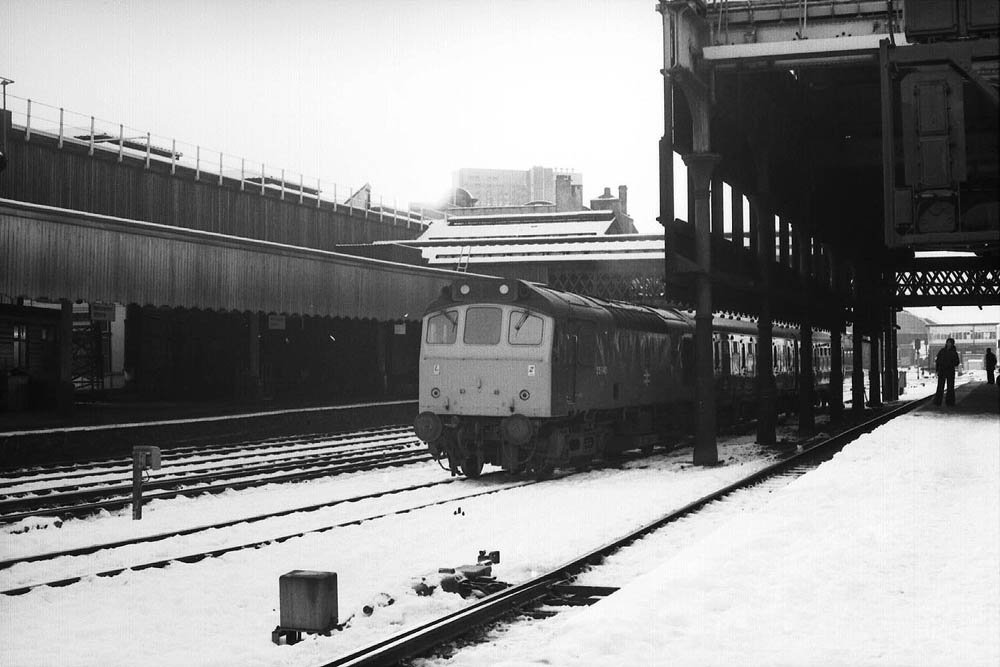 Photograph courtesy Malcolm Roughley.
25140 at Manchester Victoria on a wintry day during January 1979.
25140 was noted at Severn Tunnel Junction on March 25th.
On the evening of May 24th 25140 was noted at Chester on a down freight.
25140's recorded passenger mileage did not amount to much, almost one third of it took place on June 30th when it worked the 08.00 Walsall - Yarmouth, to Norwich with 25107, returning with the 14.15 Yarmouth - Derby, from Norwich (total mileage 334). The next day (July 1st) the same pair worked the 08.25 Leicester - Skegness as far as Nottingham. On the afternoon of July 8th 25140 & 25170 were noted at Crewe with a permanent way train. On July 15th 25134 & 25140 worked a special between Manchester Piccadilly and Bath.
On August 20th the 09.50 Manchester Victoria - Preston was worked by 25140, this being a portion of the 1S41 Liverpool - Glasgow.
On the morning of September 29th 25140 was noted at Sheffield on up vans.
During October 25140 received an 'E' examination at Toton.
On December 8th passengers on the 07.04 Leicester – Parkeston Quay diesel multiple unit (51289 & 56131) were assisted by 25140 after the unit failed. The Class 25 was replaced at March by 25208 after the reporting of a defective horn on 25140. At Cambridge passengers transferred to a replacement diesel multiple unit!
1980
On the afternoon of February 3rd 25140 & 25156 were noted at Crewe on an up permanent way train.
On August 31st the 10.26 St. Pancras - Nottingham was worked by 25140 & 25089.
1981
The very wintry conditions in the middle of December saw no heat 25140 working a Crewe – Cardiff working on December 15th.
1982
On a snowy January 16th 25140 & 25051 were stabled at Thornaby.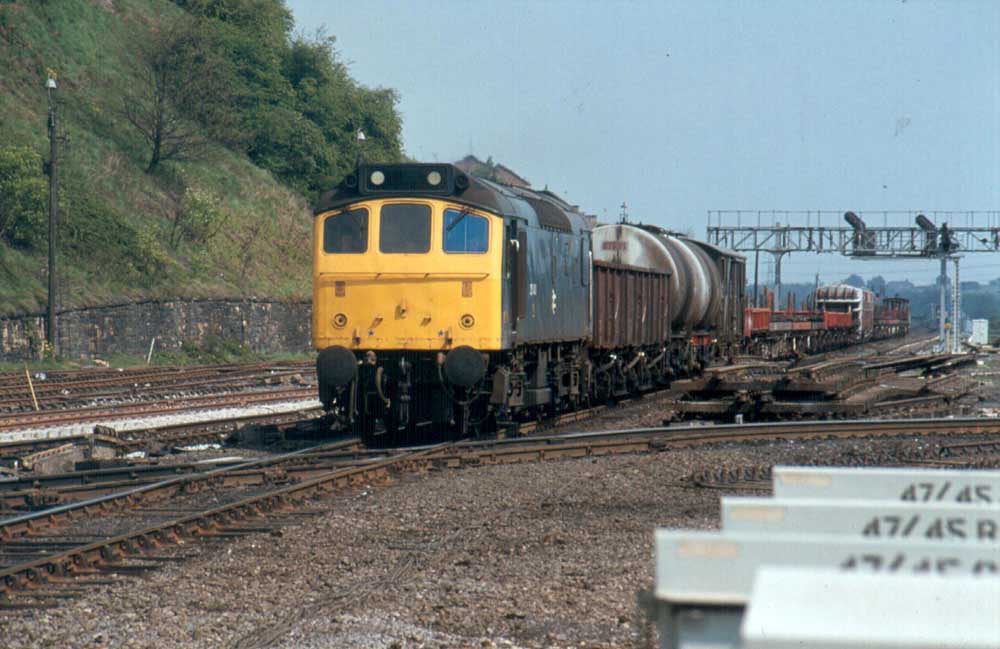 Photograph collection of webmaster.
25140 heads west through Wakefield on April 28th 1982.
Following the cabling of the Blaneau Ffestiniog branch during December, 25152 & 25140 were used on the recovery train on December 21st for collecting telegraph poles and wire. The train included a Mk.1 coach for S&T staff which had been borrowed for the weekend from a Llandudno - Manchester set. Flooding at Llanrwrst on 21st delayed the return of the train.
1983
On February 19th the 17.27 Crewe - Holyhead was hauled by 25140 after 47532 failed.
On March 2nd a Toton - Acton freight was worked by 25080 & 25140.
Random workings for 25140 during May included being on Llandudno Junction shed (7th), at Penmaenmawr with loaded ballast wagons (18th), worked the loaded 8F21 Oakamoor - St Helens sand train with 25242 (25th).
On June 23rd the 18.38 Blackpool North - Birmingham New Street was worked between Preston & Crewe by 25140.
25140 was noted passing Cwmbran on August 25th with a lengthy parcels train.
The last recorded passenger working for 25140, with 25048 occurred on September 12th working the return leg of a charter train ex-Blackpool between Kilmarnock & Carlisle.
25140 was noted at Springs Branch on October 4th and at Preston on October 9th.
25140 was withdrawn on December 18th 1983.
A builders plate from 25140 sold at Great Central Railwayana Auctions for £220 during March 2016.
13/1075
flk 0316 (1)
Not all known passenger workings are recorded on this page.
Page added December 4th 2012.
Last updated June 24th 2020.
Back to 25139
Forward to 25141