D5292, 5292, 25142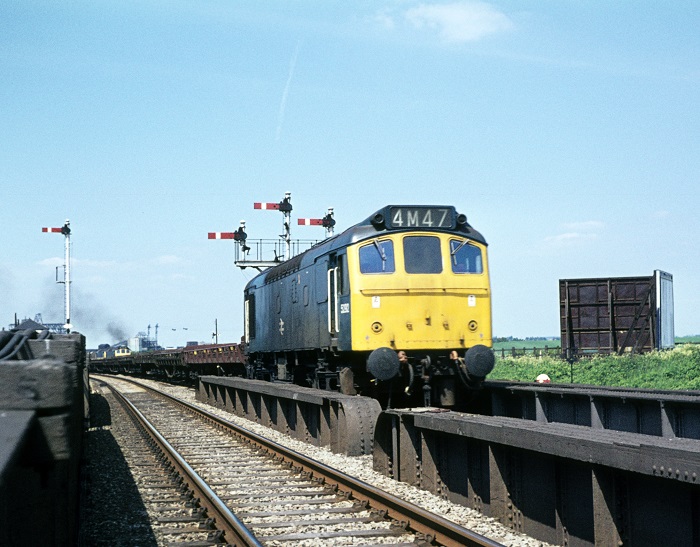 Photograph courtesy Tony Smith.
5292 southbound at Wath Road on June 5th 1973 with empty carflats, possibly for Kings Norton.
The seventeen year career of 5292/25142 was spent allocated to a variety of London Midland Region divisions & depots.
Built: BR Derby Locomotive Works.
Boiler room grilles sheeted over.
Time between last Classified repair and withdrawal: 34 months.
Time between withdrawal & scrapping: 12 months
Allocations
D5292 was new to Toton (16A) on August 26th 1964. Further transfers were:
September 1964 to Derby (16C).
October 1964 to Cricklewood West (14B).
January 1965 to London Midland Division (D14).
September 1965 to London Midland (Midland Lines) (LMML).
April 1966 to Nottingham Division (D16).
March 1967 to London Midland (Midland Lines) (LMML).
August 1967 to Birmingham Division (D02).
November 1967 to Stoke Division (D05).
November 1968 to Liverpool Division (D08).
October 1969 to Manchester Division (D09).
December 1969 to Liverpool Division (D09).
February 1973 to Birmingham Division (D02).
May 1973 to Bescot.
January 1976 to Kingmoor.
Withdrawn October 18th 1981.
Renumbered March 30th 1974.
25142 was the 116th Class 25 withdrawn, one of six withdrawn during October 1981.
After withdrawal 25142 was briefly stored at Carlisle prior to movement with 25041, 40113 & 40175 to Swindon Works between December 8th - 12th 1981 and scrapped by the third week of November 1982.
Works Visits
Works visits (records incomplete).
Noted Derby Works April 1965 (accident damage).
Noted Derby Works December 1972.
Noted Derby Works August 1977.
Noted Derby Works September - December 1978.
Highlights
1966
Despite its entire career being allocated to LMR depots, 5292/25142 did not accumulate much recorded passenger mileage, being noted on a Nottingham - Llandudno Town roundtrip on August 18th with D7516.
On Sunday September 18th stabled at Kirkby-in-Ashfield were D5292, D7523, D7533, D7536, D7545, D7559 & D7562.
On the afternoon of October 15th noted at Washwood Heath were:
D5017 with a southbound freight
D5292, D7519 & D7653 light engines.
1967
Stabled at Saltley on the evening of April 15th were D5272, D5292 & D7549.
On the evening of June 27th D5292 was at Longton with a down parcels.
On the evening of July 18th D5292 was at Longton with a down parcels.
On the afternoon of October 29th D5244, D5292, D5293, D5294 & D5296 were stabled at Bescot.
On the afternoon of December 18th D5292 was southbound at Crewe with a freight (8E35).
1968
On May 11th & 12th D5292 was stabled at Crewe.
On July 20th 5292 & 5187 were noted on a Nottingham - Llandudno Town roundtrip.
1970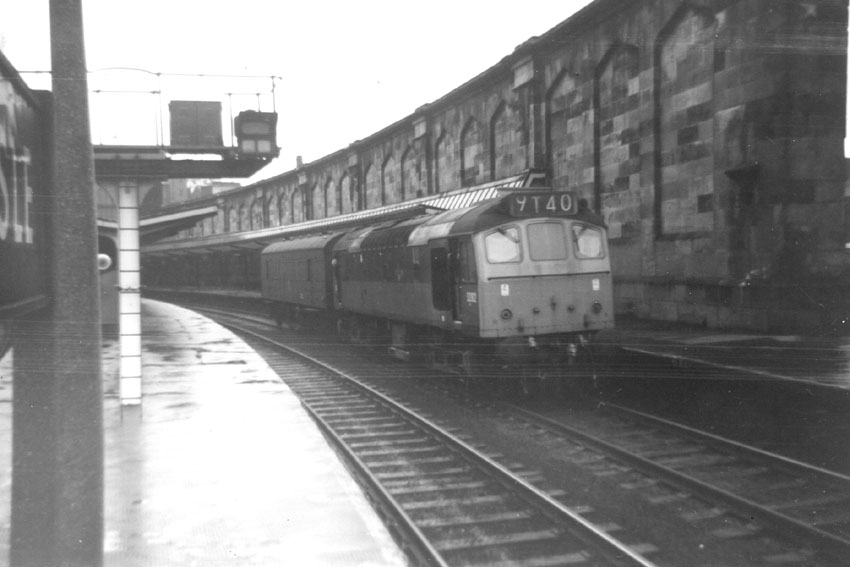 Photograph collection of webmaster
Looks like a damp and miserable day at Carlisle on April 15th 1970 as 5292 goes about its station pilot duties.
1971
5292 worked a Nottingham - Lincoln parcels on August 6th.
On the morning of October 11th 5292 was stabled at Crewe.
1972
At about 7am on January 26th 5292 was noted passing Manchester Victoria with a down freight.
At about 5pm on April 7th 5292 was noted passing Olive Mount Junction with an up freight.
5292 was on empty coaching stock duty at Liverpool Lime Street on May 30th.
On December 19th ex-works 5292 was tested on the 08.01 Manchester Piccadilly - St. Pancras between Derby & Leicester, Class 45 No.130 was the train locomotive.
1974
The 09.28 Southampton - Birmingham New Street was hauled by 5292 between Reading (?) & Birmingham New Street on January 17th.
The 11.20 Plymouth - Manchester with E3064 failed at Wolverhampton on March 21st, 81012 was added to the train but was unable to release the brakes, 5292 was eventually found to take the train forward.
On the morning of April 18th 25142 was northbound at Saltley with a freight and on the evening of the same day was northbound at Washwood Heath with a freight.
On May 25th the 14.15 Yarmouth - Derby was hauled from Norwich by 25142 & 25256.
A Brighton - Tywyn day excursion on July 27th was worked roundtrip between Shrewsbury & Tywyn by 25142 & ?
1975
On June 7th 25142 & 25125 worked the 08.52 Leicester - Skegness and 12.30 return. On August 2nd 25142 & 25281 worked the 08.00 Walsall - Yarmouth to Norwich, returning with the 14.15 Yarmouth - Derby from Norwich.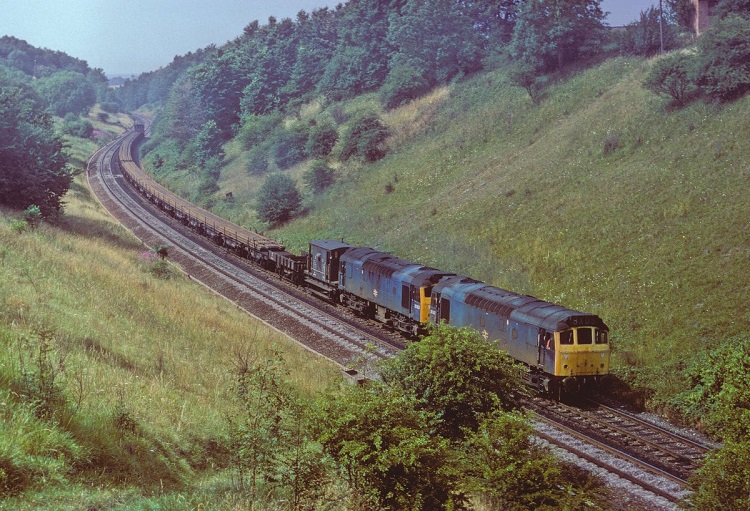 From the files of Andy Hoare comes this classic view during the summer of 1975 of 25142 with another Class 25 in Harbury cutting with a lengthy heavy continuously welded rail train.
1976
On the morning of November 25th 25142 was noted shunting a trip freight at Appleby.
1978
The 15.15 Plymouth - Manchester Piccadilly was worked from Gloucester to Birmingham New Street by 25142 & 25267 on May 29th. About three weeks later on June 23rd the same working was handled by 25142 & 25167 (or 25267). The next day (24th) a Hinckley - Skegness day excursion was worked round trip by 25142 & 25267.
Breakfast time on June 27th found the 03.58 Ripple Lane - Hawksbury oil train derailing five of its wagons at the site of Brandon & Wolston station (between Coventry & Rugby), destroying several hundred yards of the down line. The rerailing coach from Saltley arrived quickly behind 25142, the line being cleared early on 28th, leaving room for 25116 & 25190 to bring in a train of fresh ballast.
25142 was noted at Bamber Bridge on July 14th with tankers headed for ICI on the Fleetwood branch.
1979
On March 4th 25142 was noted at Gloucester Horton Road.
The 08.46 Burton on Trent - Skegness and 18.38 return were worked by 25142 & 25131 on May 7th. Two days later (9th) 25142 was noted eastbound at Nottingham Midland with a short engineers train. On May 15th 25142 was noted with ICI empties from the concrete plant at Newton Heath. On the afternoon of May 25th 25142 was noted at Preston with an up freight.
25142 was present at Coalville Open Day on August 19th.
Shortly after midnight on September 1st 25142 was noted stabled at York. A Glasgow - Heaton exhibition train was worked by 25142 on September 26th.
1980
On an overcast February 12th 25142 was provided by Springs Branch depot to work the last train from Courtaulds Factory at Ribbleton, a train load of empty 16 ton mineral Wagons which were tripped back to Wigan. The train used what was then the surviving eastern extremity of the former Longridge Branch beyond Deepdale Junction.
On the late morning of April 18th 25142 worked a Mountsorrell - Derby freight.
On October 26th 25142 was stabled at York.
1981
25142 worked a Redhill - Manchester parcels forward from Didcot on January 17th.
25142 was noted at Edge Hill on April 25th.
25142 was withdrawn on October 18th 1981.
Distinguishing Features
Three piece miniature snowploughs fitted: (no ploughs February 1979, May 1979, July 1979, August 1979); February 1980.
19/2052
flk 0316
Page added March 14th 2013.
Last updated September 13th 2022.
Back to 25141
Forward to 25143