D5293, 5293, 25143
A well travelled LMR based machine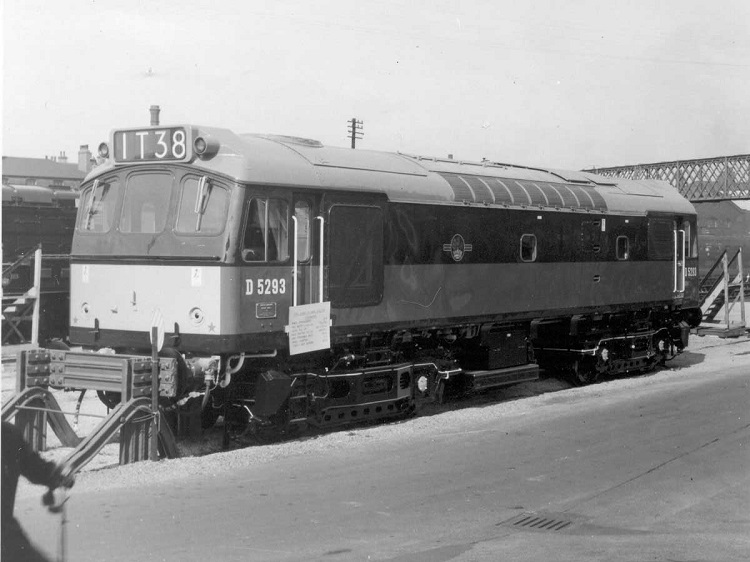 Photograph collection of webmaster.
Visitors to the Annual Works Horticultural Show & Open Day at Derby on August 30th 1964 found brand new D5293 & D1756 on display alongside D94, D3016 and steam locomotives 92053 & 42645.
The eighteen year two month career of 5293/25143 was spent allocated to a variety of London Midland divisions & depots.
Built: BR Derby Locomotive Works.
Boiler room grilles sheeted over (1978).
Time between last Classified repair and withdrawal: 55 months.
Time between withdrawal & scrapping: 23 months
Allocations
D5293 was new to Toton (16A) on September 2nd 1964. Further transfers were:
September 1964 to Derby (16C).
October 1964 to Cricklewood West (14B).
January 1965 to London Midland Division (D14).
September 1965 to London Midland (Midland Lines) (LMML).
November 1965 to Nottingham Division (D16).
March 1967 to London Midland (Midland Lines) (LMML).
August 1967 to Birmingham Division (D02).
November 1967 to Springs Branch (8F).
December 1967 to Longsight (9A).
June 1968 to Manchester Division (D09).
January 1971 to Birmingham Division (D02).
February 1971 to Manchester Division (D09).
April 1972 to Nottingham Division (D16).
August 1972 to London Division (D01).
September 1972 to Manchester Division (D09).
May 1973 to Longsight.
August 1973 to Bescot.
May 1980 to Toton.
Withdrawn November 14th 1982.
Renumbered February 23rd 1974.
After withdrawal 25143 was stored at Crewe from January 1983 until March 29th 1984 when 25132/135/136/143 moved as the Crewe - Gloucester scrap engine movement, reaching Swindon Works on April 2nd 1984. 25143 had been broken up by the end of October 1984.
Works Visits
Works visits (records incomplete).
Noted Derby Works February 1967.
Noted Derby Works February 1970.
Presumed Derby Works February 1973 (noted ex-works March 1973).
Noted Derby Works February & March 1978.
Highlights
1964
The frames for D5293 were laid down at Derby during the spring of 1964. The new locomotive would be delivered to Toton (16A) during August, moving quickly on to 16C during September, and then Cricklewood (14B) during October. These were the first of nineteen transfers for 5293/25143.
1967
For the summer timetable Type 2's again were diagrammed for the seasonal weekend extras. A Toton Type 2 worked the Saturday's only 08.00 Leicester - Clacton throughout, July produced D5190, 5257, 5293 & 7655.
1972
At about 7am on December 31st 5293 noted at Manchester Victoria with a down freight.
1973
5293 was noted ex-works during March, presumably outshopped by Derby.
During the morning of June 9th 5293 was noted at Manchester Victoria with an up coal train. On June 16th 5293 and 7562 were noted in charge of the 15.05 St Pancras - Sheffield service.
At about 6pm on July 2nd 5293 was noted at Manchester Exchange to work van train (4P05). 5293 was the Manchester Victoria banker (T42) on July 18th & 19th.
1974
The allocation of 5293 to Bescot the previous summer would make 5293 a prime candidate for occasional passenger workings out of the Birmingham area. On May 25th it covered an early afternoon Norwich - Birmingham New Street service with 25252 whilst on August 24th it was joined by 25261 to work the 08.00 Walsall - Yarmouth (to Norwich) coming back from there with the 14.15 Yarmouth - Derby.
On November 1st 25143 worked the 6B70 16.57 Hemyock - Exeter milk.
On November 2nd 25143 (Bescot allocated) worked the 6B67 11.05 Barnstaple - Exeter vans and later worked the 2B99 15.38 Exeter St Davids - Barnstaple, returning with the 17.55 Barnstaple - Exeter St Davids.
1976
25143 was noted at Hartford Junction on June 25th with a freight.
1977
25143 & 25131 were sent out on a Birmingham - Barmouth working (from Shrewsbury) on June 5th, 25143 sustained damage when a fuel pipe broke, the locomotive being removed at Machynlleth. Six weeks later (July 24th) 25143 did make it to Barmouth, with 25173 working the 08.45 Birmingham New Street - Barmouth and the 17.30 Barmouth - Birmingham New Street.
1978
25143 was noted at Derby Works during February & March, receiving its last classified repair.
25143 did manage one Cambrian Coast working during 1978 - on June 10th it covered the 04.15 Shrewsbury - Aberystwyth and the 10.07 return to Euston, as far as Wolverhampton, accompanied by 25147.
Early November brought a variety of Class 25's to Kings Lynn, the 14.47 Whitemoor - Kings Lynn had 25143 (9th) whilst a block oil train for the sugar beet factory had 25212 & 25310 (8th), deputising for a defective 37264.
1979
The solitary Cambrian working occurred on September 15th when 25143 & 25151 worked the 10.09 Aberystwyth - Euston from Shrewsbury to Wolverhampton, a diesel multiple unit had covered the leg from Aberystwyth. Later that day the Class 25s returned to Shrewsbury to take over a steam railtour from Shrewsbury to Wolverhampton where 86212 took over for the run up to London.
1980
After almost seven years at Bescot 25143 moved to Toton in May, perfect timing for use on the East Midlands summer holiday extras. However its first passenger working for 1980 was May 24th's 08.42 Sheffield - Huddersfield, being a portion for the 08.55 York - Llandudno.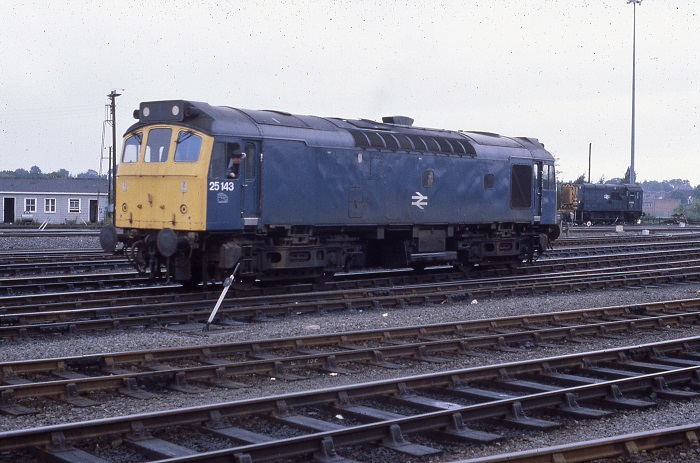 Its a dull July 9th 1980 as 25143 manouevres round the yard at York depot. This is one of the Class 25s to have had its boiler room grill sheeted over at some point.
On July 5th 25143 & 25129 worked the relief 10.03 Walsall - Yarmouth to Norwich. Two days later (7th) 25143 worked the 18.35 Birmingham New Street - Norwich (throughout?).
On July 22nd 25143 & 25221 worked the 09.27 Birmingham New Street - Llandudno Town forward from Crewe, returning with the 18.10 Llandudno Town - Crewe. Four days later (26th) 25143 & 25163 worked the 08.02 Walsall - Yarmouth to Norwich, returning from there with the 14.15 Yarmouth - Derby, the same pair going out the next day (27th) with a round trip Leicester - Skegness working.
1981
One of the first workings of 25143 for 1981 was January 2nd's 1M25 18.08 Manchester Piccadilly - St Pancras parcels. This was for many years a solid Class 25 run, operated via the Hope Valley with the Class 25 exchanged at Derby for a Class 45/1.
On April 28th 25143 worked the 09.41 Norwich - Birmingham New Street (throughout?).
Between June 22nd - 26th 25143 worked with 25251 around Kensington Olympia. By June 28th a West Ruislip - Blaneau Ffestiniog excursion reached its destination behind 25143 & 40115 from Llandudno Junction. A diesel multiple unit failure on August 14th put 25143 in charge of the 06.43 Wolverhampton - Chester. The next day (15th) 25143 & 25153 worked the 04.10 Shrewsbury - Aberystwyth and returned with the 10.07 Aberystwyth - Euston to Wolverhampton. The next day, August 16th, the same pair worked the 08.45 Birmingham New Street - Aberystwyth and the 18.00 Aberystwyth - Euston to Nuneaton.
On September 12th the 07.40 Euston - Aberystwyth from Wolverhampton and the return 16.05 Aberystwyth - Wolverhampton were worked by 25143 & 25194.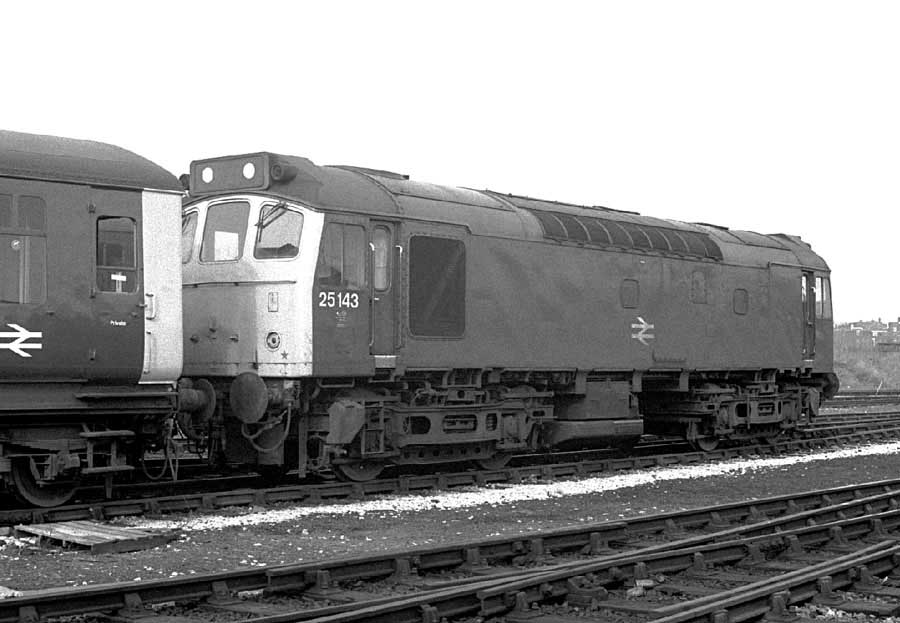 Photograph courtesy Tony Sayer.
25143 at Newton Heath on February 21st 1981.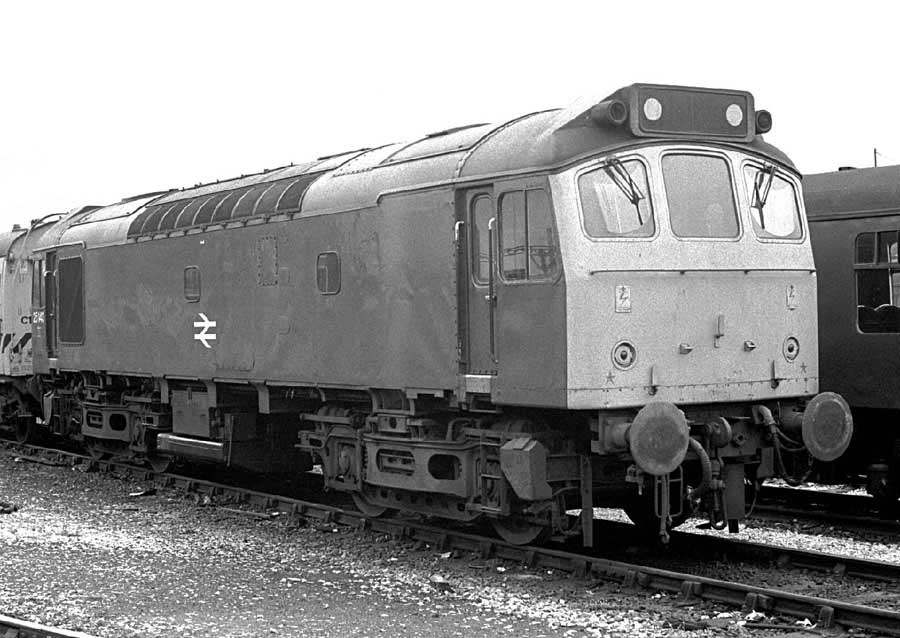 Photograph courtesy Tony Sayer.
Five months later on July 25th 1981 25143 is again photographed at Newton Heath, this time from the other end.
1982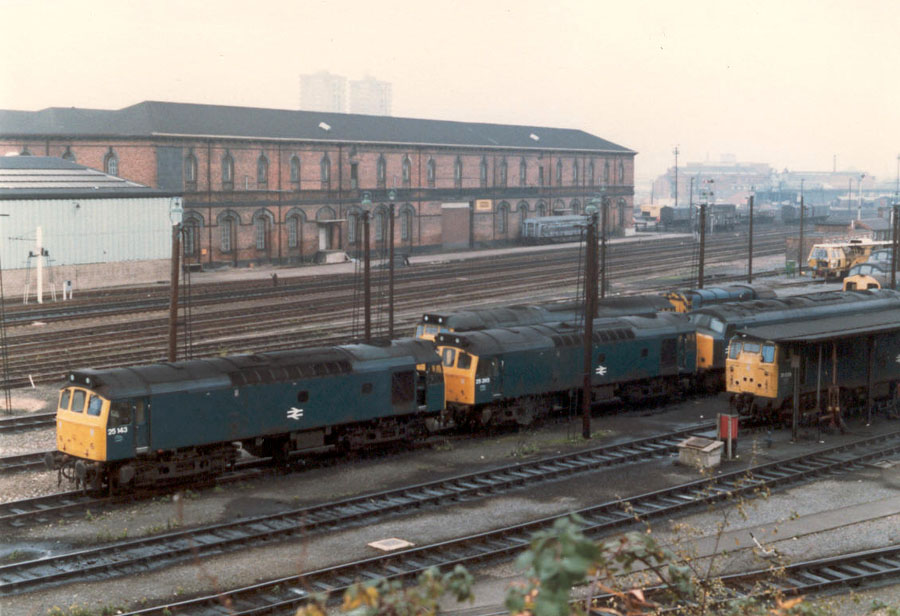 Photograph courtesy Mark Cook.
Some fine looking architecture provides a backdrop to Leicester stabling point with 25143 & 25265 prominent in the foreground.
On May 6th Cardiff sent 25143 out on the 17.20 to Weymouth, Bristol had 33014 waiting to takeover from there!
On June 26th 25143 was noted at West Ealing with a train of condemned London Underground R-stock headed from Ruislip to Booths, Rotherham for scrapping.
On August 31st 25143 worked the relief 10.19 Nottingham - Skegness and 18.10 Skegness - Nottingham. This is believed to be 25143's last passenger working.
25143 was withdrawn from service at Crewe on November 14th 1982.
38/3215
flk 0316
Page added March 18th 2005.
Last updated June 24th 2020.
Back to 25142
Forward to 25144