| | | | | | |
| --- | --- | --- | --- | --- | --- |
| Load | Speed | Amps | Volts | Notes | Other |
| 1 | 28 | 860 | - | - | - |
Load regulator cover loose back
No.4 piston passing oil
LHS? engine water drain cock leaking
LHS redundant ?? compressor drain cock take off
A side crankcase door leak as marked
No.2 compressor air outlet pipe leaking
Both sight glasses leaking
Emergency start to identify
Main fuel tank issues
Radiator drain cock right hand side pipe adjacent to ??
No.1 tail light to change
Overspeed trip issue
No.1 high pressure fuel pipe top ?? leak
No.3 fuel pump RH ?? plug leak
Nos. 1 & 5 rocker leak
?? mod on main generator to do
Turbo holding bolts to tighten
Small fracture in cab wall left hand side of 2nd man's window
Reg air to check & set 46 & 48
Lube oil pipe issue.
A return Paignton - Alfreton & Mansfield day excursion on May 28th was worked by 25145 & 25130 (did they work the outward leg?). Almost a month later on June 25th 25145 & 25169 worked the roundtrip Walsall - Norwich (for Yarmouth) diagram. On August 29th & 30th 25145 & 25187 were noted at Skegness with workings from ? The same pair on September 4th worked the 08.45 Birmingham New Street - Barmouth from Shrewsbury, returning with the 17.30 Barmouth - Birmingham New Street to Shrewsbury.
On the morning of September 30th 25145 was stabled at York.
On the morning of October 4th & 28th 25145 was stabled at York.
On the evening of December 16th 25145 was stabled at York.
On December 23rd 25145 worked the 7B71 18.45 Barnstaple - Exeter vans. It then worked the 6B75 22.05 Exeter City Basin - Exeter Riverside (19 tanks).
1978
On July 2nd 25145 and the Bescot crane were noted at Fenny Compton undertaking bridge repairs.
Cambrian line roundtrip workings to Aberystwyth took place on July 15th with 25145 & 25162 working the 04.15 Shrewsbury - Aberystwyth and 10.07 Aberystwyth - Euston to Wolverhampton. The same diagram was handled August 26th with 25259.
On the morning of November 10th 25145 was stabled at York.
On Monday November 13th 25145 worked the 09.55 Willesden to Norwood, its passing time at Clapham Junction was 3.44pm, making it very, very late.
1979
25145 was the Manchester Victoria pilot on March 21st.
Two round trip workings to Skegness took place during April, on 16th with 25073 from Alfreton & Mansfield (relief) and on 17th also with 25073 from Burton on Trent.
On June 17th 25145 was stabled at Saltley.
On July 7th a relief Leicester - Yarmouth to Norwich and the return 14.15 Yarmouth - Derby from Norwich were hauled by 25145 & 25309. The next day (8th) the same pair handled a roundtrip Derby - Skegness. Two Cambrian line workings followed - the 10.10 Euston - Aberystwyth from Birmingham New Street and the return 16.10 Aberystwyth - Shrewsbury were worked by 25145 & 25032 on July 28th and on August 11th with 25145 & 25141.
On October 16th 25145 worked the 4B10 15.45 Bristol - Plymouth parcels (12 vans) as far as Exeter, 45074 took the train forward.
1980
On May 27th 25145 hauled Castle 4-6-0 No. 5051 in light steam as far as Hereford with support coach, whilst returning from the Rainhill celebrations.
On June 21st the 10.00 Crewe - Cardiff was noted at Crewe with 25145 & 25220.
On the morning of December 23rd 25145 was stabled at York.
1981
25145 was stabled at Longsight on March 3rd.
25145 was noted at Gateshead on April 16th. On April 30th the 12.50 Euston - Liverpool failed at Bletchley behind 86230, 25145 assisted the train to Northampton.
On the afternoon of May 18th 25145 was noted at Golbourne Junction with an up freight.
1981 included several Cambrian line roundtrip visits to Aberystwyth, on June 6th & 7th with 25245, on the return trip on the 7th the Class 25s worked through to Nuneaton, dragging 86252 from Wolverhampton.
On June 15th 25145 worked a Lawley Street - Beeston Freightliner.
25145 was receiving attention at Reddish on July 12th.
25145 & 25090 handled roundtrip Cambrian line workings on September 5th & 6th with 25090.
On the morning of October 13th 25145 was stabled at York.
1982
On a wet March 4th 25145 was noted passing Derby southbound with a freight.
On April 8th 25048 & 25145 were noted on a train of short wheelbase oil tanks southbound at Crewe station. 25145 worked the Bradford Valley Road Goods - Healey Mills on April 22nd, comprised seven wagons and a brakevan.
Slightly off the beaten track on June 12th was 25145 working the 08.35 Birmingham New Street - Paddington and 12.50 return. A Birmingham International - Aberystwyth roundtrip charter was worked by 25145 & 25193 on June 27th.
The 16.20 Crewe - Derby on September 16th was worked by 25145 because of a diesel multiple unit failure.
When the 11.33 Norwich - Birmingham New Street failed at Washwood Heath on November 3rd 25145 worked the final four miles to Birmingham New Street.
1983
On January 8th the Class 85 hauling the 20.55 Euston - Inverness failed at Rugby, the train was taken to Crewe by 25145 & 25221.
25145 with some Railfreight wagons were at Marylebone station on March 18th.
On June 8th 25145 was noted southbound at Finedon Road with a short freight (EB). 25145 was noted at Bletchley on June 21st.
A north-west area working occurred on September 15th when 25145 worked the 07.34 Manchester Victoria - Liverpool. 25145 was the Manchester Victoria pilot on September 16th. 25145 was noted at Preston on September 28th.
25145 was stabled at Crewe depot on a wet October 1st. 25145 was noted on October 4th on the WCML with VTG wagons for Lostock Hall.
On December 27th 25145 worked the 21.44 Preston - Liverpool (portion off 18.20 Glasgow - Manchester).
1984
25145 was noted at Toton on January 17th, with a short freight, possibly for Burton.
25145 was the Manchester Victoria pilot on February 4th, 5th & 9th. 25145 with two parcels vans was noted at Rhyl on February 12th.
On April 15th 25145 & 25236 were noted on the Kirkby branch with a spoil train. A loaded Tunstead - Northwich ICI limestone train was handled by 25145 on April 16th.
On May 3rd 25191 & 25145 were noted at Church Stretton with a tank train. 25145 was stabled at Tinsley on May 14th.
A relief 18.08 York - Birmingham New Street on June 1st was worked by 25145.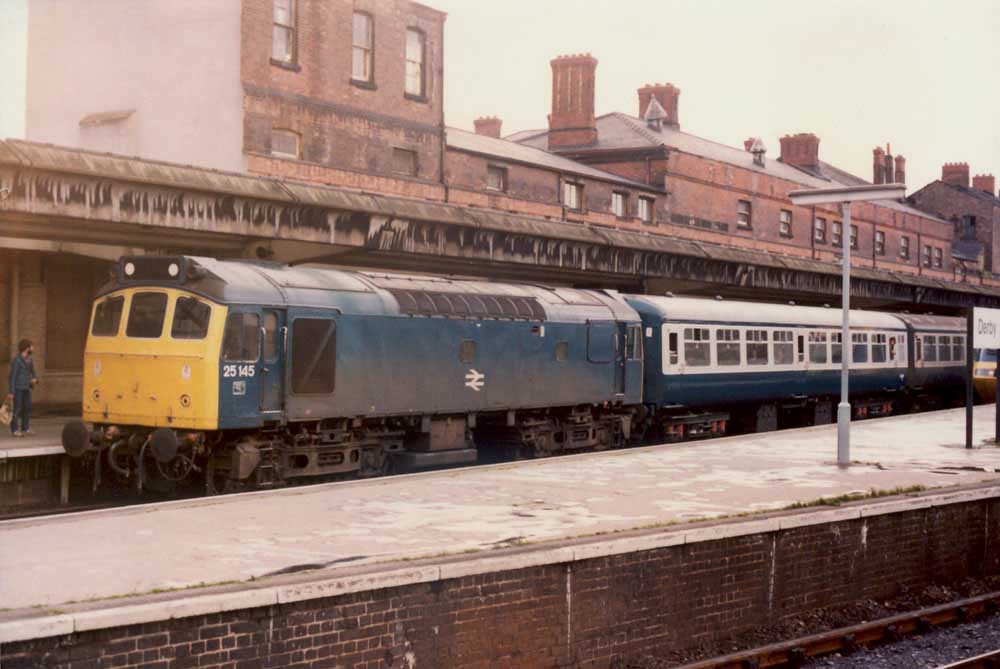 Photograph collection of webmaster
A view of the working referenced above with 25145 on a relief York - Birmingham at Derby on June 1st 1984.
25145 was stabled at Cricklewood on July 29th.
25145 was noted at Nuneaton on August 13th with passenger stock. It was a busy day for 25145 & 25205 on August 19th working the 03.33 Crewe - Preston (via Chester), the 12.35 Preston - Barrow, the 18.21 Barrow - Liverpool and the 22.10 Glasgow Central - Euston from Preston to Crewe due to the power being off for engineering work. On August 23rd 25145 was noted southbound at Warrington Bank Quay with a freight and was also noted as Manchester Victoria pilot this day.
25145 was noted working a loaded sand train from Caldon Low Quarry to Longport on September 19th.
25213 & 25145 were noted southbound at Crewe with a bitumen oil train on November 29th.
A pre-Christmas working on December 21st saw 25145 & 25200 assist the 20.00 Cardiff - Crewe from Craven Arms after the Class 47 failed.
1985
25145 was stabled at Carnforth on January 12th. The 18.20 Glasgow Central - Manchester Victoria was worked forward from Preston by 25145 on January 16th.
25145 was noted northbound at Whitchurch on February 26th, possibly the 6S75 12:55 Severn Tunnel Junction - Mossend freight.
25145 was stabled at Carlisle station on March 1st with at least thirteen other locomotives.
In the pre-dawn hours of May 23rd 25145 was noted on a down parcels working at Crewe station. By the next day 25145 was working at Watford (see below).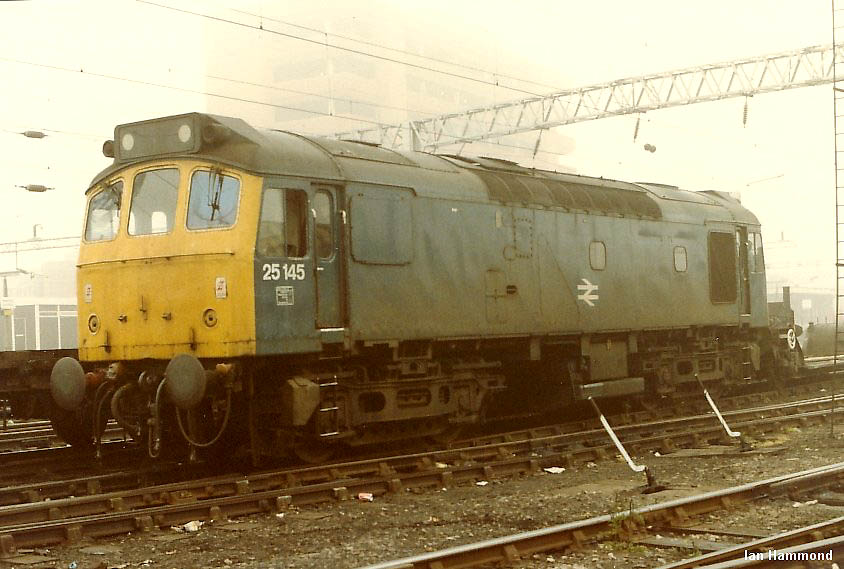 Photograph courtesy Ian Hammond
A fine study of 25145 as it works busily in Watford Yard on a still misty May 25th 1985. 25145 had seven more months of service, its last shed was Carlisle.
A failed diesel multiple unit on June 2nd saw 25145 assist the 12.32 Blackpool North - Colne from Blackburn (pushing from the rear) and the 14.30 Colne - Preston. On June 30th 25145 was noted southbound at York with MkIII coach 42257 & test car ADB 975397, presumably headed for Derby.
25145 was north of the border on August 24th working the 08.40 Carlisle - Glasgow Central. A week later on August 30th trouble on the WCML saw the 07.15 Manchester Piccadilly - St. Pancras taken forward from Nuneaton to St. Pancras by 25145 & 20099 with assistance from St Albans provided by 20161 & 20187.
25145 was noted at Severn Tunnel Junction on October 22nd & 23rd. 25145 was noted shunting an oil tanker at Severn Tunnel Junction on October 24th. Later that day (24th) the Severn Tunnel Junction – Mossend freight required assistance at Abergavenny from 25034 after 25145 failed there. After spending four days dumped at Hereford 25145 returned to Severn Tunnel Junction in a local freight behind 25034, before being taken to Crewe in an overnight freight!
On November 30th 25145 was noted at Guide Bridge with the name 'Roland' stencilled on one side.
Class 25s visiting the Huddersfield area in early December included 25095 & 25145 with oil tanks on 4th. 25145 was noted at Stoke on Trent on the evening of December 11th.
Christmas Day at Allerton found thirteen locomotives stabled here rather than at Speke, included were 25145, 25205 & 25907.
1986
The arrival of 1986 brought bad news for 25145, it would be the first locomotive withdrawn that year, on January 2nd.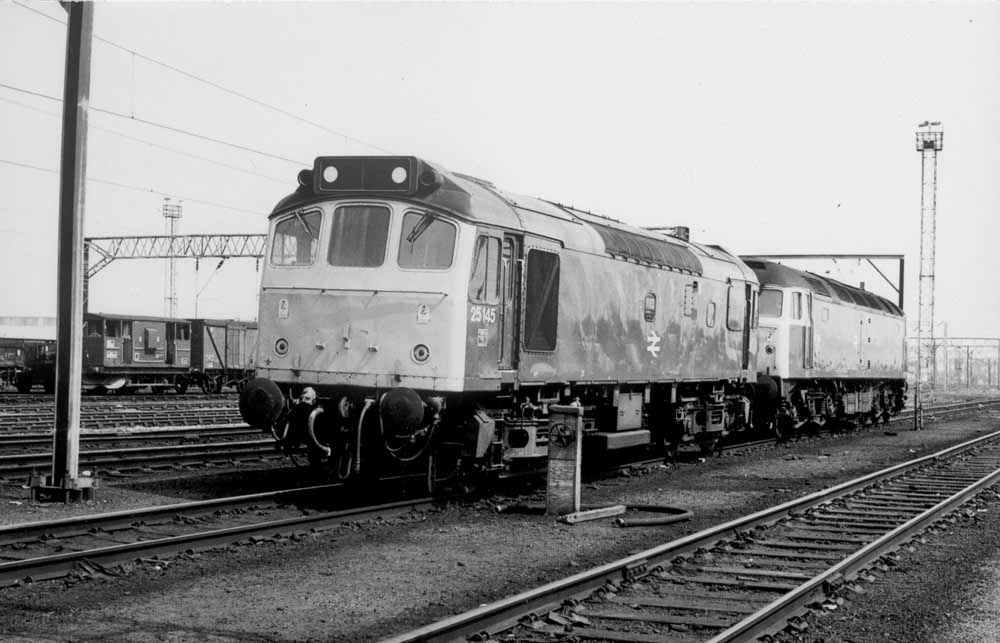 Photograph collection of webmaster
25145, date & location unknown, possibly Speke Junction. 25145 was the first locomotive to be withdrawn during 1986, being retired at Crewe with multiple defects.
Distinguishing Features
BIS side: minor scrape to left of radiator grille, just below cantrail (did not remove paint): February 1984 - November 1985.
Not all known passenger workings are recorded on this page.
61/5678
flk 0317
Page added July 22nd 2013.
Last updated July 17th 2022.
Back to 25144
Forward to 25146