D7509, 7509, 25159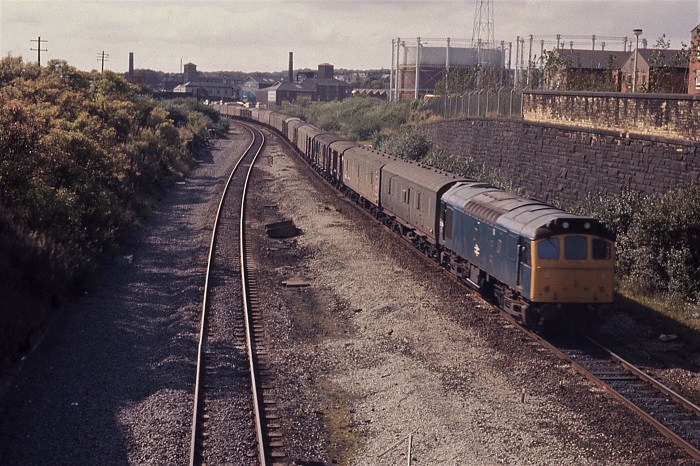 Photograph collection of webmaster
25159 heads east with a lengthy parcels/newspaper train towards Bolton station on September 6th 1980.
The sixteen year career of D7509/25159 was split between allocations to London Midland Region & Western Region depots.
Built: BR Derby Locomotive Works.
Time between last Classified repair and withdrawal: ?? months.
Time between withdrawal & scrapping: 4 months.
Allocations
D7509 was new to Toton on November 5th 1964. Further transfers were:
January 1965 to Nottingham Division (D16).
April 1968 to London Midland (Midland) Lines.
June 1968 to Nottingham Division (D16).
January 1972 to Laira (84A).
July 1972 to Ebbw Junction (86B).
May 1974 to Cardiff.
July 1975 to Bristol.
February 1976 to Toton.
February 1976 to Crewe.
Withdrawn November 2nd 1980.
Renumbered March 1974.
After withdrawal 25159 was moved to Swindon Works during December 1980, and broken up there by the middle of March 1981.
Works Visits
Works visits (records incomplete).
Noted Derby Works May 1967.
Noted Derby Works February 1968.
Noted Derby Works December 1971.
Noted Derby Works April 1975.
Noted Derby Works July 1976.
Highlights
1967
Condition October: two-tone green livery with small yellow warning panels, no blanking plates, hand/footholds present, straight sided sandboxes, three rung bogie mounted footsteps, engine exhaust in original position.
1969
On August 16th 1969 7509 worked the 07.35 Nottingham - Llandudno Town and 13.52 return. On September 6th 1969 7509 worked the 07.00 Derby - Yarmouth as far as Norwich.
1970
July 11th 1970 saw the annual Keswick Convention, with one through special running from Euston hauled by 371. To create a path for this train the 16.25 Penrith - Keswick disel multiple unit and 17.05 return were cancelled, however two coaches and 7509 were added to the special at Penrith, the Class 25 being placed on the rear. Upon return to Penrith 7509 was removed and the train proceeded north to Carlisle as a local.
1972
During January 1972 7509 was transferred to Laira, on June 3rd 1972 it was noted on a Barnstaple - Exeter St. Davids passenger turn.
On February 25th 7509 worked the 20.10 Exeter St Davids - Newton Abbot.
On June 3rd 7509 worked the 09.51 Exeter St Davids - Barnstable, the 12.18 Barnstable - Exeter St Davids, the 15.55 Exeter St Davids - Barnstable and the return 17.55 Barnstable - Exeter St Davids. About a week later on June 9th 7509 piloted Class 46 No. 141 between Exeter St Davids & Plymouth on the 21.05 Bristol Temple Meads - Plymouth.
1974
A roundtrip Derby - Skegness on August 18th was worked by 25159 & 25259.
1975
The Lickey banker, normally a pair of Cardiff based Class 37s was in the hands of 25159 & 37299 on (or January 15th) February 1st, they were called upon to assist an ailing 46047 on the 10.06 Edinburgh – Plymouth, being noted at Cheltenham an hour and a half late, all three still heading west!
On May 10th the 21.00 Bristol Temple Meads - Glasgow Central with 47089 were banked up Lickey incline by 25159 & 37206. Another Derby - Skegness roundtrip was worked on May 24th with 25159 & 25212.
A derailment in Ely West Yard saw October 29th's 14.47 Whitemoor - King's Lynn freight diverted via Ely to clear Ely traffic affected by the derailment, 25159 was in charge of the freight.
1977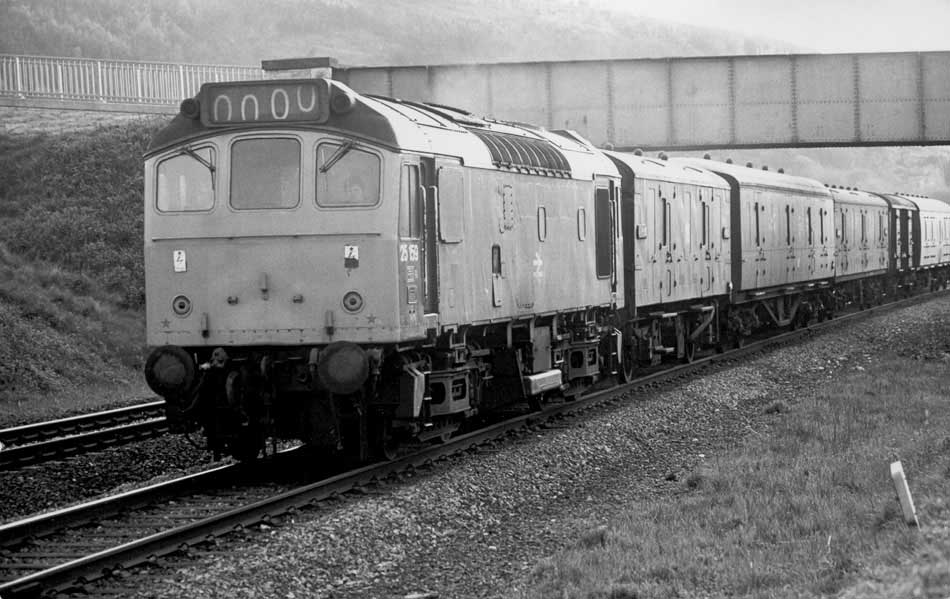 Photograph courtesy Larry Goddard
Its about 6.30pm on May 10th 1977 as 25159 heads east along the North Wales mainline with a short parcels train. By this time 25159 was allocated to its final depot, Crewe Diesel.
June 4th found Leeds Holbeck short of power to handle the 09.35 Carlisle - Nottingham, all they had available was 25124. To this machine was added 25159 borrowed from a parcels train, this fine pair then making the run to Nottingham and returning with the 15.52 to Glasgow, being relieved at Leeds by 47467.
The NE/SW route beckoned on July 16th with 25159 & 25101 in charge of the 08.50 Birmingham New Street - Paignton, 25101 failed at Wellington leaving 25159 to drag it and the train on to Paignton. Reportedly the same locomotive returned north with the empty coaching stock.
25159 was noted at Springs Branch on August 11th. 25159 worked a Derby - Lincoln mail on August 18th.
1978
25159 was noted passing Kidsgrove on February 13th with a short eight wagon freight, possibly a Crewe - Stoke trip.
25159 was stabled at Chester on May 13th. On May 15th (?) 1978 25159 worked the 10.00 Crewe - Cardiff. 25159 was noted at Northwich depot on May 20th.
On June 26th 1978 25159 worked the 09.42 Llandudno Town - Manchester Victoria, 13.30 Manchester Victoria - Llandudno Town, 16.42 Llandudno Town - Crewe, 20.30 Crewe - Bangor and the 22.45 Bangor - Llandudno Junction. The next day (27th) 25159 worked the 20.30 Crewe - Bangor and 22.45 Bangor - Llandudno Junction.
On August 17th 25073 & 25159 were noted northbound through Crewe with a loaded sand train.
On October 25th 25159 & 24063 were noted with two wagons and a brakevan en-route to BIS Oakamoor?
1979
Late into March the two remaining Class 24s 24063 & 24081 were still soldiering on, observed on the Oakamoor sand train were 24063 & 25159 on March 29th.
On April 21st a continuously welded rail train was noted at Hereford with 24081 & 25159.
The final recorded passenger workings for 25159 took place on August 24th 1979 with 25159 working the 15.10 Cardiff - Crewe and the 19.28 Crewe - Cardiff. On August 27th 25159 was the Manchester Victoria pilot.
1980
Because of the implications of a recent derailment the Class 86/0s regained their 80 mph speed restriction whilst the use of Classes 81 – 85 was permitted on air braked, air conditioned trains. Despite these alterations the northern end of the WCML saw a number of electrically hauled freights substituting with diesel power including the use of Class 25s. So noted were 25095 on February 20th's late evening Willesden – Runcorn freight and 25105 & 25159 on February 21st's mid-day Carlisle – Severn Tunnel Junction freight.
25159 was withdrawn on November 2nd 1980.
Not all known passenger workings are recorded on this page.
25/2181
flk 0317 (1)
Page added August 25th 2013.
Last updated March 12th 2019.