D7510, 7510, 25160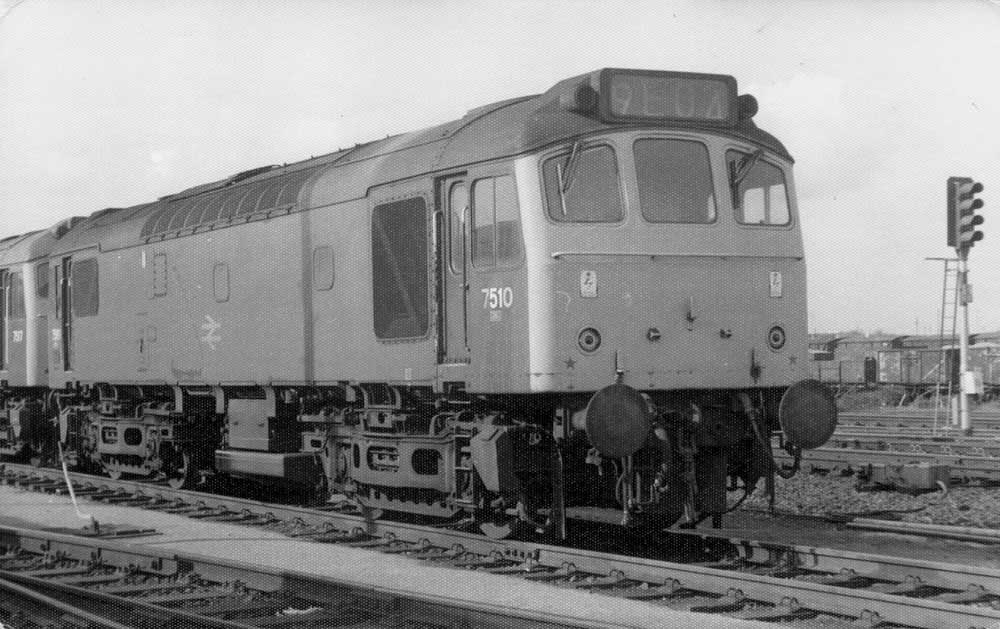 Photograph collection of webmaster
7510 at Springs Branch, date unknown. 7510/25160 was one of a few Class 25s never to be allocated to North West depots.
The eighteen year career of D7510/25160 included four years allocated to Western Region depots in the mid 1970's, the remainder was spent allocated to London Midland depots.
Built Derby Locomotive Works
Boiler room grilles sheeted over (1977).
Time between last Classified repair and withdrawal: 63 months.
Time between withdrawal & scrapping: 58 months.
Allocations
D7510 was new to Toton (16A) on November 10th 1964. Further transfers were:
January 1965 to Nottingham Division (D16).
April 1968 to the London Midland (Midland) Lines (LMML).
June 1968 to the Nottingham Division (D16).
January 1972 to Ebbw Junction (86B).
May 1975 to Bristol.
February 1976 to Crewe.
Withdrawn October 10th 1982.
Renumbered April 1974.
25160 was the 139th Class 25 to be withdrawn, one of four retired during October 1982.
After its withdrawal 25160 was stored at Polmadie from October 1982 until November 1983 at which point it was moved across the mainline to Shawfields Sidings. Whilst dumped at Shawfield it made the inevitable trip beyond the buffer stops, joining a small but elite band of locomotive to be so dealt with by the locals. It moved to Thornton Junction with 25046 on April 29th 1987 for cutting, which ceased before the cutters got to 25160. It then moved with 25046 to Vic Berry's, Leicester via Mossend (June 10th 1987), Carlisle (June 11th 1987), Basford Hall (June 22nd 1987), Leicester Humberstone Road (hauled by 31168) and into Vic Berry's, Leicester (June 23rd 1987). By the end of July 1987 the locomotive had been scrapped though the cabs lingered until November 1987.
Works Visits
Works visits (records incomplete).
Noted Derby Works December 1971.
Noted Derby Works June - July 1977.
Highlights
1967
On June 24th the summer dated round trip Nottingham - Llandudno Town was worked by 7510 & 7540.
1969
On June 3rd a Melton Mowbray - Slough special was worked out & back (?) by 7510 & 5234.
1971
Condition February: two-tone green livery with full yellow ends, straight sided sandboxes, three-rung bogie mounted footsteps, engine exhaust in original location, 'D' prefix still carried.
With March drivers trained on Class 25s they occasionally handled odd workings - on December 4th 7510 dragged Class 47 No.1502 from March to Stratford.
1973
At about 1.30pm on June 15th 7504+7510 were noted passing Newport High Street with a down freight (8A94).
On December 9th (a Sunday) eight additional freights ran from Margam to Knighton & Toton, three powered by Class 37s, the remainder by Western Region allocated Class 25s. All worked as far as Washwood Heath, returning to the west as light engines or with a freight train. The Class 25s involved were 5209, 7508, 7510, 7513 & 7521.
1975
On June 4th 25160 worked the 8B89 14.45 Exmouth Junction - Exeter Riverside.
25160 was noted at Tyne Yard on August 12th.
On December 2nd 25160 & 25170 were noted at Exeter Riverside with the 7B61.
At 6pm on December 4th 25160, 25169 & 25215 were noted at Exeter stabling point.
At 2pm on December 20th 25157, 25160, 25161 & 25224 were noted on shed at Exeter.
1976
25160 was noted on a Tyne Yard permanent way duty on February 2nd.
1977
25160 was noted at Frodingham on April 21st.
On July 22nd 25160 made a test run from Derby Works.
The snag sheet for July 22nd recorded:
25160; July 22nd 1977; 1C21 Derby
| | | | | | |
| --- | --- | --- | --- | --- | --- |
| Load | Speed | Amps | Volts | Notes | Other |
| 1 | 28 | 910 | - | - | - |
B side crankcase door and Bicera's Nos.3 & 4 bad
B side crankcase door securing nut
No.6 rocker cover
No.2 cab bad roof leak above 2nd man's side
A side crankcase door free end
HP fuel pipe nuts to tighten
Knecht fuel filter adaptor bypass
CA 10 psi
No.1 cab 2nd man's side window leak
A side roof leak above blower AWS No.2 not making? every time.
1978
On June 15th 25160 worked the 20.30 Crewe - Bangor and the 22.45 Bangor - Llandudno Junction.
On June 16th 25160 was shunting coal wagons at Llandudno Junction and later noted at Bangor with vans.
On July 2nd a Weston-super-Mare - Aberystwyth day excursion was worked from/to Wolverhampton - Aberystwyth by 25160 & 25153.
On September 13th 25160 worked the 11.30 Bangor - Manchester Victoria, the 15.32 Manchester Victoria - Bangor and the 19.30 Bangor - Manchester Victoria.
25160 was noted at Holbeck depot on November 11th.
1979
At midday on July 19th 25160 was noted eastbound light engine at Colwyn Bay.
A Spalding - Aberystwyth day excursion on October 13th was worked from/to Walsall - Aberystwyth by 25160 & 25216.
1980
25160 was noted at Cockshute on April 15th. 25160 was noted on an up freight service passing Conwy on the April 21st.
On July 10th 25160 was noted shunting wagons at Abergavenny, believed to be the 7C05 TThFO 11.50 Moreton-on-Lugg to Severn Tunnel Junction Undy Yard local freight.
On the morning of July 18th & 23rd 25160 was stabled at York.
On August 30th 25160 worked the 09.42 Llandudno Town - Manchester Victoria.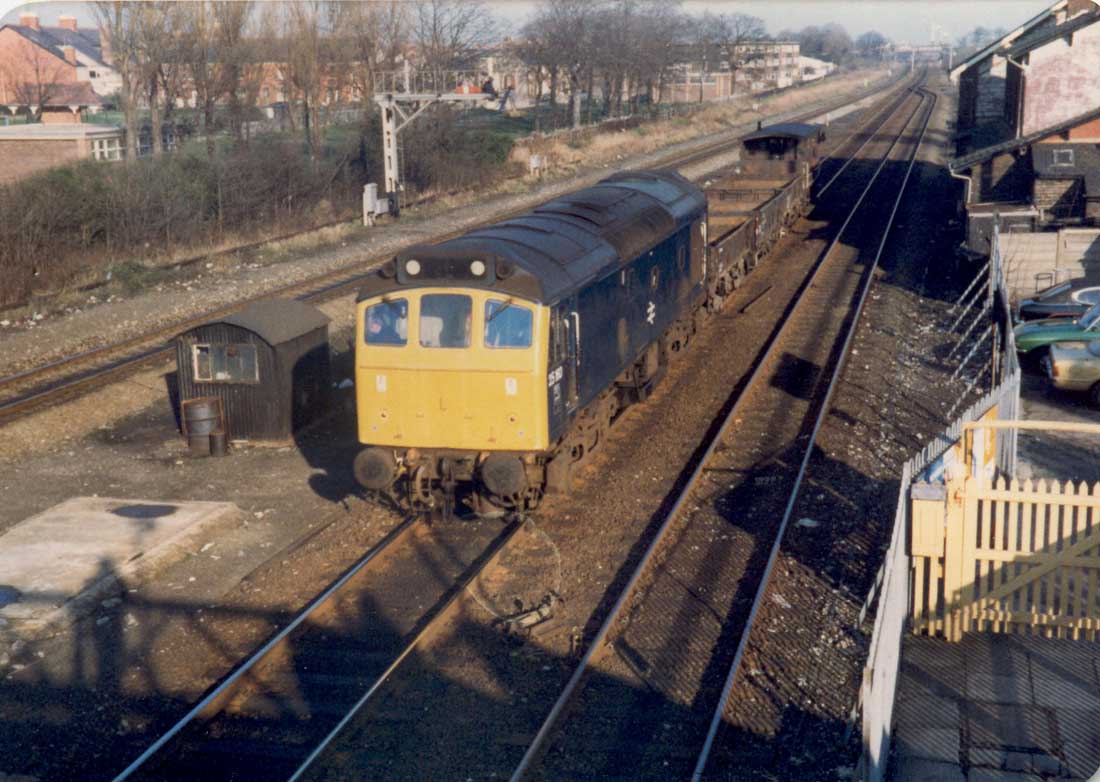 Photograph courtesy John Powell
25160 at Prestatyn with a short permanent way train, date unknown.
1981
25160 was noted south of Crewe on March 12th with an up permanent way train. A short trip freight with 25160 was noted passing Horbury Junction for Healey Mills yard on March 27th.
25160 was stabled at Cockshute on April 11th.
On August 2nd 40130 failed at Mostyn Dock working a Holyhead - Bournemouth day excursion, 25160 dragged everything to Chester where 40135 took over. On August 14th saw 25160 work the 17.42 Manchester Victoria - Llandudno Junction.
A month later on September 12th the 10.10 Euston - Aberystwyth from Birmingham New Street and the 18.00 Aberystwyth - Wolverhampton were worked by 25160 & 25154.
On September 27th 25090 & 25160 were northbound at Shrewsbury with a permanent way train.
1982
On May 5th 25160 worked the 09.20 Lancaster - Barrow. The next day, a very wet May 6th, 25160 was noted at Blackpool North with a single parcels coach. On May 7th 25160 worked the Edge Hill - Red Bank vans, comprised of about thirteen vehicles. 25160 was stabled at Bristol Bath Road depot on May 17th, later that day it would work the 3S15 Glasgow vans.
The last recorded passenger working for 25160 took place on June 26th when 25160 worked the 09.45 Manchester Victoria - Bangor and the 13.58 Bangor - Manchester Victoria, the remainder of the diagram was worked by 47555.
25160 was the Manchester Victoria pilot on July 24th. Two days later (26th) 25160 was noted passing through Manchester Victoria with vans for Red Bank.
25160 was withdrawn on October 10th 1982.
The only 25s now remaining in Scotland were 25028/46 and recently arrived 25160, all withdrawn at Polmadie.
Whilst dumped at Shawfield Sidings, Polmadie, 25160 ran off the end of the siding, derailing the No.1 end bogie. This was one of several locomotives to be derailed here in this manner.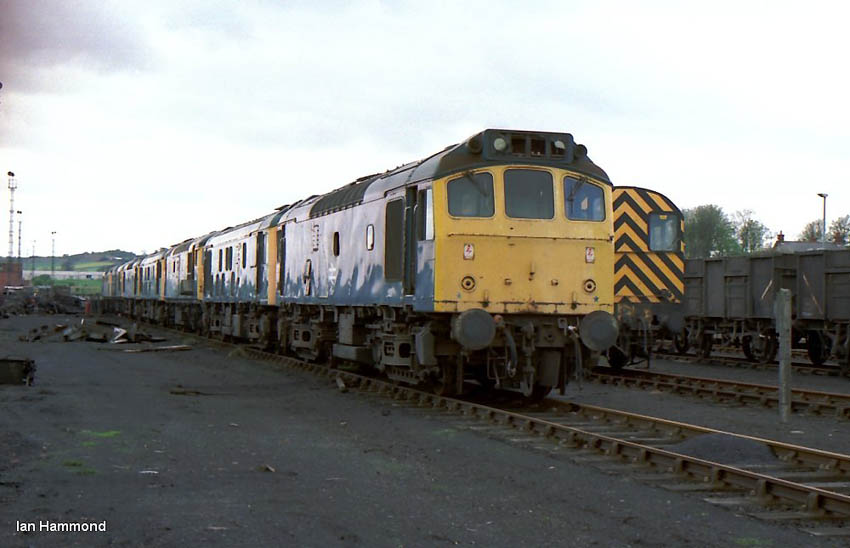 Photograph collection Ian Hammond
25160, 25046, 26013, 25028, 25318 & 27016 at Thornton Junction on May 3rd 1987. All these locomotives would eventually be dragged down to Vic Berry, Leicester for scrapping.
19/2032
flk 1216
Page added December 1st 2012.
Last updated July 19th 2022.
Back to 25159
Forward to 25161