D7520, 7520, 25170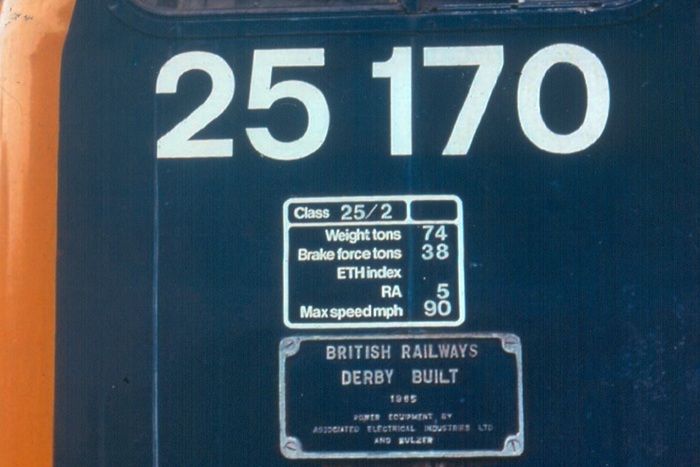 Photograph collection of webmaster.
Cabside details of 25170, date unknown.
The seventeen year career of D7520/25170 included eleven years allocated to LMR depots and six years at WR depots.
Built Derby Locomotive Works.
Boiler room grilles sheeted over (1977?).
Time between last Classified repair and withdrawal: ?? months.
Time between withdrawal & scrapping: 8 months.
Allocations
D7520 was new to Toton (16A) on December 22nd 1964. Further transfers were:
January 1965 to Nottingham Division (D16).
March 1965 to Saltley (2E), then to the Birmingham Division (D02).
April 1966 to the London Midland Midland Lines (LMML).
December 1967 to the Nottingham Division (D16).
May 1968 to the London Midland Midland Lines (LMML).
June 1968 to the Nottingham Division (D16).
July 1972 to Cardiff (86A).
October 1975 to Laira.
May 1978 to Crewe.
Withdrawn April 18th 1982 and stored at Reddish.
June 20th 1982 reinstated to Crewe, but did it ever actually re-enter service?
Withdrawn August 2nd 1982
Renumbered July 4th 1974.
25170 was the 134th Class 25 to be withdrawn.
After its first withdrawal 25170 was stored at Reddish and appears to have remained there despite being reinstated. It moved to Derby Works on August 1st 1982 and was broken up there by early April 1983.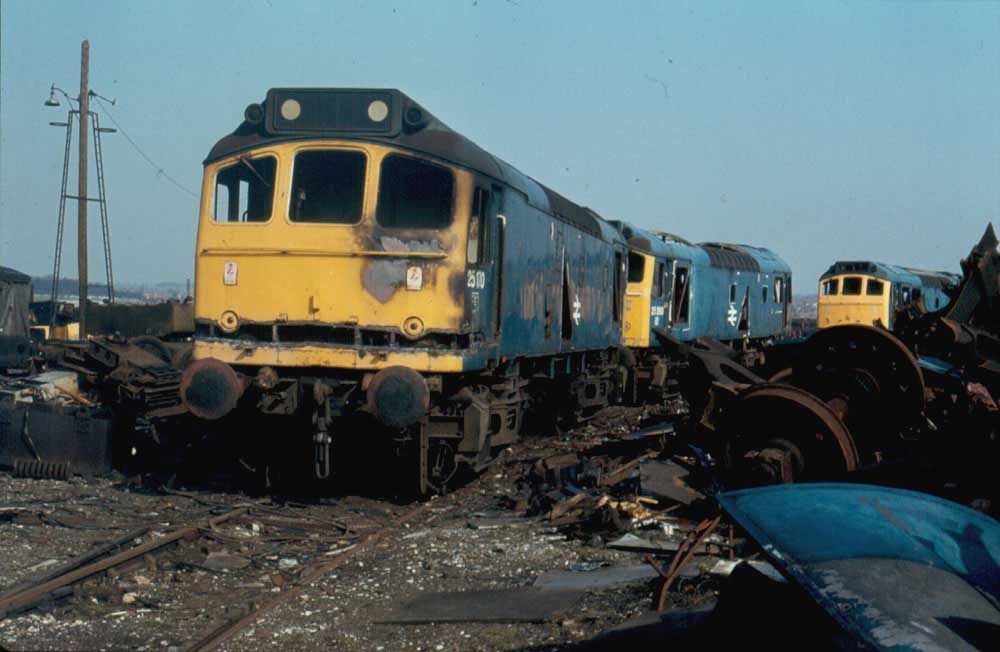 Its the end of the line for 25170 at Derby Works on March 8th 1983. Immediately behind 25170 is equally doomed 25290.
Works Visits
Works visits (records incomplete).
Noted Derby Works February 1967.
Noted Derby Works June 1967.
Noted Crewe Works September & October 1968.
Noted Crewe Works May 1969.
Noted Derby Works August 1977.
Noted Derby Works November 1979 to February 1980 (N4 repairs).
Noted Derby Works September 1980 (N4 repairs).
Highlights
1966
On August 7th the 10.30 Glasgow Buchanan Street - Dundee relief behind D7520 had barely departed Glasgow Buchanan Street when it became a failure. D3901 took the train to St. Rollox where D5128 took over. Later the same day a second Glasgow Buchanan Street - Dundee relief was succesfully worked by D7520.
1968
On June 29th the summer dated roundtrip Nottingham - Llandudno Town was worked by D7520 & D7525.
1969
On March 18th an empty van train from York to Weymouth was noted in the London area with 7520.
1971
7520 was the Manchester Victoria bank on April 21st.
1972
Condition June: two-tone green livery with full yellow cab fronts, three-rung bogie mounted footsteps, straight sided sandboxes, engine exhaust in original position.
A stranger at Derby on September 27th was 1200 'Falcon' towing 7520 destined for the Works, the Class 53 returned promptly to the WR.
1973
At about 1.30pm on June 15th 7505+7520 were noted in Severn Tunnel Junction yard and later noted passing Newport High street with a down freight (8A94).
1974
On April 20th 7520 & 7521 were noted passing Newport High Street with up hoppers.
On October 2nd the 21.00 Bristol Temple Meads - Glasgow Central with 46020 was assisted up Lickey Incline by 25170 & 37299.
1975
A longer distance working regularly hauled by Class 25s and featuring considerable mileage 'under the wires' was the round trip Gunnie – Penyffordd (Wrexham North???) freight, 25165 & 25170 taking the northbound leg on June 13th.
During October 25170 was transferred to Laira, providing the opportunity to handle local passenger services in the Exeter area.
1976
On May 29th 25170 worked the 20.50 Exeter St. Davids - Newton Abbot.
On August 5th 25170 worked an officer's special towards Lostwithiel during the early afternoon. It then returned to Plymouth and worked the 16.10 Plymouth - Newquay, an unadvertised special passenger service which ran on Tuesdays & Thursdays for six weeks during the summer. It was not often worked by a Class 25.
1977
As a change from the local Exeter workings, on June 11th 25170 & 25080 worked the 1M39 09.35 Penzance - Wolverhampton from Penzance to Plymouth.
During August 25170 was at Derby Works for a Classified repair. On September 3rd it piloted 45145 on the 10.05 Derby - St. Pancras as far as Leicester.
1978
A St Blazey - Carlisle freight was worked to Exeter Riverside by 25215 & 25170 on April 28th.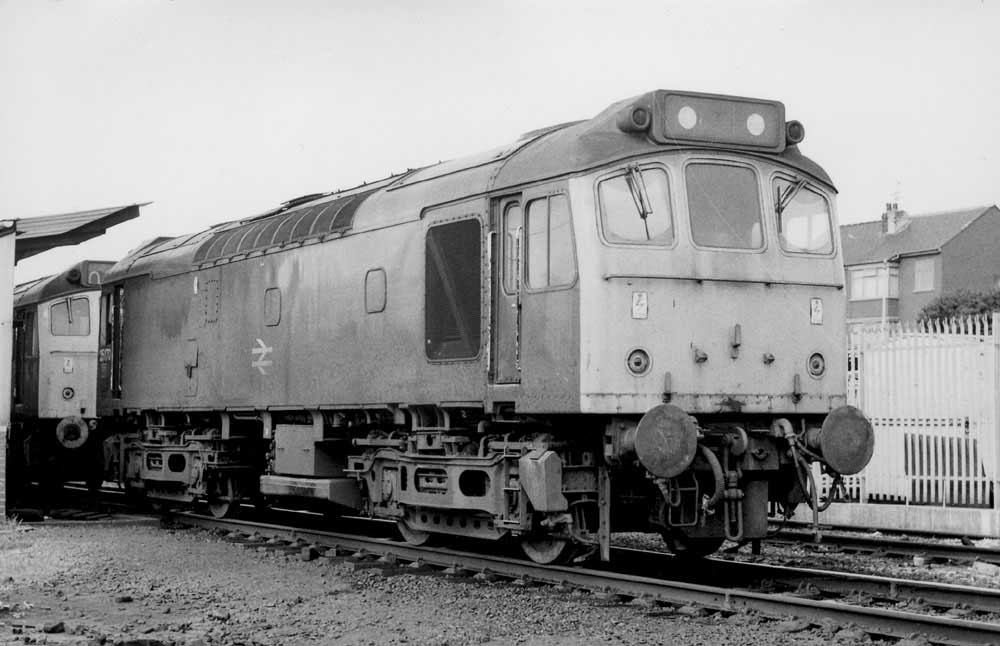 Photograph collection of webmaster.
25170 at Springs Branch on July 9th 1978.
1979
25170 was noted at Crewe on a down freight on March 23rd.
On May 25th 25170 worked a North Wales service (Llandudno - Manchester Victoria?). The 11.05 Manchester Victoria - Holyhead on May 26th was worked by 25170.
On the afternoon of July 8th 25140 & 25170 were noted at Crewe with a permanent way train. On July 28th the 08.26 Llandudno Town - Birmingham New Street was worked to Crewe by 25170.
1980
On July 12th 25170 & 25127 worked the Derby - Norwich (for Yarmouth) - Norwich - Derby (not Walsall) passenger diagram. The next day (13th) the same locomotives worked the 09.00 Derby - Skegness anmd 18.15 Skegness - Derby.
1981
On the afternoon of June 3rd 25170 was noted at Crewe with a down sand train. On June 6th 25170 & 25294 worked the 07.40 Euston - Aberystwyth from Wolverhampton, returning with the 16.05 Aberystwyth - Wolverhampton.
A July 19th a Taunton - Aberystwyth day excursion was worked roundtrip Wolverhampton - Aberystwyth by 25170 & 25308.
1982
25170 was withdrawn on August 2nd 1982.
19/1521
flk 0716
Page added November 27th 2012
Last updated March 4th 2020.