D7522, 7522, 25172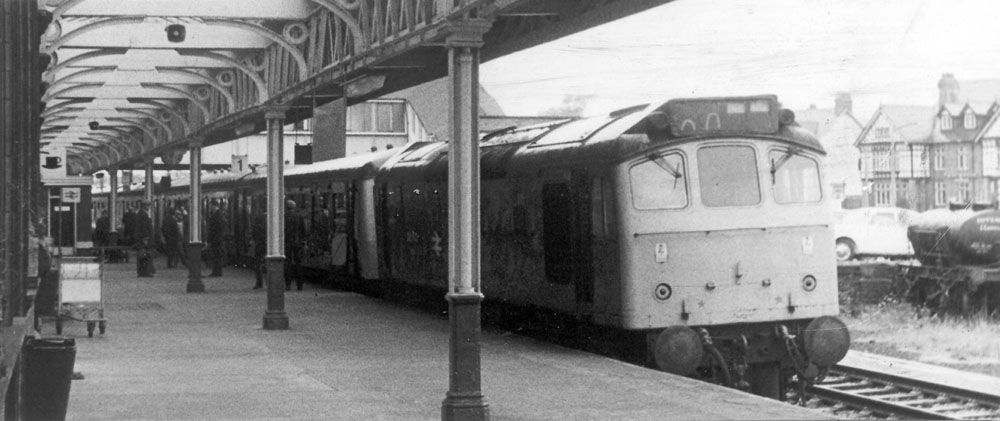 Photograph courtesy A Forster.
Its a damp June 2nd 1980 as 25172 arrives at Llandudno Jct assisting a failed diesel multiple unit. Its just after 1.00pm and the train in question is the 12.35 Llandudno - Manchester service.
The sixteen year career of D7522/25172 included allocations at London Midland Region, Western Region, & Scottish Region depots.
Built: BR Derby Locomotive Works.
Time between last Classified repair and withdrawal: 51 months.
Time between withdrawl and scrapping: 27 months.
Allocations
D7522 was new to Nottingham (16A) on January 9th 1965. Further transfers were:
January 1965 to the Nottingham Division (D16).
October 1965 to the Leicester Division (D15).
August 1967 to Nottingham Division (D16).
May 1968 to London Midland Midland Lines (LMML).
June 1968 to Nottingham Division (D16).
August 1972 to London Division (D01).
September 1972 to Preston Division (D10).
December 1972 to London Division (D01).
May 1973 to Willesden.
June 1973 to Cricklewood.
January 1974 to Willesden.
May 1974 to Cardiff.
October 1974 to Laira.
May 1975 to Bristol.
June 1975 to Cardiff.
October 1975 to Haymarket.
December 1976 to Springs Branch (on loan and then made permanent the same month).
Withdrawn February 1st 1981.
Renumbered May 20th 1974.
25172 was the 92nd Class 25 withdrawn, one of twelve retired during February 1981.
After withdrawal 25172 was moved to Swindon Works on April 6th 1981 and was broken up by the first week of May 1983.
25172, 40017, 40137/161 ? – Swindon April 3rd, 1981 (left Carlisle behind 25086 April 1st ?, at Kidderminster behind 31168)
Works Visits
Works visits (records incomplete).
Noted Crewe Works July 1968.
Noted Derby Works April 1972 (entered in two-tone green with full yellow ends).
Noted Derby Works December 1972.
Noted Glasgow Works October 1976 (Classified assumed).
Noted Derby Works September 1978.
Highlights
1970
Workings of Toton Class 25's into March were nothing unusual, but their use by March crews for local trips during May took them on extended adventures, including 7522 to Cambridge on May 23rd.
1971
One of those ubiquitous but unpredictable Class 25 duties occurred on September 2nd when eleven wagons of the 02.18 Crewe - Watford freight derailed at Brinkley (between Nuneaton & Rugby). The train broke in two completely blocking all lines necessitating the use of the Saltley breakdown crane hauled by 7522, the lines not being reopened until after midnight.
Condition November: two-tone green with full yellow ends.
1972
Despite being allocated to three regions and a considerable number depots, the recorded passenger haulage for 7522/25172 amounts to about a dozen trips.
Half the trips worked were from the Midlands to Norwich/Yarmouth. On June 3rd 7522 & 5282 worked the 08.12 Derby - Norwich. On June 24th 7522 & 7521 worked the Walsall - Norwich/Yarmouth - Derby diagram. A month later 7522 & 7619 were in charge of the 09.03 Birmingham New Street - Weymouth as far as Reading.
1973
On the late evening of May 25th 7522 was noted at Stonebridge Park.
At about 7am on November 15th 7522 was noted passing Manchester Victoria with a down freight.
1974
On June 1st a six coach afternoon Barrow - Manchester Victoria service was worked by 25172.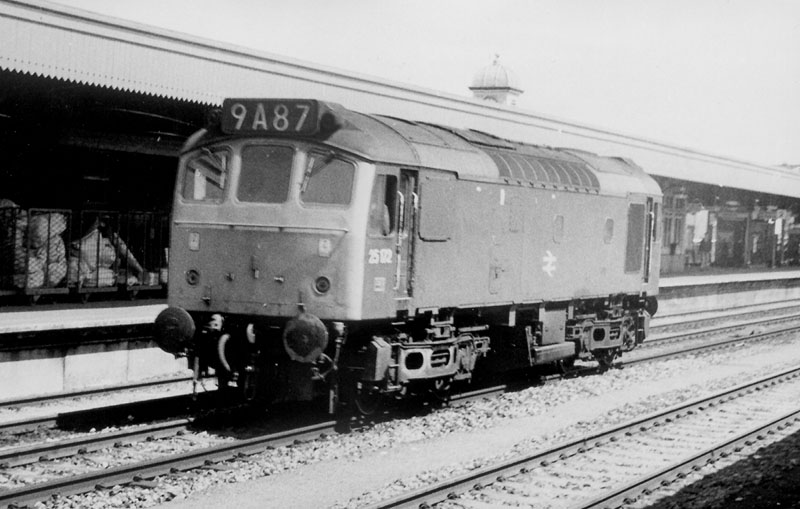 Photograph collection of webmaster.
25172 at Cardiff, date unknown (but most likely between May 1974 & October 1976) - this Class 25 was allocated to Cardiff on two separate occasions, for a total of about ten months.
25172 was active on Tyne Yard local turns on August 30th.
On October 16th 25238 & 25172 were noted eastbound at Tiverton Junction with a milk train headed for Acton.
On December 3rd 25172 worked the 6B18 13.05 Exeter Riverside - Whimple / Chard Junction.
On December 4th 25172 was noted at Exeter stabling point.
On December 5th 25172 was noted at Exeter stabling point.
On December 6th 25172 was noted at Exeter stabling point. It later worked the 6B70 16.57 Hemyock - Exeter milk (two tanks).
1975
A morning Nottingham - Lincoln parcels was worked by 25172 on June 24th.
A Euston - Glasgow Central relief service was hauled between Crewe & Warrington (via Chester) on July 20th by 25172 & 25210.
25172 was noted southbound through Darlington with a parcels working.
1976
25172 was noted on local duties from Tyne Yard on May 20th.
On August 19th the Grange Junction - Shotwick gas pipe train was hauled by 25019 & 25172.
25172 was noted at Perth on October 24th in almost ex-works condition.
1977
On June 24th 25103 & 25172 were noted at Exeter stabling point.
On the morning of October 20th 25172 was noted at Manchester Victoria with an empty coal train.
1978
25172 was noted eastbound through Blythe Bridge on July 17th with a short engineers train, including a crane.
1979
25172 was stabled at Springs Branch depot on a snowy January 28th.
Parts of January & February proved to be snowy months. On February 16th 25285 & 25172 with two snowploughs departed Carlisle for the Settle & Carlisle line. They were heavily engaged between Appleby and Blea Moor, during the day they returned to Appleby for a crew exchange, the fresh crew having arrived with a Class 25, which then took the other first crew back to Carlisle.
25172 was stabled at Northwich depot on September 22nd. 25172 was noted passing through Guide Bridge with ICI bogie wagons on September 27th.
1980
25172 was the Manchester Victoria pilot on March 19th & 20th. 25172 was noted heading east through Manchester Victoria during the afternoon of March 29th with coaching stock for Red Bank Sidings. 25172 was the Manchester Victoria pilot on March 30th.
The remaining passenger workings took place in 1980. On June 2nd 25172 worked the 12.35 Llandudno Town - Manchester Victoria following a diesel multiple unit failure. On the morning of June 21st 25172 was noted passing West Allerton. On June 28th 25172 & 25253 worked the 07.40 Euston - Aberystwyth forward from Wolverhampton and returned with the 17.55 Aberystwyth - Birmingham New Street.
The final passenger workings for 25172 occurred on July 24th working the 01.23 Stafford - Liverpool (a connection out of the previous day's 23.15 Euston - Manchester), followed by the 06.30 Liverpool Lime Street - Manchester Victoria. These were diesel hauled for a short period due to a diesel multiple unit shortage
25172 was noted at Birkenhead Mollington Street on August 24th and at Reddish depot on August 26th.
The 08.30 Rugby - Shrewsbury parcels was worked by 25172 on November 29th.
The late morning Wellingborough - Acton freight was worked by 25150 & 25172 on December 23rd.
1981
25172 was withdrawn on February 1st 1981.
Distinguishing Features
No.2 end headcode panel, standard two 'dots' but the background was white not black - July 1978 to March 1980?.
13/1117
flk 0117
Not all known passenger workings are recorded on this page.
Page added March 4th 2013.
Last update June 21st 2020.
Back to 25171
Forward to 25173