D7529, 7529, 25179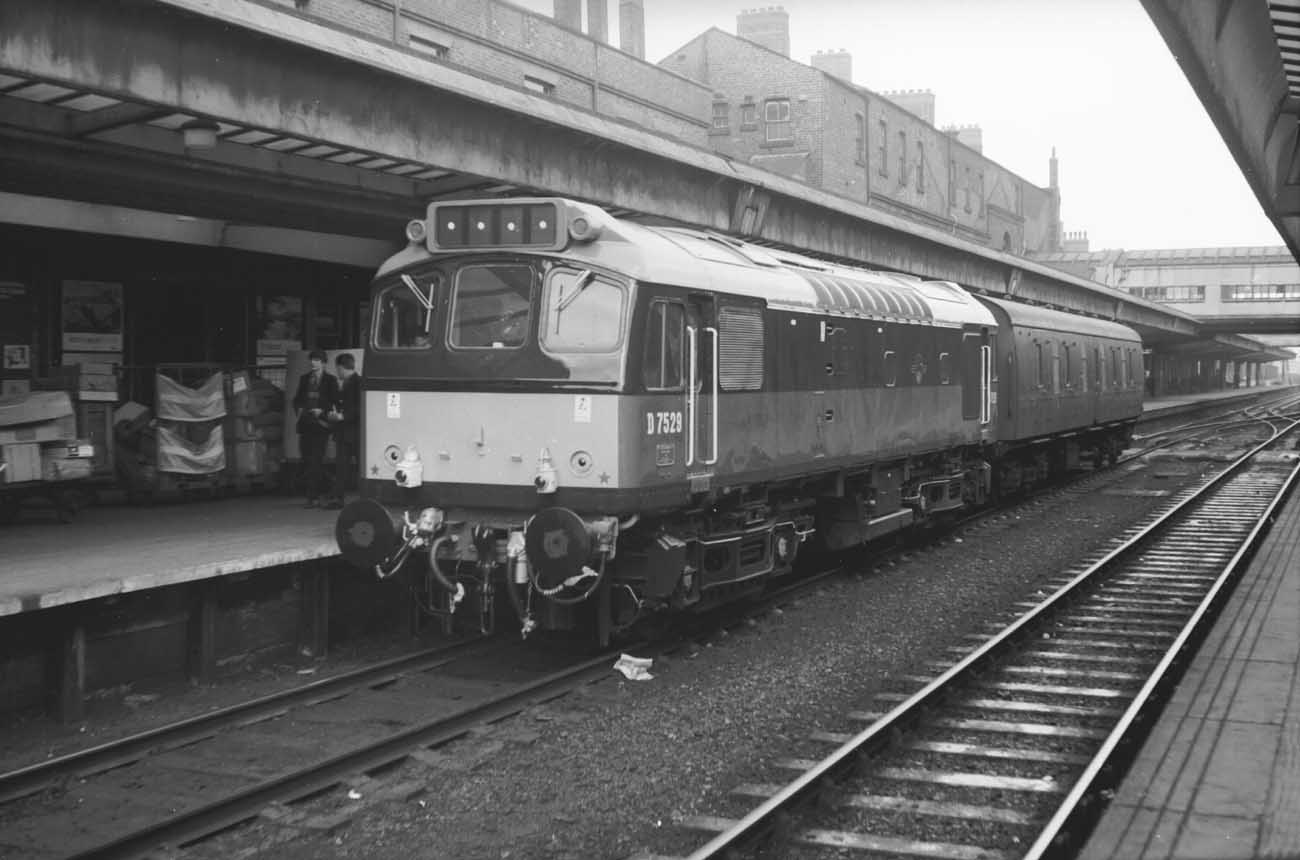 Photograph collection of webmaster
All the paintwork visible on D7529 shines and glistens as it stands at Platform 1, Derby, suggesting that the locomotive is only a day or two out of Derby Locomotive Works, sometime during February 1965.
The seventeen year career of D7529/25179 was spent allocated to only three London Midland Region depots.
Built: BR Derby Locomotive Works.
Time between last Classified repair and withdrawal: 66 months.
Time between withdrawal & scrapping: 50 months.
Allocations
D7529 was new to the Nottingham Division (D16) on February 13th 1965. Further transfers were:
August 1969 to the London (Western Lines) Division (D01).
May 1973 to Willesden.
June 1975 to Cricklewood.
Withdrawn November 28th 1982.
Renumbered April 1974.
25179 was the 147th Class 25 withdrawn, one of twelve retired during November 1982, including sisters 25177, 25180, 25186 & 25187.
After withdrawal 25179 was stored at Springs Branch from December 1982 until June 27th 1984 when it was moved with 25130/141/188 to Swindon Works. 25179 was broken up here by the middle of February 1987.
Works Visits
Works visits (records incomplete).
Noted Derby Works September 1971.
Noted Derby Works April - May 1977 (Classified).
Highlights
1971
With its last thirteen years spent allocated to London area depots the potential for 7529/25179 to obtain passenger workings was not great. However one short working that would have been handled by a very few Class 25's, was the Bedford St John's - Bletchley line, covering most likely for an absent diesel multiple unit. On October 29th 7529 worked a Bedford St. Johns - Bletchley service, a grand total of 16 miles.
1973
On the late evening of May 25th 7529 was stabled at Stonebridge Park coupled to 7526.
1974
On November 20th 25179 & 25194 worked the 7V61 09.50 Bescot - Exeter Riverside freight, at about 19.30pm they were noted heading for Exeter Riverside yard, to take up a northbound working?
1975
In the early hours of June 6th whilst waiting on the slow lines with a coal train at Nuneaton station 25286 witnessed the high speed derailment of the 5th's 23.30 Euston - Glasgow sleeper service. The two locomotives, 86006 & 86242 became parted, with the latter causing considerable damage to itself and the station, bringing down several gantries that caused minor damage to the Class 25. All the coaches were derailed, with damage being heaviest at the front of the train, tragically six lives were lost. By the evening of 6th the Bescot, Crewe & Saltley cranes were present alongside other engineering trains, in the hands of 24074, 25179, 25193, 25256 & 47034. Six coaches, (five sleepers and a BG) were broken up on site. By the 11th engineering/rewiring trains were still present including 24074 and 25193, the latter having been present since the day of the accident. Two days later only 24058 was on hand with an engineers train.
1976
On June 9th 25179 was noted at Stoke Hammond on a down van train.
1977
On May 29th a roundtrip Wolverhampton (?) - Porthmadog charter was worked by 25179 & 25187.
On October 7th & 14th 25179 worked the Fridays only Washwood Heath - Hethersett tanks, retiring to Norwich depot before returning west. This was a regular Class 25 turn at this time.
1978
March 9th brought trouble to the Wembley area when an engineers train led by 25236 had three wagons become derailed as they split the trap points on leaving the up loop. Both slow lines were blocked, Willesden had to borrow 25179 from Cricklewood to attend with the breakdown crane, which was in fact not needed, the errant wagons being rerailed by other means.
25112, 25114, 25173 & 25179 were all noted at Rugby station on October 7th for Sunday permanent way work.
1979
On July 28th 25179 & 25053 worked the 08.52 Leicester - Skegness to Nottingham, being replaced here by 20006 & 20030.
On August 1st 25179 was noted westbound at March with a mixed freight. The remainder of 25179's passenger haulage involved the Midland mainline. On August 7th 25179 & 25264 worked a Leicester - St. Pancras service.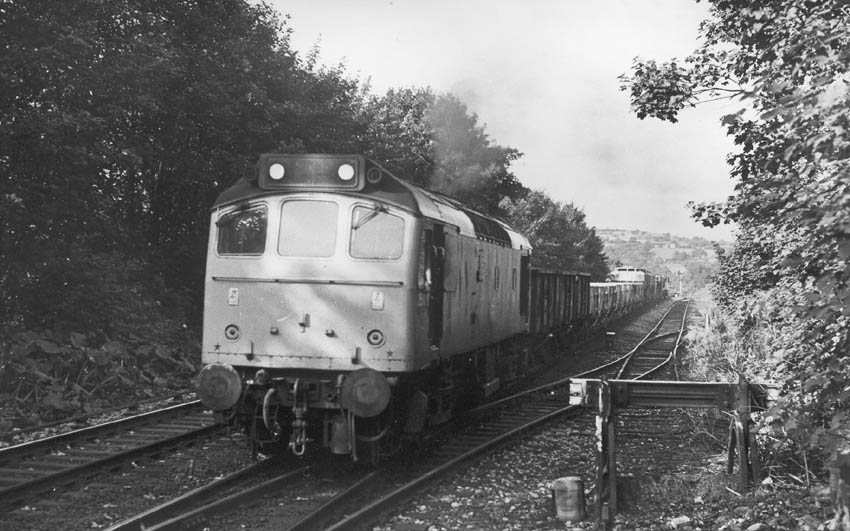 Photograph collection of webmaster
An eastbound freight hauled by 25179 passes through New Mills, date unknown.
1980
25179 was stabled at Warrington Arpley on March 7th.
On April 28th 25179 was noted at Cockshute yard.
25179 was noted at Milford Junction on May 9th on a freight service.
1981
25179 was stabled at Wellingborough on May 25th.
At about 04.15am on August 12th 25179 arrived at Holbeck, light engine from Skipton. On the same day it was noted returning to Holbeck at 13.35 off the K60 tripper.
On September 24th 25179 was noted eastbound at Chinley with empty ICI stone hoppers.
A heavily loaded 15.02 Bristol – Manchester parcels on October 9th used 25177 & 25179.
25179's last passenger haulage involved rescuing 45131 on the 08.48 St. Pancras - Sheffield forward from Bedford, the date is stated as either November 4th or November 11th.
1982
25179 was noted at Tamworth on August 28th.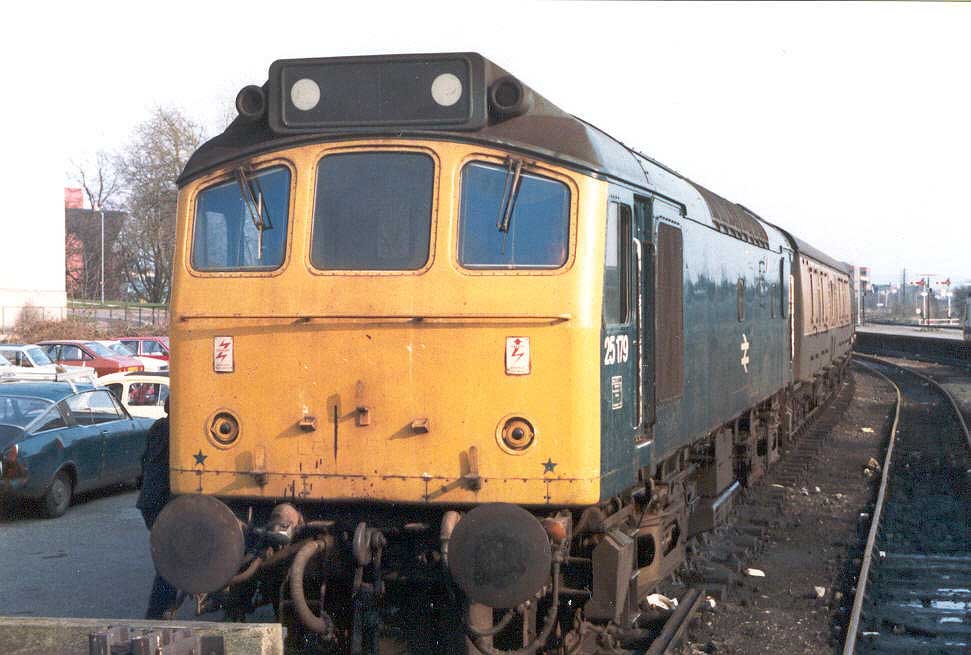 Photograph courtesy Mark Cook
Class 25s at Aylesbury invariably meant parcels traffic, here 25179 waits on April 1st 1982 for its next duty.
In its last week of service 25179 was noted passing eastbound through Manchester Victoria with spoil & coal wagons, November 26th and was noted at Manchester Victoria on November 27th.
25179 was withdrawn on November 28th 1982.
At least one cabside number panel with TOPS panel escaped scrapping.
Not all known passenger workings are recorded on this page.
00/00
flk 0317
Page added February 11th 2013.
Last updated June 22nd 2020.
Back to 25178
Forward to 25180