D7530, 7530, 25180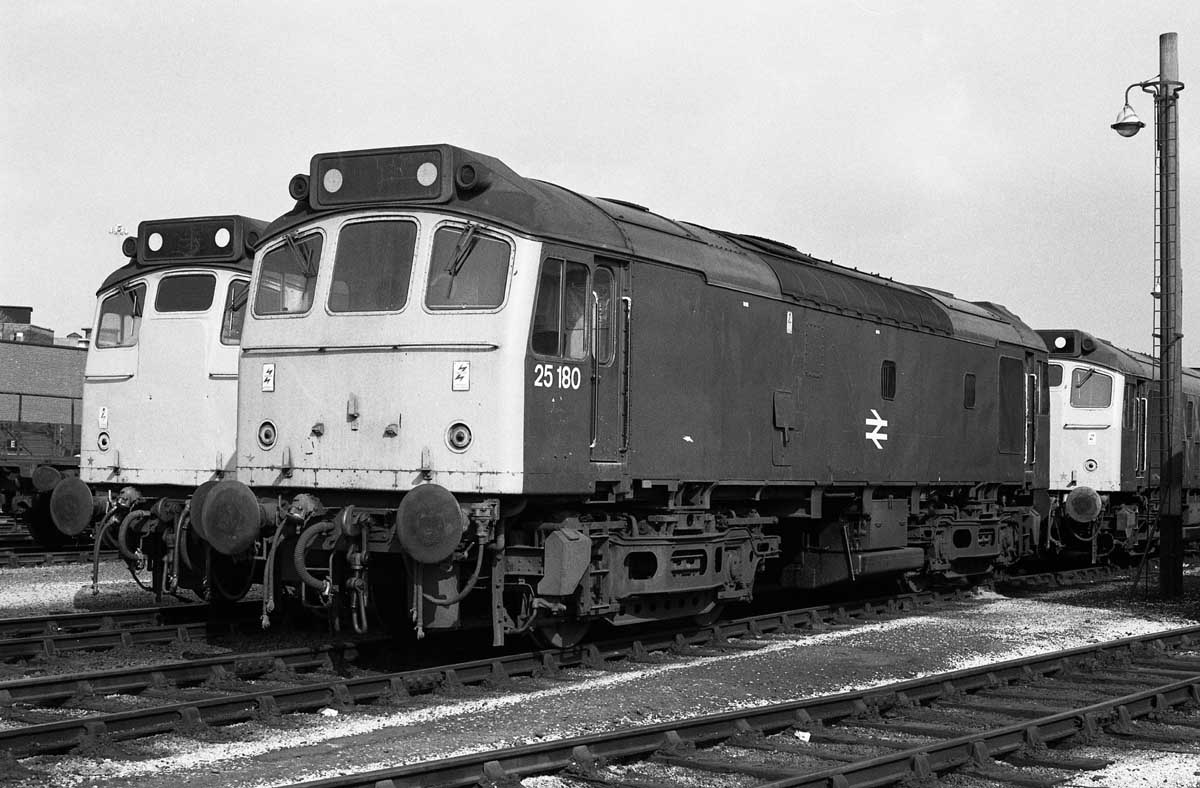 Photograph courtesy Danny Preston, collection Neil Johnson.
25180 at Warrington Arpley on April 24th 1982. During its overhaul at Derby during 1978 the boiler room grills were sheeted over providing a cleaner look behind the No.2 end cab.
The seventeen year career of D7530/25180 was spent allocated to only three LMR depots.
Built: BR Derby Locomotive Works.
Sheeted over Boiler Room Grilles (1978).
Time between last Classified repair and withdrawal: 55 months.
Time between withdrawal & scrapping: 63 months.
Allocations
D7530 was new to the Nottingham Division (D16) on February 13th 1965. Further transfers were:
August 1969 to London Division (D01).
May 1973 to Willesden.
June 1975 to Cricklewood.
Withdrawn November 28th 1982.
Renumbered April 20th 1974.
25180 was the 148th Class 25 to be withdrawn, one of twelve retired during November 1982.
After withdrawal 25180 was stored at Saltley from November 1982 to at least January 1984 (possibly August 1984), it was moved to Tyseley and remained here until dragged to Swindon Works with 25027 & 25275 on March 22nd - 25th 1985. It survived the closure of Swindon Works, being forwarded to Cocklebury Yard and then on to Leicester, Humberstone Road on June 3rd 1987 with 25093, 25193 & 25306. It moved to Vic Berry's yard the next day, and by October 1987 was part of the famous stack of locomotives. By the first week of March 1988 the locomotive had been scrapped apart from the cabs which lingered at least until June 1990.
Works Visits
Works visits (records incomplete).
Noted Derby Works January 1973.
Noted Derby Works February to April 1978 (Classified).
Noted Derby Works August & September 1979.
Noted Derby Works July & August 1982 (with collision damage)
Highlights
The recorded passenger workings for 7530/25180 are minimal, perhaps due to its considerable time spent at Willesden & Cricklewood.
1969
Condition September: two-tone green livery with full yellow cabfronts, ridge sided sandboxes, three-rung bogie mounted footsteps.
1973
On June 20th a Manchester Piccadilly - Ascot relief was worked roundtrip Willesden - Ascot by 7530 & 7523.
1977
On January 26th the 02.30 Stratford - Trafford Park freightliner became derailed at the north end of Tring cutting. The train led by 87018 blocked all lines, damaging the overhead line equipment and much track. It was several days before the lines were repaired, on January 28th 25180 was noted with a permanent way train at the scene of the derailment.
1978
On Monday May 22nd & Tuesday May 23rd 25180 worked the 09.55 Willesden to Norwood and the return 12.10 Norwood to Willesden.
On Thursday November 16th 25180 worked the 12.25 Willesden to Norwood and the return 14.00 Norwood to Willesden.
1979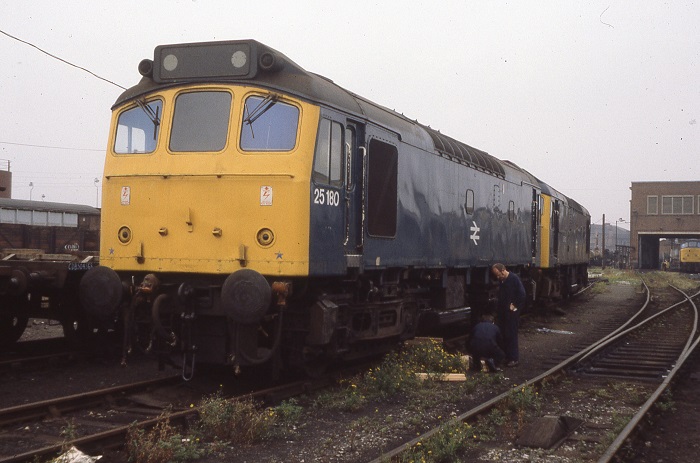 Its a dull September 1st 1979 as 25180 sits in Derby Locomotive Works yards awaiting attention.
1980
On the evening of May 19th 25180, 25054 & 25120 were stabled at Bedford.
The continuing shortage of electric locomotives led to the novel use of pairs of Cricklewood's Class 25s on the heavy Kensington Olympia – Stirling Motorail service. 25180 & 25190 handled the down working on June 2nd, they worked as far as Crewe, returning south with June 3rd's balancing working, the 23.40 ex Stirling.
On November 11th a Liverpool - York railtour with 46229 required the banking assistance of 25180 to Miles Platting.
1981
25180 was stabled at Crewe Diesel depot on May 16th.
On the afternoon of May 19th 25180 was noted at Springs Branch on an up freight.
25180 was noted southbound over the Settle & Carlisle with a short engineers train on June 30th.
On the evening of July 22nd 25180 was noted at Birmingham New Street with an exhibition train.
25180 was stabled at Chester on July 29th.
On August 1st 25180 & 25150 worked the 07.35 Nottingham - Llandudno Town to Derby, 25219 took the service forward. At month end, August 31st, the 17.42 Preston - Barrow was worked by 25180.
On September 20th 25180 was noted in the parcels platforms at Euston.
On September 25th the 21.25 Inverness - Kensington Olympia was worked forward from Willesden by 25180.
1982
On the morning of April 27th 25180 was westbound at Chinley with loaded ICI bogie hoppers for Northwich.
On May 29th 25180 & 25093 worked the 07.38 Shrewsbury - Aberystwyth and the return 10.07 Aberystwyth - Euston to Wolverhampton.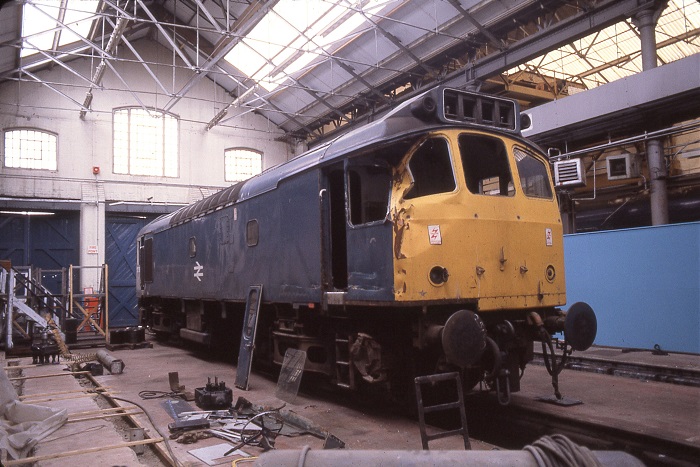 Photograph courtesy J Glynn.
A surprise visitor to Derby Locomotive Works between July & September 1982 was 25180 with damage to the No.2 cab. On July 22nd 1982 a pile of parts from the Class 25 sits on the ground prior to repairs commencing. Considering the ongoing rundown of the Class it is surprising that the go-ahead was given for these repairs, after release back to traffic 25180 remained in service for only two months. Repairs had been completed by September 4th 1982 (Works Open Day), with just a final coat of paint to be applied to the repaired areas.
25180 and 31216 (or 31326) worked October 28th's 12.46 Portsmouth Harbour - Leeds forward from Birmingham New Street. The train had arrived behind 33064. (This working is also reported as November 22nd).
Another gas pipe project in November brought pairs of Class 25s from Leith South to St Helens or Warrington, the trains of twenty six bolsters required banking between Garswood & Shaw Street. Noted on November 3rd were 25176 & 25078 banked by 25109 whilst the next day produced 25059 & 25180 banked by 40090. On November 11th 25180 was noted southbound at Shrewsbury with an eleven wagon freight. On November 15th 25180 was noted eastbound at New Mills South Junction with ICI empties from Northwich to Tunstead.
25180 was withdrawn on November 28th 1982.
13/864
flk 0322
Page added November 25th 2012.
Last updated March 24th 2022.
Back to 25179
Forward to 25181