| | | | | | |
| --- | --- | --- | --- | --- | --- |
| Load | Speed | Amps | Volts | Notes | Other |
| 1 | 25 | 900 | - | - | - |
No.1 master key very stiff
D/P 1 & 2 to box up
No.2 AWS bell issue
No.2 cab driver's side warning horns 1 note stick
Engine governor top leak
Flange leak bottom of oil filter
No.1 exhauster to cylinder head leak
Nos.4 & 5 Bicera valves
B side crankcase door gen? leak
Air blow under No.2 driver's desk
No.1 warning horn only one note at times.
On the morning of November 15th 25181 was stabled at York.
On Monday December 18th 25181 worked the 09.55 Willesden to Norwood and the return 12.00 Norwood to Willesden.
1979
On a snowy January 1st 25187 & 25181 were noted passing Northfield (Birmingham) with a loaded stone train possibly for Selly Oak or Redditch.
On the morning of January 4th 25181 was stabled at York.
On the morning of January 27th the wires were down at Tring, 25181 & 25252 were noted rescuing a 4-car electric multiple unit, 25067 was on a wiring train and 25204 & 25193 were noted light engines at Bourne End having just assisted 86216 with the West Coast Poastal.
On Tuesday February 20th 25181 worked the 09.55 Willesden to Norwood and the return 12.00 Norwood to Willesden.
On the morning of July 14th 25181 was noted at Hunter Bridge (WCML) with an up cement train.
25181 was noted at Cricklewood on August 28th.
1980
On July 28th the 14.35 Paignton - Leeds was worked forward from Birmingham New Street by 25181 & 25184.
On July 31st 25181 was noted at Setlle with empty ballast hoppers, for Ribblehead?
On August 1st 47543 working the 16.10 Glasgow Central - Nottingham failed at Skipton, 25181 dragged everything to Leeds. On August 18th 25181 was noted in Luton yard.
On the early morning of October 27th 25181 was stabled at Holbeck.
1981
On April 13th 25097 & 25181 worked the fuel empties from Aberystwyth headed for Stanlow.
Noted at Cricklewood on the afternoon of July 27th were 25148, 25181 & 25322.
On July 28th the 14.35 Paignton - Leeds arrived at its destination behind 25181 & 25184, quite where the Type 2's had worked from is not certain, possibly Birmingham New Street.
At about 2am on August 12th 25181 arrived at Holbeck off the L52 job. At 00.25 on August 13th 25181 arrived at Leeds Holbeck off the L52 job. Later that day it went out on the K59 job and returned to Holbeck at 12.10pm.
On the morning of September 15th 25051, 25069, 25181 & 25193 were noted at Willesden.
On the morning of September 21st 25269 & 25181 were noted at Cricklewood.
On October 14th the 10.04 St. Pancras - Derby failed somewhere south of Leicester behind 45132, 25181 dragged everything to Derby.
1982
On the afternoon of February 26th 25181 was stabled at Bristol Bath Road.
On the evening of March 31st 25181 was southbound at Luton with cement tankers.
On the late afternoon of May 1st 25139, 25181, 25187, 25210 & 25250 were stabled at Cricklewood.
25181 & 25215 were noted passing Milton Keynes Central light engines on June 10th.
25181 received an 'E' examination at Cricklewood during July.
It was a trip to the seaside for 25181 & 25136 on July 31st when they worked the 07.40 Euston - Aberystwyth forward from Wolverhampton, returning with the 14.00 to Shrewsbury.
On August 10th 25181 & 25213 gave commuters a thrill ride working the 06.38 Bedford - St Pancras throughout. 25181 was back at St Pancras on August 23rd covering the 17.00 to Bedford, then returning the next morning with the 07.34 to St Pancras, because of a diesel multiple unit failure.
On September 11th the 07.43 Derby - Weston-super-Mare and the return 11.35 Weston-super-Mare - Derby were worked by 25181 & 25208.
1983
On March 5th 25181 was noted on empty Northwich - Tunstead limestone empties. 25276 & 25181 were noted at Leighton Buzzard with a ballast working on March 20th. On March 29th 25181 was with engineers wagons at Stockport.
On May 21st 25181 was stabled at Saltley.
25236 & 25181 worked the Forders - Kings Cross Goods 'Fletliner' on June 28th.
During 1983 25181's forays onto Cambrian metals were none too successful. On July 30th 25181 & 25229 worked the 10.10 Euston - Aberystwyth forward from Birmingham New Street returning with the 17.15 Aberystwyth - Shrewsbury. Unfortunately on this return trip both locomotives had failed by Newtown, requiring the assistance of 47226 sent out from Shrewsbury. Interestingly this same combination returned to this route on August 13th, working the 07.44 Shrewsbury - Aberystwyth and coming back with the 10.10 to Euston, this time 25229 failed at Machynlleth and dragged to Shrewsbury where a Class 47 took over.
On August 5th 25181 worked a Tunstead - Northwich ICI limestone train.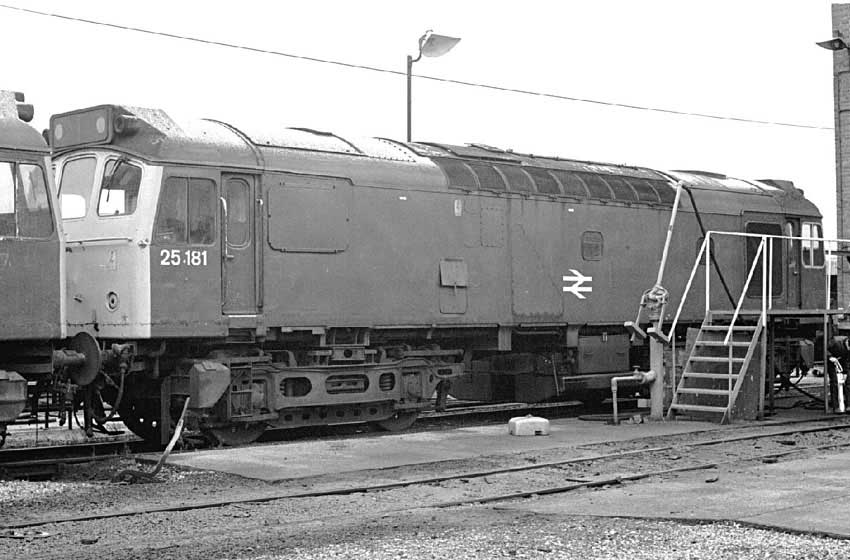 Photograph courtesy Tony Sayer
25181 sits by the test house at Derby Works on October 8th 1983 and was still present there on October 29th 1983.
1984
During January 25181 was transferred to Crewe.
25181 was noted at Severn Tunnel Junction on February 15th. 25181 was noted passing Toton with Polybulk wagons on February 22nd.
25181 was stabled at Wolverhampton on March 5th. Visitors to Newcastle from across the Pennines included 25181 & 25037 on March 8th's evening Hardendale – Lackenby freight, returning later with the empties. 25181 worked a Tees – Scunthorpe freight on March 23rd and was noted at Thornaby the next day.
On April 6th the well-traveled 25181 was used to assist 86249 at Watford when the wires were brought down near Hemel Hempstead. The Class 25 had difficulty in releasing the brakes on the electric locomotive, becoming part of the three hour delay for this Carlisle service.
25181 was noted at Manchester Victoria on July 7th. A failed diesel multiple unit on July 10th led to 25181 working the 07.55 Blackpool - Manchester Victoria. On July 11th 25181 was noted at Severn Tunnel Junction.
The Ditton BOC - Broughton Lane tanks continued the use of a Class 25 & 40, during August such combinations were 25178 & 40181 (4th), 25176 & 40155 (9th), 25213 & 40192 (13th), 25181 & 40044 (17th) and 25201 & 40028 (22nd), incursions by 47's becoming more frequent, by October they would be the norm.
On August 8th 25181 passed Grange-over-Sands with a lengthy train of mineral wagons.
On August 10th 25181 & 25202 were southbound at Oxenholme with bogie oil tankers for Stanlow.
On August 20th 25181 was noted southbound at Sutton Bridge Junction, Shrewsbury with empty ballast wagons from St Helens for Bayston Hill quarry. On August 29th 25181 was southbound at Warrington Bany Quay with ballast hoppers.
On September 1st lack of a diesel multiple unit led to 25181 and hauled stock working three evening services between Edinburgh & Cowdenbeath. A failed Class 31 on September 20th put 25181 in charge of the 08.42 Leicester - Birmingham, returning with the 10.20 to Norwich which it worked to Peterborough where 47558 took over.
When the power was off between Euston & Watford Jct on October 11th 25181 & 25176 dragged one service northbound. Two days later (13th) 25181 was stabled at St Pancras.
Considerable permanent way work in the vicinity of Rugby station on December 9th found five Class 25s present, in charge of a variety of pw trains. At lunch time whilst 25181 was propelling a wiring train 'wrong line' a departing southbound passenger service led by 87023 ran into the last vehicle in the wiring train. Considerable damage was caused, the driver having jumped to safety prior to the collision. A number of trains became trapped in the area whilst others were diverted to Paddington.
25181 was stabled at Bedford on December 26th.
1985
On a snowy January 19th 25181 was stabled at Bescot.
On January 30th 25181 was noted heading south at South Kenton with a short Departmental working.
On February 13th 25181 worked the 1M25 18:12 Manchester Piccadilly - St Pancras parcels as far as Derby. Damage to the overhead wiring saw 25181 assist six electric hauled WCML services between Warrington & Wigan N.W. on February 15th & 16th.
On March 16th 25181 was stabled at Carlisle station.
25181 was noted at Tyne Yard on March 24th and at Stoke on Trent on March 30th.
On April 9th 25181 & 25109 worked the morning 6S51 Stanlow refinery - Bishopbriggs loaded oil tanks. On April 12th 25181 worked twelve coal empties from Deepdale, Preston to Warrington Arpley. 25181 was noted at Llandudno Junction shed on April 21st.
25181 was noted at Portobello Junction, Wolverhampton with loaded steel bogie flats on May 17th, presumably from Shelton.
On June 3rd 25209 & 25181 worked the Leeds - Stanlow empty oil tanks.
On the afternoon of July 27th 25181 was southbound at St Albans with empty ballast wagons for the Southern Region.
On a very wet August 23rd 25181 & 25176 were noted at Warrington Bank Quay with a freight.
On September 16th the 09.27 Liverpool - Edinburgh was hauled from Carstairs by 25181, it returned south with the Edinburgh - Carstairs leg of the 16.10 Edinburgh - Liverpool. A very short working on September 28th saw 25181 & 25034 assist the 'Marsden Special' (Barrowford Scouts) between Carlisle Upperby Junction & Carlisle, steam locomotive 4498 was the highlight of the tour. On September 30th 27003 failed at Dumfries on the 11.00 Stranraer Harbour - Carlisle, 25181 was on hand to take the train forward to Carlisle.
On October 2nd 25181 & 25072 were stabled at Kingmoor.
25181 was stabled at Warrington Arpley on October 19th.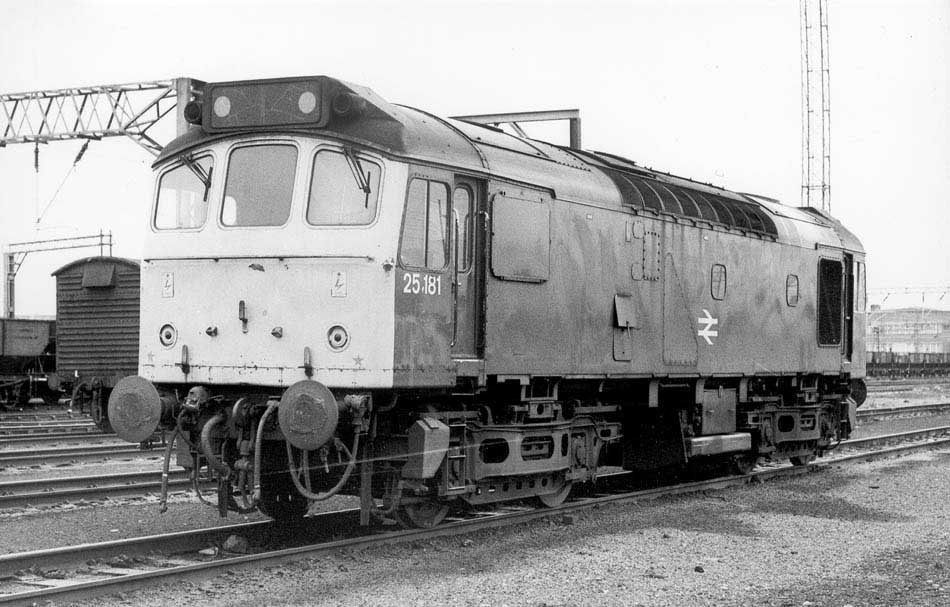 Photograph collection of webmaster
A portrait of 25181 at Speke Junction, date unknown.
1986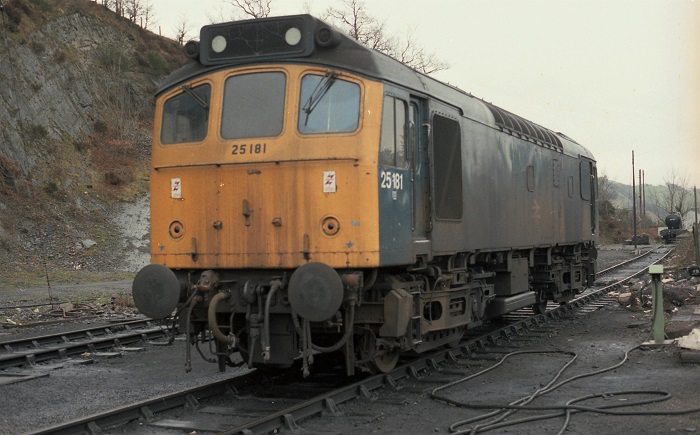 Photograph collection of webmaster.
25181 possibly at Machynlleth circa 1986.
On January 25th 25181 was stabled at Hereford.
25181 was noted at Eastfield yard (Peterborough?) with a mixed freight on Januay 27th.
On February 5th 25181 & 45101 were noted westbound through Llandudno Junction with empty coaching stock.
On a snowy February 13th 25181 was southbound at New England with a short freight.
25181 was noted eastbound through Bangor with four short wheelbase tanks on March 12th. The next day (13th) 25181 & 25192 were noted running light engines through Warrington Bank Quay station.
25181 was stabled at Severn Tunnel Junction on March 15th.
On March 17th 25181 was at Bescot with a local freight.
A Penmaenmawr - Garston Yard ballast train (7F15) was worked by 25181 on April 8th. On April 18th 47147 & 25181 were noted through Hereford with the 6M75 Severn Tunnel Junction - Carlisle Speedlink freight, was the Class 25 a failure? Three days later (21st) 252181 was stabled at Llandudno Junction.
25181 was noted shunting at Watford Junction on May 22nd.
On May 24th 25181 was stabled at Rugby station.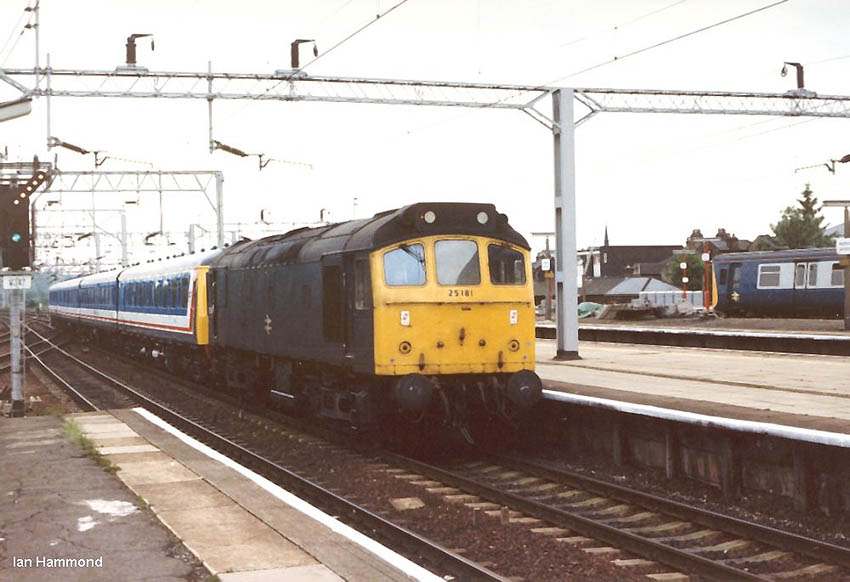 Photograph courtesy Ian Hammond Ross
25181 takes a freshly repainted four car diesel multiple unit set through Watford Junction as part of a positioning move for the start up of Network South East launch day on June 10th 1986.
25181 was stabled at Manchester Victoria on the night of June 15th and also on June 21st.
25181 was noted at Chester South Junction on July 1st on a westbound Railfreight working. 25181 was noted passing through Hereford on July 19th with a 6Z23 Uddingston to Westbury tankers. On July 23rd 25181 worked the 6G89 Humberstone Road - Bescot Speedlink.
One of the more adventurous journeys made by 25181 also proved to be its last! The F & W 'Coastway Crusader' excursion (1Z36) on July 27, from Wolverhampton to Bognor Regis/Littlehampton, via Bristol and Westbury. The trip started behind 50050, with 45128 taking over at Birmingham for the run to Bristol. Here 25181/191 took over reaching Ludgershall, via Andover where 25181 failed with oil pressure problems. The machine was partially revived but unfortunately ran back down the branch with its handbrake on. At Andover and now with bad wheel flats the unfortunate Class 25 was detached and replaced with 33011 for the run via East Putney, Tulse Hill, Wimbledon and Epsom to Littlehampton. On the return trip it had been intended to replace the Class 25/33 combination with 37046/117 at Westbury, however in an unusual move 25191 remained on the train, tucked in behind the 37s, running in this fashion back to Bristol where 45128 was waiting for the run home. With 25181 having bad wheel flats it remained for a short while at Andover, on August 19th wheel skates were fitted, either late on August 19th or early on August 20th 25181 was taken to Eastleigh and dumped at the depot. This was its last movement for, after arrival at Eastleigh depot it was condemned and shunted to the back of 'the field' and promptly forgotten. A survey of 25181 revealed that apart from the bad wheel flats it also had a burned out start relay, itself a small fix to get the locomotive going again.
After being forgotten it was eventually given a wheel survey which also awakened its long forgotten status by the powers that be in Derby. A set of reconditioned bogies were shipped to Eastleigh but they were never used. The locomotive was then put out to tender late in 1987, being sold to a local scrap merchant for GBP1,250. In preparing 25181 for movement it was found that the asbestos insulation within the locomotive had reverted to its natural state - dust. The scrapper was not certified to handle asbestos, so BR returned the money. 25181 had been recorded free of asbestos at its last overhaul.
The locomotive was then cocooned and eventually BR paid scrapper, Vic Berry GBP350 to decontaminate 25181 & handing off the remains of 25181 as a freebie, not a bad bargain considering the valuable copper content of the generators and traction motors. So ended the life of 25181 during July 1988.

The following personal report of the 'Coastway Crusader' comes from the keyboard of Leighton based Nick Ross:
The "Coastway Crusader" Railtour
Sunday July 27th 1986
With a nasty 06.00 Sunday tour departure off Wolves an overnight was on the cards. So around midnight I joined some 310 unit at Leighton for the short run to Bletchley. Here I leapt for the 23.25 Euston-Wolves which in a quirk of timetabling still called at the unit shacks like Bletchley and Wolverton. 87015 'Howard' took me north to Nuneaton where a dull, once very boilered 47135 was the onward drag power, at New Street 87009 was then attached to the rear of our consist to whisk us to Wolves via Bescot.
The fester for the tour was a mere two hours on a warm night and 'Bert' sociably turned out the waiting room lights for a gang of bashers awaiting the tour. 50050 arrived sociably early with the tour ECS and we all dosed out for the journey south via Worcester and Gloucester to Bristol Temple Meads. Here we awoke for a bonus in finding out 45128 had worked the tour forward off New Street.
The Class 25s looked superb sitting under the overall roof chattering away to themselves although the driver did have a long look at 25181 before we departed. Our locomotives then took eleven fully loaded Mk 1s on the scenic route along the Avon Valley and then into the hills beyond Westbury and across Salisbury Plain. Rare Class 25 mileage indeed. From Salisbury they attacked Grateley bank before running round in Andover Goods Yard.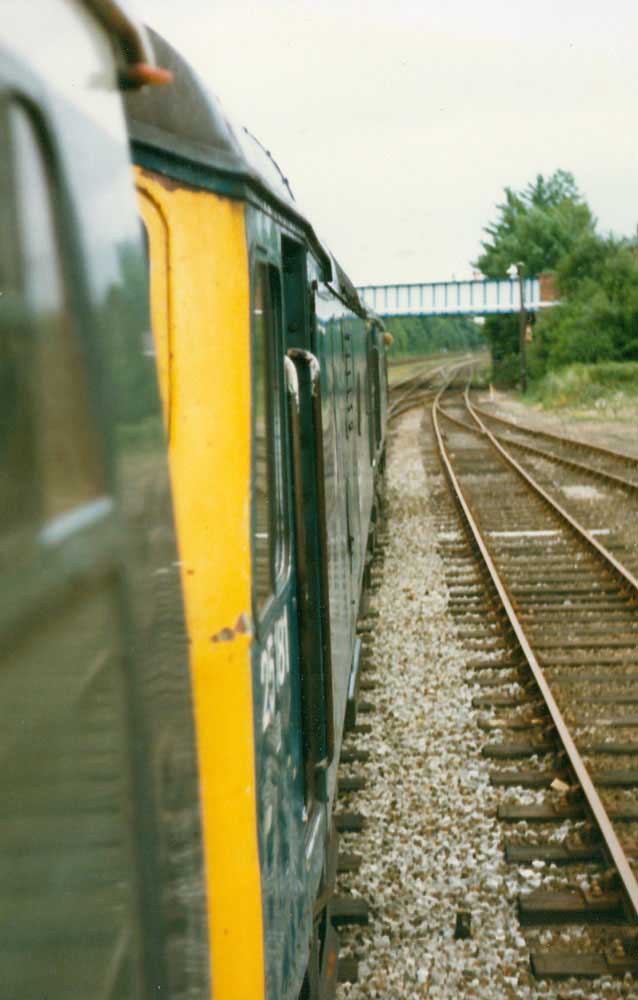 Photograph courtesy Jamieson
Sunday July 27th 1986, 25191 & 25181 are captured in the Andover area. 25181's working days are just about done, although at the time of this view the railtour is well underway and some of the major highlights of the railtour have yet to occur.
One of our happy band in 'Smudger' had planned to leap at Andover to rake in some 50 to a family event in Exeter. With the tour virtually right time and needing the five mile Ludgershall branch he opted to stay on for the branch trip "as there's hardly going to be a farce up there". With the Class 25s run round to our end of the train we enjoyed some classic Sulzer branch line clag before, on the final approach to Ludgershall we heard 25181 shut down. Sadly 25181 would not restart so after an understandable delay 25191 worked forward to Ludgershall for a protracted run round. Our timekeeping worsened considerably on arrival back in Andover yard as 25181 had to be detached and was dumped in the bay. Smudgers connection was missed as 500xx passed on the down Exeter mule right time.
The late running was to extend to nearly two hours as to comply with third rail rulebook number 2525 our 25191 had her impressive snowploughs removed because they were 'out of gauge'. A replacement Class 25 for the tour in deepest Hampshire was an obvious no-no but SR control quickly supplied 33011 as the assisting tour engine. This gave an unusual motive power combination and despite our lateness the tour's atmosphere remained upbeat. Not so 25181 she was never to work again, never returned home and was cut two years later at Eastleigh depot.
Our rare pair thrashed along the main line at good speed through the unfamiliar Class 25 haunts of Clapham Junction, Brixton and Horsham. Arrival in Bognor Regis saw the booked layover reduced to a fifteen minute leg stretch and mass photo session of both ends of the train. 73114 on diesel provided a loud blast of EE thrash along the branch to Littlehampton where the rare pair again took over for a late afternoon departure. We returned along the boring flatlands of Chichester and Cosham before a good crowd watched us pass through Eastleigh and across to Romsey and Salisbury.
It was claimed that the tour organisers, due the problems earlier in the day could have what they want locally as onward power from Salisbury. This was of little comfort to fifty or so London based passengers like myself as we had to join 50042 on a mule service to get home that night. So with gritted teeth we watched an even rarer combination of 37117, 37046 and 25191 preparing to return the tour north some 80 minutes down.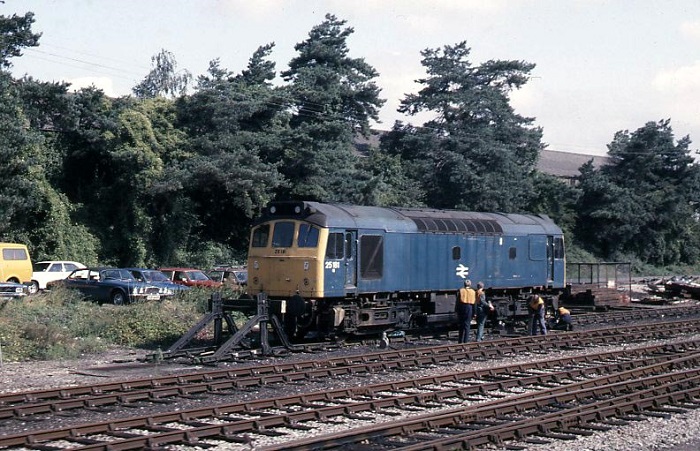 Photograph courtesy Roger Marsh
25181 at Andover on August 19th, the locomotive is being fitted with a wheelskate in order for it to be moved to Eastleigh. It had been moved by the next day (20th).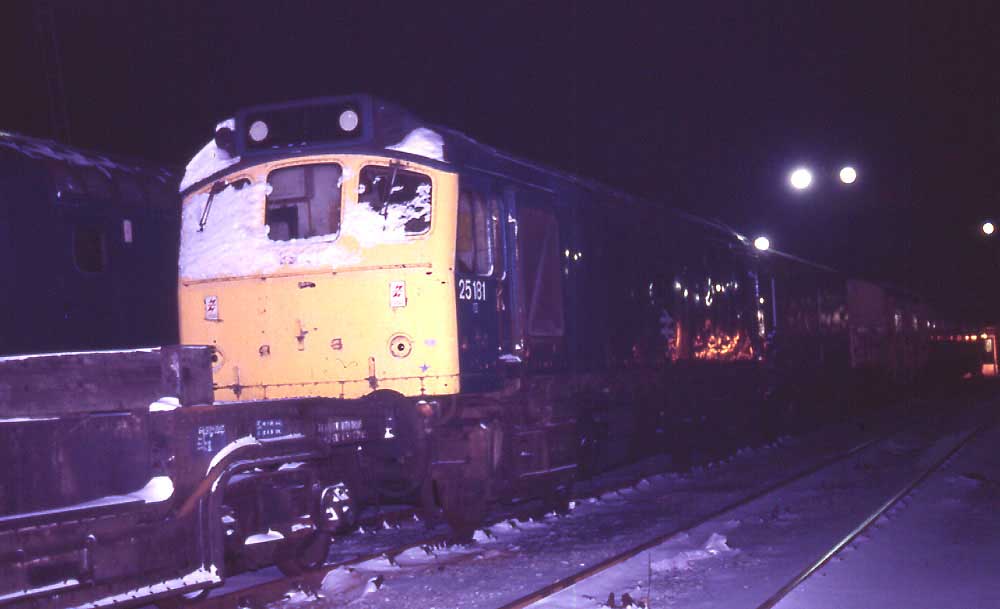 Photograph courtesy Andy Key.
25181 slumbers under the depot lights and a small layer of snow at Eastleigh depot sometime during 1987.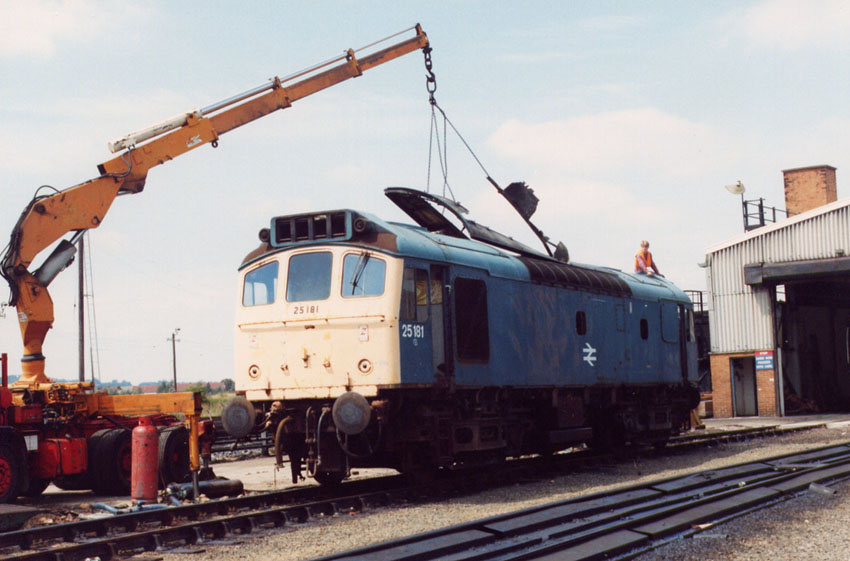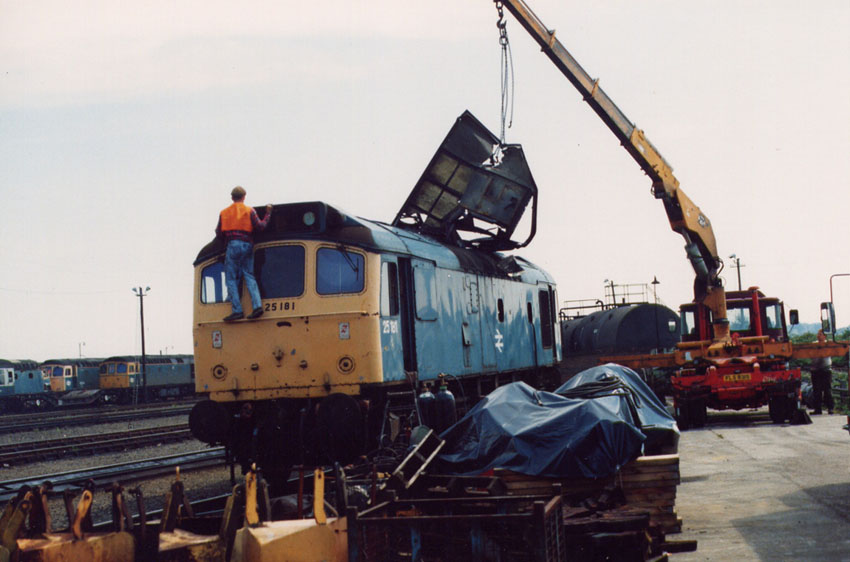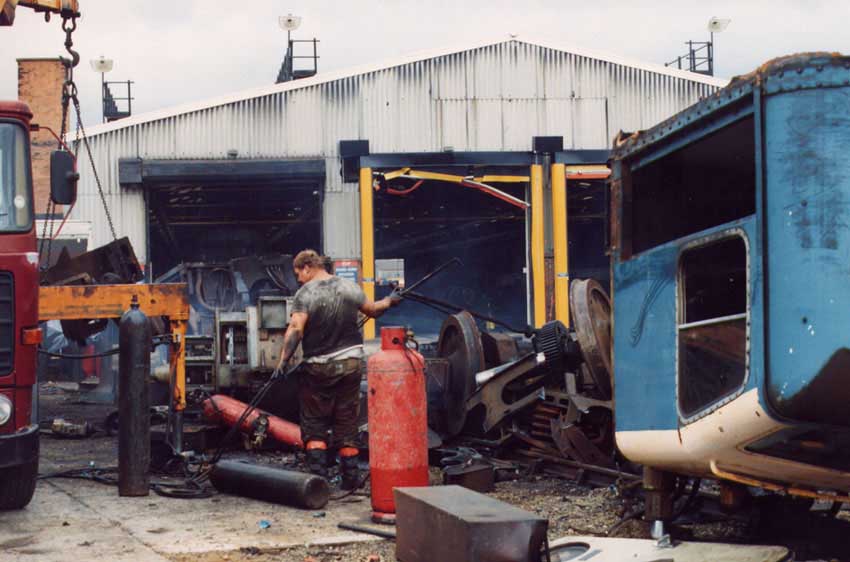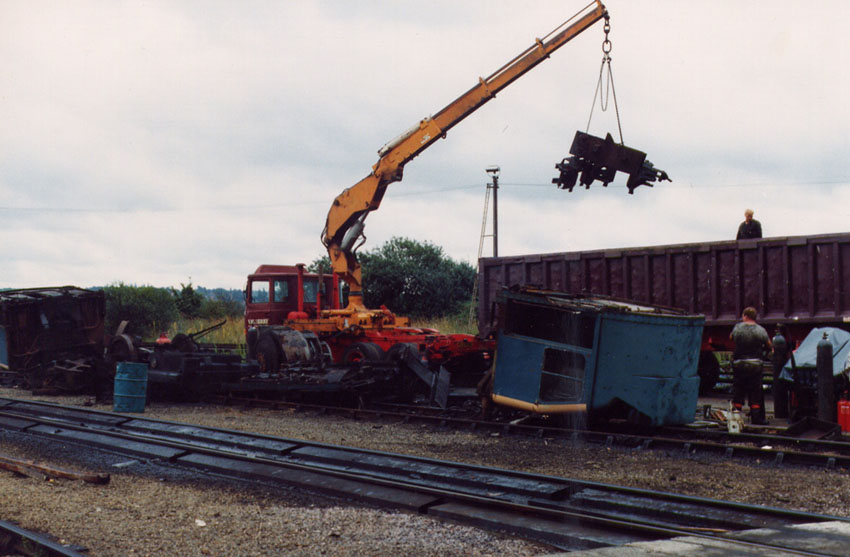 During July 1988 scrapper Vic Berry arrived on scene to put 25181 out of its misery. What had taken Derby Works about six weeks to put together during 1964/65 were taken apart in two days by crane and acetylene torch. The above four views, made available by (and with thanks to) Andy Key reveal the demise of 25181.

Distinguishing Features
No.1 & 2 cab front: missing paint/horizontal scrape mark at center of cab below long handrail. The scrape on the No.2 cab is the larger of the two (both at least from November 1983, No.2 cab missing paint starts about June 1982).
No.1 cab 2nd man's side: unpainted side window frame (from at least February 1984).
No.2 cab driver's side corner: missing paint/scrape marks on corner at same level as long handrail (not present June 1982, present at least by October 1983).
No.1 & 2 cab fronts: 25181 applied beneath center window, above handrail (not present January 27th 1986, present March 1986).
38/2354
flk 0723 (2)
Not all known passenger workings are recorded on this page.
Resources:
Vic Smith - location details.
Nick Ross - notes.
Andy Key - notes and photos.
Page added December 31st 2004.
Last updated July 5th 2023.
Back to 25180
Forward to 25182