D7533, 7533, 25183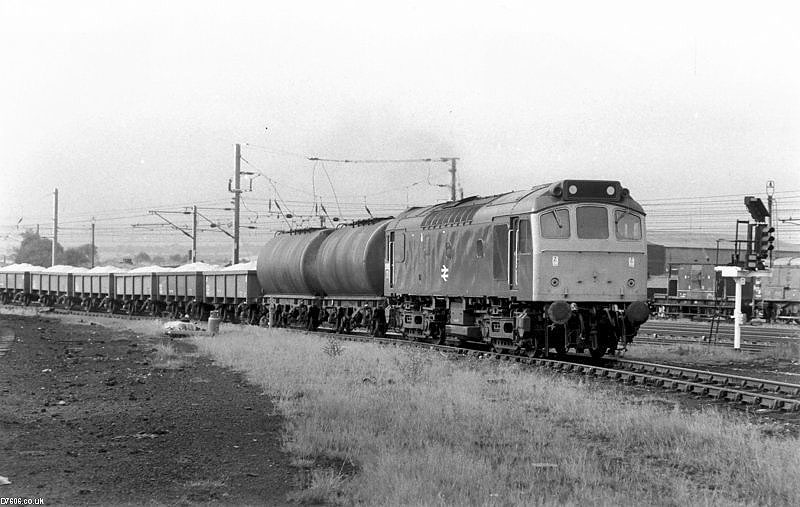 Photograph collection Ian Hammond
25183 on August 18th 1977 working an afternoon Arpley - Springs Branch freight. 25183 had last seen Works attention at Derby during the spring of 1977, hence the smart condition of its paintwork.
The fifteen year nine month career of D7533/25183 was spent allocated to only London Midland Region depots.
Built BR Derby Locomotive Works.
Time between last Classified repair and withdrawal: 43 months.
Allocations
D7533 was new to the Nottingham Division (D16) on February 27th 1965. Further transfers were:
August 1969 to London Division (D01).
April 1972 to Birmingham Division (D02).
August 1972 to London Division (D01).
May 1973 to Willesden.
June 1975 to Cricklewood.
January 1976 to Crewe.
August 1976 to Cricklewood.
November 15th 1980 to unserviceable store at Swindon Works.
Withdrawn December 1st 1980.
Renumbered February 9th 1974.
25183 was placed to unserviceable store at Swindon Works on November 15th 1980 and scrapped there by the end of September 1981.
Works Visits
Works visits (records incomplete).
Noted Derby Works October 1970.
Noted Derby Works April 1972.
Noted Derby Works March & April 1977 (Classified).
Highlights
1965
The frames were laid down for D7533 during November 1964 with the locomotive placed into service at the end of February.
1969
After four years on the Nottingham Division 7533 was transferred to the London Division (D01) during August.
The 7.35 Nottingham - Llandudno, and 13.52 return was generally a solid Type 2 working, noted on July 14th were 7537 & 7533.
1970
During October 7533 visited Derby Works.
1972
7533 was noted at Derby Works during April in tow-tone green livery with full yellow ends, during the same month it was transferred to the Birmingham Division (D02), it would return to the London Division (D01) in August.
1974
On June 30th a 09.00 Marylebone - Llandudno Town day excursion was worked roundtrip Marylebone - Coventry by 25183 & 25070.
1975
On April 8th the 05.07 Leeds City - Manchester Victoria vans (4M03) was worked by 25183.
1976
25183 was transferred to Crewe during January and to Cricklewood during August, this would be its last transfer.
On June 18th 25183 worked the evening Huddersfield - Wakefield parcels.
On July 29th 25183 worked the 11.40 Shrewsbury - Aberystwyth.
1977
25183 was at Derby Works during March & April, its last classified repair.
1978
On August 30th 25183 was noted at Marylebone, also present was 45049 with a ballast train.
1979
25183 & 25309 worked the 09.40 Yarmouth - Sheffield forward from Norwich on July 21st.
1980
25183 was stored unserviceable in November whilst at Swindon Works, then withdrawn on December 1st 1980.
5/724
flk 0217
Not all known passenger workings are recorded on this page.
Page added December 31st 2004.
Page last updated December 4th 2019.