D7538, 7538, 25188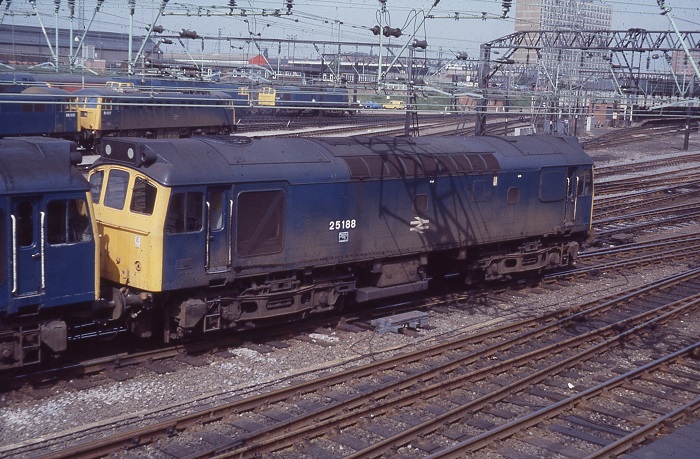 25188 at Crewe station on June 11th 1978.
The seventeen year five month career of D7538/25188 included allocations to a modest number of London Midland Region depots.
Built: BR Derby Locomotive Works.
Angled strip at bottom of cab doors.
Time between last Classified repair and withdrawal: ?? months.
Time between withdrawal & scrapping: 53 months.
Allocations
D7538 was new to Toton on March 20th 1965. Further transfers were:
May 1968 to Longsight (9A).
June 1968 to Manchester Division (D09).
October 1969 to London Division (D01).
January 1971 to Birmingham Division (D02).
May 1973 to Bescot.
January 1980 to Longsight.
Withdrawn August 15th 1982.
Renumbered April 1974.
25188 was the 135th Class 25 withdrawn, one of three retired during August 1982.
After withdrawal 25188 was stored at Springs Branch until moved (see details below) to Swindon Works on June 27th 1984, and broken up there by the first week of February 1987.
25130/141/179/188 Springs Branch – Swindon Works June 27th 1984.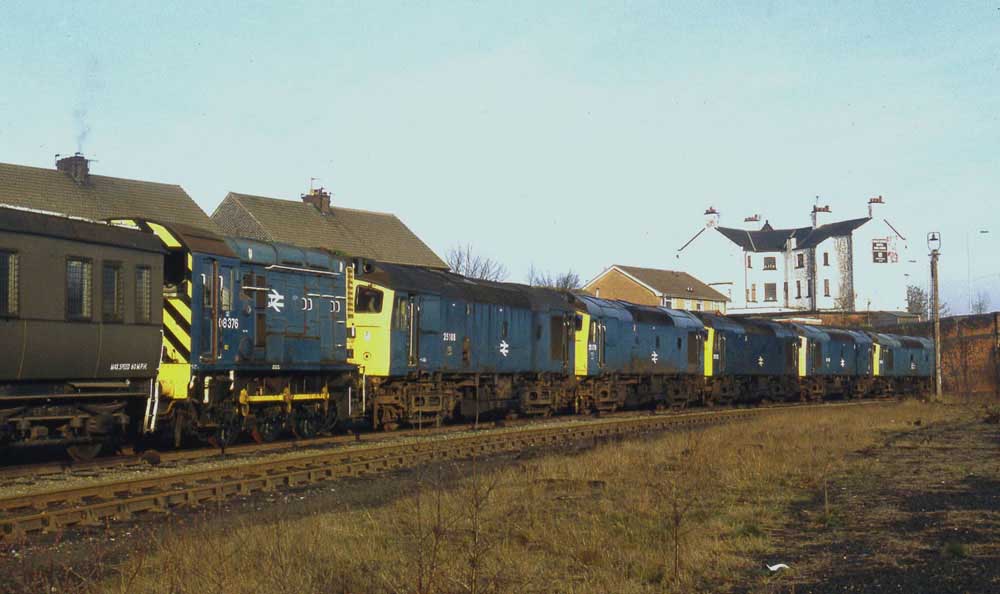 Photograph courtesy Tom Sutch.
As major inroads were made into the Class 25 fleet so many would end their days dumped at various depots, including Springs Branch. Here 25188 & 25179 head a line up of withdrawn locomotives on December 10th 1983. 25188 had been withdrawn from Longsight on August 15th 1982.
Works Visits
Works visits (records incomplete).
Noted Glasgow Works date?? (before 1978)
Noted Swindon Works March 1980 (N4 repairs).
Noted Derby Works September 1980 (N1 repairs).
Highlights
1966
On June 11th the roundtrip (?) Nottingham - Llandudno was worked by D5280 & D7538.
1968
On July 20th 7538 was noted on the 08.23 Derby - Yarmouth as far as Norwich. On August 4th 7538 worked the 3H82 01.17 Manchester Piccadilly - Cleethorpes newspapers.
1969
A year later on July 19th 7538 & 5156 worked the 09.27 Manchester Piccadilly - Yarmouth to Sheffield, returning with the 11.55 Yarmouth - Manchester Victoria.
1975
A day excursion on March 31st found 25188 & 25038 working a ten coach Leamington Spa - Paignton roundtrip for a total of 444 miles. On June 21st 1975 25188 & 25308 worked a roundtrip Leicester - Skegness.
1976
July 23rd & 24th were busy days for 25188 & 25074. On 23rd a roundtrip Banbury - Aberystwyth day excursion was worked (336 miles), the next day a Cambridge - Aberystwyth day excursion was worked from/to Wolverhampton (222 miles). A week later on July 31st 25188 & 25038 worked the 08.00 Walsall - Yarmouth to Norwich returning with the 14.15 Yarmouth - Derby from Norwich. The same pair worked a relief Derby - Skegness roundtrip on August 2nd 1976. A month later on September 4th 1976 the 08.00 Walsall - Yarmouth to Norwich and the 14.15 Yarmouth - Derby from Norwich were hauled by 25188 & 25099.
On August 4th 24049/58/62/92 moved as Crewe – Banbury - Swindon Works by 25188.
1977
On September 16th 25188 worked the Fridays only Washwood Heath - Hethersett tanks, retiring to Norwich depot before returning west. This was a regular Class 25 turn at this time.
On October 23rd 25188 was noted at Edinburgh Waverley with a permanent way train.
1978
No passenger workings have so far been noted for 1977. On June 3rd the 04.15 Shrewsbury - Aberystwyth and the 10.07 Aberystwyth - Euston to Wolverhampton were worked by 25188 & 25273. The 16.00 Crewe - Cardiff on June 9th 1978 was worked by 25188.
1979
The late summer of 1979 produced several passenger workings for 25188. On August 26th 1979 25188 & 25147 worked the F&W 'Cambrian Coast Express' railtour (Exeter St. Davids - Pwllheli) roundtrip between Birmingham New Street & Pwllheli, a total of 322 miles. A week later on September 2nd 25188 was back on Cambrian metals with 25129 working the 08.45 Birmingham New Street - Barmouth and 17.45 Barmouth - Euston to Wolverhampton.
1980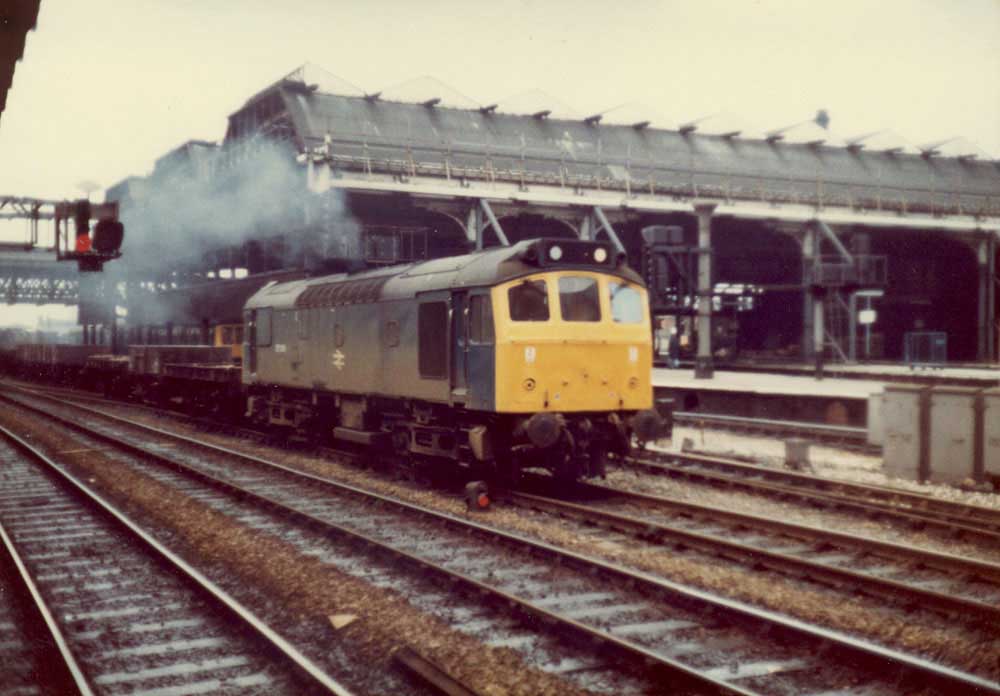 Photograph courtesy Jerry Glover.
Its not a Class 40 and its not an oil train, but whoever is driving 25188 is taking a run at Miles Platting bank judging by the state of the engine exhaust. Did he successfully make it up the bank? One can but wonder how long it took for the sound of the engine and its lengthy train to fade into the distance - Happy Memories! February 8th 1980.
25188 was noted at Gloucester on the afternoon of May 5th.
25188 was on display at Horwich Open Day on August 16th.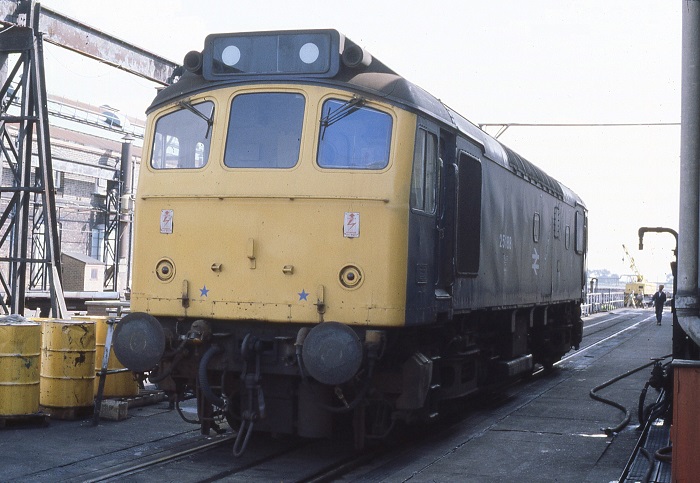 25188 made a brief visit to Derby Works during September and seen here on September 6th 1980.
The only recorded passenger working so far noted during 1980 took place on September 13th 1980 with 25188 & 25121 working a roundtrip Derby - New Clee football special.
The continuing shortage of locomotives, partly caused by a backlog of repairs at the main workshops, led to Swindon Works receiving unclassified repairs for locomotive types it had not dealt with before. On March 9th collision damaged 31124 & 31154 were moved from Doncaster to Swindon. Likewise 25191 and 25236 were also received for repairs. By month end 25188, 25218/221 had also been received by Swindon for repairs.
1981
On the afternoon of May 19th 25188 was noted at Warrington on a down freight. On May 25th the 17.18 Llandudno Town - Manchester Victoria was worked by 25188.
On June 7th 25143 & 25188 were noted at Whitchurch with an engineers train. On June 14th 25188 was noted at Severn Tunnel Junction.
Another trip over Cambrian metals took place on July 4th 1981 with 25188 & 25207 hauling the 10.10 Euston - Aberystwyth from Birmingham New Street, returning with the 18.00 Aberystwyth - Wolverhampton.
On August 4th 25188 was noted eastbound at Hexham with a mixed freight.
On August 29th 25188 was stabled at Cardiff Canton.
On September 6th 1981 a Northampton - Aberystwyth day trip was worked between Shrewsbury & Aberystwyth by 25188 & 25123. On the outward leg the the booked locomotives 25201 & 25234 failed at Birmingham. A diesel multiple unit failure on September 17th 1981 saw 25188 assist a Worcester Shrub Hill - Swindon service.
25143 & 25188 were noted northbound at Whitchurch station with a civil engineers train on June 7th.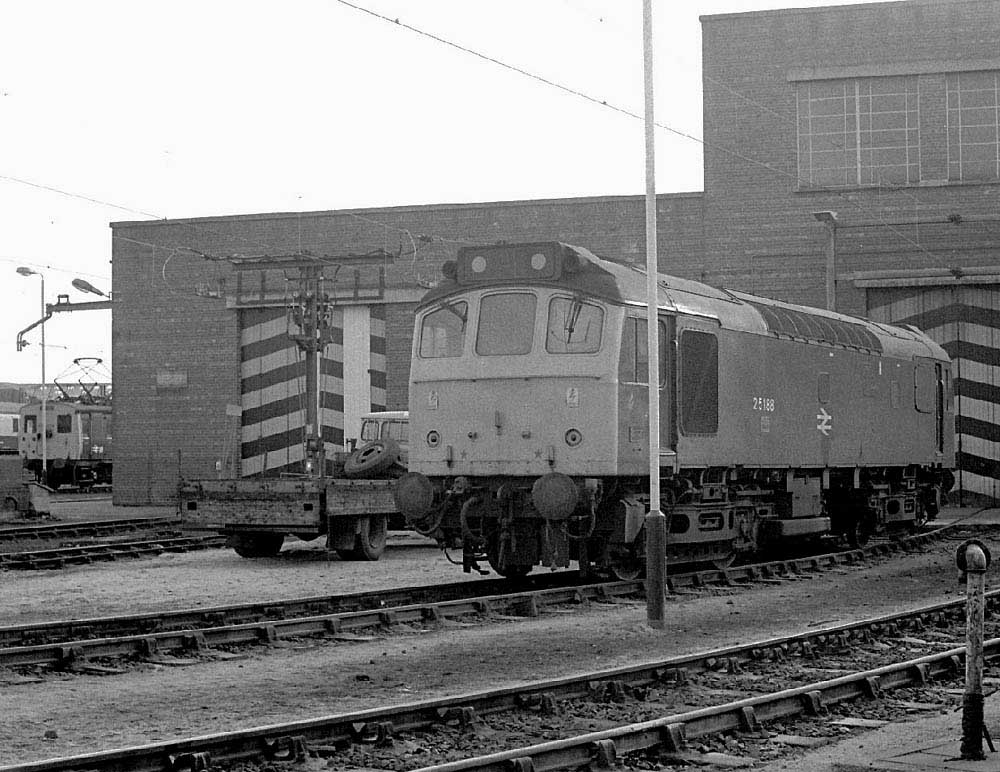 Photograph courtesy Tony Sayer.
Although the allocation for Reddish was entirely electric traction the Class 25s were frequent visitors to the depot, due to its heavy lifting equipment and its wheel lathe. Seen here on February 21st 1981 25188 stands in front of the main building.
1982
25188 was noted at Cardiff Canton on April 10th & 13th.
The final passenger working for 25188 took place on June 22nd assisting the 21.50 Glasgow Central - Euston between Lancaster & Preston.
25188 was withdrawn on August 15th 1982.
During March 2016 a builders plate from 25188 sold on ebay for GBP275.00. During June 2017 a builders plate from 25188 sold at auction for GBP201.00.
Not all known passenger workings are recorded on this page.
28/3974
flk 0120 (1)
Page added August 25th 2013.
Last updated July 21st 2021.
Back to 25187
Forward to 25189