| | | | | | |
| --- | --- | --- | --- | --- | --- |
| Load | Speed | Amps | Volts | Notes | Other |
| 1 | 27 | 900 | - | - | - |
No.1 speedometer
Engine governor top
No.1 rocker cover seal leaking bad
Oil pipe flange to overflow valve needs attention
On July 7th the 07.35 Nottingham - Llandudno Town and the 13.55 Llandudno Town - Nottingham was worked by 7539 at least from/to Derby.
The Nottingham - Llandudno on August 25th was worked by 7619 & 7539, the return working utilised on 7539, with 7619 being failed before departure.
1974
At about 9am on September 9th 25189 was noted at Miles Platting on a down freight.
1975
25189 was noted at Manchester Victoria on February 16th.
On May 31st 25189 was southbound at Lickey incline with a train of Presflos (6Z26).
On June 19th 25189 worked the 05.07 Leeds City - Manchester Victoria vans (4M03).
At about 7am on July 14th 25189 was noted passing Manchester Victoria on a down freight.
On August 22nd 25189 worked the 05.07 Leeds City - Manchester Victoria vans. The 09.20 Manchester Piccadilly - Yarmouth on August 23rd was worked to Lincoln Central by 25189 & 25141, returning with the 09.30 Yarmouth - Manchester Piccadilly.
On the morning of September 4th 25189 was eastbound at Guide Bridge with a trip freight.
1976
On the morning of January 31st 25189 & 25325 were stabled at Saltley.
The Heaton - Red Bank empty vans were worked by 25189 on December 10th.
1977
At about 2.30pm on January 12th 25189 was noted at Exeter stabling point. This was a day of extreme cold which may have been responsible for many of the day's late running services through Exeter.
1978
On Monday April 10th 25189 worked the 09.55 Willesden to Norwood, returning with the 12.10 Norwood to Willesden.
25189 was stabled at Cricklewood on June 27th.
1979
The daily Northampton - Three Spires freight was hauled by 25189 & 25257 on June 7th & 8th.
On July 28th 25182 & 25189 were noted near Copenhagen tunnels with a loaded brick train.
Engineering work on July 29th saw the 11.40 Euston - Wolverhampton dragged between Bletchley & Northampton by 25189 & 25182.
On the early afternoon of September 17th 25189 was noted at Boxmoor (WCML) on a down freight.
The LVRC 'The Venerable Bede' railtour on October 6th was worked between Watford Junction & Newcastle by 25189 & 25236. The railtour got off to a poor start awaiting a guard at Stonebridge Park. The ECML was used from Wood Green to Northallerton then via Eaglescliffe & Stockton to Washington, Pelaw & Newcastle. From here the circular route was Wallsend - Percy Main - Earsdon - Newsham South - Bedlington North - Hepscott - Morpeth & Newcastle. By this time the charter was over ninety minutes late with the Class 25s now replaced by 31156 & 31209 for the run to Carlisle. Many participants took the option of returning south via an ECML HST.
1980
A Stoke-on-Trent - Norwood Junction football special was worked throughout (?) on February 9th by 25189 & 25222, a total of 310 miles.
There was a multitude of Class 25s in the area of Bushey & Oxhey station from February 17th onwards following the dramatic derailment there of the 16th's 20.25 Euston – Manchester due to a track defect. The locomotive 87007 was the only part of the train to remain on the tracks, four of the MkIII coaches ended up on their sides, with one (M12162) bringing down the overhead gantries, which blocked the slow lines. Most fortunately there were only minor injuries. Three breakdown cranes attended, from Bescot, Finsbury Park – brought in by 25279 & 25256, and Old Oak Common – arrived behind 25152 & 25189. The slow lines were reopened late on the 17th, the dc lines late on the 19th, the fast lines by the 25th. Spoil trains used 25222 & 25243 and 25130 & 25173, this first pair returned with track panels on 21st, followed by 25256 on the re-wiring train.
On the late morning of April 3rd (Maundy Thursday) 25189 was noted with an electrification train on the up slow working in section near Luton Hoo.
The continuing shortage of electric locomotives led to the novel use of pairs of Cricklewood's Class 25s on the heavy Kensington Olympia – Stirling Motorail service. 25180 & 25190 handled the down working on June 2nd 1980, 25189 & 25054 up on 3rd, the latter pair were also used the following night. They worked as far as Crewe, coming south with the 23.40 ex Stirling. 25189, recently mentioned on the Motorail services, had by the 9th reached the Middlesborough area on local workings, before retiring for a couple of days to Gateshead for repairs. It would appear that 25189 left the North East on June 12th working the 6M79 16.55 Gateshead TCFD - Bescot Speedlink.
1981
25189 was noted at Euston on January 24th.
On February 5th 25189 worked the 6E33 Pitstone - Kings Cross cement tanks.
25189 was noted shunting coaching stock at Euston on April 24th.
On June 11th the 07.40 Bedford - St. Pancras was worked by 25189.
On August 15th 25189 & 25178 were busy on the Kensington Olympia - Willesden motorails.
On September 8th an eastbound merry-go-round train was noted at Stalybridge with 25189 & 56022, presumably an empty working. 25189 was noted light engine at Derby on September 23rd.
On the morning of October 9th 25189 was stabled at York.
1982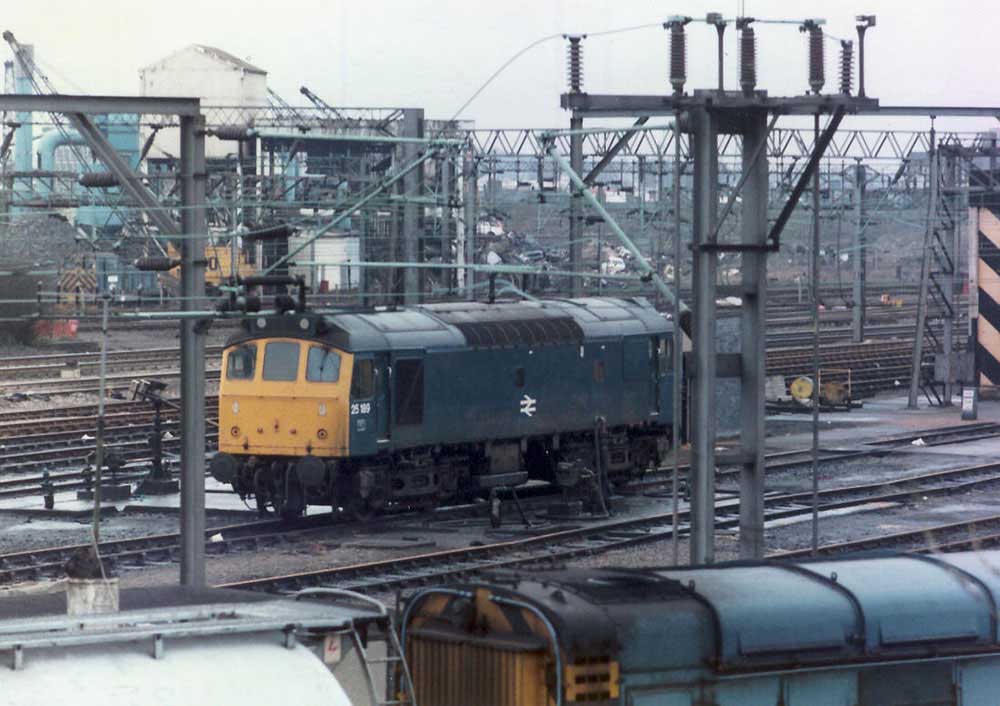 Photograph courtesy Mark Cook
Its February 28th 1982 and 25189 stands in the dampness whilst being refuelled at Willesden. Visible through all the electrification clutter is the Proler car crushing/recycling plant, complete with its resident Class 03.
On May 31st, the day of the Pope's visit to the north-west 25189 worked the 08.10 Blackpool North - Manchester Victoria forward from Preston after 40052 failed having run out of fuel. 25189 continued on with the 11.45 Manchester Victoria - Blackpool North, the 14.10 Blackpool North - Manchester Victoria, the 17.15 Manchester Victoria - Blackpool North and the 19.40 Blackpool North - Manchester Victoria.
On June 2nd 25189 was noted passing Wigan Springs Branch hauling three ex-works Merseyrail coaches.
25189 & 25060 worked the early morning Toton - Acton freight on August 12th.
On September 8th the 11.27 (or 14.03?) Derby - Plymouth was worked to Bristol Temple Meads by 25189 following the failure of an HST further north, having completed the journey the Class 25 then retired to Bath Road depot.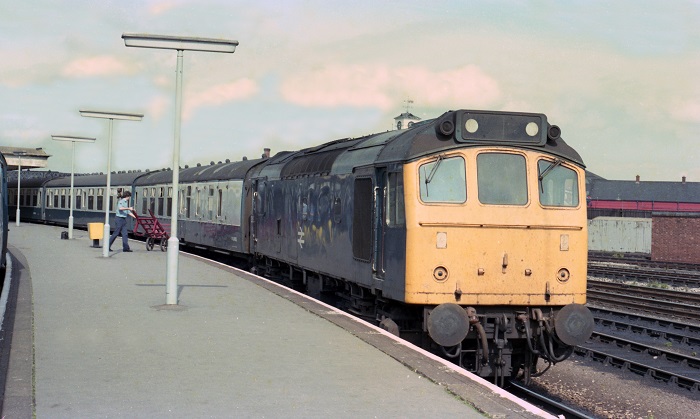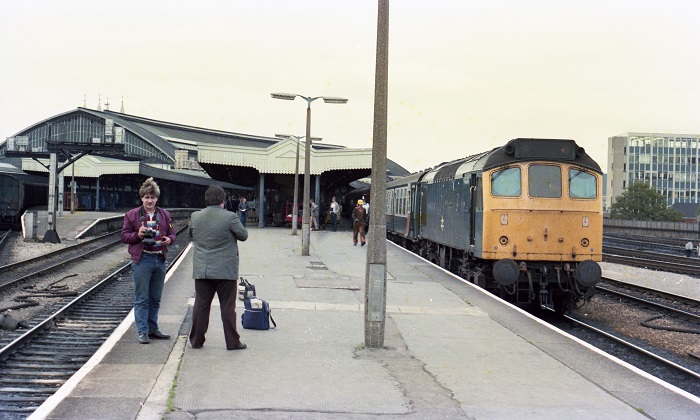 Photographs courtesy John Turner (via RG)
Two views of 25189 at Derby & Bristol having worked a ten coach NE/SW Derby - Plymouth? relief service on September 8th 1982.
Blea Moor was a poor place for 47455 to fail whilst working a charter on October 30th. The train had stopped to detach pilot 31115 (from Hellifield), but was unable to restart, ninety minutes passed until 25189 & 25176 arrived taking the train on to Culgaith, where they were replaced by 37048 for the run to Carlisle.
1983
On February 18th 25189 was noted at Leicester with UKF bogie fertilizer vans, presumably headed for Ince, Cheshire.
25189 was stabled at Cockshute on April 12th. On April 21st 25189 worked the 8E15 10.10 Croft - Whitemoor ballast, the 14.25 Whitemoor - Peterborough West Yard and the 8P08 17.52 return to Whitemoor, then stabling at March depot.
On June 21st 25189 & 25076 worked the 4E78 19.44 Forders - Kings Cross Goods 'fletliner' bricktrain.
25189 was noted westbound at Timperley with loaded ICI PHV hoppers on July 29th.
On August 10th 25185 & 25189 were noted northbound at Greenholme (WCML) with a salt special for Scotland. 25189 was north of the border on August 16th working the 07.30 Glasgow Central - Carlisle. On August 20th 25189 was noted at Shrewsbury with a freight train.
25189 was stabled at Shrewsbury on September 24th.
On October 15th 25189 was southbound at Warrington Bank Quay with ICI sodium tanks.
25189 was stabled at Llandudno Junction on December 29th.
1984
An oil stained 25189 was stabled at Hereford on February 18th.
On April 9th 25189 & 25315 were noted light engines crossing Frodsham viaduct.
25189 was stabled at March on April 14th. On April 26th 25189 was noted northbound at Springs Branch with a train of empty steel carriers.
25189 was the Manchester Victoria pilot on May 2nd. 25189 was stabled at Saltley on May 29th.
Cambrian metals were visited on June 2nd with 25189 & 25076 working the 07.35 Euston - Aberystwyth from Wolverhampton and the 14.00 Aberystwyth - Shrewsbury. On June 22nd the 6E85 Stanlow?? to Leeds saw 25189 & 25175 replaced at Warrington Bank Quay by 40060.
On July 2nd 25189 & 25191 were noted at Northampton with a parcels train. On July 7th the 10.10 Euston - Shrewsbury was worked forward from Wolverhampton by 25189 & 25060. 25189 was stabled at Severn Tunnel Junction on July 11th and at Warrington Arpley on July 12th. 25189 & 25284 worked a loaded Tunstead - Northwich ICI hopper train on July 15th.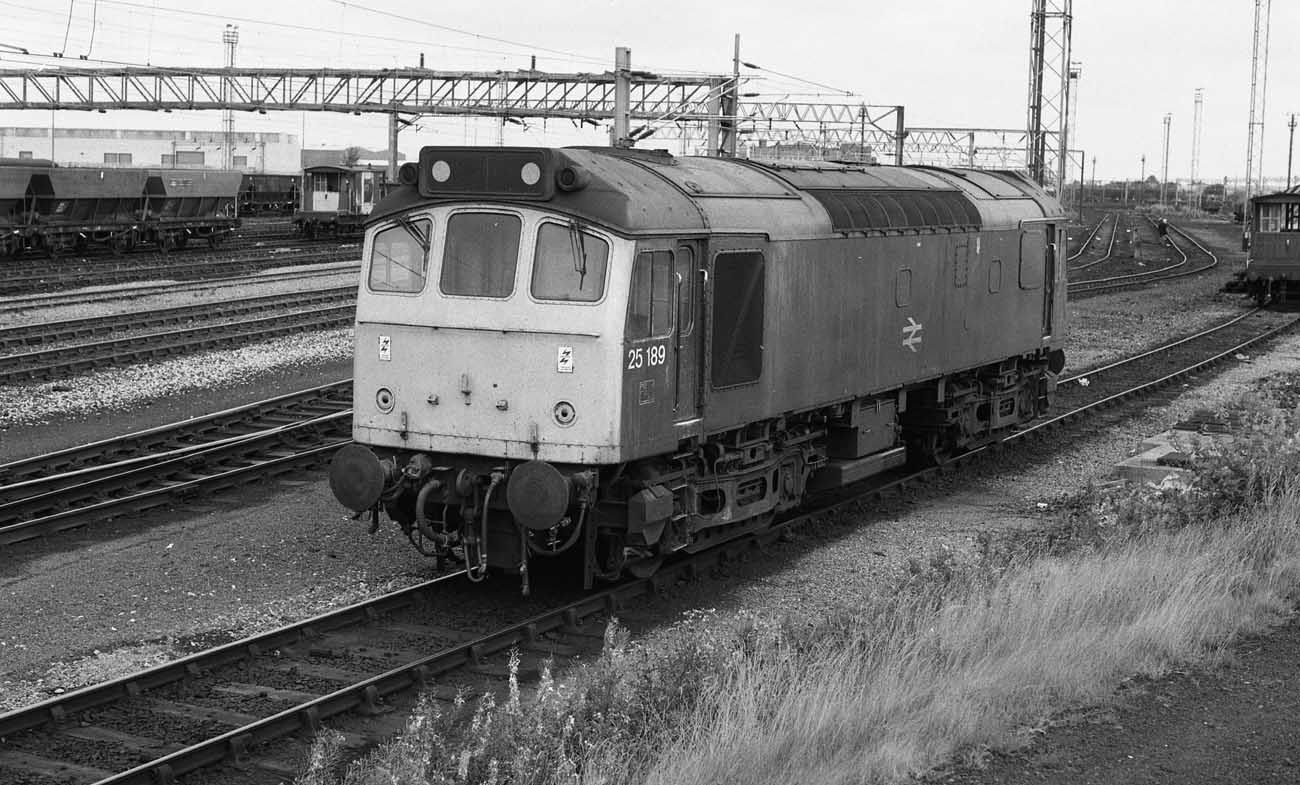 Photograph Danny Preston, courtesy Neil Johnson.
A fine portrait of 25189 at Speke Junction on September 6th 1984. 25189 was taken out of service at Crewe - it remained here for six months prior to movement to Doncaster, where it was broken up during May 1986.
1985
25189 was receiving attention at Cricklewood on January 10th.
The final two passenger workings for 25189 involved diesel multiple unit failures. On March 25th 25189 assisted the 06.10 Kidderminster - Birmingham New Street from Stourbridge Junction.
25189 was noted passing Water Orton light engine on April 9th.
The 6M14 09:45 SX Severn Tunnel Junction - Bescot freight was banked by 25189 on the climb from Stourbridge Junction on May 24th.
On June 17th worked the 07.30 Shrewsbury - Chester, the booked diesel multiple unit had become a failure.
25189 was withdrawn on July 12th 1985.
Not all known passenger workings are recorded on this page.
30/2977
flk 1021
Page added August 27th 2013.
Last updated July 4th 2022.
Back to 25188
Forward to 25190