| | | | | | |
| --- | --- | --- | --- | --- | --- |
| Load | Speed | Amps | Volts | Notes | Other |
| 1 | 28 | 800 | - | - | - |
No.2 cab roof leaking
No.2 accelater? valve leaking
Radiators unbalanced B low
Fuel drain pipe flange leaking free end
Red light No.2 too bright
No.2 Master Key.
On March 3rd 25193 was noted at Bristol Bath road.
On April 22nd the 10.10 Liverpool Lime Street - Newcastle was worked to Manchester Victoria by 40013, where 25193 was added due to problems with the Class 40. Both were removed at Huddersfield, with 40007 taking over.
Possibly 25193's longest passenger turn took place on June 11th with 25521 working a roundtrip Matlock - Barmouth day excursion (375 miles).
On August 5th 25193 & 25178 worked a roundtrip Derby - Skegness.
At about 8am on November 25th 25193 was noted at Nuneaton with an up van train.
On Monday December 4th 25193 worked the 09.55 Willesden to Norwood and presumably the return Norwood - Willesden. On the southbound working 25193 passed Clapham Junction shortly after midday, typical of the passing time here, though events earlier that morning had caused delays to both passenger and freight workings.
The Monday was damp and cold and a freight waiting at Latchmere signal box had been held pending confirmation from Clapham Junction that the freight would have an uninterrupted run through the section. The freight was the late running 01.00 Westbury to Salfords, reportedly loaded to something like 1,200 tons, with Class 47 No. 47123 in charge. The reason for Latchmere's request was due to the heavy train, the damp morning and the 1 in 36 rising gradient on a bend up to Platform 17 at Clapham Junction, with tight reverse curves through the station.
With the route set through Clapham Junction, this effectively blocked the Down local line from Victoria. Latchmere was advised to release the train, which it did shortly after 6am. Forward movement of the freight train was one big giant struggle, with the Class 47 under full power, showering sparks from the wheels and exhaust, its approach additionally confirmed by a deafening noise. By about 6.30am the freight had reached the start of the reverse curves on top of the bridge that carried the line over Falcon Road, just off the north end of platforms 16/17. At this point despite the locomotive operating under full power, all forward motion had ceased. The decision was made to give the route back to the Victoria locals and hold the freight, which was in danger of sliding backwards. The second man arrived at Clapham East Box urgently requesting that help be obtained to assist the freight. In response help quickly arrived in the form of 33208 from Selhurst, which had run round to Latchmere to gain access to the rear of the train. With this done the freight was authorized to drop back wrong line to Latchmere, before attacking the incline for a second time. Thus shortly after 10am the freight successfully cleared Clapham Junction, some four hours after arriving at Latchmere Junction. It is reported that Balham box noted the train had got into further difficulties at Windmill Bridge Junction, between Selhurst and Croydon. Four other freights (beside 25193) were delayed on this Monday morning.
The next day Tuesday December 5th 47123 worked the 11.00 Norwood to Temple Mills, a turn normally booked for a Class 33.
The antics of 47123 in the Clapham area continued into 1979. On Monday January 22nd 47123 worked a Special (additional) 10.55 Acton to Norwood freight, which failed at about 3pm on the bank approaching Clapham Junction, the delay amount to about thirty minutes with 33056 providing assistance. 47123 returned light engine in the path of the 13.12 Norwood to Acton.
1979
On Thursday January 11th 25193 worked (presumably) the 09.55 Willesden - Norwood and the return 12.00 Norwood to Willesden. On the morning of January 27th the wires were down at Tring, 25181 & 25252 were noted rescuing a 4-car electric multiple unit, 25067 was on a wiring train and 25204 & 25193 were noted light engines at Bourne End having just assisted 86216 with the West Coast Poastal.
On February 6th & 7th 25193 worked the 09.55 Willesden to Norwood and the return 12.00 Norwood to Willesden.
On Tuesday March 27th 25193 worked the 12.25 Willesden to Norwood and (presumably) the 14.00 Norwood - Willesden.
1980
25193 was noted at Willesden on January 12th.
Strangers at Norwood Junction on March 29th were 25193 & 25099 having worked from Willesden with a Manchester United football special for a match at Crystal Palace.
On the morning of April 5th 25120, 25183 & 25193 were stabled at Willesden.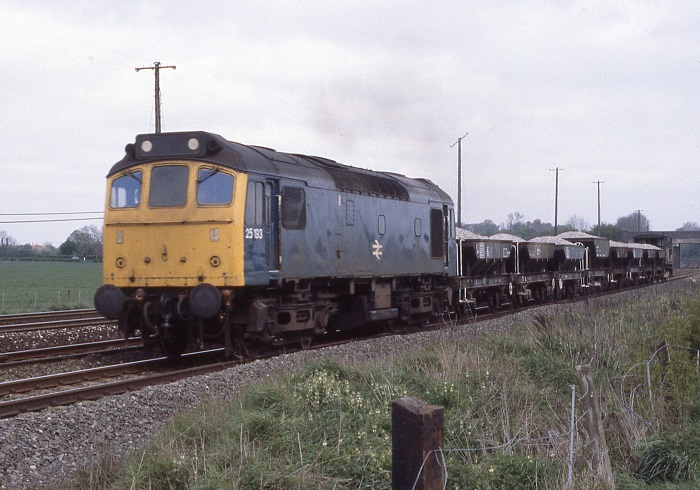 25193 heads south with a short ballast train near Syston Junction, May 6th 1980.
On June 28th 25193 & 25222 worked the first two miles of the 08.55 Kensington Olympia - Perth motorail as far as Willesden.
1981
25193 was noted at Rugby on January 24th.
25173 & 25193 were noted at Kensington Olympia with a motorail service on August 4th.
The 02.25 Euston - Bletchley was worked by 25193 on September 13th & 20th. Also on the 20th the 21.18 Perth - Kensington Olympia motorail was worked forward from Willesden by 25193.
The 03.47 Willesden – Bescot freight running behind 25193 & 25058 became partially derailed at Bletchley on October 23rd. A burned off journal caused most of the train to derail, only the locomotives and several one hundred ton oil tankers remained on the rails. Electric multiple units 087 & 092 standing in the station sustained minor damage, luckily the fast lines remained open, though it would take three days to clear and repair the slow lines.
1982
The Foss Islands branch, home to the Rowntree factory saw the local trip working receive Type 1 & 2 haulage during May, including 25193 (14th) in lieu of the regular York Class 08.
On June 8th 25193 worked the afternoon Manchester - Bristol parcels. On June 12th 25193 was noted at Warrington Arpley. Another lengthy trip took place on June 27th with 25193 & 25145 working a 'Cambrian Venturer' charter from Birmingham International to Aberystwyth and return.
25193 was stabled at Toton on July 3rd and received an 'E' examination at Toton during July.
On August 2nd 25193 was recorded as working a portion or all of the 17.14 Derby - St Pancras. On August 11th 25193 was noted westbound passing Ulverston with a short freight of four nuclear flask vehicles and a brake van. The 19.26 Barrow - Preston was worked by 25193 on August 18th. A Skegness - Llandudno Town return mystery excursion on August 30th required the use of 25193 & 25195 as far as Derby following the failure of the booked 47236.
A diesel multiple unit failure on September 8th saw 25193 work the 09.55 Llandudno Town - Blaenau Ffestiniog and 11.18 return.
1983
Despite being allocated to Cricklewood for all of 1983, 25193 worked quite a variety of passenger workings. On February 1st the 06.50 Paddington - Glasgow Central utilised 25193 & 25231 between Preston & Carlisle, via the Settle & Carlisle. On February 24th 25193 worked the 15.13 Manchester Victoria - Barrow throughout.
On March 1st 25193 & 40185 worked the 02.10 6E41 Ditton BOC - Broughton Lane (11 liquid oxygen tanks), noted about three hours late at Chinley.
On March 26th 25193 was stabled at Skipton station with a single oil tank.
April 17th saw the 08.40 Liverpool - York worked forward by 25193 from Manchester Victoria, via Healey Mills to York. 25193 was the Manchester Victoria pilot on April 19th, 20th & 23rd. 25193 was stabled at Cockshute on April 30th.
A visit to East Anglia on June 22nd saw 25193 handling the 08.04 Birmingham New Street - Norwich. 25193 was noted at Crewe station on June 26th. 25193 & 37054 were noted southbound through Doncaster station light engines on June 28th.
On July 4th the evening 4E78 Forders - Kings Cross fletliner was worked by 25193 & 25117.
The failure of 81001 on July 6th at Bletchley on the 13.18 Birmingham New Street - Euston saw 25193 take the service in to Euston. It was off to the Cambrian line on July 16th with 25193 & 25236 working the 07.35 Euston - Aberystwyth forward from Shrewsbury, returning with the 14.00 Aberystwyth - Shrewsbury. On August 14th three southbound services with 25200 were handled between Rugby & Bletchley due to the power being off. The next day (15th) 25193 worked the 06.25 Poole - Liverpool between Coventry & Birmingham New Street.
25193 was stabled alongside Peterborough station on August 27th, four days later (31st) 25193 was still in the Peterborough area handling a daily trip freight including delivering paper to a nearby St Neot's factory and household coal to the coal merchant in the station goods yard.
25193 was noted at Banbury on September 9th. Four days later on September 13th 25193 was noted at Lawley Street freight terminal.
25193 was noted eastbound at Barton Moss on October 22nd with a parcels train on ten bogie vehicles.
The final working for 1983 took place on December 21st with 25109, assisting a Class 86/2 on the 23.00 Glasgow Central - Euston between Bletchley & Euston due to the power being off.
1984
25193's last transfer was to Crewe during January.
An afternoon additional Ellesmere Port - Westbury bitumen tank train on March 3rd was noted at Hereford behind 25032 & 25193.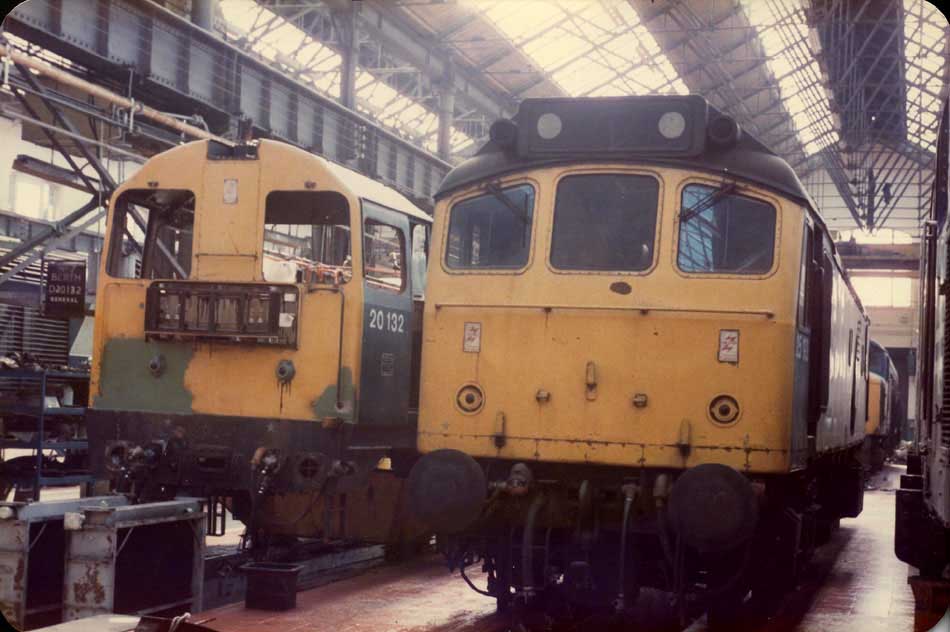 Photograph courtesy Jerry Glover
A busy scene in Derby Works on August 11th 1984. 20132 is in for a General repair including the fitting of dual brake equipment and slow speed control. 25193 is received for minor repairs and will not stay long in the Works. By November 25193 will be retired.
On August 24th 25193 worked the relief 03.55 Crewe - Stoke-on-Trent. 25193 was noted at Crewe station with loaded ballast wagons on August 27th.
On September 1st 25193 & 25282 worked the 07.44 Shrewsbury - Aberystwyth and the 10.10 Aberystwyth - Euston to Wolverhampton.
25191 & 25193 were noted passing through Crewe station light engines on October 17th. 25193 was the Manchester Victoria pilot on October 26th.
25193 was withdrawn on November 12th 1984.
Distinguishing Features
No.1 cab front: large rust patch below center window: September 1980 until withdrawn.
Not all known passenger workings are recorded on this page.
33/2590.
flk 0421 (1)
Page added June 8th 2013.
Last updated May 23rd 2022.
Back to 25192
Forward to 25194