D7542, 7542, 25192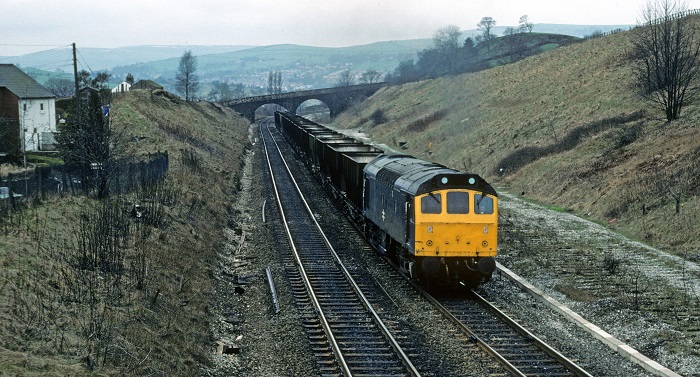 Photograph courtesy Roger Geach
25192 approaches Chinley on a damp looking March 29th 1983 with ICI limestone empties for Tunstead.
The twenty one year career of 7542/25192 was spent allocated to a variety of London Midland depots, with a definate bias to the north west.
Built: BR Derby Locomotive Works.
Dual brake equipped (February 1979).
Time between last Classified repair and withdrawal: 87 months.
Time between withdrawal and scrapping: 18 months.
Allocations
D7542 was new to the Nottingham Division (D16) on April 10th 1965. Further transfers were:
May 1968 to Longsight (9A), then to the Manchester Division (D09).
May 1971 to the Liverpool Division (D08).
July 1971 to Preston Division (D10).
May 1973 to Kingmoor (KM).
August 1973 to Springs Branch.
April 1975 to Kingmoor.
May 1976 to Springs Branch.
April 1977 to Longsight.
October 1977 to Crewe.
July 1980 to Springs Branch.
October 1982 to Crewe.
Withdrawn May 9th 1986.
Renumbered February 16th 1974.
25192 was the 283rd Class 25 to be withdrawn, leaving 44 Class 25s remaining in service.
After withdrawal 25192 was stored at Tyseley from May 1986 to March 1987, then to Bescot with 25154 on March 30th 1987 and the next day to Basford Hall. 25192 & 25154 were moved to Vic Berry, Leicester on July 9th/10th 1987. Included in this move were 08473 & 97405 which were sent in error. 25192 was added to the stack until November 3rd 1987 and broken up by the middle of November 1987.
Works Visits
Works visits (records incomplete).
Noted Derby Works August 1968.
Noted Derby Works April 1973.
Noted Derby Works December 1978 - February 1979 (general & dual braking equipment fitted).
Noted Derby Works October & November 1981 (N6 repairs).
Highlights
1968
Despite being allocated only to LMR depots 7542/25192 proved to be a well travelled locomotive on passenger haulage. After transfer to Longsight during May 1968 D7542 started its passenger workings on June 22nd 1968 with a round trip Sheffield - Llandudno Town summer dated service with D7595. This was followed on August 10th with D7614 on the Preston - Carlisle section of the 09.35 Blackpool - Glasgow Central and 11.05 Glasgow Central - Blackpool return working.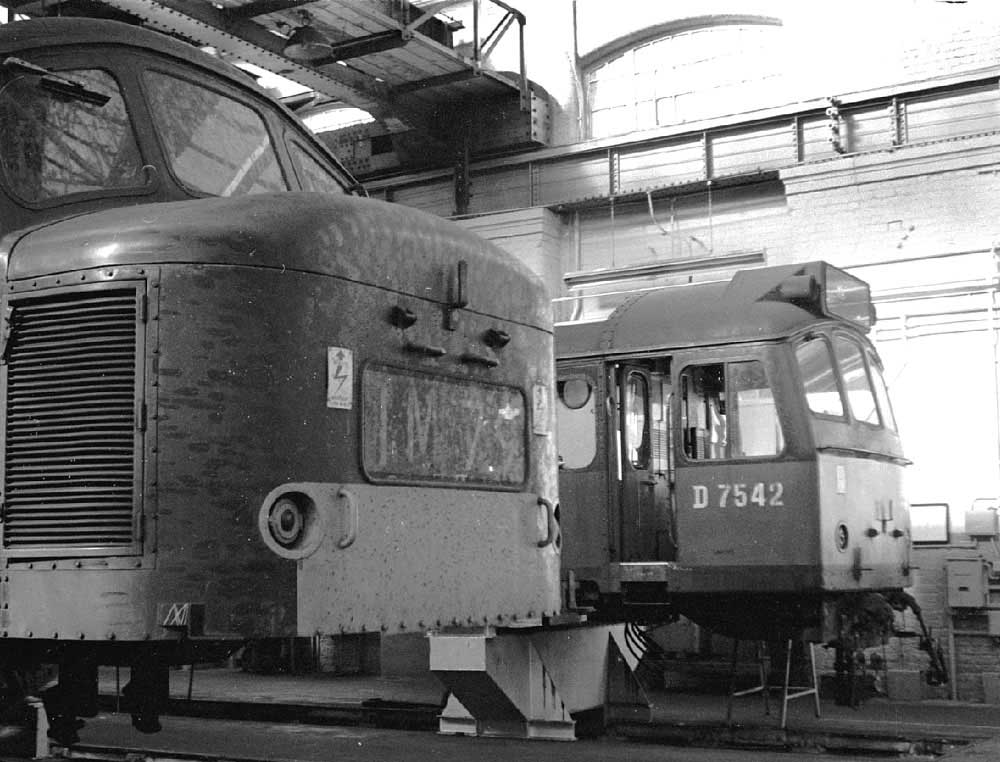 Photograph courtesy Tony Sayer
7542 undergoes repair at Derby Works, seen here on August 10th 1968.
After outshopping from Derby D7542 retained its two-tone green livery, but now with full yellow cabfronts. The original engine exhaust location was also retained.
1969
7542 was the Manchester Victoria pilot on November 17th, 18th (with 5153), 19th, 20th & 21st (with 5152 on the latter two days).
1970
7542 was the Manchester Victoria pilot on January 6th, 7th, 8th & 9th (with 5156 - last three dates).
7542 was the Manchester Victoria pilot on February 10th & 13th (with 5153).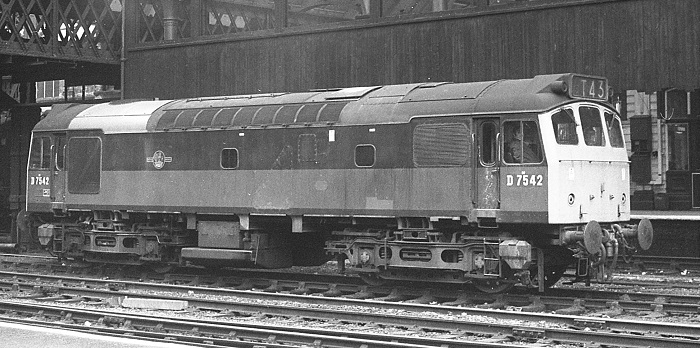 Photograph collection of webmaster / H C Casserley.
7542 at Manchester Victoria on September 15th 1970. The T43 headcode indicates its on the banking duty.
1971
On March 16th 7542 worked the 05.07 Leeds City - Manchester Victoria vans (4M03).
1973
At about 6pm on September 20th 7542 was noted passing Miles Platting with an up hopper train.
At about 5pm (?) on November 28th 7542 was noted at Liverpool Lime Street with a down van train.
1974
On August 3rd 25192 & 25194 worked the 09.19 Manchester Piccadilly - Yarmouth as far as Lincoln Central, returning with the 09.15 ex-Yarmouth.
1975
At about 6pm on February 21st 25192 was noted passing Manchester Exchange with an up freight.
On July 15th 25192 worked the 00.15 Glasgow Central - Manchester Victoria vans (4M10?), presumably forward from Preston.
On August 16th 25192 & 25114 worked the 09.19 Manchester Piccadilly - Yarmouth as far as Lincoln Central, returning with the 09.15 ex-Yarmouth.
1976
On August 7th 25192 & 25029 worked a Euston - Aberystwyth service from Wolverhampton to Aberystwyth (and presumably returning on the diagrammed service?)
On September 4th 25192 was noted at Gloucester & Bristol assisting the 2B68 17.45 Cardiff - Bristol diesel multiple unit.
1977
On August 17th 1977 a roundtrip day excursion from New Mills to Llandudno Town was hauled by 25192 & 25148.
On September 24th a Dinting Railway Centre Limited railtour, the 'The Stanier-Jubilee Express' utilised steam locomotives 5690 + 5305 Guide Bridge - New Mills - Sheffield, then 31221 & 31304 Sheffield - York, 47425 York - Harrogate - Leeds, steam locomotives 44871 + 45407 Leeds - Carnforth and 25148 & 25192 from Carnforth to Manchester Piccadilly via Wigan NW and Ordsall Lane Junction.
1978
On August 21st the 13.30 Manchester Victoria - Llandudno Town was worked by 25192.
1979
Derby Works: both cabs of 25192 were noted near the power station, builders plates were still attached to the cabs and most of the glazing was still intact.
On the afternoon of June 23rd 25192 was noted at Ashton (Manchester) with a westbound parcels train.
The 10.42 Llandudno Town - Crewe was hauled by 25192 on August 15th. The next day (16th) 25192 was noted piloting 47445 between Stoke-on-Trent and Holyhead, the train was running almost an hour late, its presumed the Class 47 was not well.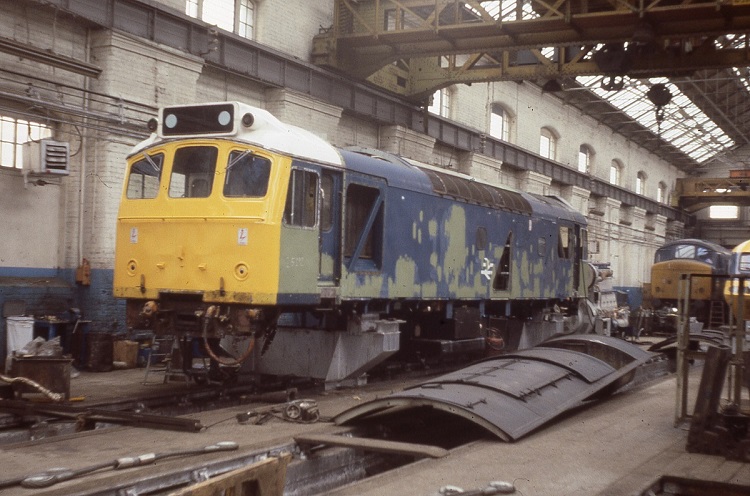 With its body a patchwork of colours and surrounded by a variety of parts 25192 undergoes a general repair on January 20th 1979. During its repair both cabs were replaced and dual braking equipment fitted. This would be 25192's last Classified repair, allowing it to remain in service until May 1986.
1980
There were only three recorded passenger workings during 1980 but they certainly gave 25192 a run for its money. On February 18th 25192 worked the 13.46 Stranraer Harbour - Glasgow Central following the failure of the diagrammed diesel multiple unit.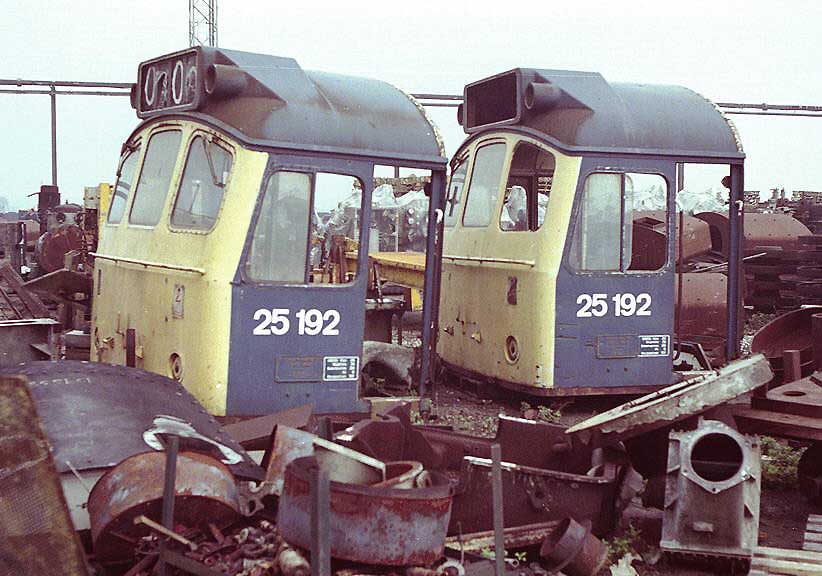 Photograph courtesy Martin Bray
During its Classified repair at Derby during early 1979 both cabs were replaced. This view from February 22nd 1980 shows the old cabs awaiting reprocessing, both cabs retained the builders plates.
On June 29th 1980 a Gloucester - Aberystwyth day excursion was worked from/to Shrewsbury Abbey Foregate Junction over the Cambrian line by 25192 & 25158.
25192 was noted at Warrington Arpley on July 11th.
The third recorded passenger working was definately a lengthy day out for 25192 & 25169 on August 3rd 1980, working a total of 530 passenger miles on a Chester - Paignton day excursion. Four days later on August 7th 25192 was noted at Clayton, Manchester with a yellow & brown liveried Fisons weed killing train time.
On October 13th 25192 was noted with a Research Dept (?) test train at Wellingborough.
A Derby - Shields special with six APT vehicles and a Test car was worked from Derby to Crewe by 25192 on November 6th, 83011 took the train forward.
1981
25192 was noted at Ainsdale with a permanent way train on 15th March.
On a gloriously sunny June 18th engineering work at Fenny Compton saw 25192 bringing loaded ballast hoppers to the site, whilst 47281, 25084 & 25298 were also present. The next day (19th) 25192 was stabled at Nuneaton.
During September 25192 received an 'E' exam at Springs Branch.
1982
On March 2nd 25192 & 25288 were noted at Nuneaton on an empty stone train, two of seven Class 25s present in the Nuneaton station area at the same time.
On April 7th 1982 86249 failed at Stafford with a morning Euston - Liverpool service, 25192 assisted as far as Crewe.
The power was off for engineering work between Rugby & Tamworth on July 25th, 25192 & 25285 assisted two, possibly three northbound passenger trains over this section.
1983
On February 19th 25192 & 33014 and five coaches were noted passing Craven Arms with a Crewe - Cardiff service, was the Class 33 failed?
25192 was noted on March 29th with empty ICI blogies hoppers from Northwich to Tunstead.
25192 was stabled at Longsight on April 3rd and at Warrington Arpley on April 23rd.
On May 12th 25192 with four ex-works Southern Region 2-car electric multiple units was noted westbound at Manchester Victoria presumbly en-route from Horwich Works.
On July 11th & 15th 25192 handled the ex-Glasgow 16.20 Preston - Liverpool on July 11th & July 15th. By July 25th 25192 was working a loaded Tunstead - Northwich limestone train. 40141 was on hand at Northwich to provide banking assistance.
25192 was noted at Guide Bridge on August 8th. On August 22nd 25192 was north of the border working the 11.15 Euston - Stirling motorail forward from Carstairs with 25230.
The year closed with chaos at the southern end of the WCML on December 20th. With the power off diesel traction was the order of the day, 25192 worked the 17.18(?) Euston - Northampton and the 19.15 Euston - Carlisle as far as Rugby, dragging 87014.
1984
Pairs of Type 2's were still common on the Ellesmere Port – Riverside bitumen tanks, including 25192 & 25089 on February 8th.
The end of March saw much continued activity of Class 25's in the North East including 25192 on local Tees duties (29th).
Three of the four passenger workings in 1984 involved diesel multiple unit failures, the fourth working involved the failure of 25192! On April 28th 25192 assisted the three-car 07.45 Birmingham New Street - Great Malvern and 09.26 return and was later noted at Saltley. A failure on August 18th found 25192 working the 06.00 Crewe - Cardiff. September 1st found 25192 & 25178 working the 10.10 Euston - Aberystwyth forward from Wolverhampton, but getting no further than Forden, where they were replaced by 25285 & 25286.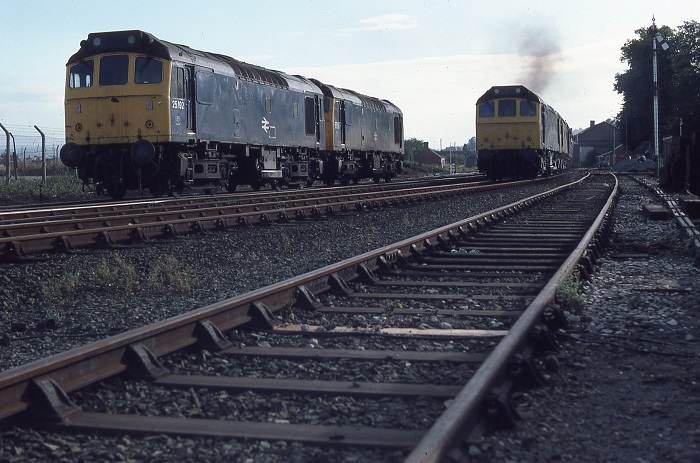 Photograph collection of webmaster.
25285 & 25286 pass failed 25192 & 25178 at Welshpool, the latter having failed at Forden on a Euston - Aberystwyth service on September 1st 1984.
25192 was stabled at Severn Tunnel Junction on December 2nd.
1985
On a snowy January 9th 25192 was noted at Hereford on bogie oil tankers. Three days later (12th) 25192 was stabled at Carnforth. During the last week of the month, on January 25th 25192 & 25034 started out with the St. Pancras - Plymouth 'The Cornishman' railtour, but got no further than Luton, where it was failed and dragged to Leicester.
On June 7th 25192 was southbound at Basford Hall with a parcels train. 25192 & 25190 were noted passing Manchester Victoria on June 11th with sand for St Helens. 25192 & 25190 were noted leaving Hereford on the June 12th with the 6V32 Ellesmere Port to Severn Tunnel Junction oil tanks. Engineering work between Bletchley & Hanslope Junction on June 23rd saw 25192 assist one southbound service over the affected section.
The 7M14 09.35 Severn Tunnel Junction - Bescot freight on July 3rd was worked by 25192, the freight consisted of bogie steel coil, coke wagons & oil tanks, totalling approximately fourteen wagons. Three days later (July 6th) the late running 13.40 Aberystwyth - Wolverhampton was worked forward from Shrewsbury to Wolverhampton by 25192 & 25282.
On August 20th the 13.45 Glasgow Central - Carlisle was worked by 25192.
25192 took over September 25th's 17.28 Peterborough - Birmingham New Street at Leicester from 20056 & 20080.
25192 was noted eastbound at Chester with a parcels train on October 28th.
Stanlow oil terminal on November 23rd provided a veritable feast of Class 25's including 25190 & 25192 on a working from Leeds (the Neville Hill empties?)
On December 1st & 6th 25192 & 25196 were noted at Hereford on oil tanks, whilst on December 9th 25192 was noted at Panteg on an early afternoon Severn Tunnel Junction - Glascoed freight comprised of twelve short wheelbase & one long wheelbase van. The next day (11th) whilst working the Manchester - Bristol vans 25288 rescued 47597 on the 14.17 Bangor – Cardiff after its failure at Ludlow. The vans were taken to Hereford and collected by the following day's service in the hands of 25202 & 25192.
1986
The last workings for 25192 were an interesting bunch, assisting a couple of Class 31's and then covering two failures. On January 2nd the 16.35 Carlisle - Hull was worked to Skipton North Junction by 25192 & 31415, where 25192 was removed. The next day (3rd) the 07.38 Hull - Carlisle was worked north from Skipton by 25192 and 31432 & 31435. On the same date 25192 was later noted shunting ballast wagons at Hellifield (see view below).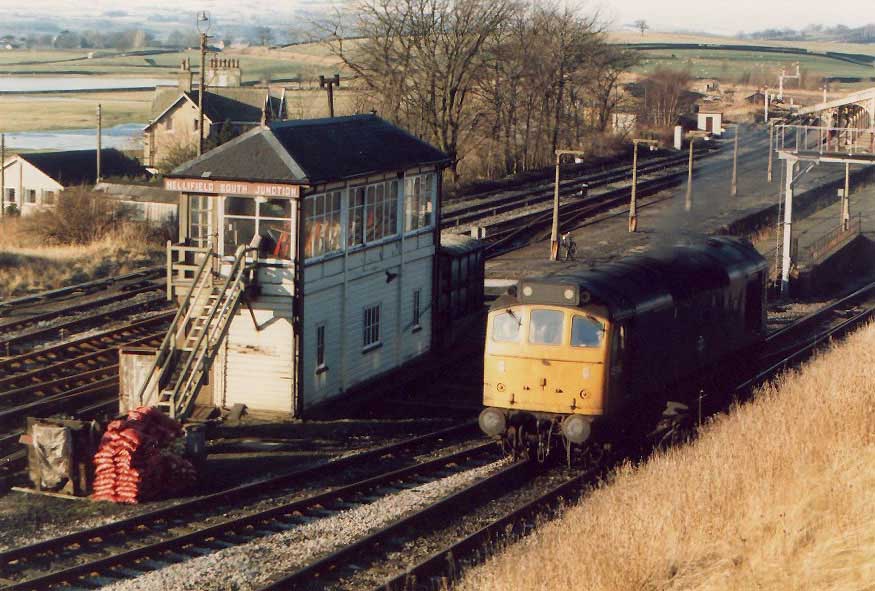 Photograph courtesy Andrew Walker
Hellifield South Junction signalbox and 25192 on January 3rd 1986.
Six weeks later on February 21st 25192 assisted the 14.10 Cambridge - Blackpool between Ely & Peterborough after the failure of 47605.
Sightings of 25192 during March included passing through Manchester Victoria with a parcels train on March 1st, noted at Warrington Bank Quay on March 13th with 25181, and stabled at Carlisle station on March 15th. The final passenger working for 25192 took place on March 18th following a diesel multiple unit failure at the outset of the 17.42 Carlisle - Newcastle. Class 25s stabled at Rugby on March 29th for permanent way work were 25034, 25035, 25037, 25058, 25192 & 25202.
25192 was noted at Tyseley on May 3rd, from where it would eventually be taken out of service on May 9th 1986.
Distinguishing Features
No.2 cabfront: center of cabfront under handrail, a large chunk of paint missing; from at least May 1983 until withdrawn.
No.2 cabfront: 2nd man's side, left of marker light, several areas of missing paint: from at least March 1983 until withdrawn.
40/3256
flk 1019 (2)
Not all known passenger workings are recorded on this page.
Page added March 2nd 2013.
Last updated July 27th 2020.
Back to 25191
Forward to 25193