| | | | | | |
| --- | --- | --- | --- | --- | --- |
| Load | Speed | Amps | Volts | Notes | Other |
| 1 | 35 | - | - | - | wheelslip from 20mph to at least 30mph |
There must have been some voltage/relay issues due to additional notes on the snag sheet (whatever they mean):
70mph peak 27V
Hard in at 75mph/804
20/25V
4th in 15V
In 27V hard, 76mph
Hold relay open 45V
25V closed
Hold relay open 55V at 86mph
Closed 30V at 86mph
Hold relay open 65V at 85mph
Closed 35V at 85mph.
On October 19th a Euston - Barrow return Motorshow special was worked forward from Lancaster by 25196 & 25234.
1975
On August 11th 25196 worked the 05.07 Leeds City - Manchester Victoria vans (4M03). On August 15th the 17.00 Derby - Matlock and 17.50 return were worked by 25196.
1976
25196 was being used on a local Tyne Yard freight turn on February 25th.
The 09.00 Llandudno Town - York on August 21st was worked by 25196. On September 9th 25196 worked the 17.45 Cardiff - Bristol Temple Meads.
1977
On the afternoon of March 4th 25196 was stabled at York.
1978
On the morning of March 1st & 6th 25196 was stabled at York.
25196 was noted at Manchester Victoria on March 29th.
On May 29th 25196 & 25184 worked the 09.29 Manchester Victoria - Llandudno Town and the 17.20 Llandudno Town - Manchester Victoria.
On August 1st the 11.30 Bangor - Manchester Victoria was worked by 25196.
On September 1st 25196 was noted passing Guide Bridge with loaded ICI hoppers and on September 2nd was stabled at Buxton.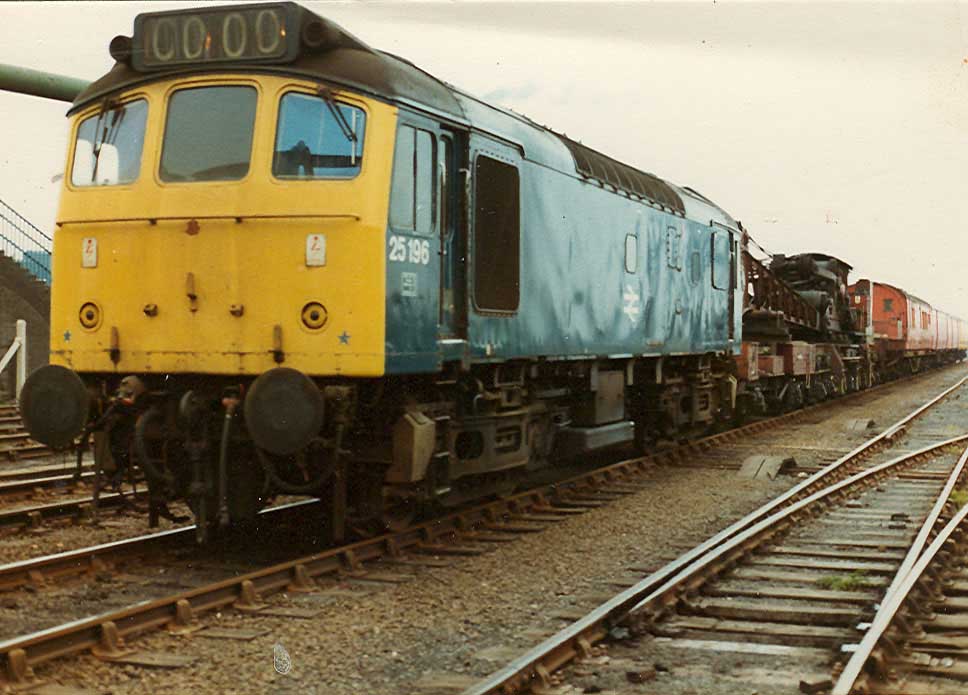 Photograph courtesy Ian Marsh
Derwent Ironworks, Workington; 25196 has arrived with a brakedown crane to rerail the errant 37006 and allow business to get back to normal (date not known, but prior to October 1979).
1979
Due to a continuing shortage of electric power the 01.50 Stafford - Liverpool was hauled by 25196 on June 22nd.
25196 was stabled at Springs Branch on July 15th.
25179 entered Derby Works during November for a Classified repair. This including replacing the No.2 end cab roof, after release from the Works this cab roof started to lose its paint prematurely, thus becoming a notable spotting feature for this locomotive.
1980
On January 11th Trafford Park freightliner depot was blocked following the derailment of 25235 whilst picking up the 22.37 Trafford Park – Holyhead freightliner. The departure of this working finally took place at 6.00am the following morning with 47098 in charge. However all was not well with this machine for it failed at Phillips Park, requiring the assistance of the Manchester Victoria pilot, 25196.
On the morning of February 21st & 25th 25196 was stabled at York.
25196 was stabled at Northwich on April 5th.
On May 23rd 25196 was westbound at Chinley with a loaded ICI limestone train.
25196 was noted southbound at Warrington Bank Quay with a freight on November 13th and was also noted this day at Warrington Bank Quay assisting a Chester bound two car diesel multiple unit.
1981
25196 was stabled at Guide Bridge on May 4th. 25196 was noted passing Grange over Sands with a tanker train on May 26th.
On he afternoon of June 16th 25196 worked a Halewood - Warrington Arpley cartics. On June 24th the 12.27 Crewe - Cardiff and the 17.10 Cardiff - Crewe were worked by 25196.
On September 23rd 25196 & 25213 worked the 20.55 Kensington Olympia - Stirling motorail to Willesden. The 18.18 Birmingham New Street - Euston on September 29th failed behind 85001 at Bletchley, 25196 dragged everything to Euston.
1982
25196 was noted passing Bescot with a vacuum braked freight service on March 26th.
On May 7th 25196 was noted southbound at Micheldever with a lengthy train of vans, possibly a Toton - Eastleigh freight, the Class 25 was equipped with three-piece miniature snowploughs.The next day (8th) 25196 worked the 14.14 Norwich - Birmingham New Street and was also noted stabled at Banbury, also noted at Banbury on May 10th.
A month later on June 8th 25196 worked the same service, but taking over at Peterborough.
25196 was stabled at Crewe Diesel depot on August 18th.
25196 was stabled at Saltley on September 4th.
1983
On February 20th the 09.40 Euston - Wolverhampton failed at Tring behind behind 86318, 25196 & 25211 dragged the service to Bletchley where 47537 tookover.
25196 was receiving attention at Reddish on April 1st.
Another rescue job took place on May 2nd when the 19.30 Crewe - Cardiff failed at Shrewsbury behind 33064, 25196 worked the train through to Cardiff.
The 'Manchester Railway Re-union' charter on June 18th was worked from Manchester Victoria to Hellifield by 25196 & 25198. On June 25th the 10.10 Euston - Shrewsbury was worked forward from Birmingham New Street by 25196 & 25208. A very short rescue job took place on July 1st when the 07.50 Manchester Victoria - Glasgow Central failed at Oxheyes behind 87008, 25196 & 25076 dragged the service back to Preston.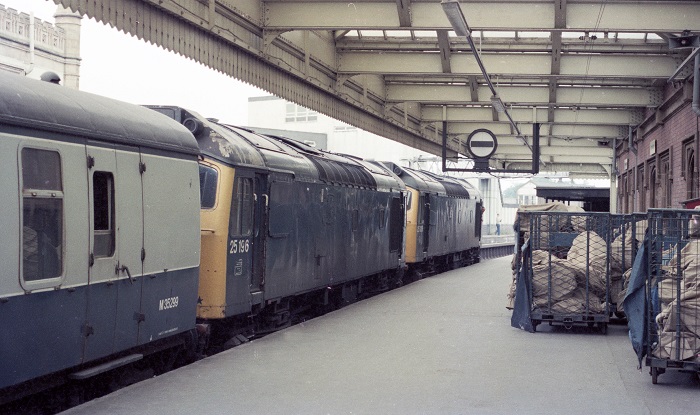 Photograph courtesy John Turner (via RG).
25196 & 25208 at Shrewsbury having arrived with the 10.10 ex-Euston on June 25th 1983.
25196 was noted at Manchester Victoria on July 9th. The 15.10 Manchester Piccadilly - Bristol Temple Meads parcels (eight bogie parcel vehicles) was noted at Cwmbran behind 25196 on July 27th.
On August 1st the 08.01 Crewe - Cardiff and 11.40 Cardiff - Crewe were worked by 25196. The Cambrian line was visited on August 6th with 25196 & 25235 working the 07.35 Euston - Aberystwyth forward from Wolverhampton, returning with the 14.00 Aberystwyth - Shrewsbury, at Machynlleth 25235 was removed. On August 12th 25196 was noted northbound at Preston with a short parcels train.
25196 was noted northbound at Trent Junction with 56089 & 56112 in tow on September 9th.
On October 27th 25196 was noted northbound at Winwick with a parcels train.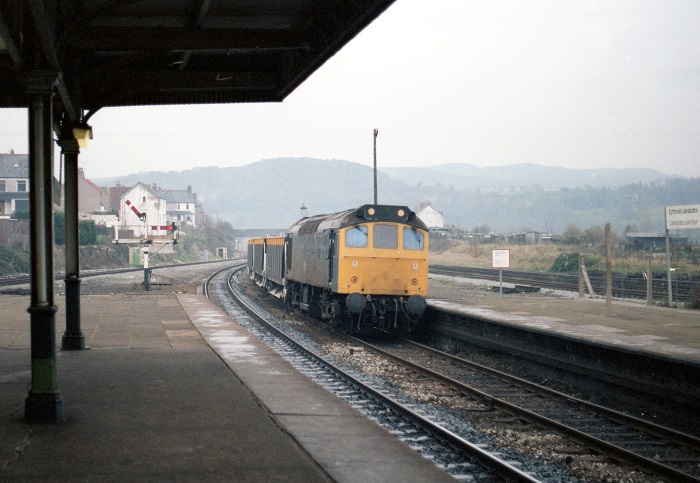 Photograph courtesy Roger Geach.
25196 at Llandudno Junction with a ballast train on November 17th 1983.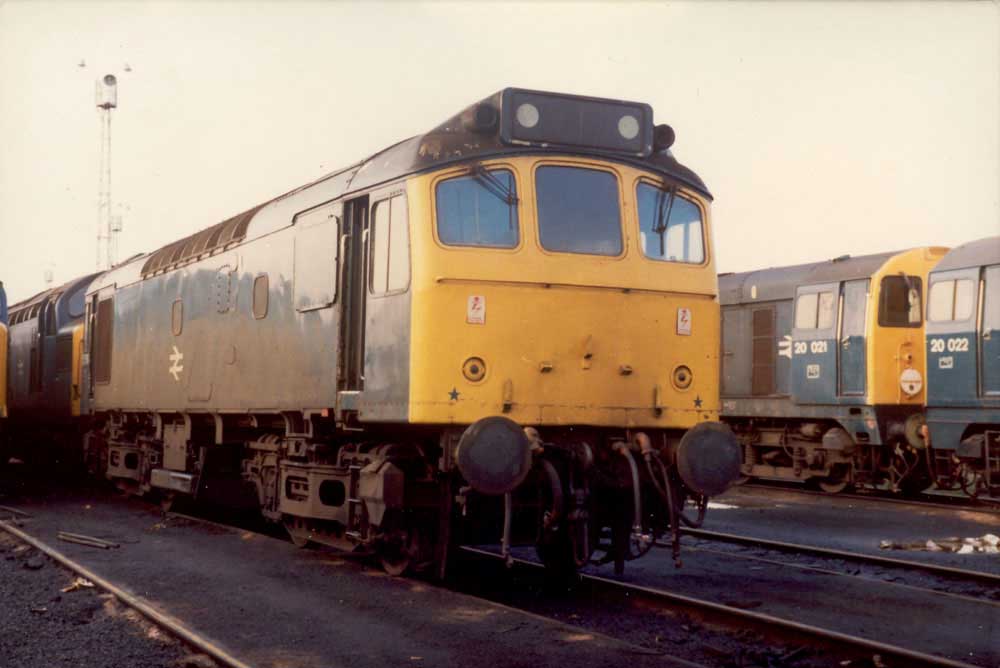 Photograph courtesy Jerry Glover.
25196 at Tinsley depot on November 20th 1983.
1984
25196 was noted departing Falkland Junction for Hunterston with a freight (nuclear flasks?) on April 13th.
25196 was noted at Workington with a Sellafield nuclear flask train on April 19th.
The afternoon Fords Halewood – Dagenham car train and the return Barking - Fords Halewood, a booked Class 47 turn occasionally featured Class 25s, so noted on May 17th was 25196.
On June 11th a short engineers train, comprised of a crane and brakevan were noted at Preston hauled by 25196. On June 30th 25196 & 25234 arrived at Great Rocks Junction with ICI limestone empties.
25234 & 25196 were noted northbound through Crewe station with empty bogie oil tanks for Stanlow on July 3rd. On July 16th 25196 & 25213 were noted at Wigan with a lengthy train of all tanks. On July 29th 25196/25201/25231/25283 were at Willesden depot whilst 25058, 25191, 25285 + 25249 were nearby on permanent way trains.
On August 29th 25196 was noted northbound at Toton with a lengthy freight.
On September 14th the 07.45 Manchester Victoria - Bangor was worked by 25196.
Almost two months later on November 9th 25196 worked the 17.32 Bangor - York from Chester to Manchester Victoria after the Class 45 failed. On November 18th 25196 was noted at Aintree with a track panel train.
1985
On January 23rd 25196 worked an Ashburys - Bescot mixed freight, being noted at Timperley with four freight wagons, a passenger coach and brakevan. On January 24th the oil trains diverted through Huddersfield due to the derailment & fire in Summit tunnel included the use of 25089 & 25178 and 25196. Their use is remarkable considering the vast array of locomotives (Classes 20/37/47/56/58) which were still idle due to the ongoing coal miners strike. 25196 was stabled at Thornaby on January 27th.
25196 was stabled at Saltley on a snowy February 12th. 25196 was stabled at Toton on February 23rd.
On March 19th 25196 was at Crewe Gresty Lane with an engineers train. On March 21st the Severn Tunnel Junction - Mossend was worked by 25196 & 25200. On March 22nd 25196 was at Crewe with a van train.
25196 was north of the border on April 10th working the relief 12.05 Bristol Temple Meads - Edinburgh forward from Carstairs with 25175.
On May 7th track defects in the Birmingham area saw the 10.24 Penzance - Liverpool dragged from Bescot to Walsall by 25196, 47129 took over here with 87024 still attached. 25196 was at Stafford on May 12th. On May 16th 25196 was noted at Sutton Bridge Junction, Shrewsbury with a continuously welded rail train. 25196 was noted at Leicester depot on May 18th.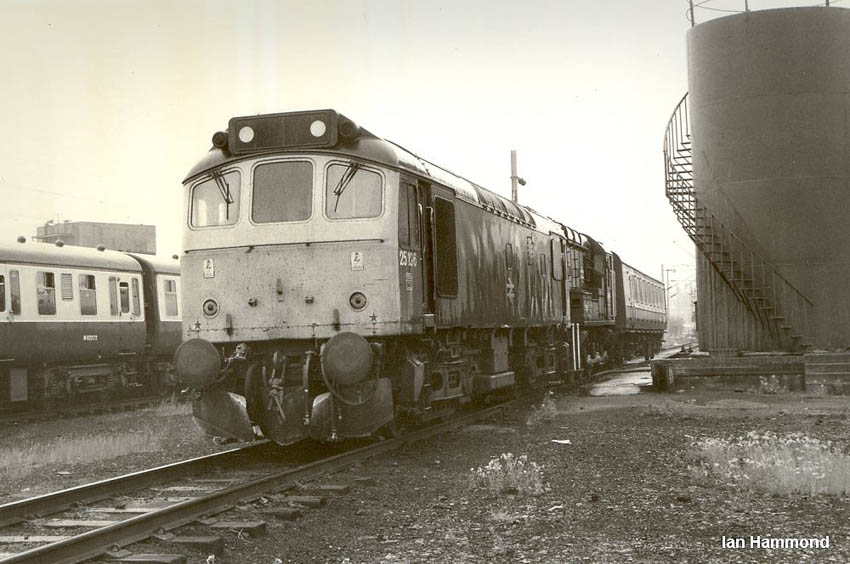 Photograph courtesy Ian Hammond.
On a miserable wet June 4th 1985 25196 keeps company with 08909 at Bletchley depot, no use for the miniature snowploughs on this day!
25196 was noted at Gloucester on August 12th. On August 14th 25196 was noted passing through Gloucester with a freight.
The 21.42 Preston - Liverpool on September 3rd was worked by 25196, this being the Liverpool portion off the 18.15 Glasgow - Manchester. 25196 & 25037 were northbound at Wigan NW on September 10th with oil tankers. 25196 was north of the border on September 21st working the 17.40 Carlisle - Glasgow Central, three days later (24th) it worked the 06.05 Carlisle - Glasgow Central forward from Dumfries after the Class 27 failed. On September 26th 25196 powered the Albion – Waterston tanks, pairs of Class 37s or a single 47 being the norm.
On October 10th 25196 was back in the Preston area and worked the 21.42 Preston - Liverpool again. On October 21st 25196 & 25060 worked the Stanlow - Leeds oil tanks.
On November 19th 25196 worked the 18.15 Glasgow Central - Manchester Victoria forward from Preston.
25196 & 25192 were noted southbound at Hereford with bitumen tanks on the evening of December 6th.
1986
1986 was the last year in service for 25196, three passenger workings were handled, mostly involving diesel multiple unit failures. The first occurred on January 30th when the 02.10 Manchester Piccadilly - Grimsby Town was worked to Sheffield by 25196.
On February 19th the 17.10 Manchester Victoria - Millom was worked forward from Preston by 25196. Finally the next day (20th) 25196 worked the 06.16 Barrow - Preston. 25196 was stabled at Preston on February 22nd. 25230 & 25196 were stabled at Bescot on February 27th.
25196 was noted at Nuneaton on March 12th.
25196 was withdrawn on March 17th 1986.
Distinguishing features
No.1 cab front by handrail under center window, large piece of paint missing.
No.2 cab roof losing most of its paint since at least May 1981 until withdrawn.
Three piece miniature snow ploughs (yellow) fitted (no ploughs March 1978 - September 1978); December 1978; November 1980 - May 1982; (no ploughs August 1983 - November 1984); January 1985 - May 1985.
Not all known passenger workings are recorded on this page.
38/2731
flk 1221
Page added August 31st 2013.
Last updated July 4th 2022.
Back to 25195
Forward to 25197