D7547, 7547, 25197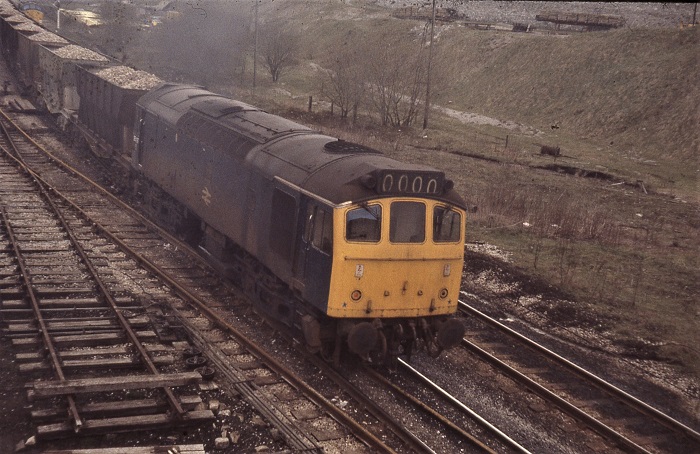 25197 Great Rocks April 24th 1979 (originally thought to be 25197, but on review loco in image is vac only, other 25s seen this day were 25105, 25142, 25208 & 25286 so back to the drawing board).
The fourteen year seven month career of D7547/25197 included allocations to London Midland Region depots.
Built: BR Derby Locomotive Works.
Dual brake equipped (1974).
Time between last Classified repair and withdrawal: 72 months.
Time between withdrawal & scrapping: 27 months.
Allocations
D7547 was new to the Nottingham Division on May 15th 1965. Further transfers were:
November 1967 to Springs Branch (8F).
May 1968 to Allerton (8J).
June 1968 to Liverpool Division (D08).
October 1968 to Preston Division (D10).
May 1973 to Kingmoor.
January 1975 to Springs Branch.
May 1975 to Longsight.
January 1980 to Bescot.
November 1980 to store (unserviceable at Swindon Works).
Withdrawn December 1st 1980.
Renumbered February 23rd 1974.
25197 was the 78th Class 25 withdrawn, one of seventeen withdrawn during December 1980.
25197 was at Swindon Works when withdrawn. By the second week of March 1983 25197 had been scrapped.
Works Visits
Works visits (records incomplete).
Noted Crewe Works November 1968.
Noted Derby Works October 1970.
Noted Derby Works September 1972.
Noted ex-works December 1974 (presumed Derby shopping?).
Highlights
1972
Condition June: two-tone green livery with full yellow cabfronts, BIS side has blue blanking plate, hand/footholds plated over, engine exhaust in original position, No.2 cab (side) driver's side - unpainted window frame.
1974
The recorded passenger workings are very sparse. On June 16th 1974 a Shrewsbury - Edinburgh charter failed at Tebay in charge of E3006, 25197 dragged the train to Carlisle.
1975
The Teesport - Dalston 'Shell-Mex' oil train was worked by 25242 & 25197 on April 19th.
1976
The morning Heaton - Red Bank empty vans was worked by 25197 on March 19th.
1978
25197 was noted light engine at Guide Bridge on August 2nd.
1979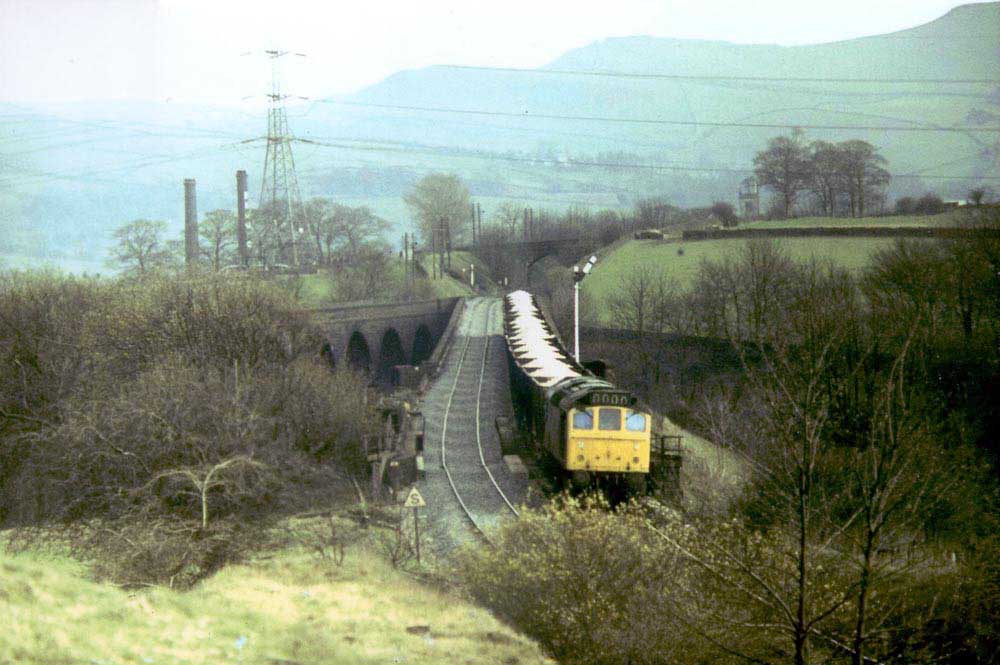 Photograph courtesy Dave Homer
A loaded limestone train clears Chinley South Junction and approaches Chinley North Junction behind 25197 on April 28th 1979. This location boasted a triangle with two of the sides requiring the use of substantial viaducts. Chinley East Junction was the third point on the triangle.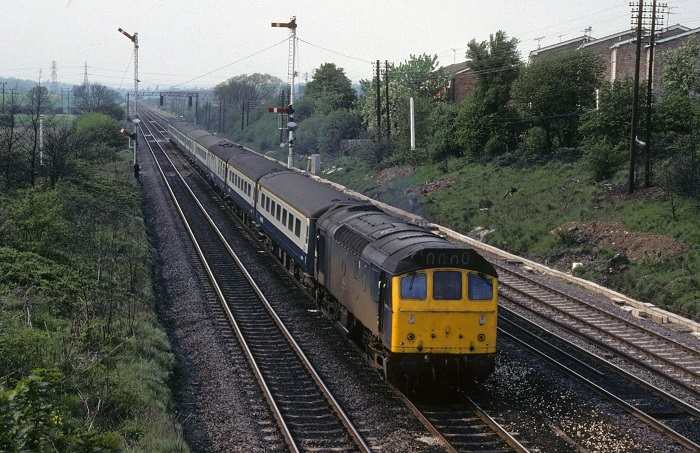 Photograph courtesy Roger Geach
25197 passes Elstree with the 13.12 Nottingham - St Pancras on May 15th 1979.
On July 16th 1979 25197 worked the 18.20 Llandudno Town - Manchester Victoria.
25197 was stabled at March on October 19th.
On December 3rd 25197 was noted passing Newark Northgate with an oil tank trin.
1980
25197 was noted at Hereford on March 11th with the Garston car train.
On July 24th 1980 a passenger working with 85001 required rearend assistance from 25197 complete with its freight train between Hampstead and Bescot Yard (3 miles). Two days later (26th) 25197 & 25276 were on Cambrian metals working the 10.10 Euston - Aberystwyth from Birmingham New Street (running an hour late due to heavy rains in the south), returning with the 16.10 Aberystwyth - Wolverhampton, 25276 failed and was removed at Shrewsbury. The last recorded passenger workings for 25197 took place on August 2nd 1980 with 25277 working the 04.10 Shrewsbury - Aberystwyth and the 10.07 Aberystwyth - Euston to Wolverhampton.
25197 was stabled at Gloucester Horton Road on November 6th.
25197 was withdrawn on December 1st 1980.
Distinguishing Features
No.2 cab: 2nd man's side/corner: small amount of missing yellow paint on corner at same height as bottom of side window frame: August 1978 until withdrawn.
Not all known passenger workings are recorded on this page.
8/554
flk 0317 (1)
Page added August 31st 2013.
Last updated April 4th 2019.