D7550, 7550, 25200
The last Class 25 on the premises of Derby Locomotive Works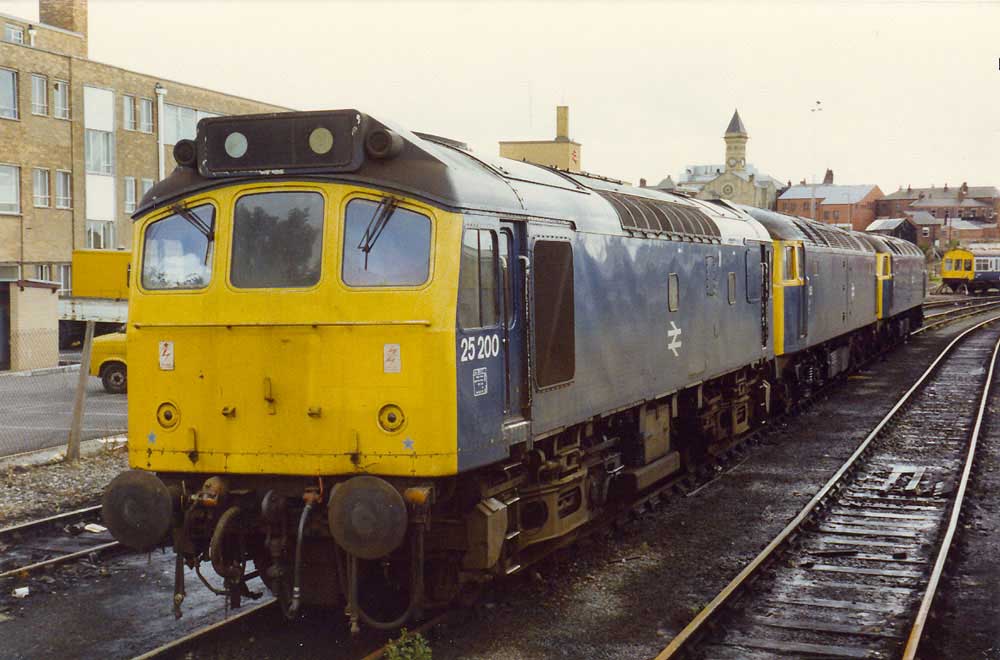 Photograph courtesy Steve Houlker
Ladywell Sidings, Preston on Sunday July 21st 1985 with 25200, 47150 & 47069 awaiting their next turn of duty.
The twenty year eight month career of D7550/25200 was entirely spent allocated to London Midland Region depots.
Built: BR Derby Locomotive Works.
Dual braked (1974).
Time between last Classified repair and withdrawal: 72 months.
Time between withdrawal and scrapping: 12 months (cabs lasted a little longer).
Allocations
D7550 was new to the Nottingham Division (D16) on June 5th 1965. Further transfers were:
October 1965 to Leicester Division (D15).
October 1965 Nottingham Division (D16).
October 1967 to Carlisle Kingmoor (12A).
June 1968 to Preston Division (D10).
May 1973 to Carlisle Kingmoor (KM).
January 1975 to Carlisle Kingmoor (KD).
Withdrawn February 10th 1986.
Renumbered April 1974.
25200 was the 269th Class 25 to be withdrawn.
25200 was condemned whilst at Derby Works, it was later sold to Vic Berry, Leicester, on a snowy January 19th 1987 47199 took 45117, 45057 & 25200 (with snow still on their roofs) to Humberstone Road, Leicester, 25200 moved into Vic Berry's Yard on January 27th 1987. 25200 was broken up by the third week of February 1987, although the cabs lingered awhile longer.
Works Visits
Works visits (records incomplete).
Noted Derby Works July - September 1966.
Noted Derby Works October - November 1974 (dual braking equipment fitted).
Noted Derby Works December 1979 - January 1980 (Classified).
Noted Derby Works December 1980 - January 1981 (N4 repairs).
Noted Derby Works September 1982 - January 1983 (collision repairs).
Noted Derby Works March 1984 (N6 repairs).
Noted Derby Works December 1985 until withdrawn.
Highlights
1965
D7550 was under construction at Derby between February & May. It was delivered during June to the Nottingham Division (M16), later transferred to the Leicester Division (D15) during October, and then back to the Nottingham Division (M16) later that same month.
1966
July to September were spent at Derby Works (collision repairs?).
1967
On the morning of January 14th D7550 was at New England with an up freight.
Noted at Derby between about 11am & 2pm on January 19th were:
D5187, D7559 & D7578 on empty coaching stock duties
D7594, D7597 light engines
D5294 & D7567 with an up freight
D5224 & D57 with the eight coach 12.55 Sheffield - St Pancras
D5267 parcels stock
D5258 up freight
D7550 on shed
45407, 47000, 48103, 73011 & 92025 on shed.
Stabled at Derby on the morning of April 18th were D5258, D7524, D7539 & D7550.
On the morning of August 26th D7550 was light engine at Sheffield Midland, possibly to work the 1N27?
1968
On the afternoon of May 11th D5285 & D7550 were noted at Bolton with a freight (7P31) headed in the Blackburn direction. On shed were 45290, 44781 & 44802 whilst 45073 was shunting.
D5201 & D7550 were noted on a late evening Edge Hill - Glasgow freight on June 14th.
1971
Condition April: two-tone green livery with full yellow ends, hand/footholds plated over, mixedstyle sandboxes, three-rung bogie mounted footsteps.
1972
On May 27th 7550 & 7563 were noted on a Derby - Yarmouth service as far as Norwich.
Condition: August generally faded two-tone green livery, full yellow ends, blue boiler room grill blanking plates.
1974
25200 was expected at Derby Works for a General Repair including the fitting of dual-braking equipment during the summer, however the locomotive did not enter the Works until October for these repairs.
This summer reprieve allowed 25200 & 25209 to work a Derby - Skegness round trip on June 29th.
1975
On the morning of May 15th 25200 was at Crewe station with a trip freight.
On June 11th (or 13th?) 25200 worked the 12.35 Edinburgh - Liverpool Lime Street, forward from Preston?
25200 & 25305 were noted at Newcastle with the Coatbridge - Nottingham on September 9th, 40133 took the train south.
On the morning of September 16th 25200 was noted passing Poppleton (York) with six Palvans labelled Ince & Elton - Harrogate.
1976
On April 7th 25200 was in use in the lifting of the Ayre branch.
25200 was light engine at Preston on July 20th.
Kingmoor's 25200 arrived at Exeter on August 13th with the regular freight from Severn Tunnel Junction, the next day (14th) it was in use on passenger services over the Barnstaple branch!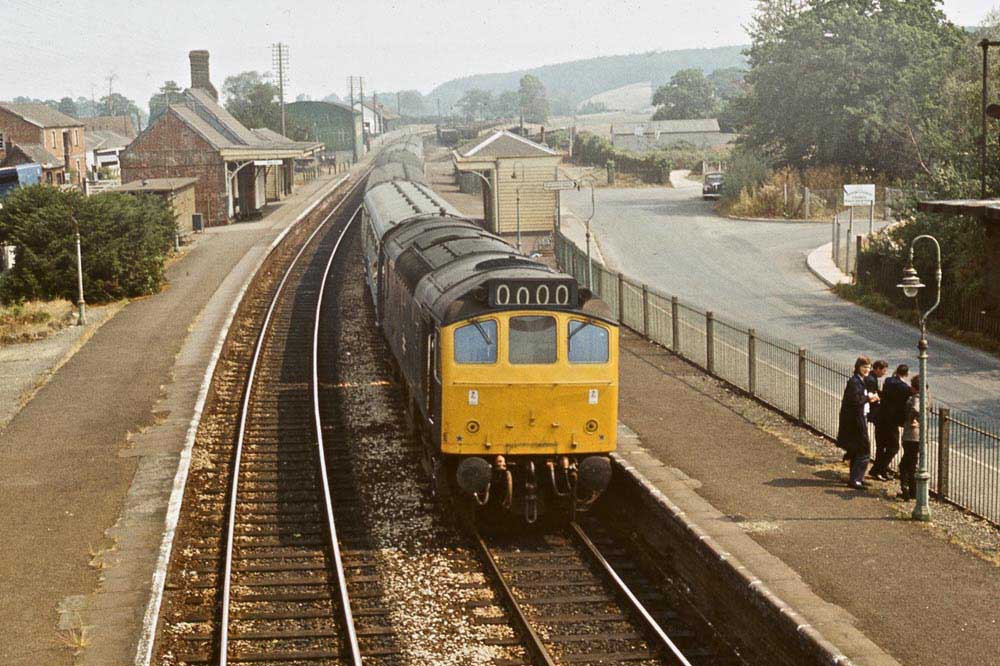 Photograph courtesy Peter Lovell
Here is borrowed 25200 at Crediton on August 14th 1976 working the 2B99 13.40 Exeter - Barnstaple. This day the 12.20 Barnstaple - Exeter had failed at Eggesford with 25223, Exeter sending out 25225 to rescue the train.
1977
25200 & 25280 were eastbound through Chester with a freight on April 12th.
On July 15th 25113 & 25200 were noted at Wigan NW with a train of covered wagons.
On August 21st 25200 & 25202 worked the 08.40 Leicester - Skegness and the return 18.30 Skegness - Leicester.
25200 was stabled at Workington on October 23rd.
1978
25200 was noted at Carnforth with an up permanent way train on April 29th.
On May 13th 25200 was noted at Carnforth with a Corkickle - Northwich ICI empties freight (ten short wheelbase tanks).
During August 25200 was active on the North Wales mainline on both 18th & 22nd working the 11.11 Manchester Victoria - Holyhead throughout.
1979
On the afternoon of May 25th 25200 was noted at Farington Junction with up empties.
25200 & 25247 worked August 11th's 10.15 Scarborough - Birmingham New Street.
On September 15th 25200 worked a Manchester Victoria - Llandudno (?) 1D79.
The failure of 86257 on November 3rd's 11.00 Euston - Birmingham New Street somewhere in the Coventry area found 25200 & 25039 coming to the rescue, taking the service into New Street.
25200 was noted at Derby Works between December 1979 and January 1980 for a General Repair.
1980
On the morning of March 7th 25200 was noted in Sellafield yard, it would later be noted at Workington with a freight train.
April Fool's Day was a challenge for 47474 when it failed on an early morning Barrow - Preston service, 25200 was on hand to take the train on into Preston.
25200 was stabled at March depot on May 10th.
On the afternoon of July 19th 25200 arrived at Workington from the south and stabled in the bay.
On the afternoon of August 21st 25200 was at Coventry station with empty merry-go-round wagons. A Leamington - Edinburgh charter on August 30th utilised 25200 & 25263 to and from Coventry.
On September 27th 25200 was stabled at Manchester Victoria. Later that evening (or early next morning) it worked the 1E31 Manchester Victoria - Bradford Exchange via Huddersfield, the 5L69 Bradford Exchange - Leeds, then light engine to Holbeck.
On November 11th 25200 & 25201 worked a four coach Royal Train with Prince Charles from ?? to Aberystwyth. The next day (12th) the same locomotives returned the empty stock to Wolverton. Both locomotives had been spruced up for the occasion, complete with silver buffers.
25200 visited Derby during December 1980 and January 1981 for N4 repairs.
1981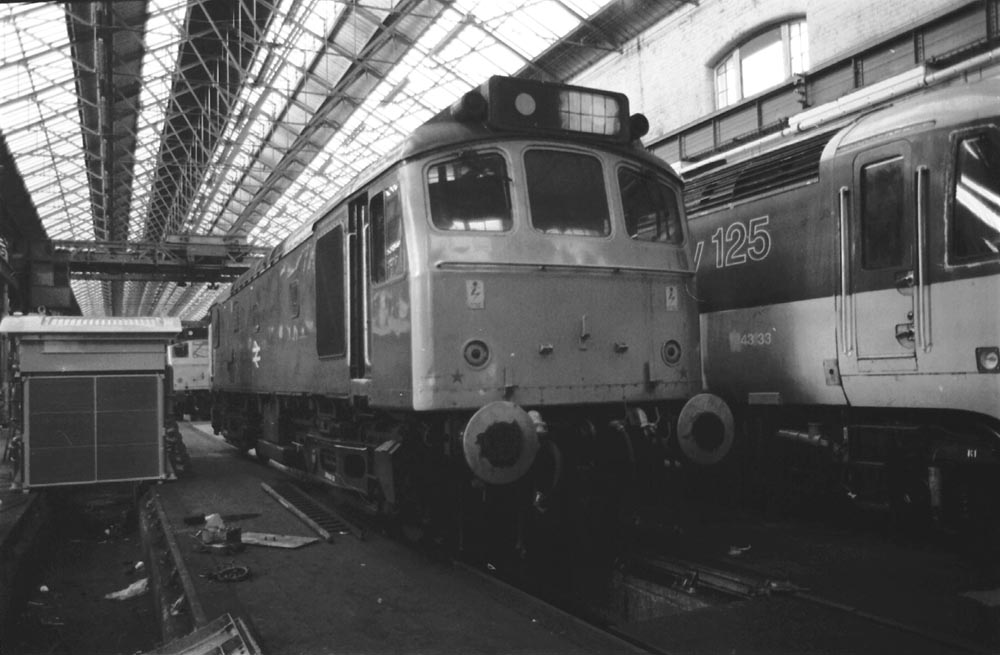 Photograph courtesy Barrie Watkins
25200 in No.8 Shop at Derby Works on January 24th 1981 undergoing N4 repairs. To the right is HST power car 43133.
On February 3rd 25200 was noted at Langley Mill with some Speedlink vans, possibly the Kirby Metal Box trip.
25200 was noted with a short freight at Northwich on June 16th.
At about 04.40am on August 12th 25200 arrived at Holbeck off the E05 job.
Two seaside visits were made by 25200 at the end of May & beginning of June. On May 30th it was off to Yarmouth (well at least to Norwich and back!) with 25182. The next day (May 31st) it was a round trip Leicester - Skegness, still with 25182. And finally on June 6th it was back on the Derby - Yarmouth service with 25215, however the Type 2s got no further than Nottingham where they were failed and replaced by 47334. At about 3.30pm on June 16th 25200 with a brake van were noted at Warrington, later in the day 25200 worked the Ince & Elton - Warrington UKF fertiliser.
On November 6th 25200 & 25201 worked the Leith South - Heysham Harbour pipe train. 25200 returned north with the empty flats, at least as far as Carlisle.
On the afternoon of December 17th 25200 & 25218 were stabled at York.
1982
On a damp January 29th 25200 was eastbound at Guide Bridge with a freight.
25200 was stabled at Cockshute on February 20th.
25200 was noted at Follingsby freightliner terminal on May 17th.
At the beginning of the summer season 25200 made several trips over the Cambrian lines. On June 5th it was coupled to 25048 to work the 07.40 Euston - Aberystwyth forward from Wolverhampton. The return journey to Shrewsbury was marred by the failure of 25048 before the climb to Talerddig. The following weekend (12th) it was joined with 25154 to work the 10.10 Euston - Aberystwyth from Shrewsbury returning with the 16.05 to Shrewsbury. The next day the same pair worked the 08.45 Birmingham New Street - Aberystwyth forward from Shrewsbury and covering a round trip Aberystwyth - Machynlleth service before heading back east with the 18.15 Aberystwyth - Euston as far as Wolverhampton.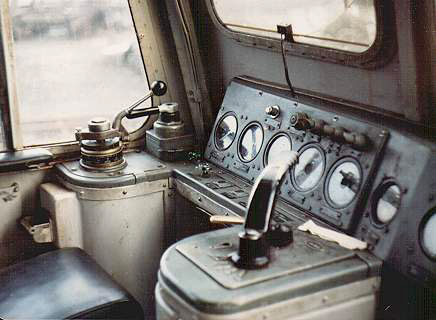 Photograph courtesy Mr B.
The driver's desk and controls of 25200.
25200 was at Derby Works from September 1982 to January 1983 for collision repairs.
1983
25200 was noted passing through Luton light engine on April 14th. 25200 was stabled at Cricklewood on April 24th.
It was railtour duty for 25200 & 25086 on a damp May 14th with the 'Amlwch Pioneer' which had started from Euston and utilised the Class 25s between Rock Ferry & Wolverhampton.
On June 21st 25200 was noted at Bedford with an inspection saloon.
25200 was noted through Leighton with 6M86 cement empties for Tring having run round at Bletchley en route from Kings Cross goods on July 25th.
On August 14th 25200 & 25193 were busy between Rugby & Bletchley assisting three services around engineering work which required the power to be off.
It was another visit to the Cambrian lines on September 3rd with 25200 & 25212 working the 10.10 Euston - Aberystwyth forward from Birmingham New Street. They returned eastward with 17.15 Aberystwyth - Manchester Piccadilly as far as Crewe, the train being extended due to late running.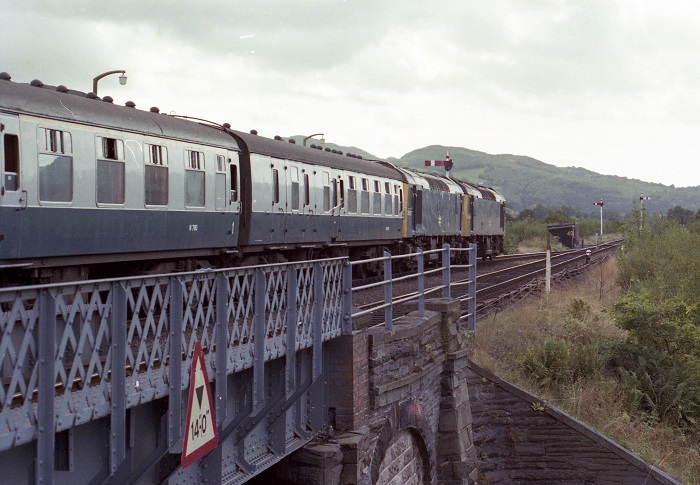 Photograph courtesy John Turner (via RG)
25200 & 25212 wait at Machynlleth on September 3rd 1983 for the arrival of a late running Aberystwyth - Wolverhampton service with 25234 & 25119.
On December 20th power was off on the WCML in the Watford area, 25200 was used to assist the 22.10 Euston - Fort William service to Rugby (?).
1984
During March 25200 was at Derby Works for N6 repairs.
On March 29th 25200 worked a five coach York - Derby empty coaching stock movement.
25200 was stabled at Warrington Arpley on April 21st.
May 19th found 25200 visiting Parkeston on the early morning passenger from Wolverhampton, having replaced a failed Class 31 at Nuneaton, it returned west on the booked Harwich - Peterborough passenger service.
Preston continued to see Class 25s on passenger duty, the 16.20 Glasgow to Liverpool on Fridays produced 25200 on May 18th.
On June 21st 25200 & 25195 worked a Oakamoor - St Helens sand train. On June 22nd 25200 assisted a late evening Altrincham - Crewe electric multiple unit service from Sandbach to Crewe, due to the power being off.
25200 was noted shunting at Carnforth North sidings on July 17th.
The failure of 40143 on August 20th's 09.13 Carnforth - Liverpool allowed 25200 to fill in.
25200 & 31102 were noted light engines passing Rugby on September 22nd.
25200 & 25057 were noted at Cwmbran with a very lengthy 6S78 18.10 Severn Tunnel - Mossend freight on September 26th.
The failure of a diesel multiple unit on November 19th's 07.45 Blackpool North - Manchester Victoria was covered by 25200. Three days later (22nd) whilst in charge of the morning Bangor - Bletchley vans 25200 became a total failure on the Northampton line south of Rugby. A following diverted Liverpool – Euston service pushed the failure to Watford Lodge loop, rescue eventually coming in the shape of 31178.
Two further rescues occurred during December, on 15th the 08.40 Euston - Wolverhampton with 81002 failed at Leighton Buzzard, 25200 worked the train forward to Bletchley. And on December 21st a Class 47 expired on the 20.00 Cardiff - Crewe at Craven Arms, 25200 & 25145 took the service forward to Crewe.
1985
When an afternoon Preston - Barrow diesel multiple unit failed before departure on January 25th 25200 was ready to work the service to Barrow. 25200 was stabled at Preston on January 30th (three piece miniature snow plough equipped).
On February 7th 25200 was noted arriving at Crewe with a Class 304 electric multiple unit. On a snowy February 10th 25200 was noted light engine at Northampton.
On March 9th 25200 assisted an afternoon Hadfield - Manchester Piccadilly service forward from Guide Bridge.
On March 21st 25196 & 25200 set out with the Severn Tunnel Junction - Mossend freight.
25200 (with snowploughs) was noted northbound at Saltley hauling a rake of coal wagons on April 12th.
25200 & 25191 were noted on May 19th northbound at Preston with the 6S51 06.50 Stanlow Refinery - Bishopbriggs Oil Terminal bogie tankers.
25200 (with snowploughs) & 25051 worked the 6H33 12.08 Carterhouse Junction - Earles Sidings cement empties on May 29th.
Early morning travellers on June 2nd had the delights of 25200 on the 04.31 Crewe - Preston relief.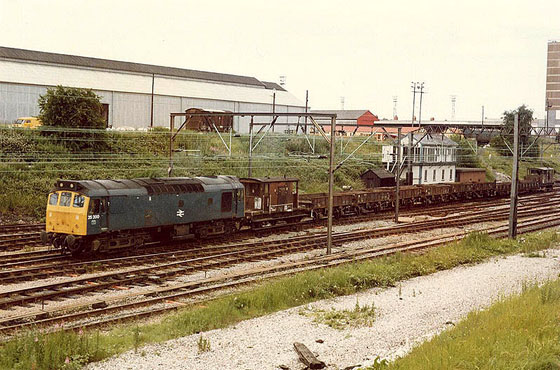 Photograph courtesy Paul Bettany.
25200 at Crewe on July 14th 1985.
25213 & 25200 were noted departing Tyne Yard for Carlisle on July 11th. On July 12th 25200 was at Tamworth with a lengthy parcels train. 25276 & 25200 (no snowploughs) started out a Severn Tunnel Junction to Mossend Speedlink on July 24th. On July 30th 25095 & 25200 were stabled in the goods loop at Stalybridge, with a westbound (empties) bogie oil tanker train.
On August 3rd 1985 Hertfordshire Railtours ran Maxwell's Silver Hammer railtour out of Euston to the Maxwelltown/Dumfries area. From Euston to Wigan North Western 85035 was in charge, at Wigan 20104 & 20090 took over, running via Clitheroe and the S&C to Carlisle. Here 25286 & 25200 were waiting to work to Dumfries, where the train was Top'N'Tailed to Maxwelltown by the Class 25s. Then it was back to Carlisle for the same Class 20's to return to Wigan via the WCML, with 85035 doing the honours back to Euston. Two days later (August 5th) 25200 assisted the 13.45 Lancaster - Carlisle diesel multiple unit forward from Barrow after it got into difficulties.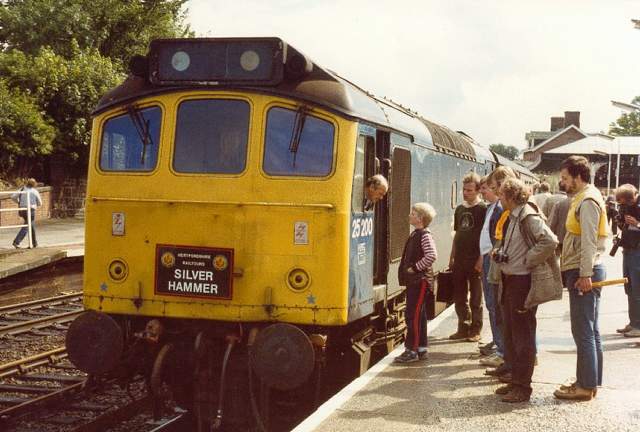 Photograph courtesy Nick Ross.
25200 & 25286 on railtour duty at Dumfries on August 3rd 1985.
On August 7th 25200 & 25095 worked an Oakamoor - St Helens sandtrain.
25200 was stabled at Birkenhead on August 26th.
When 47453 failed at Chester on September 3rd's 10.10 Holyhead - Euston 25200 & 25176 worked the train forward to Crewe, this pair were later noted on a Ravenscraig - Llanwern coil train. On September 11th the empty coaching stock from the 10.05 Newquay - Newcastle was taken across to Carlisle by 25200 as the 21.15 Newcastle - Euston Down Side CS, an electric taking over at Carlisle. On September 13th 25200 & 25190 were noted at Warrington Bank Quay with a Stanlow - Bishopbriggs? oil train. On September 18th 25200 was eastbound at Chester with a freight. On September 19th 25200 & 25191 worked the 6S51 06.50 Stanlow Refinery - Bishopbriggs Oil Terminal. A regular evening Newcastle – Carlisle – Euston empty coaching stock working frequently used Class 25s, 25200 so noted on September 21st.
25200 was noted at Severn Tunnel Junction on October 23rd.
Date uncertain in 1985: whilst working a Lackenby - Etruria steel train with 25199, 25200 caught fire in the Stoke area, rescue coming in the shape of 47357. It was possibly this incident that saw the withdrawal of 25200.
The TOP's report indicated 25200 was stopped for the final time on October 31st 1985 with 39 hours due before its next 'A' exam, but was overdue its next 'E' exam by 1,736 hours (about two months). It was moved to Derby Works being noted there during December.
1986
Whilst in the Works an investigation revealed extensive power unit damage, making repairs uneconomic and withdrawal occurred in February. However 25200 would surrender its bogies to 25190 which was possibly the last working example to visit Derby Works.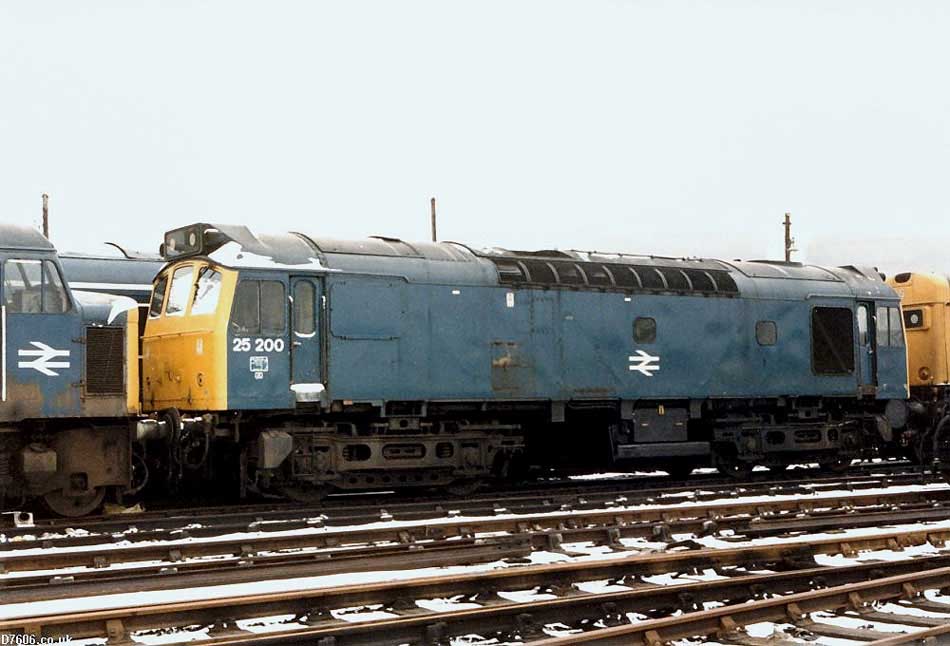 Photograph courtesy Ian Hammond
25200 at Derby Locomotive Works on February 15th 1986, it had been withdrawn for less than a week, but had been out of service for at least four months.
1987
Derby Works finally lost its connection with the Type 2s (after almost 30 years) when 25200 was towed away, with other locomotives to Vic Berry's on the morning of January 19th. The convoy consisted of 25200, 40075, 45057, 45117, leaving Derby on January 19th and reaching Vic Berry's Yard on January 27th, - 47199 was used to haul the dead locomotives.
By February 1987 25200 had been broken up.
45/3422
flk 1121
Page added May 5th 2006.
Last updated September 15th 2022.
Back to 25199
Forward to 25201