| | | | | | |
| --- | --- | --- | --- | --- | --- |
| Load | Speed | Amps | Volts | Notes | Other |
| 1 | 29 | 800 | - | - | - |
Radiator levels unbalanced B side low
Engine governor leak
AWS to seal
?? plates on B side crankcase - leaks
?? shed socket cover to fit
Underbody floor patch to paint RHS
No.2 controller issue
No.1 cab 2nd man's door keeps opening
Oil pressure low on top 45
Fuel bypass valves issue
No.3 Bicera valve.
The 17.33 Preston - Barrow was worked by 25199 & 25139 on July 19th. On the afternoon of July 29th 25199 was noted at Liverpool Lime Street with a permanent way train.
25199 was noted eastbound at New Mills Central on the afternoon of August 16th with ICI limestone empties for Tunstead.
1980
25199 was noted at Manchester Victoria on February 10th. 25199 was noted at Peak Forest on February 19th working a train of loaded ICI wagons. The next day (20th) 25199 was noted passing Northenden with a mixed freight.
The last week of June had seen a continuing shortage of diesel multiple units in the Liverpool area, leading to a number of locomotive hauled trains substituting. Class 25s took over the 01.23 Stafford – Liverpool Lime Street and the following 06.30 to Manchester Victoria. Noted were 25325 (22nd), 25186 (23rd), 25172 (24th) and 25199 (25th), each from a different depot!
On the afternoon of August 5th 25199 was stabled at York.
1981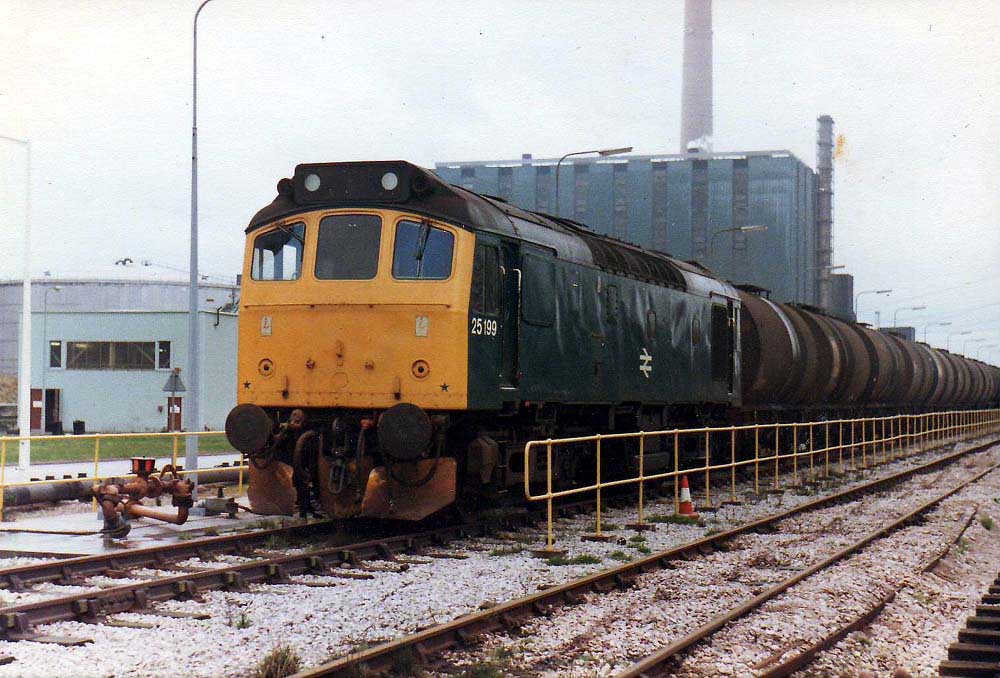 Photograph courtesy Dave Smith.
An overcast February 5th 1981 finds 25199 in charge of the oil tanks at Rugeley power station.
The 01.50 Crewe - Cardiff was worked by 25199 & 25042 on February 15th.
On the afternoon of May 1st 25199 & 25185 were noted at Crewe on up tanks.
On August 1st 25199 & 25073 worked the 07.40 Euston - Aberystwyth from Wolverhampton, returning with the 16.05 Aberystwyth - Birmingham New Street to Shrewsbury, 25199 failed at Shrewsbury and was removed.
The 03.54 Ditton – Broughton Lane, Sheffield BOC tanks featured 25199 & 40118 on August 11th.
1982
On April 24th a St. Pancras - Bewdley day excursion was worked roundtrip from Birmingham New Street - Bewdley by 25199 & 25050. On August 7th 1982 25199 & 25219 worked the 07.40 Euston - Aberystwyth from Wolverhampton returning with the 14.00 Aberystwyth - Shrewsbury.
On October 23rd 25187 was noted hauling 47207, 25199 and another Class 25 at Beeston Castle & Tarporley headed towards Crewe.
On November 26th 25199 was noted eastbound through Manchester Victoria with a mixed freight including mineral wagons & ICI tankers.
1983
25199 was noted at Springs Branch on May 15th. The 16.20 Glasgow Central - Liverpool was worked forward from Preston on May 19th by 25199.
The 'Ffestiniog Pullman' railtour on June 26th saw the roundtrip Llandudno Junction - Blaenau Ffestiniog segment worked by 25199 & 25276.
25199 was noted at Llandudno Junction on July 8th. On July 28th 25199 & 25083 worked a roundtrip Derby - Aberystwyth day excursion for a total of 408 miles.
On August 3rd 25199 was noted at Rock Ferry with the 6E93 Birkenhead Docks - Whitemore Yard freight, including five wagons of fertiliser.
September 18th found Severn Tunnel Junction depot using two Class 25s on local workings, 25199 on the morning local to Hereford and 25084 to Gloucester. 25199 was stabled at Shrewsbury on September 24th.
Overhead line damage on December 20th/21st 1983 saw 25199 & 25236 assist two WCML workings, the 20th's 23.35 Euston - Glasgow Central and the 21st's 06.00 Wolverhampton - Euston were both assisted between Rugby & Euston.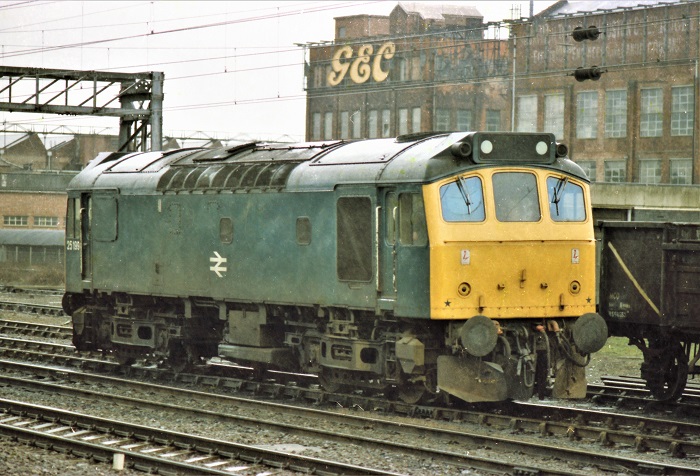 Photograph courtesy Martin Margerrison.
25199 at Rugby, date unknown. Behind the locomotive is the former AEI Works, now with GEC branding.
1984
Class 25s were still frequent visitors to Parkeston, often heading back to the LMR on the evening Parkeston – Ditton working, so noted were 25199 & 25231 on February 8th.
25199 was noted passing Cwmbran with an engineers train on May 29th.
25199 & 86209 were noted with an unidentified Euston bound service passing Soulbury on June 8th. 25199 was noted light engine at Bedford on June 21st.
Cambrian metals were visited by 25199 & 25109 on July 14th, working the 07.35 Euston - Aberystwyth from Wolverhampton, returning with the 14.00 Aberystwyth - Shrewsbury.
A visit to Derby Works in the last week of August found only one Class 25 under repair, 25199 in for rectification work.
25199 was noted at Stafford on September 16th with a permanent way train. A diesel multiple unit failure on September 18th saw 25199 assist the 08.10 Crewe - Derby throughout. 25237 & 25199 were noted passing Chester light engines on September 29th.
With both Classes 25 & 40 slowly succumbing to withdrawal the infamous Ditton – Broughton Lane BOC working saw a number of trials involving Classes 37, 47 & 56 during late September/early October. However October 8th found the working behind 25199 & 40194, which on returning to Speke took out a Halewood – Dagenham car train as far as Crewe. On October 24th the 13.55 Blackpool North - Manchester Victoria was worked forward from Preston after the Class 47 failed.
25199 was the Manchester Victoria pilot on November 5th & 7th. The 08.47 Holyhead - Newcastle on November 8th was worked from Manchester Victoria to Leeds, a Class 45/1 taking over at Leeds.
1985
On the morning of January 6th 58008 took 47444, 25199 & 25256 from Bescot to Speke. The Class 25s were dropped off at Speke whilst 47444 was taken to Crewe.
25199 was noted at Manchester Victoria and Ashburys on March 8th.
25199 and a train of loaded cartics was noted at Dudding Hill Junction on the Cricklewood to Acton freight only line on July 5th.
The latter half of 1985 produced a batch of passenger workings. On July 7th 25199 worked a Derby - Skegness roundtrip. Ten days later on July 17th 25199 handled the 18.15 Glasgow Central - Manchester Victoria forward from Preston but failed at Leyland, 47129 took the train forward.
On August 9th 25199 was noted at Crewe station. 25199 was north of the border on August 26th working the 15.45 Glasgow Central - Carlisle.
Late September found 25199 in service on a variety of Sottish Region turns. On September 20th 25199 worked the 16.56 Carstairs - Edinburgh (portion off the 07.17 Harwich - Glasgow) after the booked Class 47 was failed. Later the same day (20th) 25199 worked the 17.55 Edinburgh - Dunbar and 18.42 return. The next day (21st) 25199 worked an Edinburgh - Dunblane service following the failure of a diesel multiple unit. On September 24th 25199 was noted at Carstairs. The next day (25th) 25199 worked the 13.05 Carstairs - Edinburgh (portion off the 09.27 Liverpool - Glasgow) and followed up with the 16.10 Edinburgh - Carstairs (portion for 16.15 Glasgow - Liverpool).
On October 10th 25199 & 25213 were noted northbound through Warrington Bank Quay with a sand train (?). On October 15th 25199 was noted at Ashburys.
On November 16th 25199 & 25316 worked the 18.05 Euston - Barrow forward from Preston.
1986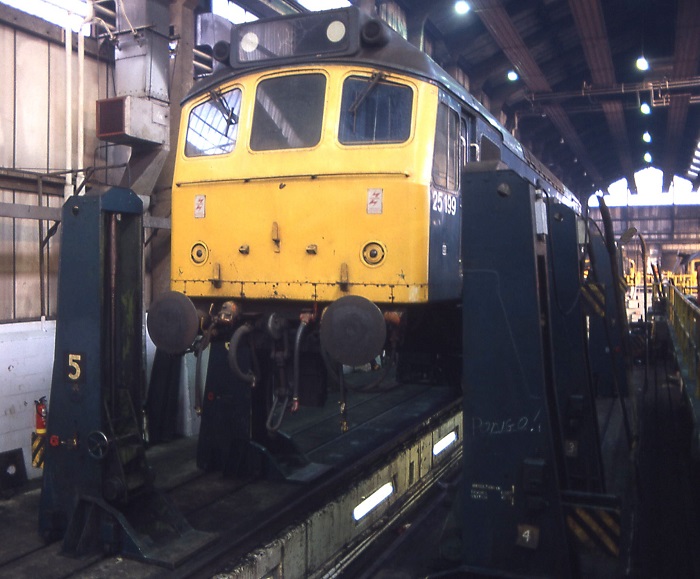 Photograph courtesy Steve Morris.
25199 recieving attention at Cardiff Canton on February 10th 1986.
25199 was noted at Bidston with loaded ballast hoppers on March 23rd.
On April 3rd 25199 & 25190 were noted eastbound at Mirfield with at least twelve bogie oil tankers, possibly the Stanlow - Hunslet East.
25199 worked the 3V20 15.10 Manchester - Bristol Temple Meads four vehicle parcels on May 6th. 25199 was noted at Stockport on May 21st.
25199 was noted eastbound at Manchester Victoria with mineral wagons on June 27th.
On July 2nd 25199 worked the 16.20 Manchester Victoria - Blackpool North and the 18.15 Blackpool North - Manchester Victoria.
On August 8th the 06.30 Wolverhampton - Shrewsbury, 16.15 Shrewsbury - Crewe and the 17.18 Crewe - Shrewsbury were handled by 25199 with hauled stock.
25199 was noted northbound at Findern on September 18th with seven diesel multiple unit vehicles.
25199 was stabled at Cockshute on October 11th. With 40046 recently moved from the MOD at Moreton on Lugg, a replacement machine was required for their exercises. This arrived in the shape of 47403 on October 13th, the locomotive brought from Bescot to Hereford two days earlier by 25199. On October 15th 25059 & 25199 were noted double headed at Stoke on Trent.
25199 was stabled at Saltley on November 1st.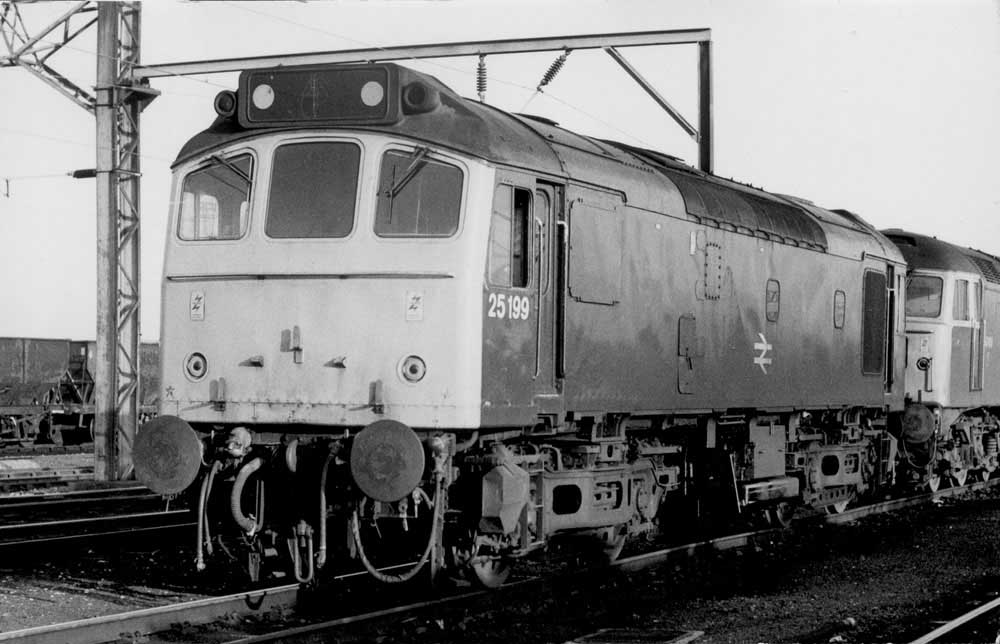 Photograph collection of webmaster.
25199 at Speke Junction, date unknown.
1987
On January 12th 1987 the 05.51 Wolverhampton - Harwich P.Q. failed at Manton Junction behind 47490, 25199 (or was it 25201??) dragged the train to March, with 31420 taking the train forward. January 16th's 19.05 Warrington - Healey Mills freight had been booked for 47109 which failed prior to departure, as did its replacement 25199. 25903 & 25904 would eventually work the freight. 25199 was noted at Gloucester depot on January 17th. On January 19th 25199 was busy on a freight to Aberystwyth.
25199 was noted passing the site of Bushbury shed and sidings with an up permanent way engineer's train on February 1st. The next day (2nd) 25199 worked the 01.00 Stanlow - Aberyswyth short wheelbase oil tanks.
25199 was withdrawn on February 9th 1987.
At least one cabside number panel escaped scrapping.
Distinguishing Features
Non BIS side: boiler room blanking plate has scrape along length of panel: December 1982 - September 1985.
Three-piece miniature snowploughs fitted: March 1979 (black) - February 1980, April 1981, November 1982, December 1982.
Not all known passenger workings are recorded on this page.
45/3122
flk 0317 (not all) (1)
Page added September 1st 2013.
Last updated July 21st 2022.
Back to 25198
Forward to 25200