D7553, 7553, 25203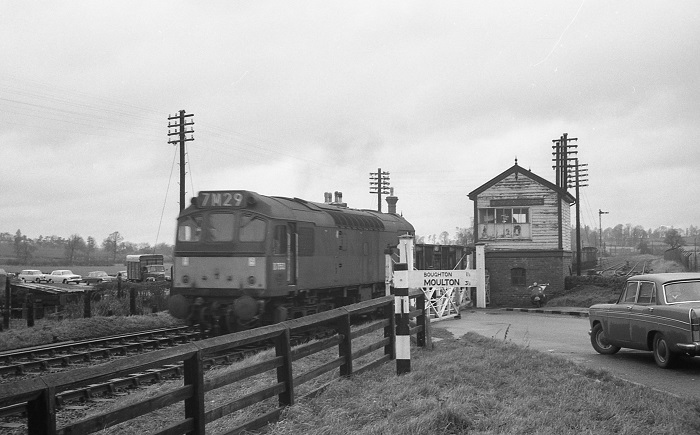 Photograph courtesy John Bates.
D7553 with a southbound freight passes Boughton Crossing on the Market Harborough - Northampton line on December 18th 1965. This line has long since closed, though the track at the southern end of Northampton & Lamport Railway ends somewhere in the vicinity of the brakevan. Elsewhere much of this route is retained as a footpath.
The fifteen year five month career of D7553/25203 was spent allocated to a handful of London Midland depots.
Built: BR Derby Locomotive Works.
Dual brake equipped (1974).
Time between last Classified repair and withdrawal: 36 months.
Time between withdrawal & scrapping: 15 months.
Allocations
D7553 was new to the Nottingham Division (D16) on June 26th 1965. Further transfers were:
October 1967 to Carlisle (12A).
July 1968 to Preston Division (D10).
May 1973 to Kingmoor (KM).
January 1975 to Kingmoor (KD).
January 1976 to Cricklewood.
November 15th 1980 to unserviceable store at Swindon Works.
Withdrawn December 1st 1980.
Renumbered February 26th 1974.
25203 was the 79th Class 25 withdrawn, one of seventeen retired during December 1980.
After withdrawal 25203 was broken up at Swindon Works by the first week of March 1982.
Works Visits
Works visits (records incomplete).
Noted Crewe Works January 1969.
Noted Derby Works October 1970.
Noted Derby Works June 1974 (dual brakes fitted).
Noted Derby Works May 1976.
Noted Derby Works August - December 1977 (collision repairs).
Noted Derby Works December 1978.
Highlights
1965
D7553 was barely a month old when it worked its first recorded passenger working, On July 23rd 1965 D7553 & D5243 worked the 12.12 Sheffield - St. Pancras throughout.
1976
On July 17th 25203 & 25222 worked a roundtrip Leicester - Skegness.
Six weeks later on August 28th 25203 & 25204 worked a Wellingborough - Scarborough to Nottingham, returning with the 12.01 Scarborough - Leicester from Nottingham. The next day (29th) the same pair worked a relief Leicester - Skegness roundtrip.
1977
Late on the evening of July 7th the Euston carriage pilot, 25203, over-ran a signal derailing itself and three vans. As well as suffering cab damage it severed signal cables and electrical lines causing a blackout at Euston station. Principal delays were caused to the sleeper services, next morning six platforms were useable, by midday normal working had resumed. For the London Division it was one more machine out of service, making the use of visiting Class 25s all the more common on local workings.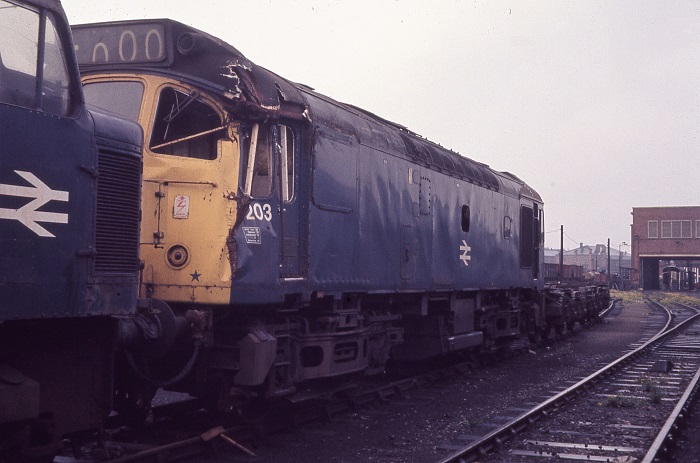 25203 awaits in the Derby Works deadlines east of the Test House, September 10th, 1977 with minor cab damage sustained at Euston on July 7th 1977.
1979
On July 21st 25203 & 25032 worked the Derby - Norwich - Yarmouth - Norwich - Walsall diagram. A week later on July 28th 25203 worked the 10.40 Manchester Victoria - Llandudno Town.
25053 & 25203 top and tailed an electrification train at West Hampstead on August 28th.
Photograph courtesy Roger Geach.
25203 with an electrification train north of Elstree on August 28th 1979.
1980
On March 7th 25203 & 25095 were noted passing Wolverton with a freight. On March 16th 25203 & 25251 were noted at Bedford on a Sunday engineers train.
25203's last year in service saw passenger workings on two days. On July 26th 25203 worked the 08.42 Sheffield - Huddersfield (to connect with the 08.55 York - Llandudno Town) and later worked the 09.00 Llandudno Town - York forward from Huddersfield after 40030 failed. The final passenger workings took place August 23rd when 25203 & 25267 worked the Walsall - Norwich (for Yarmouth) - Derby diagram.
25203 was withdrawn on December 1st 1980.
A cabside number panel with TOPS classification panel escaped scrapping.
Passenger workings courtesy Alan Baylis (www.class25.info)
Not all known passenger workings are recorded on this page.
16/1532
flk 0917 (partial) (1)
Page added June 2nd 2013.
Last updated February 1st 2020.