D7554, 7554, 25204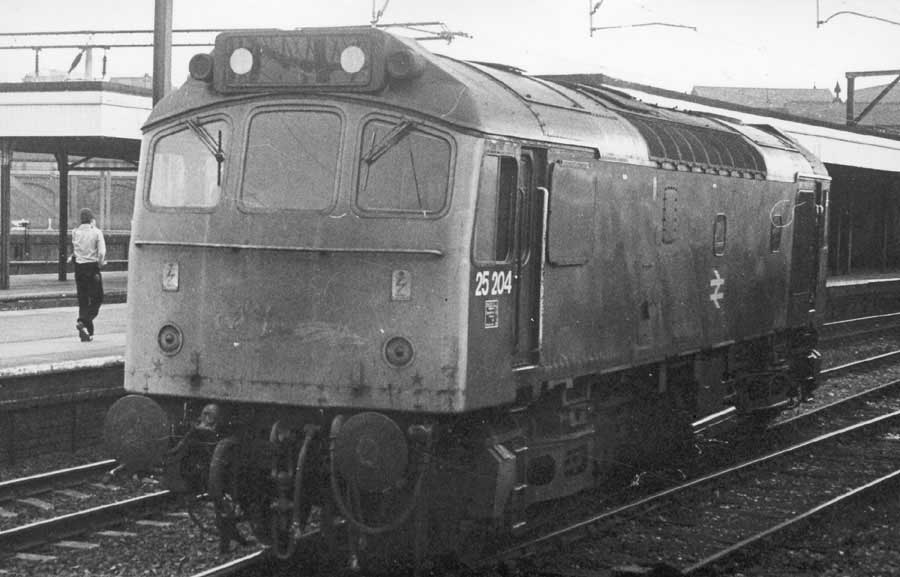 Photograph collection of webmaster.
25204 at Stockport on September 16th 1978 about to take the AC/DC railtour from Stockport to Manchester Piccadilly.
The fifteen year career of D7554/25204 was spent allocated only to London Midland depots.
Built: BR Derby Locomotive Works.
Dual brake equipped (1974).
Center lampbracket & other fittings removed (No.2 cab only)
Time between last Classified repair and withdrawal: 31 months.
Time between withdrawal and scrapping: 4 months
Allocations
D7554 was new to the Nottingham Division (D16) on July 3rd 1965. Further transfers were:
September 1967 to Springs Branch (8F).
November 1967 to Carlisle (12A).
June 1968 to Preston Division (D10).
December 1971 to Willesden (D01).
March 1972 to Liverpool Division (D08).
May 1973 to Springs Branch.
May 1973 to Kingmoor (KM).
January 1975 to Kingmoor (KD).
January 1976 to Cricklewood.
Withdrawn July 6th 1980.
Renumbered May 17th 1974.
25204 was the 33rd Class 25 withdrawn, one of four retired during July 1980.
25204 sustained collision damage circa May 1980 and was stored at Willesden, then Crewe until officially withdrawn. 25204 was moved to Swindon Works by August 14th 1980 and was scrapped there by the middle of October 1980.
25204 00.30 Willesden – Crewe depot June 12th 1980 for spares removal.
25102 & 25204 9X34 00.05 Crewe depot – Swindon Works August 12th – 14th 1980.
Works Visits
Works visits (records incomplete).
Noted Crewe Works December 1969.
Noted Derby Works April & May 1974 (dual brakes fitted).
Noted Derby Works April - October 1977 (collision damage).
Highlights
1968
On the late afternoon of March 23rd D7554 was at Kingmoor.
1971
An Open Day on May 22nd at Carlisle Kingmoor diesel depot featured thirty three locomotives including four Class 25s: 5192, 5283, 7544 & 7554.
1972
7554 was noted at Blackpool North at about 3pm on May 30th, eleven other locomotives were either at the signing-on point or at the station.
On June 23rd a Manchester Victoria - York was worked by 7554 (throughout?)
On July 22nd 7554 & 7566 worked the Derby - Norwich - Yarmouth - Norwich - Derby diagram.
At about 7.30am on September 25th 7554 was noted passing Olive Mount Junction with an up freight.
1974
On the afternoon of February 21st 7554 was light engine at York.
On the afternoon of October 20th 25204 was light engine at Rotherham.
1975
On January 27th 25204 was noted at Manchester Victoria.
On the late afternoon of September 5th 25204 was noted arriving at Exeter stabling point.
1976
25204 & 25203 were together on August 28th working the Wellingborough - Scarborough to Nottingham, returning with the 12.01 Scarborough - Leicester from Nottingham. The next day (29th) the same pair worked the relief 09.38 Leicester - Skegness and return relief.
1977
On the morning of November 3rd 25297 & 25204 were stabled at York.
1978
There was brief railtour duty on September 16th with the 'AC/DC' railtour, with 25204 working the six miles between Stockport & Manchester Piccadilly.
On October 26th 25204 was noted southbound through Newark Castle with ammonia tanks from Immingham. On the morning of October 27th 25204 was stabled at York.
On Tuesday November 7th 25204 worked an additional special freight 08.30 Willesden to Norwood.
1979
On the morning of January 27th the wires were down at Tring, 25181 & 25252 were noted rescuing a 4-car electric multiple unit, 25067 was on a wiring train and 25204 & 25193 were noted light engines at Bourne End having just assisted 86216 with the West Coast Poastal.
The final recorded passenger workings took place on July 16th with 25204 & 25134 working the 08.46 Burton on Trent - Skegness forward from Nottingham and returning with the Skegness - Burton on Trent throughout.
1980
25116 & 25204 were stabled at Bedford on the afternoon of January 13th.
On the afternoon of March 5th 25204 was stabled at York.
On the morning of March 22nd 25204 was stabled at Bletchley. On March 28th 25204 & 25209 were noted southbound at Wolverton with a freight diverted onto the WCML at Nuneaton due to the temporary closure of the Market Harborough - Northampton line because of the shortage of signalmen.
25204 was withdrawn on July 6th 1980.
A cabside panel with number and partial TOPS panel escaped scrapping.
Distinguishing Features
No.2 cabfront: centre lampbracket and other fittings removed: date?? until withdrawn.
Three piece minature snowploughs fitted: December 1976, March 1979.
Not all known passenger workings are recorded on this page.
12/912
flk 0217
Page added June 2nd 2013.
Last updated September 15th 2022.
Back to 25203
Forward to 25205