D7579, 7579, 25229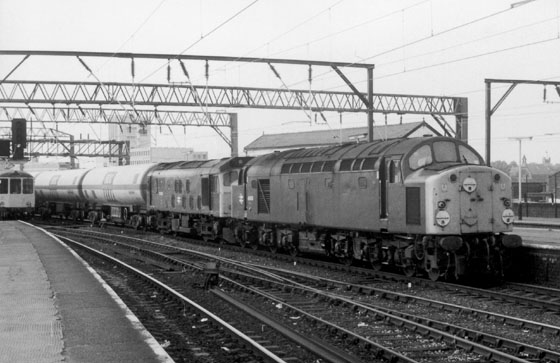 40056 rides shotgun to 25229 at Stockport on May 29th 1984 with the Ditton – Broughton Lane, Sheffield loaded BOC tanks.
The twenty one year five month career of D7579/25229 was split between allocations to London Midland Region & Scottish Region depots.
Built: BR Darlington Locomotive Works.
Boiler equipped.
Dual brake equipped.
Center lampbracket & other fittings removed.
Time between last Classified repair and withdrawal: 77 months.
Time between withdrawal and scrapping: 16 months.
Allocations
D7579 was new to Toton on December 14th 1963. Further transfers were:
January 1964 to Derby (16C).
February 1964 to Toton (16A).
February 1964 to Leicester (15A).
January 1965 to London Midland (Midland) Lines (LMML).
September 1967 to Eastfield (65A).
June 1969 to Haymarket (64B).
February 1970 to Eastfield (65A).
September 1973 to Haymarket.
May 1977 to Inverness.
May 1978 to Eastfield.
September 1982 to Haymarket.
October 1982 to Longsight.
May 1984 to Crewe.
Withdrawn May 12th 1985.
Renumbered April 1974.
25229 was the 244th Class 25 withdrawn.
After withdrawal 25229 was stored at Crewe Gresty Lane from October 1985 until January 24th 1986 when it moved (see details below) to Doncaster Works, being scrapped there by the middle of September 1986.
25054, 25229 & 25256 10.20am Crewe Gresty Lane – Doncaster Works 9Z38 January 24th 1986.
Works Visits
Works visits (records incomplete).
Noted Doncaster Works June 1964.
Noted Derby Works July 1965.
Noted Derby Works July 1967.
Noted Derby Works November 1969 & January 1970.
Noted Glasgow Works March 1974.
Noted Glasgow Works August 1977.
Noted Glasgow Works June 1978.
Noted Glasgow Works December 1978 (Classified).
Highlights
1965
Condition no month: green livery with small yellow warning panels, curved upper corners, panel does not cover frame level stripe, blanking plates fitted, hand/footholds present, straight sided sandboxes, three-rung bogie mounted footsteps.
1969
January 22nd found 7579 shunting vans at the south end of Ayr station, at some point the rear vehicle POS M798W became derailed, fouling the mainline, being immediately struck by the 7.03 Girvan - Glasgow, both vehicles being badly damaged.
D7579/25229 was allocated to Scottish Region depots for just over fifteen years, resulting in quite a selection of passenger workings hauled over the Scottish network. The first passenger working so far recorded for 7579 took place on February 8th 1969 working the 16.15 Fort William - Kings Cross between Glasgow Queen Street & Edinburgh.
1970
Condition July: blue/yellow livery, gangway doors sheeted over, blanking plates fitted, hand/footholds plated over, straight sided sandboxes, three-rung bogie mounted footsteps, lamp bracket & other fitting removed from the central cabfront (both cabs).
1971
As June 1971 came to a close bad news was received concerning the Edinburgh - Glasgow high speed service. The high speed running of these services, day in, day out was taking its toll on the Class 27s, now suffering from vibration affecting the motor windings. Repairs were being undertaken but Class 37s and more recently Class 25s were substituting, with 7579 so noted on June 26th. By mid July the Class 37s were temporarily removed from these services leaving the Class 25s as the regular substitutes.
1976
25229 would regularly work the Glasgow/Edinburgh services to Dundee, Aberdeen & Inverness as well as frequent short trips over the Edinburgh - Carstairs line. On March 20th 25229 & 25234 worked the 13.10 Edinburgh - Inverness. On March 28th 25229 was stabled at Millerhill.
A short working covered by Haymarket locomotives was the Edinburgh - Berwick service, on April 20th the 17.10 Edinburgh - Berwick was worked by 25229 after the booked 24124 was failed and removed.
1977
Whilst working empty coaching stock at Edinburgh Waverley, 25229 failed on the morning of January 13th, causing minor delays to several services.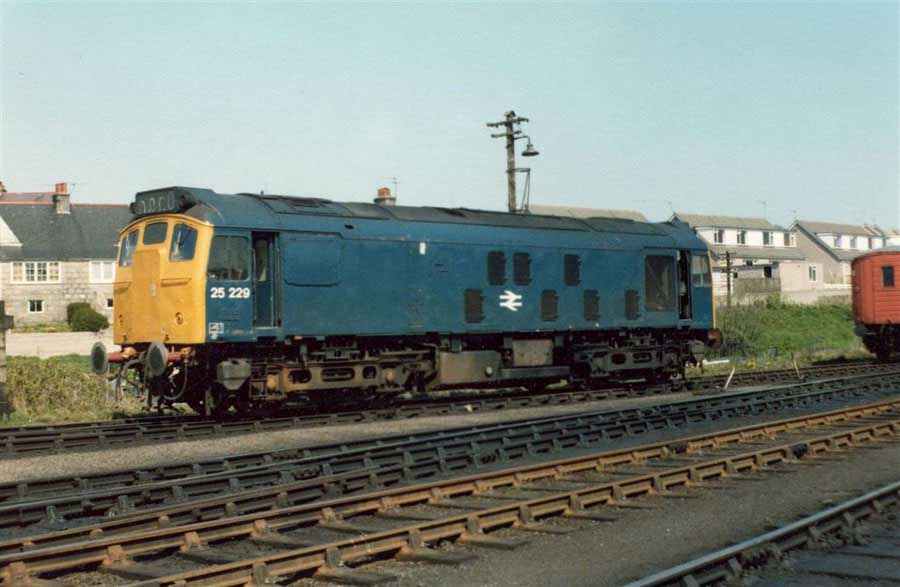 Photograph courtesy Mike Cooper
25229 at Aberdeen Ferryhill during the summer of 1977.
1978
March 30th saw 25229 bring twelve bogie rotary iron ore tippler wagons from Mossend to Ardrossan Harbour, prior to testing the new equipment at the Hunterston ore terminal.
On October 14th 25229 & 26034 worked the 14.35 Aberdeen - Edinburgh.
1979
On July 23rd 25229 was noted at Perth with passenger stock.
Another typical short working was the 04.20 Mossend Yard - Cowlairs Junction (for Glasgow Queen Street), being the portion off the 1S07 Euston - Inverness, worked by 25229 on August 28th.
1980
On April 7th the 16.44 Inverness - Edinburgh was worked by 25229 & 26038.
The 08.10 Glasgow Queen Street - Scarborough and 15.15 return were worked roundtrip between Glasgow Queen Street & Edinburgh by 25229 on May 24th. 25229 was noted with passenger stock at Edinburgh Waverley on May 27th.
25229 and a Divisional Manager's Saloon passed through Crianlarich on August 25th.
1981
On February 26th 25229 & 25064 worked the 22.35 Euston - Perth forward from Mossend Yard, the next day (27th) the same pair worked the 10.14 Perth - Motherwell.
On June 24th 25229 was noted light engine at Dundee.
Condition July: noted with ridge sided sandboxes.
1982
The 14.10 Edinburgh - Manchester was worked to Carstairs by 25229 on January 23rd.
The last week of March 1982 provided a window on the various local services worked by 25229. On March 24th 25229 worked the 13.39 Dundee - Glasgow Queen Street, the 25th's 05.55 Stirling - Edinburgh, the 10.44 Glasgow Queen Street - Dundee, the 13.39 Dundee - Glasgow Queen Street, the 27th's 11.05 Perth - Edinburgh, the 28th's 11.05 Perth - Edinburgh, the 30th's 11.05 Perth - Edinburgh, the 12.51 Edinburgh - Perth, the 17.12 Perth - Arbroath, the 18.33 Arbroath - Dundee and finally the 31st's 11.05 Perth - Edinburgh.
On April 25th 25229 was stabled at Eastfield.
On June 5th 25229 was stabled at Eastfield. On June 10th 25229 was noted light engine at Perth.
An 'E' exam was carried out by Eastfield depot on 25229 during July.
On August 18th the 08.35 Glasgow Central - Stranraer Harbour was worked by 25229. On August 23rd 25229 was noted at Forres with a northbound coal train. On August 30th 25229 was stabled at Eastfield.
During October 1982 25229 was transferred to Longsight, ending its long fifteen year connection with Scottish depots.
1983
A diesel multiple unit failure on January 23rd led to 25229 working the 09.35 Leeds - Manchester Victoria.
25229 was stabled at Bristol Bath Road on February 15th.
25229 was noted at Manchester Victoria on March 30th.
On May 7th 25229 was noted coupled to 08018 passing Warrington Bank Quay station. On May 12th 25229 was noted passing Wigan Springs Branch on a trip freight. On May 15th 25173 & 25229 were noted arriving arrive at Aintree Sefton Arms with twelve loaded bogie ballast hoppers. On May 17th 25223 was northbound at Preston with short wheelbase tankers. 25229 was the Manchester Victoria pilot on a very wet May 30th.
On June 11th 25229 & 25117 were noted bringing sand hoppers into Knottingley.
The late summer of 1983 produced a mix of passenger workings. On July 30th 25229 & 25181 worked the 10.10 Euston - Aberystwyth from Birmingham New Street, on the return 17.15 Aberystwyth - Shrewsbury saw 25181 fail, it was subsequently restarted at Machynlleth but failed again shortly afterwards, 25229 failed at Caersws with both locomotives dragged by 47226.
On August 5th 25229 was noted passing through Preston light engine. On August 6th 25229 & 25302 were stabled at Rugby station, the next day (7th) engineering work saw 25229 & 25302 assist the 19.30 Inverness - Euston between Rugby & Bletchley. On August 13th 25229 & 25181 return to the Cambrian line, working the 07.44 Shrewsbury - Aberystwyth and the 10.10 Aberystwyth - Euston, unfortunately 25229 got no further than Machynlleth before failing, however 25181 saved the day and dragged everything at least to Shrewsbury. The next weekend (August 20th) 25229 was back on Cambrian metals now with 25234 working the 10.10 Euston - Aberystwyth from Birmingham New Street and returning with the 17.15 Aberystwyth - Shrewsbury without any issues. 25229's next visit on these services was not good - on September 3rd 25229 & 25076 worked the 07.35 Euston - Aberystwyth from Wolverhampton to Sutton Bridge Junction, where both were removed after 25229 failed. This was the last recorded passenger working for 25229 on the Aberystwyth services!
September 13th was a busy day for 25229. It began with the 12.20 Derby - Crewe with hauled stock, returning with the 14.20 Crewe - Cleethorpes to Nottingham. The next leg, still with hauled stock was the 17.20 Nottingham - Birmingham New Street followed by the 20.18 Birmingham New Street - Leicester and finally the 22.55 Leicester - Derby.
1984
25229 was stabled at Saltley on February 9th, the locomotive was fitted with three-piece miniature snowploughs.
25229 was noted at Stockport on March 4th.
On May 5th 25229 was stabled at Cricklewood. 25161 & 25229 were noted at Maghull on May 27th with a lengthy set of empty track wagons, returning from engineering work between Maghull & Ormskirk.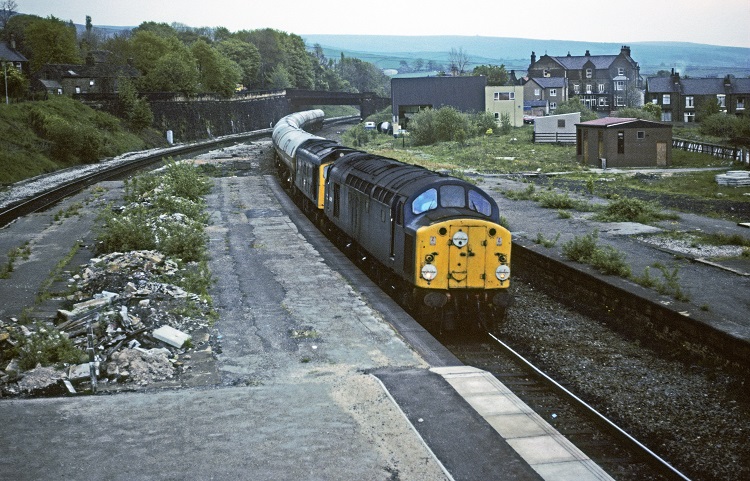 Photograph courtesy Roger Geach
In contrast to the eastbound BOC working shown at the top of this page, the westbound empties pass Chinley with 40056 & 25229 on May 29th 1984.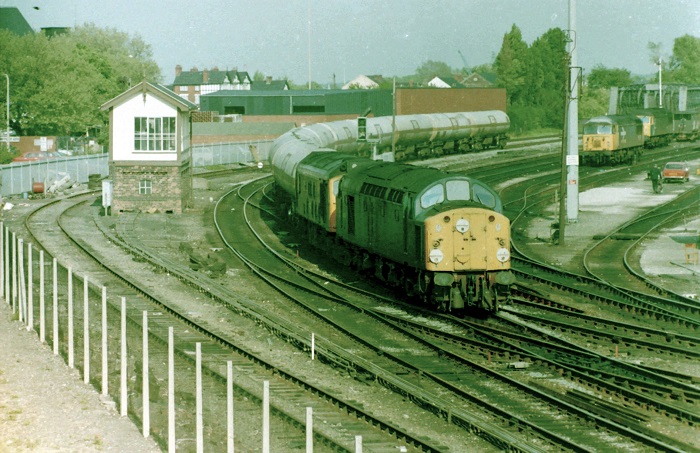 Photograph courtesy Steve Rickett.
Another view of the westbound BOC working shown above, now seen passing through Warrington on May 29th 1984.
25229 was stabled at Garston Holding sidings on the evening of May 29th, three-piece miniature snowploughs were fitted.
On June 17th?? heavy rain and storms found electric multiple unit 310054 hit by lightning near Bletchley, damaging the pantograph. A following service pushed the unit into Bletchley, however this coupled with the heavy rain and numerous track circuit failures disrupted the WCML timetable for the rest of the day. On the Aylesbury line the storms caused a number of minor landslips, interrupting services for several hours. 25229 assisted the 17.05 St Pancras - Nottingham between Harlington & Leicester, it is not known whether this was storm related.
During July 25229 was noted heading westbound through Uttoxeter with the 7L73 Old Dalby - Sellafield, to return the nuclear flask used in the destruction of 46009 at Old Dalby.
  The last recorded passenger workings for 25229 took place during 1984, starting with the 13.35 Crewe - Cardiff on July 1st. On July 3rd 25229 was noted near Shrewsbury with the 6V93 Mossend - Severn Tunnel Junction Speedlink.
On August 9th 25229 worked the 15.23 Crewe - Lincoln St. Marks following the failure of the booked diesel multiple unit. On August 16th 25229 was noted light engine at York. On August 22nd 25229 was noted at Llandudno Junction with a Speedlink freight for Warrington. Finally on August 31st 25229 worked the 16.20 Glasgow Central - Liverpool forward from Preston.
On the late evening of September 7th 25037 & 25229 were noted headed southbound through Carnforth with a lengthy train of bogie tankers. 25229 & 25190 worked the 6S51 06.50 Stanlow refinery to Bishopbriggs bogie oil tanks on September 18th. 25237 & 25229 were noted southbound at Crewe on September 27th with bogie oil tankers.
25229 was stabled at Severn Tunnel Junction on November 25th.
1985
On a snowy January 8th 25229 was noted heading east through Manchester Victoria with the rubbish (?) train.
On a misty February 27th 25229 was noted shunting a lengthy train of mineral wagons at Crewe Gresty Lane.
The last week of March saw the 15.02 Manchester – Bristol parcels worked by 25229 on 27th.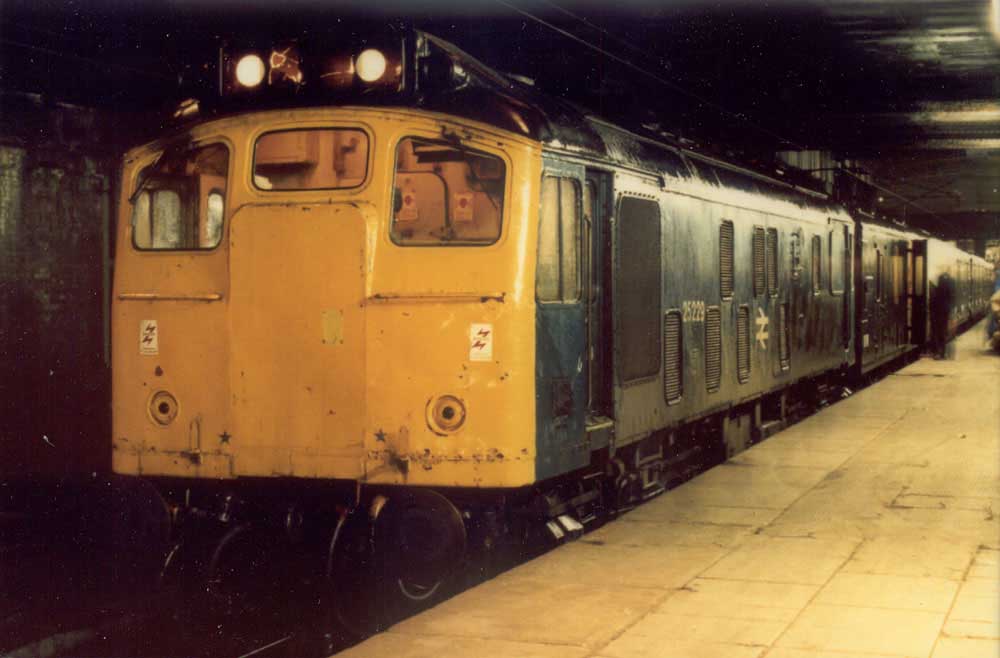 Photograph courtesy Andrew Walker
A very damp night during April 1985 at Crewe finds 25229 on a northbound parcels duty.
On May 2nd 25173 & 25229 were noted at Birkenhead North, about to work a Birkenhead North - Wolverton Carriage Works special.
25229 was withdrawn on May 12th 1985.
Condition Final: straight sided sandboxes fitted, No.1 cabside, very distinctive dark paint patch where builder's plate used to be.
Three piece miniature Snow plough fitted March 1984.
Not all known passenger workings are recorded on this page.
65/3843
flk 0421
Page added September 9th 2013.
Last updated April 29th 2021.
Back to 25228
Forward to 25230