D7581, 7581, 25231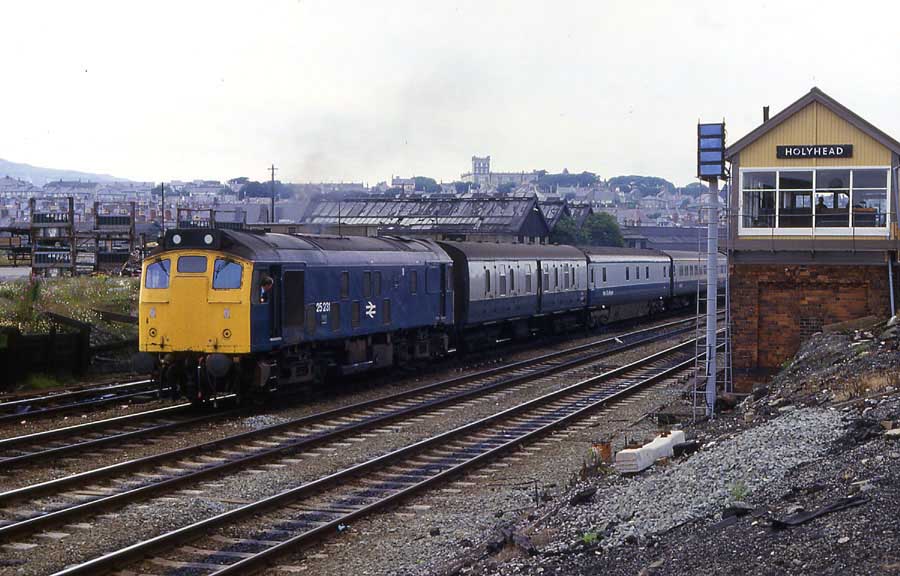 Photograph courtesy Steve Morris
25231 shunting coaching stock at Holyhead, date unknown.
The twenty one year eight month career of D7581/25231 started with four years on the LMR followed by fifteen years on the Scottish Region, then a further three on the LMR.
Built: BR Darlington Locomotive Works.
Boiler equipped.
Dual brake fitted.
Center lampbracket and other fittings removed.
Time between last Classified repair and withdrawal: 67 months.
Time between withdrawal & scrapping: 20 months.
Allocations
D7581 was new to Nottingham (16A) on December 28th 1963. Further transfers were:
January 1964 to Carlisle Kingmoor (12A).
July 1964 to Nottingham (16A).
September 1964 to Cricklewood (14B).
October 1964 to Derby (16C).
January 1965 to Nottingham Division (D16).
March 1967 to London Midland Midland Lines (LMML).
September 1967 to Eastfield (65A).
June 1969 to Haymarket (64B).
May 1976 to Eastfield.
May 1977 to Inverness.
May 1978 to Eastfield.
October 1982 to Longsight.
May 1984 to Crewe.
Withdrawn August 23rd 1985.
Renumbered April 1974.
25231 was the 254th Class 25 to be withdrawn, the only Class 25 retired during August 1985.
After withdrawal 25231 was stored at Basford Hall and then Crewe depot until sold to Vic Berry, Leicester for scrap during December 1986. It was moved with 25048, 25145 & 25175 as the Crewe – Vic Berry, Leicester between January 23rd – 26th 1987. By the first week of May the locomotive had been scrapped, although the cabs lingered until early September 1987.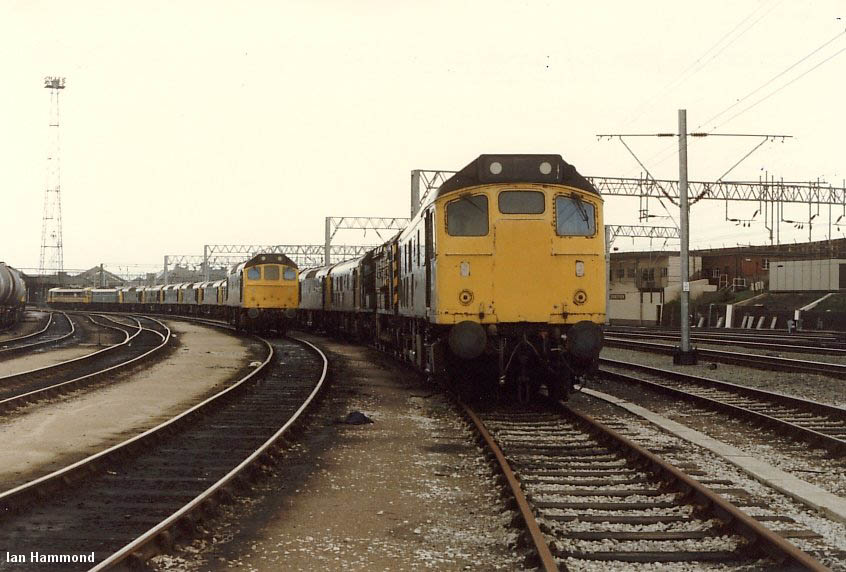 Photograph courtesy Ian Hammond
The end of the line for 25231 at Crewe depot, also present is 25231 with 08470, 08473, 25048, 25145, 25303 & 25089, with 25259 to the left.
Works Visits
Works visits (records incomplete).
Noted Derby Works November 1964.
Noted Crewe Works April 1966.
Noted Derby Works February 1970.
Noted Glasgow Works April 1970.
Noted Glasgow Works April 1971 (outshopped in blue, gangway doors sheeted over?).
Noted Glasgow Works June 1975.
Noted Glasgow Works October 1979 to January 1980 (Intermediate repair).
Highlights
1964
Early in January D7581 was transferred to Carlisle for crew training for six months. Amongst other duties this machine was frequently noted working the 07.34 Carlisle - Appleby and 08.05 return local passenger turns, being noted on this turn on July 27th. It was also used for crew training between Carlisle and Longtown.
1965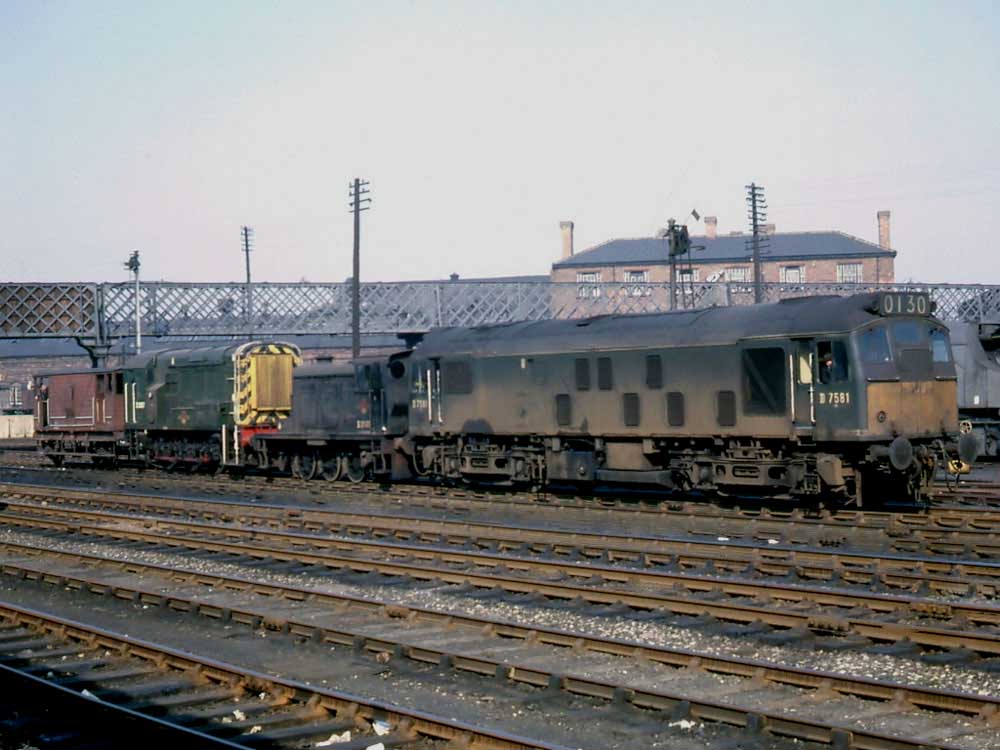 Photograph courtesy Bill Wright
Many of the duties for 7581/25231 were routine & repetitive, but from time to time they would feature in a working as shown here, passing Derby station with a couple of shunters in tow on April 1st 1965 and presumably destined for Derby Works. Possibly this is a trip freight from Chaddesden.
1966
Crewe Works had also started to accept Type 2s for heavy repair, so noted in the last week of April were D5196, 5221/29/31/65, 7581/91. This was no doubt possible due to the availability of resources created by the diminishing steam repairs and the winding down of the Brush Type 4 construction.
On May 28th D7581 & D7525 worked the Nottingham - Llandudno Town and the return Llandudno Town - Nottingham.
1967
Condition July: green livery with small yellow warning panels, curved upper corners, bottom of panel does not cover frame level stripe, gangway doors in place, three-rung bogie mounted footsteps, No.1 end only - central lamp bracket missing, mixed style sandboxes.
During September D7581 was transferred to Eastfield, it would spend the next fifteen years allocated to Scottish Region depots.
On December 2nd D7581 worked a Glasgow - Haymarket rugby special.
1970
On June 3rd 7581 worked the 21.45 Edinburgh - Carstairs.
1971
On May 22nd 7581 worked an unidentified Edinburgh - Carstairs passenger service.
The 16.00 Edinburgh - Glasgow Queen Street push-pull service was worked by 7581 and 5411.
1972
On an unknown date (believed to be during 1972) Class 47 No. 1718 and 7581 suffered a minor sidelong scrape with damage at Millerhill, causing the derailment of the Class 47.
On June 7th the 13.30 Edinburgh - Glasgow Queen Street service was worked by 7581.
During September a Edinburgh - Glasgow push-pull service was noted in the hands of 7581 & 7590.
1973
The 08.15 Birmingham New Street - Edinburgh was worked from Glasgow Central to Edinburgh by 7581 on March 24th.
On May 19th the 14.40 Edinburgh - Inverness was worked by 7581 & 5070.
Several times during the summer 7581 deputised for absent Class 27s on the Edinburgh - Glasgow pushpull service, being noted on July 24th with 5394 and on August 12th/13th/14th with 7580.
1974
On April 15th the relief 18.11 Arbroath - Glasgow Queen Street was worked by 25231 and was diverted to the Low Level station via Anniesland.
On August 31st 25231 worked a Carstairs - Edinburgh portion of an unidentified WCML Glasgow bound service.
On December 30th whilst working empty coaching stock from Craigentinny to Edinburgh Waverley, 25231 stalled near Abbeyhill Junction and required the assistance of a nearby Class 08 shunter.
1975
A Scunthorpe - Tyne Yard freight was worked by 25231 on July 10th.
August 24th, whilst 25231 was propelling vans off the Edinburgh line, (21.35 Manchester - Aberdeen newspapers) the vehicles were run into by 47207 running light southbound. The crew on the Class 47 were killed, with fire breaking out amongst the wreckage during the recovery of the bodies. Responsibility for the accident lay with the railman coordinating the reverse manouevre carried out by the parcels train, it was allowed to pass a ground signal showing no aspect due to a burned out bulb, leading to the train entering the route established for the light engine.
1976
During January 25231 was noted to have a large dent, with paint missing, high up in the front center of the cab at the No.2 end. This damage would be painted over and remain with the locomotive until its next Works repair in October 1979.
On the morning of June 7th 25231 was noted at Glasgow Central with the empty coaching stock for the 10.35 to Birmingham, which would be worked by 86228.
On October 5th the 17.30 Glasgow Central - Euston failed north of Cambuslang behind 87034, 25231 pushed the train two miles to Newton Signalbox where 87007 took over.
On October 23rd 25231 & 27041 worked the 15.52 Glasgow Queen Street - Aberdeen.
1977
25231 was noted on Haymarket on July 24th.
1978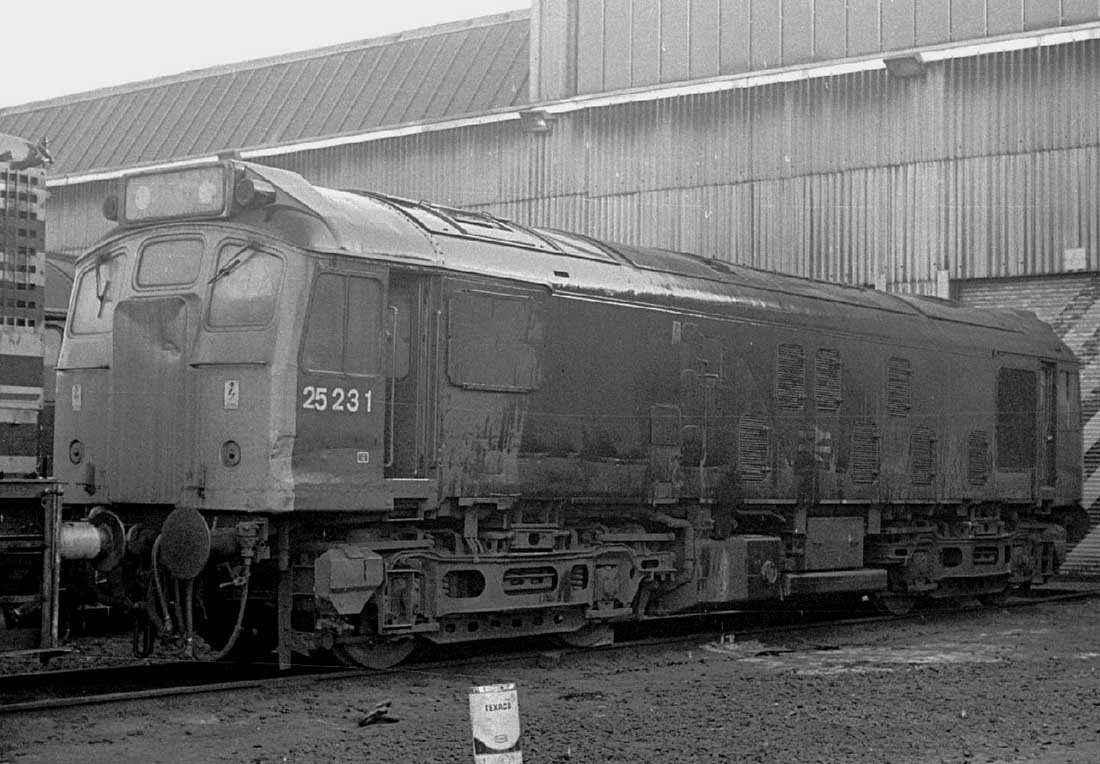 Photograph courtesy Tony Sayer
25231 at Eastfield depot on a wet February 18th 1978. Despite its battered appearance it will be another eighteen months before being admitted to Glasgow Works for its last Classified repair. The locomotive sports the two-rung footsteps on the bogies.
25231 was noted at Inverness on March 29th.
25231 was noted at Dundee depot at midday on August 15th. On August 26th the 15.30 Aberdeen - Glasgow Queen Street failed at Errol behind 40061, 25231 took the service to Glasgow Queen Street. The next day (27th) 25231 & 27010 worked the 11.40 Glasgow Queen Street - Aberdeen. Finally on August 31st the 16.38 Glasgow Queen Street - Mallaig failed at Bridge of Orchy behind 27105, 25231 dragged everything to Fort William.
On October 2nd the 08.44 Glasgow Queen Street - Dundee was worked by 25231.
1980
25231 was noted at Perth on May 26th with a southbound parcels.
25231 was noted at Falkirk Grahamston on June 10th. The 08.05 Glasgow Queen Street - Oban and the return 12.20 Oban - Glasgow Queen Street were worked by 25231 on June 11th.
On October 11th the 11.39 Dundee - Glasgow Queen Street was worked by 25231.
1981
On May 7th the 07.00 Glasgow Queen Street - Edinburgh failed at Winchburgh Tunnel behind 27016, 25231 which had been working a local trip freight dragged everything to Edinburgh. This was one of the Edinburgh & Glasgow services not operated as a push-pull. 25231 was noted at Ayr depot on May 14th.
25231 was noted at Haymarket depot on June 24th.
1982
25231 was noted passing through Bletchley on March 2nd with empty brick flats for Stewertby. 25231 was stabled at Perth on March 13th.
On July 31st 25231 worked the 22.38 Glasgow Queen Street - Dundee.
25231 was noted at Eastfield on August 9th.
Three times in 1982 (August 31st, September 8th & September 21st) 25231 worked the 12.50 Carlisle - Glasgow Central, whilst on October 11th, days before 25231 was transferred to Longsight it worked the 12.35 Stranraer Harbour - Ayr, possibly due to a diesel multiple unit failure.
25231 was the Manchester Victoria banker on October 23rd.
1983
25231 was at Reddish on January 2nd.
After transfer to Longsight and then Crewe, the passenger workings were few. On February 1st the diverted 06.50 Paddington - Glasgow Central was worked by 25231 & 25193 between Preston and Carlisle via the Settle & Carlisle.
25231 was stabled at Birkenhead Mollington Street on March 26th.
25231 & 40174 were noted westbound at Guide Bridge on April 1st with bogie tankers (BOC tankers?), at Speke on April 5th and on April 8th was noted at Rugby station. On April 28th 25231 was at Lawley Street FLT.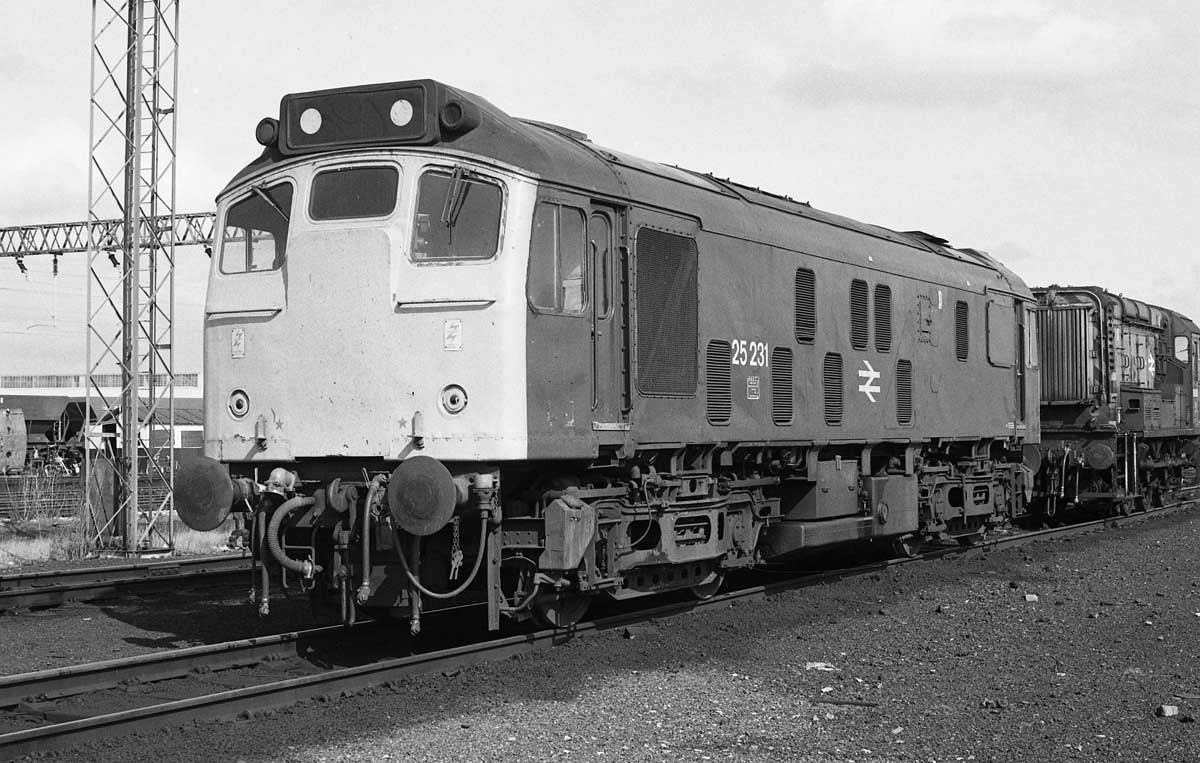 Photograph courtesy Danny Preston, collection Neil Johnson.
25231 at Speke Junction on April 5th 1983. 25231 clearly displays all the details of being last outshopped at Glasgow, for an intermediate in December 1979.
On May 5th 25231 & 25113 assisted the 06.15 Bradford - Paignton HST between Gloucester & Bristol Temple Meads.
The 15.10 Manchester - Bristol parcels was worked by 25231 on June 3rd.
The Ellesmere Port – Riverside tanks ran behind 25230 & 25231 on August 2nd and 25231 & 25212 on August 9th.
On the evening of September 29th 25231 worked a Shrewsbury - Curzon Street parcels.
25231 was stabled at Warrington Arpley on October 10th.
The 07.54 Oakleigh to Great Rocks ICI limestone empties was worked by 25231 & 25226 on November 13th.
  On December 1st a power failure in the Preston area saw 25231 drag the 13.10 Glasgow Central - Euston between Lancaster and Preston.
On December 12th 47520 failed at Settle Junction with the 08.57 Leeds - Carlisle, 25231 worked the service forward to Carlisle.
1984
25231 & 25032 were stabled at Cockshute depot on January 30th.
Class 25s were still frequent visitors to Parkeston, often heading back to the LMR on the evening Parkeston – Ditton, so noted was 25199 & 25231 on February 8th.
25231 was southbound at Winwick Junction on April 17th with a train of cargo wagons. 25231 & 25035 were noted with an up loaded ballast train at Mostyn on April 21st. 25231 was stabled at Springs Branch on April 26th and was noted at Carnforth the next day (27th).
On July 29th 25196/25201/25231/25283 were at Willesden depot whilst 25058, 25191, 25285 + 25249 were nearby on permanent way trains.
25231 was noted at Birmingham New Street on August 10th. Three days later (13th) 25231 was noted northbound through Nuneaton with loaded brick bogie wagons.
The 17.03 Euston - Blackpool North was worked forward from Preston by 25231 on November 9th.
On December 4th 25231 was noted in the Oxford area on an Up Freightliner.
On December 20th 25285 & 25231 were noted at Hereford with a UKF fertiliser working, normally diagrammed for a Class 47.
1985
25231 was stabled at Birkenhead Mollington Street on January 17th.
On the evening of February 13th 25231 was noted at Derby with a single parcels vehicle.
25231 was stabled at Crewe diesel depot on February 23rd and was also noted this day at Stafford on a southbound parcels train. The next day (24th) 25231 & 31298 were noted at Watford yard on a local freight job.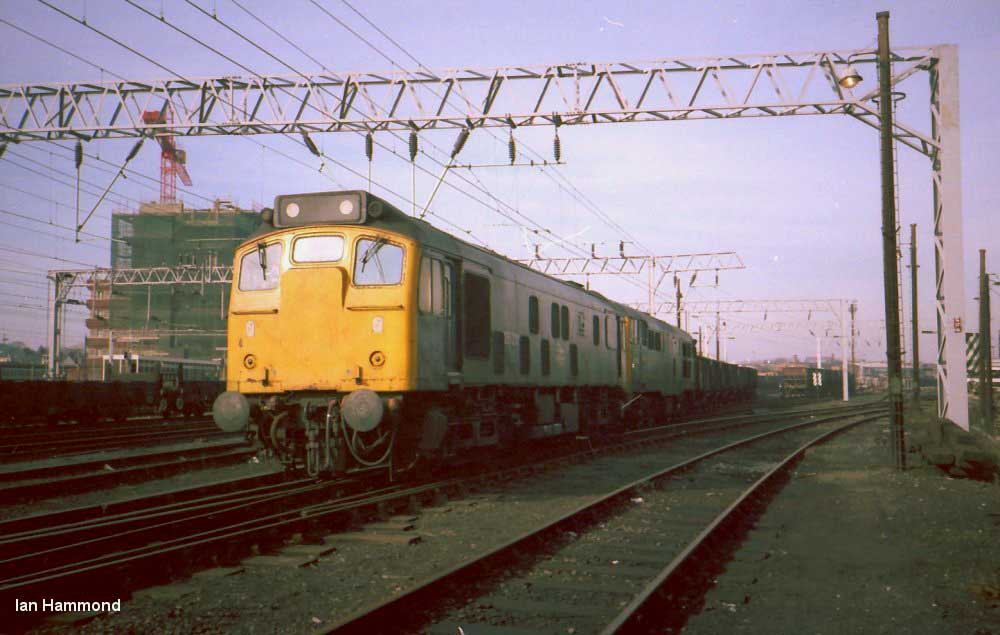 Photograph courtesy Ian Hammond
25231 & 31298 wait to leave Watford Yard with the 8L62 local job on February 24th 1985. This type of combination became a common sight as the Class 25s were replaced by the Class 31s.
25231 was stabled at Cricklewood on March 14th and was also noted at Dudding Hill this day with an electric multiple unit and barrier wagons. On March 16th 25231 was noted eastbound through Manchester Victoria with a parcels train, possibly headed for Red Bank sidings. 25231 was noted at Crewe station on March 22nd.
25231 was stabled at Severn Tunnel Junction on April 11th. On April 17th 25173 & 25231 were in charge of a Cardiff – Gloucester parcels working. A week later (23rd) 25231 worked a Moreton-on-Lugg to Severn Tunnel Junction freight, and later noted northbound through Hereford on a Speedlink working. On April 27th 25231 worked the 09.22 Accrington - Euston football special roundtrip between Accrington & Preston. Two days later (29th) 25231 was noted at Eccles with a Mansfield - Garston Speedlink working and later handled the 18.20 Glasgow Central - Manchester Victoria forward from Preston.
On May 10th 25231 worked the 17.03 Euston - Blackpool North forward from Preston. On May 31st a diesel multiple unit failure led to 25231 working the 14.54 Barrow - Carlisle.
25231 was noted departing Tyne Yard on June 7th with limestone empties for Carlisle.
Another diesel multiple unit failure on July 2nd saw 25231 assisting the 18.55 Carlisle – Newcastle at Corby Gates.
25231 was stabled at Warrington Arpley on August 5th. A week later on August 12th 25231 was noted heading south through Lancaster with a short engineers train. 25231 was at Crewe Diesel depot on August 20th
25231 was withdrawn on August 23rd. Two days after withdrawal 25231 was stabled at Crewe depot.
44/2893
flk 1219
Page added January 20th 2013.
Last updated July 19th 2020.
Back to 25230
Forward to 25232