D7586, 7586, 25236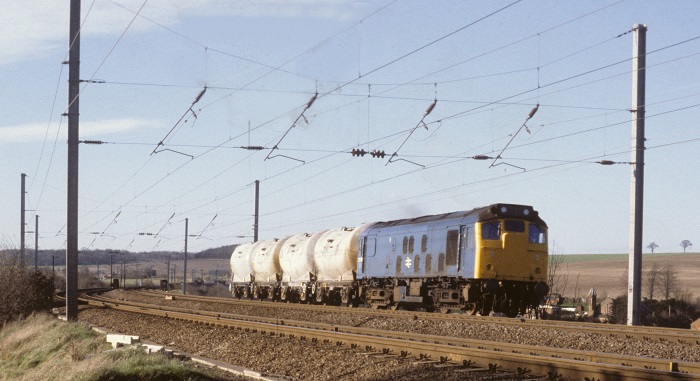 Photograph courtesy Roger Geach
25236 at Chiltern Green on March 26th 1981 with a short freight from Luton for Willesden.
The nineteen year nine month career of D7586/25236 was split between London Midland Region and Eastern Region allocations.
Built: BR Darlington Locomotive Works.
Boiler equipped.
Dual brake equipped.
Center lampbracket & other fittings removed.
Time between last Classified repair and withdrawal: 95 months.
Time between withdrawal abd scrapping: 23 months.
Allocations
D7586 was new to Nottingham (16A) on February 25th 1964. Further transfers were:
March 1964 to Trafford Park (9E).
January 1965 to Nottingham Division (D16).
January 1965 to Trafford Park (9E).
October 1967 to Longsight (9A).
May 1968 to Holbeck (55A).
September 1968 to Gateshead (52A).
October 1971 to Holbeck (55A).
January 1972 to Gateshead (52A).
February 1972 to Holbeck (55A).
July 1972 to London Division (D01).
May 1973 to Willesden.
September 1973 to Cricklewood.
May 1974 to Willesden.
June 1975 to Cricklewood.
November 1980 to Kingmoor.
Withdrawn December 5th 1984.
Renumbered to March 9th 1974.
25236 was the 227th Class 25 to be withdrawn.
After withdrawal 25236 was briefly stored at Crewe until moved (see detail below) to Swindon Works on February 21st 1985 and scrapped there by the third week of November 1986. The cabs were taken by road to Vic Berry, Leicester for disposal.
25069, 25221 (SP) & 25318, 25236 (CD) Springs Branch – Swindon Works February 20th-21st 1985.
Works Visits
Works visits (records incomplete).
Noted Darlington Works February 1964.
Noted Derby Works April 1968.
Noted Glasgow Works October 1971.
Noted Derby Works December 1976 & January 1977 (Classified, gangway doors removed, repainted).
Noted Derby Works March 1977 (rectification?).
Noted Derby Works December 1977 - February 1978.
Noted Derby Works August - November 1978.
Noted Swindon Works March 1980 (collision repairs).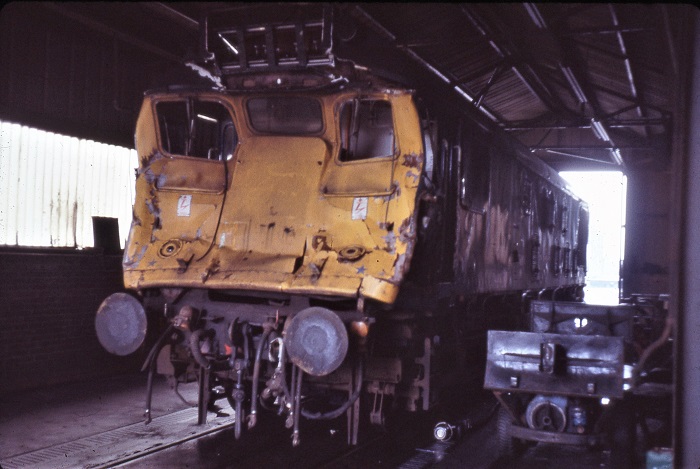 Photograph courtesy John Glynn
25236 in the defuelling shed at Derby Works during August 1978, having just arrived with considerable cab damage.
Highlights
1964
On August 4th the Class 25s plunged into new territory to take over the ICI company limestone trains running between Peak Forest and Winnington, with D5274 - D5279 & D7586 transferred from Toton to Trafford Park (9E). For the time being no other freight service in this area was dieselised, another three years would pass before major inroads commenced. These had not been the first diesels used on these trains, one year earlier English Electric Type 4s D227 & 228 from Longsight, had been tested with sixteen wagons over this route, and during February 1964 the Metro Vick Co-Bos were put through their paces on these services. These trains employed the venerable vacuum braked ICI bogie hoppers, first introduced in 1935, which were now used in rakes of eighteen (1,100tons), providing a considerable challenge to the single Type 2s. The diesels had replaced Heaton Mersey & Northwich based Stanier 8Fs, which had generally been allowed sixteen wagons (980 tons), the 8Fs having spent many years on these company trains. The wagons themselves outlived most of the power that hauled them, including the Class 25s. They (147 left in service) were finally retired on December 28, 1997, being the last vacuum braked wagons in service. A surplus of airbraked stone hoppers (PGAs) allowed this retirement.
1965
On Sunday June 13th D7586 worked the 11.30 Guide Bridge - Blackpool North and the 20.25 return.
1967
Buxton depot received D5091, D5135/37 for crew training and banking duties at Peak Forest at the end of February. These machines would work alongside the small pool of Sulzer 2s working the Northwich - Tunstead ICI block trains. This demanding working had been dieselised since August 1964 and now after almost three years of possibly the most arduous of any work given to the BR Sulzer 2s, it was not surprising that failures were all too common. This created an operating headache if steam were substituted because the official eighteen wagon limit for the Type 2s could only be handled by 9Fs, other substitutions required doubleheading. Typical of this was the failure of D7586 on April 26th, rescue coming from 8F 48723 & Class 5 45417.
Condition no month: green livery with small yellow warning panels, curved upper corners, frame level stripe covers bottom of warning panel, blanking plates fitted, hand/footholds in place, exhaust located above engine room, three-rung bogie mounted footsteps, straight sided sandboxes.
A visit to Trafford Park shed on December 21st found four of the original Tunstead - Northwich ICI limestone train locomotives on shed: D5275, D5276, D5278 & D7586. Other diesels present were D43, D205, D269, D2373, D3359, D3699, D3766, D5142, D5203, D7642 & D7677. Twenty three steam locomotives were also present, comprised of Black Fives and 8Fs.
1969
Frontline duty befell 7586 on March 12th following the failure of Deltic 9017 on the 16:00 Edinburgh - Kings Cross at Newcastle with boiler trouble. Gateshead had no other air-braked machine available so the Class 25 was given the run of the ECML as far as Doncaster, putting up a creditable performance.
1970
The FO 17.00 York - Manchester was worked by 7586 on May 22nd.
During November the Tyneside area was in the grips of a local bus strike which required strengthening of many local diesel multiple unit services. On November 23rd authorities did not have one available for the 17.40 Newcastle - Carlisle (and 19.55 return), a scratch set of four coaches and no heat Class 24 No.5105 was used. The mild weather and pre-heated stock presumably kept the passengers reasonably comfortable. Locomotive haulage over this line was then limited to one train a day, the 23.15 SO Newcastle - Carlisle (and 02.50 SU return). A boiler equipped Class 25 was regular power, 7586/93/96 being frequently used.
1973
A short working on 'The Welshman' Watford Junction - Barry railtour on March 3rd 1973 saw 7586 & 7665 work the train between Watford Junction & Kensington Olympia.
1975
The 07.55 Leicester - Scarborough on September 6th was worked to Nottingham by 25236 & 25252.
1976
Severe gales on the evening of January 2nd affected much of the country with wind speeds consistently above 50mph. These high winds brought down the wires in the Berkswell area, a diesel multiple unit shuttle substituting between Coventry and Birmingham. 25251 & 25277 assisted 87023 with an empty coaching stock working through the affected area on the morning of 3rd, whilst 25236 arrived with a re-wiring train, though full service was not restored until January 4th.
Condition September: blue/yellow livery, gangway doors fitted, blanking plates fitted, hand/footholds plated over, three-rung bogie mounted footsteps, straight sided sandboxes.
1977
A Leicester - Skegness day excursion on April 11th was worked out & back by 25236 & 25071. On September 30th a St. Pancras - Wroxham special was worked by 25236 & 25311.
Condition September: blue/yellow livery, gangway doors sheeted over, centre bracket and other fittings removed from cab front (both cabs), blanking plates fitted, hand/footholds plated over, straight sided sandboxes, three-rung bogie mounted footsteps
1978
March 9th brought trouble to the Wembley area when the engineers train led by 25236 had three wagons become derailed as they split the trap points on leaving the up loop. Both slow lines were blocked, Willesden had to borrow 25179 from Cricklewood to attend with the breakdown crane, which was in fact not needed, the errant wagons being rerailed by other means.
A round trip Leicester - Skegness was handled by 25236 & 25054 on May 27th, but returning only as far as Nottingham.
1979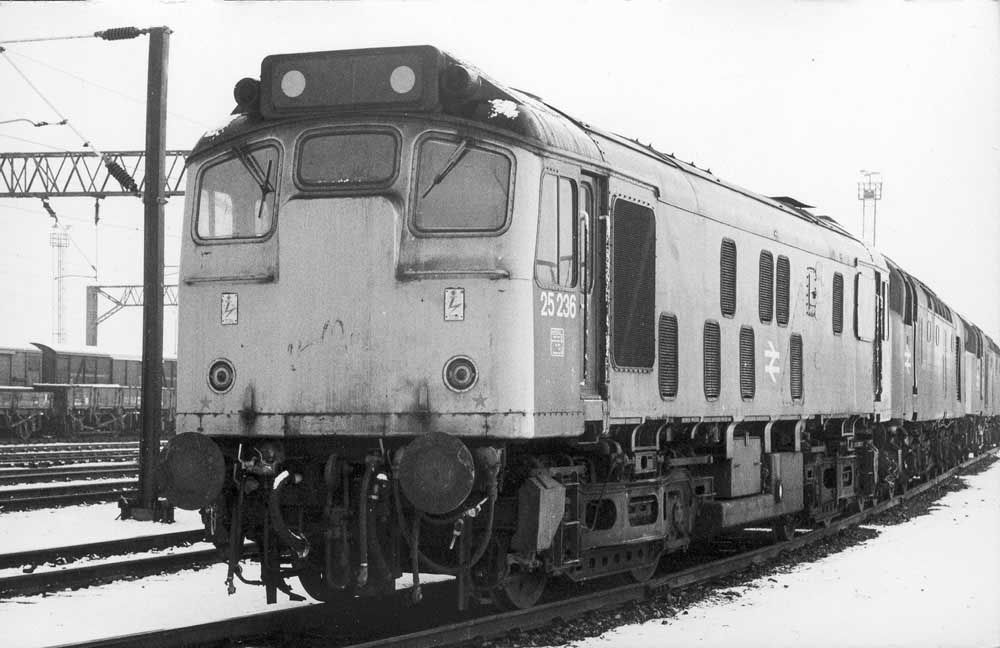 Photograph courtesy Danny Preston, collection Neil Johnson.
Looks like a snowy day at Speke Junction on January 25th 1979 with 25236 and some Class 40s awaiting their next turn of duty.
On Tuesday January 30th 25236 worked the 12.25 Willesden to Norwood and the return 14.00 Norwood to Willesden.
25236 & 25081 were active on the NE/SW route on April 15th working a relief 12.20 Bristol Temple Meads - Birmingham New Street (did this same pair work the same train on the next day?).
On May 13th included in the fifty five locomotives at Cardiff Canton were 25219 & 25236.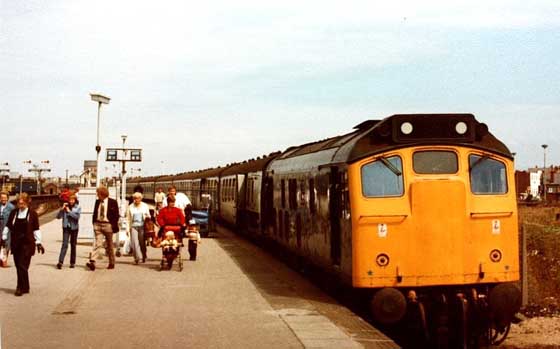 Photograph courtesy Chris Baines
Its July 1979 and 25236 has arrived at Blackpool North with a day excursion from Coventry. The Class 25 has worked the train forward from Preston.
25236 was noted at Euston on July 14th.
The LVRC 'The Venerable Bede' railtour on October 6th was worked between Watford Junction & Newcastle by 25189 & 25236. The railtour got off to a poor start awaiting a guard at Stonebridge Park. The ECML was used from Wood Green to Northallerton then via Eaglescliffe & Stockton to Washington, Pelaw & Newcastle. From here the circular route was Wallsend - Percy Main - Earsdon - Newsham South - Bedlington North - Hepscott - Morpeth & Newcastle. By this time the charter was over ninety minutes late with the Class 25s now replaced by 31156 & 31209 for the run to Carlisle. Many participants took the option of returning south via an ECML HST.
1980
A rescue job took place on January 15th when the 10.12 St. Pancras - Derby failed at Luton, 25236 worked the train to Derby.
The continuing shortage of locomotives, partly caused by a backlog of repairs at the main workshops, led to Swindon Works receiving unclassified repairs for locomotive types it had not dealt with before. On March 9th collision damaged 31124 & 31154 were moved from Doncaster to Swindon. Likewise 25191 and 25236 were also received for repairs. To provide Swindon with a source of spares 25111/147/252 were withdrawn during March and consigned there (25111 was the first to arrive on May 6th).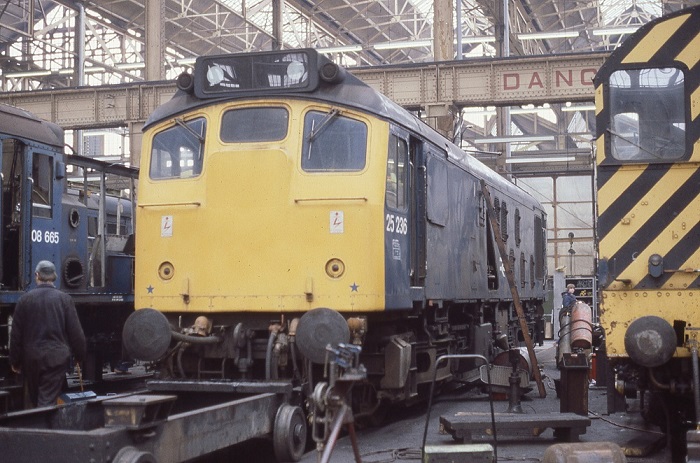 Although most Class 25s making the trip to Swindon were for scrapping, during 1980 a number received unclassified repairs here to ease the workload at Derby & Glasgow. Seen here is one of those to pass through Swindon in one piece, 25236 on March 1st 1980.
The shortage of electric locomotives for WCML services continued, on June 25th (or 26th?) 25236 worked the 03.37 Carlisle – Willesden parcels service throughout.
25236 received an 'E' examination at Toton during September.
1981
An early passenger working took place on January 5th with 25236 on the 10.15 Birmingham New Street - Norwich, it returned west on a parcels train.
On March 18th 25236 worked the 19.25 Bangor - Manchester Victoria, followed by a run back to Bangor, the next day (19th) a Manchester Victoria - Bangor was handled.
25236 was noted passing Stratford on April 14th with a freight for Temple Mills.
On May 1st two Kensington Olympia - Willesden motorails were handled with 25243. A Rugby - Portsmouth Harbour day excursion on May 10th was worked to Willesden by 25236 & 25054 (and return?).
A day excursion on August 9th from Stoke-on-Trent to Aberystwyth was worked out and back by 25236 & 25221. 25236 was the Manchester Victoria banker on August 29th.
Another excursion was worked on October 3rd, from Euston to Aberystwyth with 25236 & 25042 worked from/to Wolverhampton.
1982
A diesel multiple unit failure on March 12th saw the 15.28 Birmingham New Street - Cambridge assisted from Proof House Junction to Leicester by 25236. When 31295 failed on March 18th with the 21.23 Bradford - Kings Cross 25236 took the train to Leeds.
On August 27th 25243 & 25236 worked the Cranmore - Ellesmere Port tanks, being noted at Lawrence Hill. Four days later on August 31st the same pair were noted westbound (?) near Giggleswick with four tar (?) shortwheelbase tanks.
On October 9th 25236 was noted at Frodingham with two Research Department coaches and a short-wheelbase van. On October 15th the 22.47 Crewe - Blackpool North was worked from Preston by 25236.
On December 11th the day started with the 11.49 Bangor - Manchester Victoria, the 15.45 Manchester Victoria - Bangor and the 19.26 Bangor - Manchester Victoria. Further north on December 23rd 25236 worked the 19.26 Barrow - Preston and on December 28th the 18.30 Barrow - Liverpool.
1983
The 08.57 Leeds - Carlisle and 15.37 Carlisle - Leeds were worked on January 20th 1983.
On March 23rd 25236 & 25227 were noted passing Watford Junction with a lengthy train of mostly empty container flats.
25236 was noted on an eastbound set of ICI Northwich - Tunstead empties on April 23rd.
25236 & 25235 were together on May 7th 1983 working a Paddington - Bewdley 'The Evening Star' railtour from Dorridge to Kidderminster, unfortunately 25236 failed and was dragged. 25236 was station pilot at Manchester Victoria on May 20th.
Visitors to Exeter on the bitumen tanks from Ellesmere Port included 25236 & 25313 on June 3rd. The 19.25 Lawley Street - Ipswich freightliner was booked for electric traction from Nuneaton to Willesden. During June pairs of diesels were working throughout (to Willesden?), with 47353 & 25236 noted on June 13th and 25236 & 47452 on June 15th. Eastern Region power was supposed to take over at Willesden.
Double headed diesels over the southern end of the WCML were quite rare, to have them on a consistent basis with mixed classes was most unusual, but during June the Lawley St – Ipswich freightliner, normally electric hauled south of Nuneaton, produced an interesting variety. June 13th produced 47353 & 25236 and 15th 25236 & 47452.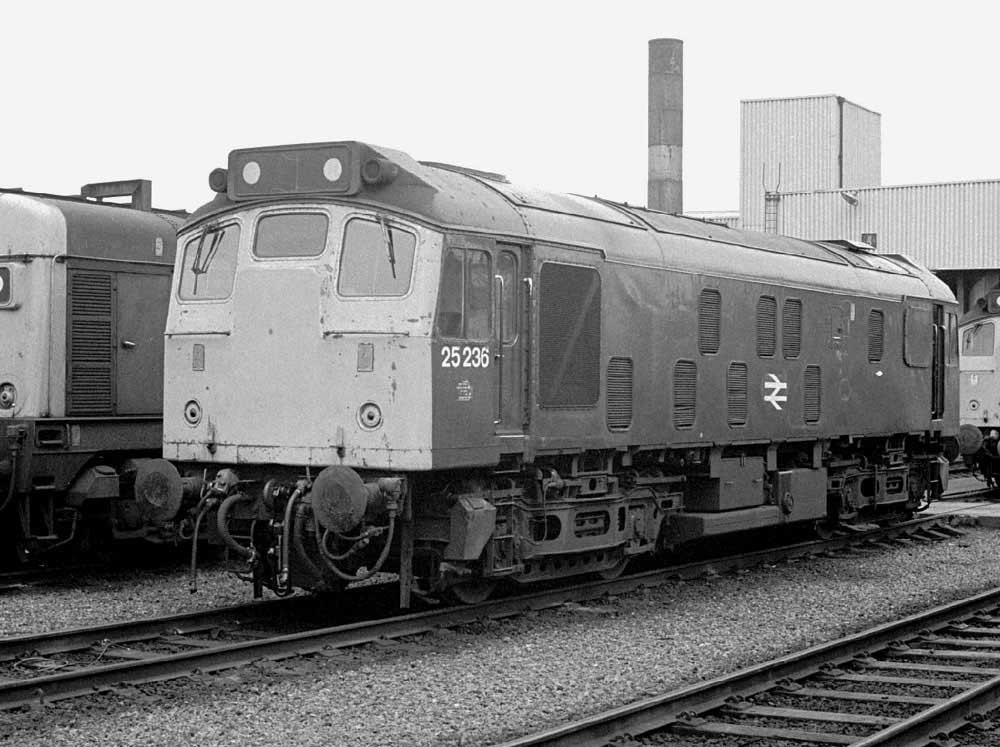 Photograph courtesy Tony Sayer.
Quite a well travelled machine 25236 is seen at Toton on June 18th 1983, whilst allocated to Kingmoor.
25236 & 25181 worked the evening 4E78 Fletliner from Forders Siding to Kings Cross Goods on June 28th.
It was a trip to the Cambrian line on July 16th 1983 with 25236 & 25193 working the 07.35 Euston - Aberystwyth from Shrewsbury, returning on the 14.00 Aberystwyth - Shrewsbury. 25236 was north of the border on July 29th 1983 handling the 15.50 Glasgow Central - Carlisle whilst the next day (30th) it worked the 10.40 Carlisle - Leeds and the return 16.00 Leeds - Carlisle.
On August 16th 25236 was stabled at Saltley. On August 27th 25236 was on parcels duty at Euston.
25236 was stabled at Bletchley on September 1st. Another railtour working occurred on September 17th 1983, the 'Severn-Thames Express' from Waterloo to Bridgnorth was worked from Coventry to Bewdley by 25236 & 25209 out and back. 25236 was noted at Lawley Street on September 28th.
The Great Western Society's railtour roundtrip from Coventry to Aberystwyth was worked by 25245 & 25236 on October 1st. A railtour from Bewdley to Paddington on October 8th 1983 was worked to/from (?) Coventry by 25236 & 25048. On October 16th 25236 was stabled at Severn Tunnel Junction. On October 28th 25236 was noted passing Winwick Junction with a parcels train.
Overhead line damage south of Rugby on December 20th/21st 1983 saw the 20th's 23.35 Euston - Glasgow Central worked to Rugby by 25236 & 25199, the same pair returned south from Rugby on the 21st's 06.00 Wolverhampton - Euston.
25236 was stabled at Severn Tunnel Junction on December 18th.
1984
On January 18th 25236 & 25276 were noted light engines at Gaer Junction, Newport.
1984 was the last year in service for 25236, with the opportunity to handle a variety of passenger workings, commencing on a cold and snowy January 31st with the 22.38 Glasgow Queen Street - Dundee and on February 4th it worked the 17.10 Perth - Arbroath and the return 18.35 Arbroath - Dundee. The 02.35 Euston - Bletchley was worked by 25236 on February 12th.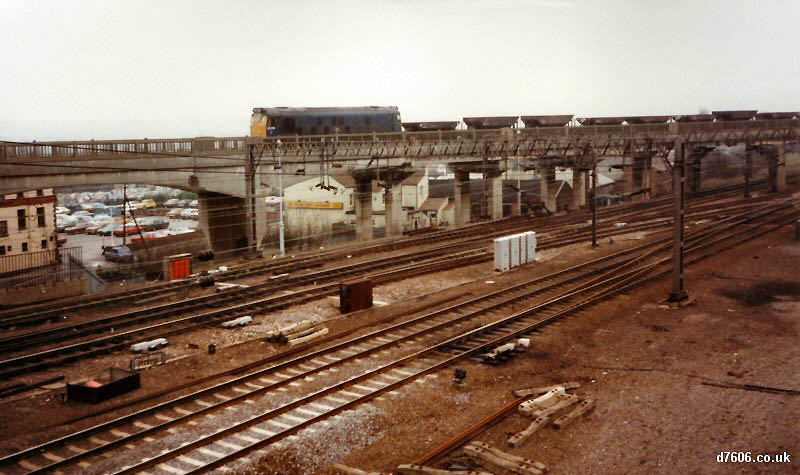 Photograph courtesy Ian Hammond.
One of the more lasting errors made by BR in the 1960's, is featured here, Bletchley flyover, designed for traffic flows that never materialised. Seen here with 25236 on a freight from Aylesbury, March 28th 1984.
On April 8th 25236 assisted three workings in the Willesden/Camden area because of the power being off for engineering work. On May 6th 25236 worked the 09.27 Birmingham New Street - Blackpool North from Preston, returning south with the 15.14 Blackpool North - Euston as far as Preston. 25236 was north of the border on May 14th working the 06.05 Carlisle - Glasgow Central and the return 15.50 to Carlisle. The next day (15th) 25236 headed north again with the 06.05 Carlisle - Glasgow Central.
25178 & 25236 were noted at Leek Brook Junction with loaded sand hoppers on July 17th.
25236 was receiving attention at Kingmoor on August 13th.
On August 26th 25236 & 25285 were noted at Prescot on permanent way duties.
The 15.40 Carlisle - Newcastle was worked by 25236 on August 30th following a diesel multiple unit failure.
On a rainy September 4th 25032 & 25236 were noted at Crewe with a parcels train.
September 1984 was a busy month for 25236, on September 12th it worked the 07.45 Manchester Victoria - Bangor following the failure of 45126, returning with the 11.14 Bangor - Newcastle as far as Manchester Victoria. A week later on September 19th 25236 worked the 15.24 Barrow - Crewe to Preston. The final passenger workings for 25236 involved the Carlisle - Glasgow service. On September 25th & 26th 25236 worked the 06.05 Carlisle - Glasgow Central and the 15.50 Glasgow Central - Carlisle.
On October 6th 25236 was stabled at Carnforth with 25269. On October 28th 25236 was noted at Bolton with a short train of engineers wagons.
On November 9th 1984 25236 worked the 17.40 Carlisle - Glasgow Central returning south on November 10th's 07.25 Glasgow Central - Carlisle.
25236 was withdrawn on December 5th 1984.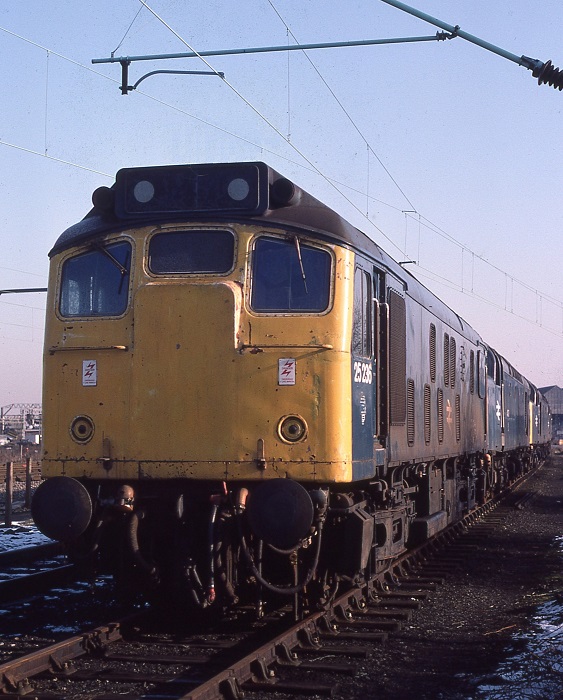 Photograph collection of webmaster
Withdrawn 25236 at Crewe about December 1984 or early 1985.
64/5313
flk 0318
Not all known passenger workings are recorded on this page.
Page added July 7th 2013.
Last updated April 21st 2021.
Back to 25235
Forward to 25237