| | | | | | |
| --- | --- | --- | --- | --- | --- |
| Load | Speed | Amps | Volts | Notes | Other |
| 1 | 28 | 900 | - | - | - |
No.1 end route indicator covers.
1974
On March 16th a Manchester Piccadilly - Weston-super-Mare roundtrip charter was worked by 25237 & 25058 to Bescot where Class 45 No.101 took over. The train had departed an hour late due to coupling issues between the two Class 25s.
At about 6pm on April 30th 25237 was noted passing Park (Manchester) Victoria with a down freight.
On June 22nd the 09.20 Manchester Piccadilly was worked to Sheffield by 25237 & 25147. At Sheffield 25237 was removed and 25147 took the service forward alone.
During November 25237 was transferred to Haymarket for an eight year allocation to Scottish depots.
1976
On April 19th the 21.00 Edinburgh - Glasgow Queen Street was worked by 25237, arriving twenty minutes late. The return working, the 22.00 to Edinburgh was only thirteen minutes late leaving, in charge of 24106. On April 27th 25237 was back in the news after catching fire whilst hauling an engineer's saloon through Cumbernauld.
With eight years at either Haymarket or Eastfield 25237 would operate frequently on the Glasgow/Edinburgh - Dundee & Aberdeen services and the Edinburgh - Carstairs, being noted on the latter route on July 14th 1976 (21.40 Edinburgh - Carstairs) and October 19th 1976 (21.28 Edinburgh - Carstairs).
On September 7th 25237 was at Haymarket.
1977
The line between Bridge of Orchy and Rannoch was closed on March 16th when a special freight from Crianlarich to Fort William hauled by 27031 suffered the derailment of eight wagons of coke. The line remained closed until March 18th with the consequent stock dislocations. This included no catering facilities on the long distance trains, including the 18th's 16.00 Mallaig - Glasgow Queen Street hauled by 25237. However at Corrour 25237 was used to transfer a dining car from a late afternoon northbound service to the ex-Mallaig service.
On July 17th 1977 the 17.10 Edinburgh - Berwick was worked by 25237.
A Rail Fair at Haymarket depot on September 24th/25th featured 08881, 25237, 26007, 27202, 40061/80, 47271, 55022 & 87001. HST 254002 was also present as was a refurbished diesel multiple unit. A4 60009 Union of South Africa, a replica of Locomotion No.1 and a variety of other rolling stock was also present.
On November 30th the 17.40 Glasgow Queen Street - Aberdeen failed at Eastfield behind 47470, 25237 was brought off the depot to take the train forward.
1978
On March 28th 25237 was at Edinburgh Waverley with heated coaching stock.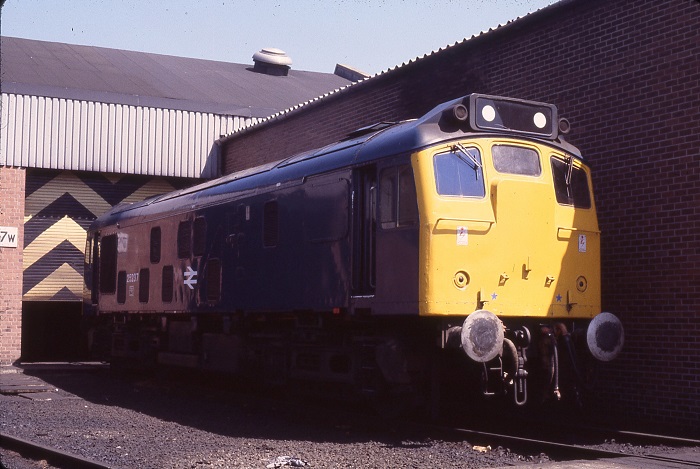 25237 at Haymarket on June 17th 1978.
25237 was at Haymarket on September 10th.
25237 with Mark I stock worked the 16.50 Glasgow Queen Street - Edinburgh on September 19th. At Polmont Junction 40049 was added to assist the ailing Class 25.
The 21.40 Edinburgh - Carstairs was worked by 25237 on October 11th.
1980
The 21.25 Dover Western Docks - Stirling motorail on June 1st was worked forward from Mossend Yard by 25237 & 27023.
On June 11th 25237 was stabled at Ayr.
On July 19th the 14.24 Scarborough - Glasgow Queen Street was worked from Edinburgh by 25237. Two days later (21st) the 08.44 Glasgow Queen Street - Dundee & 11.39 Dundee - Glasgow Queen Street were worked by 25237.
A Rail Fair held at Haymarket over the weekend of September 24/25th attracted over 18,000 patrons and featured a number of machines including 25237, 87001 and HST set 254002, a harbinger of things to come.
The 18.44 Glasgow Queen Street - Dundee was worked by 25237 on November 18th.
The 11.05 Perth - Edinburgh was worked by 25237 on December 6th.
1981
The 11.39 Dundee - Glasgow Queen Street was worked by 25237 on January 3rd. A Birmingham - Glasgow service failed at Carstairs on January 22nd behind 86235, 25237 was used to take the train to Glasgow.
Two workings south of the border involved 25237 on the 14.00 Glasgow Central - Carlisle on April 7th & 16th.
On July 21st 25237 & 27001 were southbound at Perth with a brakevan. 25237 was also noted this day southbound at North Queensferry with a mixed freight.
On July 27th 25237 worked the morning Keith - Inverness freight.
The 14.44 Glasgow Queen Street - Dundee and the 17.33 Dundee - Glasgow Queen Street were worked by 25237 on July 28th. Two days later (30th) 25237 worked the 14.44 Glasgow Queen Street - Dundee, but did not handle the next leg of the diagram.
25237 worked the 06.40 Glasgow Queen Street - Dundee on August 10th.
1982
Late April saw the brief return of Class 25s to Glasgow Works for minor repairs, so noted were 25059 & 25237 (N4) and 25247 (N1). However by late May operational Class 25s would be gone for good from Glasgow Works.
25237 was recieving repairs at Polmadie on July 26th.
On August 27th 25237 was westbound at Gloucester with steel for South Wales. On August 28th 25237 was stabled at Severn Tunnel Junction.
With less than a month to go before transfer to Kingmoor 25237 worked the 23.05 Edinburgh - Perth with 25218 on September 10th, being the portion for the 23.30 Glasgow - Inverness.
On September 24th 25237 & 25269 were stabled at Gateshead on September 24th.
1983
The Ellesmere Port – Riverside bitumen tanks continued to bring Class 25s to Exeter, 25227 & 25237 so noted on January 20th.
25237 was stabled at Springs Branch on March 20th.
On April 15th 25237 was noted westbound(?) at Chester Dee Junction with a freightliner train. On April 30th a Euston - Aberystwyth charter was worked by 25237 & 25243 roundtrip between Wolverhampton & Aberystwyth.
During May 1983 25237 was transferred to Crewe. 25237 was noted light engine passing Cwmbran on May 26th.
25237 was stabled at Severn Tunnel Junction on June 5th. 25237 was noted eastbound with a parcels train through Manchester Victoria on June 13th.
The 07.35 Euston - Aberystwyth on August 27th was hauled from Rugby to Dovey Junction by 25237 & 25117, the train was terminated at Dovey Junction after 25237 failed. 40135 was later noted pushing the train into the goods yard at Machynlleth. 25237 was noted light engine at Chester on August 31st.
On the afternoon of October 7th 25237 & 25239 were northbound at Warrington Bank Quay with a sixteen wagons loaded with rock salt from Over & Wharton to Mossend.
On October 14th 25237 was noted shunting withdrawn 83010, 83007, 82004 & 82006 at Stockport, all were headed for Vic Berry, Leicester.
The failure of 45106 on the 17.10 St. Pancras - Derby at Bedford on November 7th saw 25237 drag the service to Derby.
25237 was stabled at Bescot on December 1st. On the wet evening of December 13th 25237 was noted light engine at Derby station.
1984
25237 was noted at Luton with a trip freight to Luton Yard on March 2nd.
25076 & 25237 were noted light engines at Crewe on May 19th.
On May 31st 25237 & 25178 worked the 08.48 Leicester - Skegness, on the return 19.00 Skegness - Leicester the locomotives were removed at Nottingham after struggling, they were replaced by 20047 & 20158.
On June 1st 25237 & 25178 ran light engines from Newark to Nottingham.
25237 was stabled at Severn Tunnel Junction on June 6th. Two trips were made to Aberystwyth during June 1984, on June 23rd 25237 & 25173 worked the 07.35 Euston - Aberystwyth from Wolverhampton returning with the 14.00 Aberystwyth - Shrewsbury. The next weekend (30th) 25237 & 25057 worked the 07.44 Shrewsbury - Aberystwyth and the return 10.10 Aberystwyth - Euston to Wolverhampton.
On September 8th the 12.59 Blackpool North - Euston was worked by 25237 & 25239 between Warrington & Crewe after the failure of 85025. 25237 & 25229 were noted southbound (?) at Crewe on September 27th with bogie oil tankers. 25237 & 25199 were noted light engines at Chester on September 29th.
On November 20th 25237 was light engine at Sheffield Midland.
25297 & 25237 were stabled at Severn Tunnel Junction on December 16th.
25237 was noted light engine at Toton on December 19th.
1985
Part of the return leg of the two day marathon 'The Cornishman' railtour from Plymouth to St Pancras on January 26th 1985 was worked between Leicester & St. Pancras by 25237 & 25034 on what was a very cold winter's night. This railtour had started the previous evening at London St.Pancras travelling to Cornwall by way of Leicester & Birmingham. It is remembered by many as one of the coldest overnights ever, where ice formed on the inside of the windows. At the start of the railtour 25192 failed at Bedford where 31154 was summoned to assist 25034 to reach Leicester. Departure from Leicester at 22.02 should have been behind a Class 40 but instead two Class 20s (20006 & 20133) were provided, with outside temperatures below zero. Tour organisers requested that the train windows should remain closed and movement through vestibule doors kept to a minimum to preserve any vestiges of warmth. The advertised Class 40 was waiting at Birmingham New Street in the shape of 40012 which could not heat the train. At Bristol 37088 & 37189 took over, with at least one of the Class 37s being able to provide train heat. (Details from Adrian Nicholls Flickr page).
On March 23rd 25237 was stabled at Bletchley.
The final recorded passenger working for 25237 took place on April 5th 1985 assisting the 05.42 Hull - Manchester Piccadilly forward from Chinley after the Class 31 failed, which is perhaps ironic as it was over the Hope Valley route that many brand new Class 25s worked the Derby - Manchester locals.
On April 2nd 25237 was noted passing Primrose Hill (Camden) with cement tankers.
25237 was southbound at Springs Branch on May 1st with a train mostly comprised of empty bogie bolsters.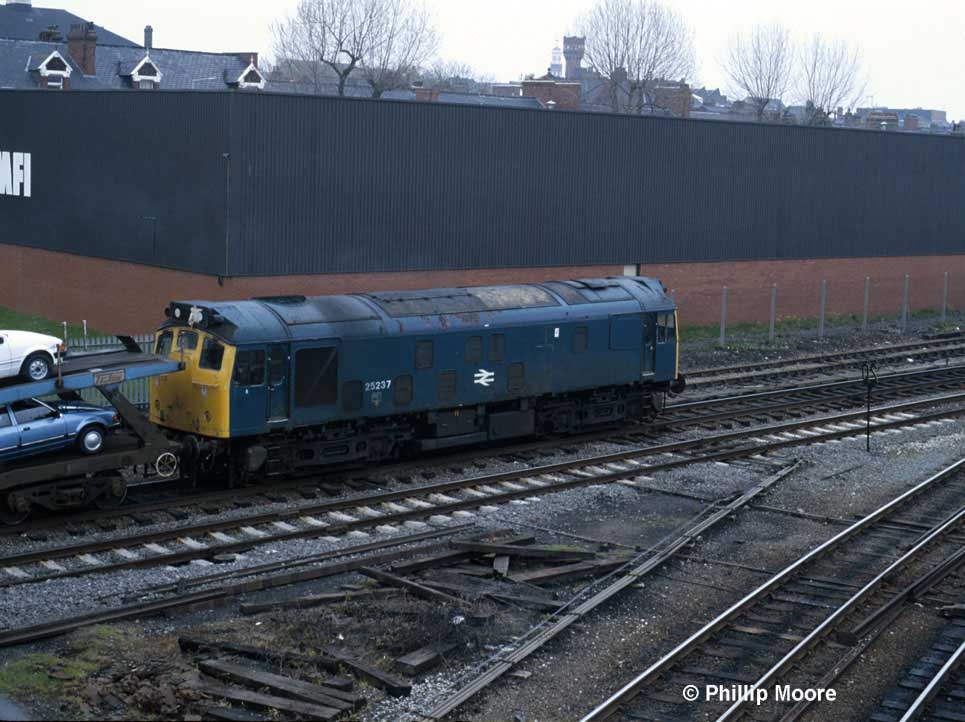 Photograph courtesy Phillip Moore.
25237 passing Warrington Arpley on May 15th 1985.
25237 was stabled at Warrington Arpley on May 18th.
On May 25th 25237 was southbound at Crewe with tube/pipe wagons.
On June 2nd 25237 was stabled at Buxton station. Two days later (4th) 25237 was in charge of a Manchester – Bristol parcels working, on reaching Hereford the relieving driver refused to accept the Class 25, 47152 was borrowed off the southbound bitumen tanks to go forward. Whatever ailed 25237 proved fatal as it was withdrawn later in June.
25237 was withdrawn on June 10th 1985.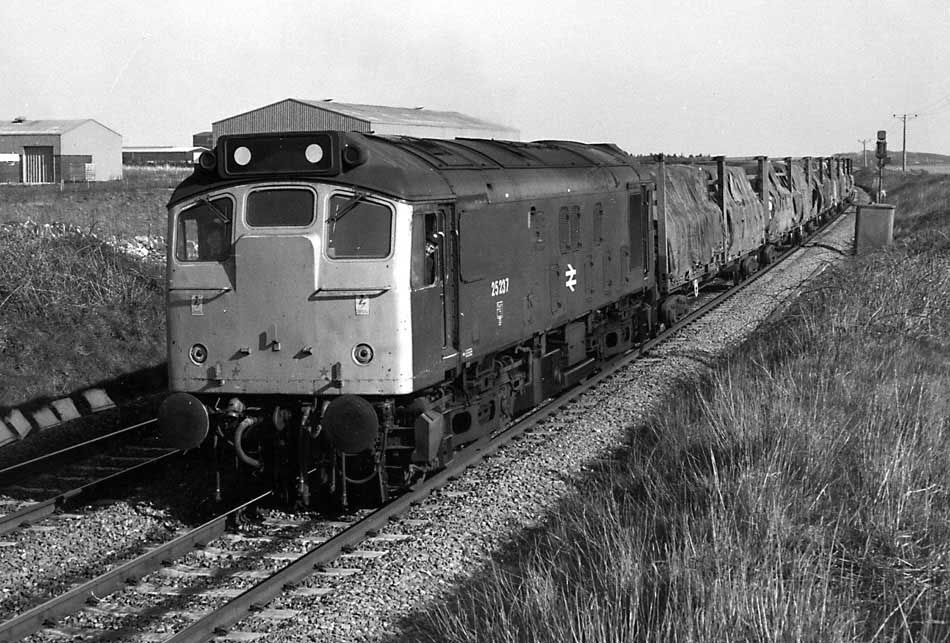 Photograph courtesy Steve Morris.
25237 approaching Holyead, date unknown.
Distinguishing Features
Non BIS side: cantrail level: multiple rust patches towards center: September 1984 until withdrawn.
The number panels from scrapped 25237 were saved - including TOPS panel and ED shed sticker.
Not all known passenger workings are recorded on this page.
53/3560
flk 0822
Page added September 11th 2013.
Last updated August 27th 2022.
Back to 25236
Forward to 25238