D7590, 7590, 25240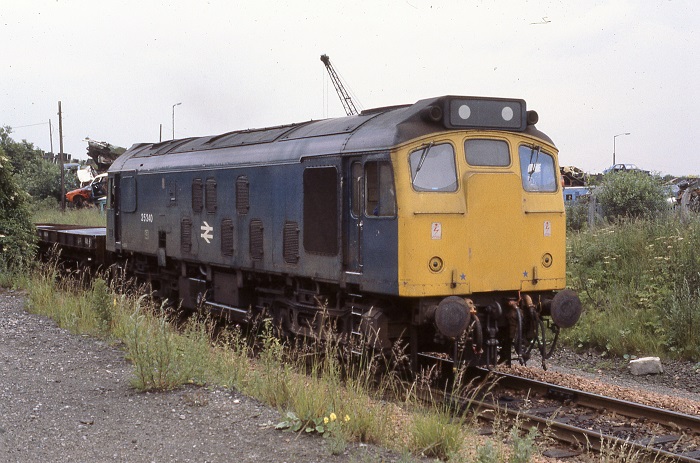 25240 at Mossend on July 7th 1980.
The nineteen year career of D7590/25240 started and ended at LMR depots connected by a thirteen year stint on the Scottish Region.
Built Darlington Locomotive Works
Boiler equipped
Dual brake equipped
Center lampbracket & other fittings removed.
Time between last Classified repair and withdrawal: ?? months.
Time between withdrawal & scrapping: 3 months.
Allocations
D7590 was new to Toton (16A) on April 15th 1964. Further transfers were:
May 1964 to Nottingham (16D).
January 1965 to London Midland Midland Lines.
May 1968 to Longsight (9A).
June 1968 to Manchester Division (D09).
August 1968 to Eastfield (65A).
October 1968 to Haymarket (64B).
September 1973 to Springs Branch.
November 1974 to Haymarket.
May 1975 to Eastfield (temporarily stored serviceable January 1982).
September 1982 to Springs Branch.
October 1982 to Crewe.
Withdrawn August 28th 1983.
Renumbered February 2nd 1974.
25240 was the 193rd Class 25 to be withdrawn, one of six withdrawn during August 1983.
After withdrawal 25240 moved to Swindon Works on September 22nd 1983 and was scrapped there during the first week of December 1983.
Works Visits
Works visits (records incomplete).
Noted Crewe Works April 1966.
Noted Glasgow Works November 1976.
Noted Derby Works October 1981 (N4 repairs).
Highlights
1964
During the summer of 1964 D7590 was noted working the Leeds - Morecambe services on several occasions. On July 1st D7590 worked the 08.32 Leeds - Morecambe and the 12.30 Morecambe - Leeds on August 10th and September 8th.
1965
The 17.00 Manchester Central - Liverpool Central was worked by D7590 on May 5th.
1966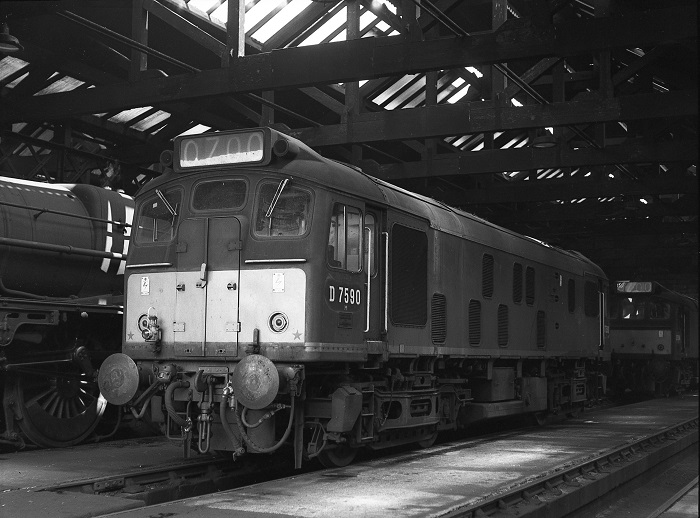 Photograph collection of webmaster.
D7590 at Trafford Park shed on June19th 1966.
1967
D7590 was noted at Preston on May 29th with a 'Top Rank' Lakeland Tour.
1968
7590 was noted passing Settle Junction with withdrawn 9Fs 92017 & 92125 in tow on April 8th. The two 9Fs had been withdrawn during December 1967 and were destined for Arnott Young, Parkgate for scrapping. 7590 was still in green livery with small yellow warning panels. The gangway doors were still in place, whilst the exhaust port had been relocated to the roof panel over the engineroom.
Condition no month: green livery with full yellow ends, no frame level stripe, gangway doors present, no blanking plates, hand/footholds present, ridge sided sandboxes, three-rung bogie mounted footsteps, dual braked - hinged ventilators.
1970
The increasing use of airbaked coaching stock required the Craigentinny pilots to be so equipped, for quite awhile Haymarket allocated 7590 & 7591 were virtual fixtures on the empty coaching stock between Craigentinny and Waverley.
On April 11th a return Glasgow Central - Aberdeen Scottish Cup Final special was worked by 7590 & 5337. Most of the specials were in the hands of Class 40s.
Condition July: green livery with full yellow ends, no frame level stripe, gangway doors present, ridge sided sandboxes, three-rung bogie mounted footsteps, 'D' prefix present.
1971
On May 11th an Immingham - Millerhill freight went forward from Tyne Yard behind 7590 & 5320.
With a long period allocated to either Eastfield or Haymarket, 25240 had the opportunity to operate many Scottish Region passenger services. Such workings included services from Glasgow to Carlisle, Oban, Dundee, Aberdeen and Edinburgh to Perth, Stirling, Dundee, Glasgow & Carstairs. Its longest one day passenger haulage occured on May 8th when it worked an Edinburgh - Scarborough mystery excursion to York and back (409 miles), with 40068 covering the York - Scarborough section.
1972
During September (date uncertain) a 13.00 Edinburgh - Glasgow Queen Street push-pull service was worked by 7590 & 7581.
1973
A Craigentinny - York empty coaching stock train was worked by 7590 throughout on January 27th.
On March 12th the 18.30 Glasgow Queen Street - Edinburgh push-pull service was worked by 7590 & 5388.
At about 5pm(?) on December 14th 7590 was noted at Liverpool Lime Street with a down van train (4H15).
1974
On July 12th the 23.00 Birmingham New Street - Yarmouth relief was worked at least to Derby by 25240 & 25248, the Class 25s may have worked further.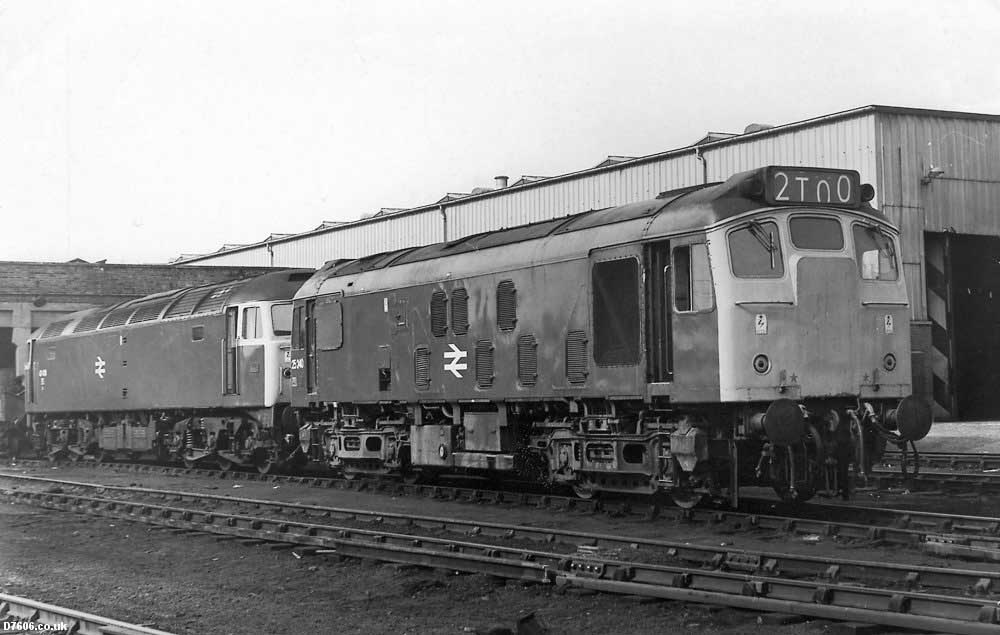 Photograph courtesy Ian Hammond.
In between its lengthy Scottish service 25240 was allocated to Springs Branch from September 1973 to November 1974. It is seen at Springs Branch on May 7th 1974. The hinged grilles indicate the locomotive is dual braked.
1976
On June 19th a mineral wagon in the 06.30 Mossend - Kingmoor Yard freight became derailed and damaged a mile of track between Dinwoodie & Wamphray. The train locomotive, 85038 remained on the rails. For the remainder of the day through services were diverted via the GSW route, with the resultant heavy delays. Many services required diesel power including 25232 & 25240 working the 14.10 Glasgow Central - Euston service as far as Carlisle via the Glasgow & South Western route (?).
1978
On March 14th the 21.40 Edinburgh - Carstairs was worked by 25240.
25240 was noted at Edinburgh at noon on May 1st with seven coaches, possibly deputising for a multiple unit.
A short working for 25240 on June 5th was the 17.15 Aberdeen - Stonehaven. The 21.40 Edinburgh - Carstairs was worked by 25240 on June 26th & July 20th.
25240 was stabled at Eastfield depot on the evening of August 14th. On August 31st 25240 was noted southbound through Stirling with an air braked freight.
On September 5th 25240 worked the 22.45 Carstairs - Edinburgh.
1980
On February 16th 25240 worked the 12.25 Glasgow Queen Street - Oban. Three days later (19th) 25240 worked the 17.24 Edinburgh - Dundee.
The 16.10 Glasgow Central - Nottingham was worked to Carlisle by 25240 & 26033 on March 14th. On March 29th 25240 worked the 05.55 Stirling - Edinburgh.
The 07.38 Dundee - Glasgow Queen Street and the 12.44 Glasgow Queen Street - Dundee were worked by 25240 on April 5th. Two days later (7th) 25240 worked the 11.05 Perth - Edinburgh 12.47 Edinburgh - Perth. On April 12th the 10.06 Dundee - Kings Cross utilised 25240 as far as Edinburgh where 55002 was on hand to takeover.
Condition July: Battery Isolating Switch (BIS) side of locomotive has smaller hinged ventilator grille at extreme left (No.2 end) of lower row.
1981
On January 10th the 10.14 Perth - Motherwell was worked by 25240.
The 20.44 Glasgow Queen Street - Dundee was worked by 25240 on July 20th & 22nd. Five days later on July 27th 25240 worked the 12.40 Glasgow Central - Carlisle.
On August 28th 25240 & 25081 were noted working various Kensington Olympia - Willesden motorail services.
The 10.10 Euston - Aberystwyth from Birmingham New Street and the return 18.00 Aberystwyth - Wolverhampton were worked by 25240 & 25057 on September 5th.
1982
On January 7th the 07.40 Oban - Glasgow Queen Street and the 12.53 Glasgow Queen Street - Oban were worked by 25240.
The 12.20 Dundee - Edinburgh and the 14.25 Edinburgh - Dundee were worked by 25240 on February 20th.
Condition May: blue/yellow livery, gangway doors sheeted over, central lamp bracket and other fittings removed from cab front, blanking plates fitted, hand/footholds plated over, straight-sided sandboxes, three-rung bogie mounted footsteps, No.1 cab end - fire warning stencilled at frame level behind cab door.
On June 29th 25240 was stabled at Ayr depot during the two day NUR strike.
1983
On March 18th 25240 failed in the Hereford area whilst working the 15.02 Manchester - Bristol parcels, it was rescued by 25284, which left 25240 at Barrs Court Road sidings. 25240 would remain here until March 22nd when it was picked up by 25083 with a Severn Tunnel Junction - Carlisle, being deposited at Crewe for repairs.
On April 22nd 25240 & 25190 worked an Ellesmere Port - Exeter Riverside bitumen tank service.
On May 3rd the morning freight from Bury St Edmunds to Whitemoor was handled by 25240. 25218 & 25240 were noted with an engineer's permanent way train through Warrington Bank Quay on May 12th.
The last two recorded passenger working for 25240 were both short and caused by unexpected operating conditions. On May 16th 25240 assisted 86229 on the 16.10 Euston - Liverpool between Nuneaton & Birmingham New Street after a derailment affected the Trent Valley route. The next day (17th) the 07.28 Hereford - Birmingham New Street diesel multiple unit required assistance after it failed at Rowley Regis, 25240 assited to Langley Green (1 mile) where 25202 took over.
A double headed combination worked August 3rd's 00.30 Cardiff – Manchester mail with 25032 & 25240.
25240 was withdrawn on August 28th 1983.
40/2662
flk 1216 (1)
Page added November 19th 2012.
Last updated February 5th 2020.