D7589, 7589, 25239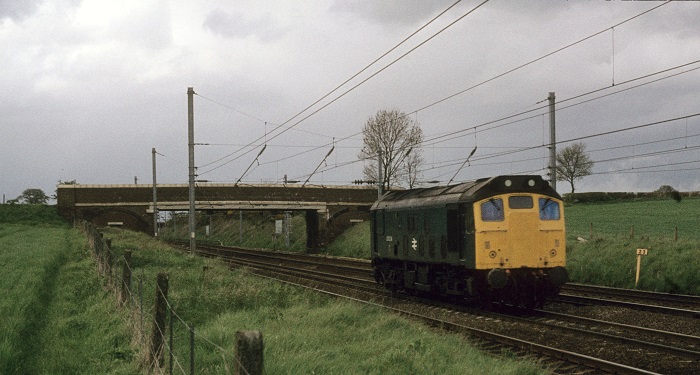 Photograph courtesy Roger Geach
Its May 12th 1983 and 25239 is on the Up Main headed for St Albans to pick up one van.
The twenty year seven month month career of D7589/25239 included allocations to London Midland Region & Scottish Region depots.
Built: BR Darlington Locomotive Works.
Boiler equipped.
Dual brake equipped (October 1977).
Center lampbracket & other fittings removed.
Angled strip at bottom of cab doors.
Time between last Classified repair and withdrawal: 85 months.
Time between withdrawal & scrapping: 22 months.
Allocations
D7589 was new to Toton on April 13th 1964. Further transfers were:
May 1964 to Leicester (15A).
January 1965 to London Midland Midland Lines (LMML).
May 1968 to Longsight (9A).
June 1968 to Manchester Division (D09).
October 1969 to Nottingham Division (D16).
November 1970 to Manchester Division (D09).
May 1973 to Longsight.
October 1975 to Crewe.
November 1975 to Toton.
May 1976 to Scottish Region.
June 1976 to Eastfield.
October 1982 to Kingmoor.
October 1982 to Crewe.
Withdrawn November 5th 1984.
Renumbered April 1974.
25239 was the 222nd Class 25 withdrawn, one of six retired during November 1984.
After withdrawal 25239 was stored at Kingmoor until moved (see details below) to Swindon Works between March 20th & April 3rd 1985, being scrapped there by the middle of September 1986, with the cabs beings taken to Vic Berry's Leicester for final processing.
25140, 25239/258 Carlisle – Bescot – Swindon Works March 20th – April 3rd 1985 (08599 from Bescot).
Works Visits
Works visits (records incomplete).
Noted Derby Works May & June 1964.
Noted Derby Works April 1965.
Noted Derby Works February 1972.
Noted Derby Works August 1975.
Noted Glasgow Works August - October 1977 (dual brake equipment fitted).
Noted Glasgow Works April 1978.
Highlights
1965 - 1967
Early recorded passenger workings for D7589/25239 featured the summer dated roundtrip Nottingham - Llandudno Town, being noted on August 21st 1965, June 4th 1966 with D7556 and July 29th 1967 with D5199.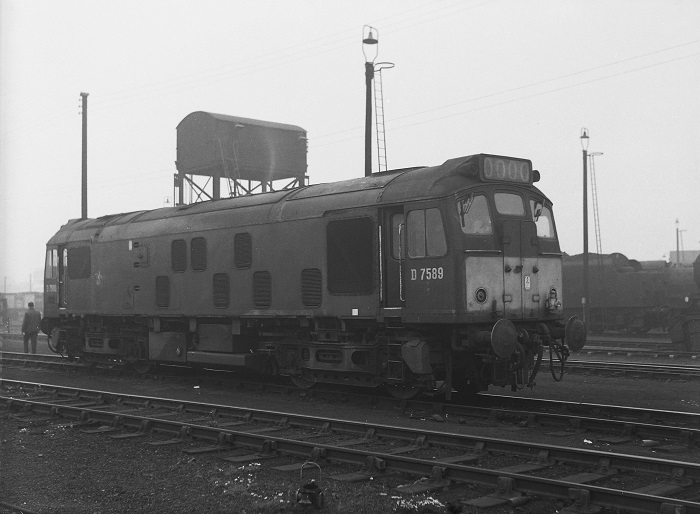 Photograph collection of webmaster.
D7589 at Derby on September 25th 1966. D7589 has been in service for eighteen months.
1968
The 09.00 Liverpool - Glasgow was regularly worked to Preston by steam during the first four months of the year. The increasing availability of diesels saw these opportunities greatly reduced by May, whilst early in June noted were D5262 (3rd), D5248 (4th), D5154 (8th) and D7589 (15th).
1970
On August 1st 1970 the 08.15 Leicester - Blackpool North was worked from Nottingham by sisters 7589 & 7588.
1971
On August 14th 1971 7589 & 5196 worked the 09.20 Manchester Piccadilly - Yarmouth to Lincoln Central returning from there with the 09.28 Yarmouth - Manchester Piccadilly. Towards the end of the summer season on September 28th 1971 7589 & 7577 worked a Manchester Piccadilly - Yarmouth to Norwich.
On October 23rd 7589 overran the buffer stops at Newton Heath, ending up in St Mary's Road.
1973
The 09.15 Llandudno Town - Birmingham New Street on September 8th was worked to Crewe by 7589.
1974
On July 13th the 09.19 Manchester Piccadilly - Yarmouth was worked to Lincoln Central by 25239 & 25291, however they did not work the return leg.
A Tunstead to Northwich limestone was noted behind 25239 near New Mills on September 4th.
Condition September: blue/yellow livery, gangway doors fitted.
1975
The 20.00 Lincoln - Derby mail was worked by 25239 on January 20th.
On August 30th the 13.00 Llandudno Town - Nottingham was worked from Crewe to Nottingham by 25239, which replaced 40132 and which itself had rescued a failed Class 25 in the Rhyl area. On November 18th 25239 worked the 07.10 Derby - Matlock, the 08.00 Matlock - Derby and during the late afternoon the 17.00 Derby - Matlock and the 17.50 Matlock - Derby.
1976
On 18th February the 07.45 Cardiff – Newcastle arrived at its destination behind 25037 & 25239, presumably having deputised for a failure. The Type 2s returned south separately on parcels workings.
On May 17th 25239 was noted on the daily Whitemoor – Kings Lynn freight round trip.
Condition June: gangway doors fitted.
On June 5th 25239 & 25126 worked the 08.00 Walsall - Yarmouth to Norwich, returning from there with the 14.15 Yarmouth - Derby. Early into the 1976 summer timetable 25239 was transferred to the Scottish Region for just over six years. On August 2nd 25239 worked the 21.40 Edinburgh - Carstairs.
On October 28th, 29th & November Novemer 1st, 2nd, 3rd & 4th 1976 25239 handled a roundtrip Glasgow Queen Street - Fort William service (possibly to/from Mallaig) each day for a six day total of almost 1,500 passenger miles.
1978
A Nottingham - Mallaig railtour on April 16th was worked out & back Mossend Yard - Fort William by 25239 & 27012. On April 22nd 25239 & 25079 worked the return leg of a Nuneaton - Edinburgh day excursion, presumably as far as Carstairs.
On June 10th the 11.03 Perth - Edinburgh was worked by 25239. On July 15th the 09.19 Manchester Piccadilly - Yarmouth was worked to Lincoln Central by 25239 & 25107, presumably 25239 had strayed briefly from its Scottish duties. The Class 25s did not work the booked return working. On July 31st 25239 worked the 07.00 Perth - Dalwhinnie, the next day (Aug 1st) it worked the 21.40 Edinburgh - Carstairs.
25239 was noted passing Crofton on October 19th with a breakdown train headed for Healey Mills.
November 23rd saw the 19.30 York - Edinburgh parcels powered by 25239.
1979
25239 saw regular use on the Glasgow/Edinburgh - Dundee & Aberdeen services, On August 10th it was noted on the 06.48 Dundee - Aberdeen. On August 28th the 04.20 Mossend Yard - Glasgow Queen Street was worked from Cowlairs Junction by 25239, being the portion off the 1S07 Euston - Inverness. Later that morning it worked the 08.36 Glasgow Queen Street - Mallaig to Fort William.
1980
On April 2nd 25239 worked the 17.10 Perth - Dundee, whilst on September 9th the 22.20 Perth - Euston was worked to Mossend Yard by 25239 & 27014.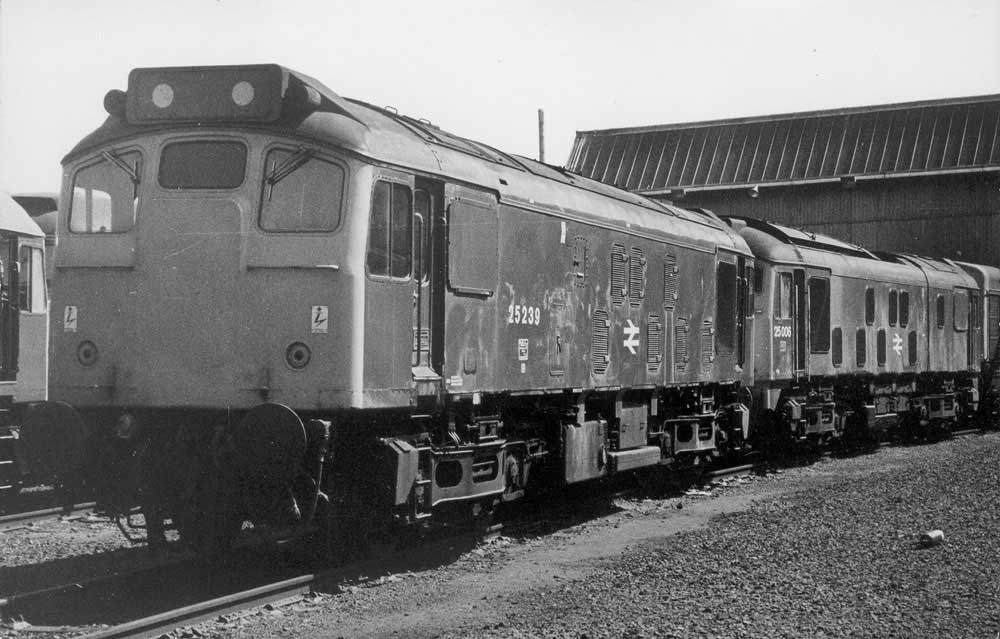 Photograph collection of webmaster
25239 & 25006 at Eastfield date unknown.
1981
The 13.39 Dundee - Glasgow Queen Street was worked by 25239 on June 10th, whilst on July 23rd 25239 handled the 13.43 Kilmarnock - Stranraer Harbour.
1982
The 05.55 Stirling - Edinburgh was worked by 25239 on March 3rd. It was the turn of the 17.12 Perth - Arbroath on March 13th. 25239 was south of the border on July 28th with the 12.50 Carlisle - Glasgow Central. The 16.38 Glasgow Queen Street - Dundee was worked by 25239 on September 11th.
With the end of the summer timetable 25239 was transfered to Kingmoor during October 1982, then quickly moved on to Crewe in the same month. The 17.35 Leeds - Bristol Temple Meads vans was noted at Derby behind 25239 on October 19th. On October 22nd the 18.18 Birmingham New Street - Norwich was hauled by 25239 between Nuneaton Midland Junction & March.
1983
On the evening of March 26th 25239 was parked at Manchester Victoria.
For 1983 the majority of the recorded passenger workings occurred during the latter half of the year. On May 15th 25239 worked the unadvertised 02.15 Euston - Hemel Hempstead.
On June 2nd (or 4th) the 11.05 Leeds – Bescot freightliner was worked by 25239.
On July 4th 25239 & 47233 departed Lawley Street with a freightliner service. A failure took place on July 16th with the 07.35 Euston - Aberystwyth when 25239 & 25228 worked forward from Wolverhampton but 25239 failed at Albrighton with brake problems. On a very wet July 23rd 25239 did reach Cambrian metals with 25228 working the 10.10 Euston - Aberystwyth from Birmingham New Street, returning with the 17.15 Aberystwyth - Crewe (extended from Shrewsbury).
25239 was noted at Northampton on August 6th. Engineering work on the WCML on August 7th saw 25239 & 25316 assist two services between Rugby & Bletchley.
25239 was stabled at Northwich on September 16th. 25239 & 25210 were noted passing Skelton Junction on September 29th with empty cement tanks from the Blue Circle Cement depot at Northernden.
'The Burntisland Bellower' railtour on October 1st was worked by 25239 & 25051 between Carlisle & Newcastle, the Class 25s returned to Carlisle with empty coaching stock. Short workings on October 31st (also reported as November 7th), deputising for a diesel multiple unit, saw 25239 work the 16.35 Nottingham - Grantham and the 17.40 Grantham - Nottingham.
On November 4th 25239 was noted at Stockport with eight short wheelbase ICI wagons. The failure of 45126 at Manchester Victoria on November 22nd working the 08.05 Liverpool - Newcastle saw 25239 handle the service between Manchester Victoria & York, 45140 took over at York. On December 1st 1983 the 16.35 Carlisle - Leeds was worked by 25239.
1984
25109, 25239 & 25257 were three of eleven locomotives stabled at Wellingborough on January 21st for the next day's engineering duties.
25239 was noted southbound through Hereford on April 25th with empty coaching stock.
Three of the recorded passenger workings during 1984 involved failures. On August 26th 25239 & 25201 worked the 02.35 Euston - Bletchley after 85025 failed.
The 12.59 Blackpool North - Euston failed at Warrington behind 85025 on September 8th, 25239 & 25237 took the train on to Crewe. 25239 was stabled at Nuneaton on a very wet September 21st.
October opened with 25051 & 25239 arriving at Newcastle with a Paisley – Sheffield special, going forward behind 31291 & 31327, the Class 25s returning to Carlisle with an ecs working.
With both Classes 25 & 40 slowly succumbing to withdrawal the infamous Ditton – Broughton Lane BOC working saw a number of trials involving Classes 37, 47 & 56 during late September/early October. However October 3rd found the working behind 40099 & 25239. By month end Class 47s would be in charge of the BOC working. On October 5th the 16.38 Manchester Piccadilly - York failed at Sheffield behind 31445, 25239 took the service on to York. The last recorded passenger working for 25239 took place on October 13th doubleheading the 06.55 Kings Cross - Carlisle steam railtour between Long Marton & Howes Sidings with 4498 Sir Nigel Gresley.
25239 was withdrawn on November 5th 1984.
Distinguishing Features
No.2 cab front: 2nd man's side, rusty patches under handrail.
Not all known passenger workings are recorded on this page.
69/5630
flk 0217 (1)
Page added September 13th 2013.
Last updated November 16th 2019.