D7592, 7592, 25242
An odd man out!!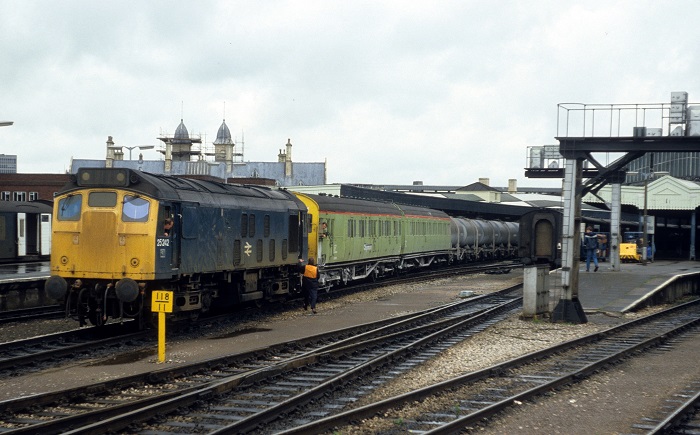 Photograph courtesy Bernard Mills
25242 with a weedkiller train at Bristol Temple Meads on June 2nd 1983.
The almost twenty year career of D7592/25242 was spent allocated to London Midland Region depots, with over 10 years at Manchester area sheds.
Built: BR Darlington Locomotive Works.
Boiler equipped (later removed).
Dual brakes fitted (see note in 1973 notes).
Center lampbracket & other fittings removed.
Boiler water tank removed - the odd man out!!
Time between last Classified repair and withdrawal: 76 months.
Time between withdrawal & scrapping: 6 months.
Allocations
D7592 was new to Toton (16A) on May 13th 1964. Further transfers were:
May 1964 to Wellingborough (15B).
July 1964 to Leicester (15A).
January 1965 to London Midland Midland Lines (LMML).
June 1968 to Longsight (9A).
June 1968 to Manchester Division (D09).
May 1973 to Longsight.
August 1973 to Willesden.
October 1974 to Longsight.
January 1980 to Bescot.
March 1983 to Crewe.
Withdrawn May 4th 1984.
Renumbered February 16th 1974.
25242 was the 218th Class 25 withdrawn, one of three retired during May 1984.
After withdrawal 25242 was stored at Crewe, then moved with 25250 to Swindon Cocklebury Yard between June 29th & July 7th 1984, then into Swindon Works by July 23rd 1984 and scrapped by the middle of November 1984.
Works Visits
Works visits (records incomplete).
Noted Derby Works March 1969.
Noted Derby Works January - April 1973.
Noted Derby Works October - December 1977 (Classified).
Highlights
1964
The frames for D7592 were laid down at Darlington during down February, as part of the final batch of Class 25's to be built there. It would be delivered during May to Toton (16A), then quickly transferred on to Leicester (15B) later that month.
Class 25s visiting the Glasgow area on inter-regional workings would frequently be used by the Glasgow depots (Corkerhill or Polmadie) on local workings before being returned south. During November D7592 handled just such a working bewteen Wemyss Bay & Glasgow Central.
1965
On July 31st D7592 was noted in charge of the Nottingham - Llandudno Town summer season Saturday service, and presumably returned east on the balancing afternoon working.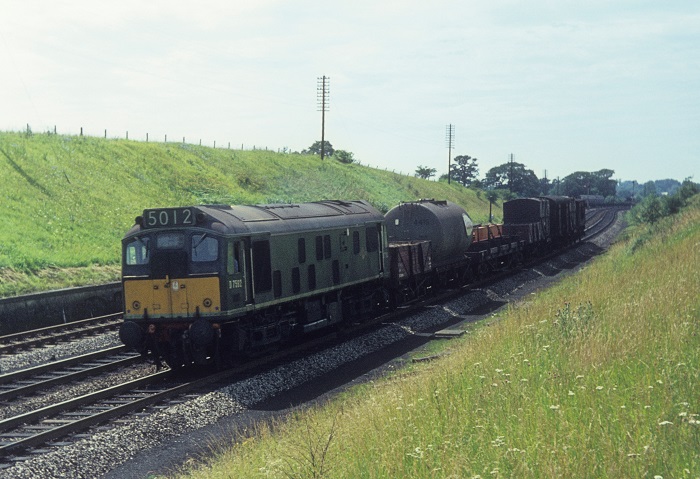 Photograph collection of Roger Geach
Class 25 No.7592 southbound on Hatton Bank with an inter-regional train, date unknown.
1966
On March 12th D7592 was noted on a Morecambe - Leeds passenger working.
1967
Condition May: green livery with small yellow warning panels, straight corners for warning panel, engine exhaust located above engine room, boiler water tank fitted.
1968
The early morning Carlton Sidings - West Drayton freight saw haulage by a number of Type 2s alongside many Type 4's, often returning to the LMR on the mid afternoon West Drayton - Burton, so noted on May 9th was D7592.
7592 was transferred to Longsight (9A) during May.
November 20th found 7592 in charge of the 17.45 Manchester Victoria - Glasgow Central as far as Preston.
1969
7592 visited Derby Works during March.
On two weekends during July 7592 worked the summer dated Sheffield - Llandudno Town roundtrip. On July 12th it was worked by 7592 & 7541 and on July 26th it was worked by 7592 & 7595.
7592 was noted at Manchester Victoria on December 17th having brought in a service from York (ex 02.10?).
1971
On March 19th 7592 worked the 18.06 Manchester Exchange - Blackpool North vans (4P05).
1972
At about 6pm on March 17th 7592 was noted passing Manchester Victoria with an up freight.
On August 12th the 14.15 Barrow - Manchester Victoria was worked by 7592, still carrying green livery with frame level stripe, but with full yellow cab fronts, the boiler water tank is still fitted. On August 18th & 21st 7592 was the Manchester Victoria banker (T43).
1973
From January to April 7592 was at Derby Works, presumably for a General repair. During this repair the train heating boiler & water tank were removed and dual brake equipment was fitted. This is the only recorded example of a Class 25 having its boiler and water tanks removed. In doing so the dual braking equipment was presumably placed in the space vacated by the boiler. By doing this it was not neccessary to modify the access to the bodyside filters as was carried out on other dual braked examples with the earlier bodystyle.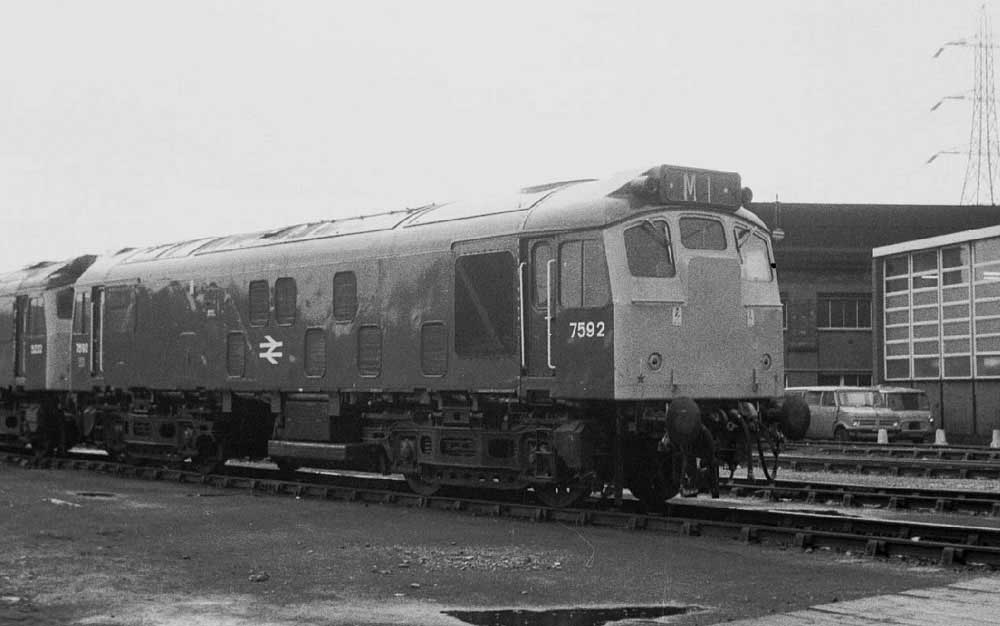 Photograph courtesy Tony Sayer
7592 at Saltley on a wet, dreary April 23rd 1973. The view clearly shows the water tank has been removed.
At about 6pm on June 14th 7592 was noted at Manchester Exchange with a down van train (4P05). On June 23rd the 08.00 Walsall - Yarmouth was worked to Norwich by 7592 & 7647.
At about 9am on July 28th 7592 & 5204 were on empty coaching stock duty at Manchester Piccadilly.
During August 7592 was transferred to Willesden.
A new Freightliner service was established between Forders siding, Bedford and Trafford Park/Garston. The route out was via the Midland line and the Hope Valley route, returning over the WCML. From the beginning of the service Class 25's were used, with 7592, 7654/55 frequently being noted.
1974
On May 5th 25242 & 25311 were noted assisting an electric service between Bletchley & Watford whilst the power was off for engineering works.
25242 was transferred to Longsight in October.
1975
The Teesport - Dalston 'Shell-Mex' oil train was worked by 25242 & 25197 on April 19th.
With 25242 having been allocated to Longsight late last year it was no surprise to find it on the ICI Tunstead - Northwich workings (see photo at the top of the page).
1976
Severe gales on the evening of January 2nd affected much of the country with wind speeds consistently above 50mph. These high winds brought down the wires in the Berkswell area, a diesel multiple unit shuttle substituting between Coventry and Birmingham. 25251 & 25277 assisted 87023 with an empty coaching stock working through the affected area on the morning of 3rd, whilst 25236 arrived with a re-wiring train, though full service was not restored until January 4th. Such was the intensity of the storm that the majority of electric services into New Street were halted, with diesels substituted for many northbound workings. Delays of three to four hours were frequent. Not helping the matter was the derailment of 25242 on an engineers train south of Nuneaton, also on 2nd. This severely impacted the Leicester services, however the arrival of 25047 with the Saltley breakdown crane saw the line cleared by the evening.
25242 was the Manchester Victoria banker (T42) on January 31st.
A failed diesel multiple unit on the Bedford - Bletchley line on April 20th required the two-car unit to be towed by 25242 for the 08.05 Bletchley - Bedford and the 08.50 return.
On May 30th 25242 & 25292 were in charge of the 08.20 Burton on Trent - Skegness and the return working. The following day (31st) the same pair worked a roundtrip mystery excursion from Beeston to Southport.
The 10.00 Euston - Holyhead on October 27th failed at Llandudno Junction behind 47437, 25292 worked the train forward and then returned with the 16.52 Holyhead - Manchester Victoria as far as Llandudno Junction where it was replaced by 40020.
1977
It was a trip to the seaside on September 3rd for 25242 & 25116 working the 08.52 Leicester - Skegness and presumably the return 12.30 Skegness - Leicester.
25242 was at Derby Works during October & November (for an Intermediate repair?).
1978
25242 was noted at Preston with a Division Manager's saloon on July 4th.
1979
On February 13th 25242 worked a round trip Wigan – Kirkby passenger following the failure of the diesel multiple unit at Pemberton on the westbound working. Seven days later (20th) 25242 hauled 507012 from Hall Road to Derby Research Center.
On May 26th 25242 managed a short hop on the SLOA's 'Curator' railtour, being used between Manchester Piccadilly & Guide Bridge, having replaced a Class 86 that had brought the tour up from London and giving way to a pair of steam locomotives (1000 & 4771) at Guide Bridge.
25242 was noted southbound at Preston on June 14th with a freight train.
25242 was noted shunting at Chinley station yard on August 15th.
On the morning of September 22nd 25242 was noted shunting stone wagons at Bristol Parkway.
25242 performed a similar short hop on a railtour on November 24th whilst working 'The Gricers Heaven' railtour. This time the Class 25 worked the short leg from Manchester Victoria to Guide Bridge. The Class 40 working the train, 40188 had reported vacuum trouble so was replaced at Manchester Victoria. At Guide Bridge 76027 & 76028 took over from 25242.
25242 was transferred to Bescot during December.
1980
Two weeks later on June 7th 25242 was still coupled to 25305 and worked the 08.02 Walsall - Yarmouth to Norwich, coming back from there with the 14.15 Yarmouth - Derby.
The weekend of July 5th & 6th proved busy for 25242 & 25184, with return trips made over the Cambrian on both dates. On the Saturday they worked the 07.40 Euston - Aberystwyth from Wolverhampton and came back with the 17.55 Aberystwyth - Wolverhampton. The following day they worked the 08.45 Birmingham New Street - Aberystwyth (via Bescot) returning with the 18.10 Aberystwyth - Euston as far as Wolverhampton. The following weekend (12th) 25242 was back on the Cambrian, now coupled to 25325 to work the 04.10 Shrewsbury - Aberystwyth, returning on the 10.07 Aberystwyth - Euston as far as Wolverhampton.
Starting on August 30th three consecutive weekends were spent on the Cambrian starting with the 04.10 Shrewsbury - Aberystwyth double headed with 25280, the return working was the 10.07 Aberystwyth - Euston as far as Wolverhampton. Next, on Sptember 6th, and now with 25299 they worked the 10.10 Euston - Aberystwyth forward from Birmingham New Street returning with the 16.10 Aberystwyth - Shrewsbury. And finally on September 13th 25242 & 25051 worked the same diagram as that of September 6th.
During December 25242 received its last 'E' exam, at Tyseley.
1981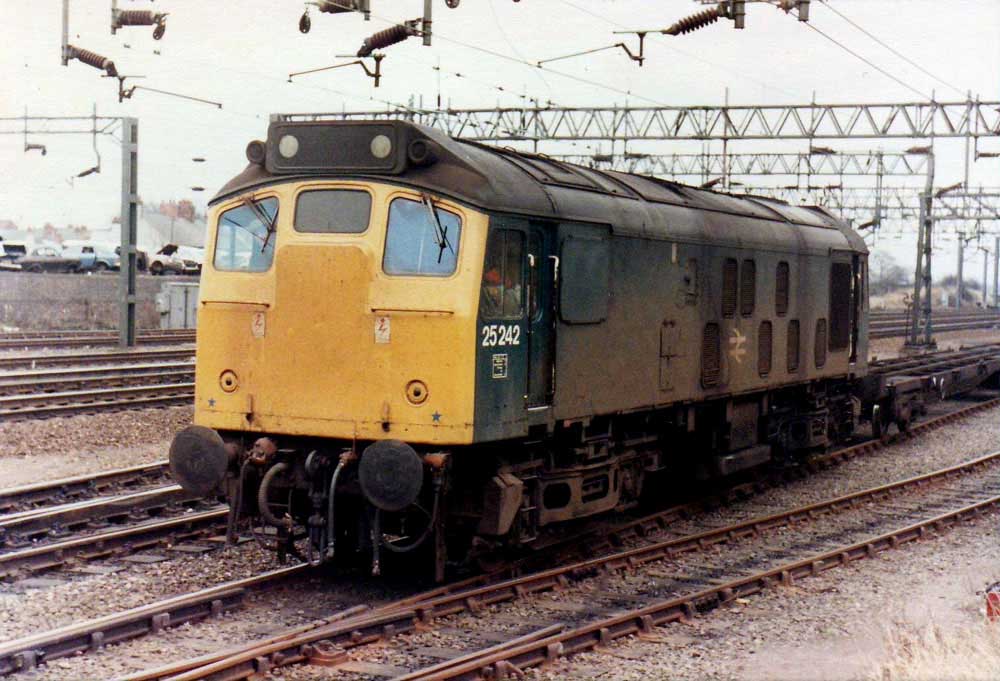 Photograph courtesy Dave Smith.
25242 at Coventry Sidings, Nuneaton on February 6th 1981 with the 4L45 Nuneaton - Willesden freight.
On April 15th 25242 was noted northbound through Derby with loaded ballast wagons.
After the multitude of summer Saturday workings during 1980, the year of 1981 for 25242 was much more subdued. The only recorded scheduled 'Cambrian' working was on July 4th when 25242 & 25161 worked the 16.05 Aberystwyth - Wolverhampton forward from Shrewsbury, replacing 25262 & 25275. However on August 17th 25242 & 25268 did manage to reach the coast working a Banbury - Aberystwyth day excursion.
On September 23rd the 10.15 Birmingham New Street - Norwich was hauled by 25242 as far as Peterborough.
A month later on October 25th 25242 was on one of Euston's nocturnal workings handling the unadvertised 02.15 Euston - Hemel Hempstead.
25242 & 25301 with a brakevan were noted at Bedford stabling point on November 1st.
The 12.55 St. Pancras - Sheffield was noted arriving at Nottingham behind 25242 on December 14th, quite where the Class 25 took over is not recorded.
1982
Passenger on January 25th's 14.07 Derby - St.Pancras had the delights of 25242 as far as Leicester.
The Northwich Open Day on March 7th included 25242 alongside the shed. Attractions included 03196, 40025 & 56074 and it didn't rain.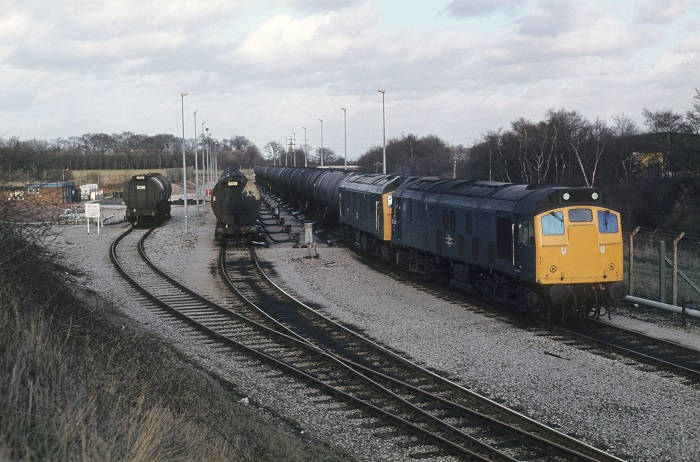 Photograph courtesy Roger Geach.
25242 & 25235 at Dalston on March 12th 1982.
On May 11th 25242 & 25191 worked the early morning Ellesmere Port - Exeter bitumen tanks.The 18.30 Barrow - Liverpool was worked by 25242 on May 24th.
25242 was noted at York on August 5th with a parcels train, Two days later (7th) it was front line service for 25242 when it was called upon to take the 1E69 10.55 Weymouth - Leeds forward from Birmingham New Street for the run to Leeds. On August 8th 25242 was stabled at Saltley.
September found 25242 working two Cambrian line services, firstly on September 4th, with 25208 it handled the 07.38 Shrewsbury - Aberystwyth and coming back with the 10.07 Aberystwyth - Euston as far as Wolverhampton. The following weekend (11th) and now with 25209 it worked the 07.40 Euston - Aberystwyth forward from Wolverhampton and returned with 14.00 Aberystwyth - Shrewsbury.
1983
25242's first passenger working of the year occurred on January 25th working the 22.47 Crewe - Blackpool forward from Preston.
On February 5th 87015 pulled down the overhead wires in the Hest Bank area. The following train, a Glasgow – Birmingham service with 87019 was rescued by 25242 being attached to rear, taking the train to Preston via Hellifield & Blackburn! Ten days later (15th) 25242 worked the 07.00 Ayr - Glasgow Central throughout.
25242's last transfer was to Crewe during March.
On March 30th noted north of Tring was 25242 with an overhead wiring train.
Brief railtour duty for 25242 & 25277 occurred on April 2nd when they worked the 'Annesley Annabasis' 07.30 Euston - Annesley Colliery from Euston to Willesden. Here a Class 33 was waiting to take over for the run north, on the return working the Class 25s replaced a pair of Class 33s again for the short Willesden - Euston leg.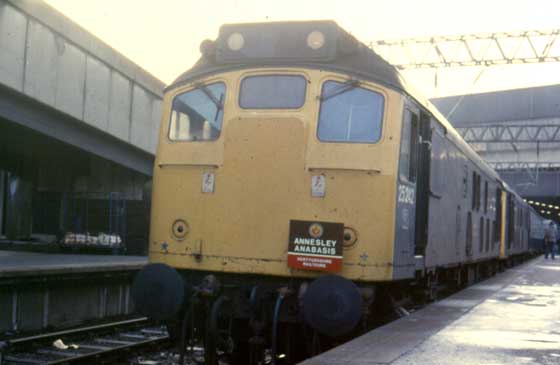 Photographer not known / collection of webmaster
25242 & 25277 waiting to depart Euston on April 2nd 1983 with the Annesley Annabasis railtour.
On May 25th 25242 & 25140 worked the 8F21 Oakamoor - St Helens sand train. 25242's last passenger outing over the Cambrian lines appears to have been on May 28th when it worked the 1J20 0735 Euston - Aberystwyth forward from Wolverhampton with 25078. This pair came back on the 2J72 14.00 Aberystwyth - Shrewsbury.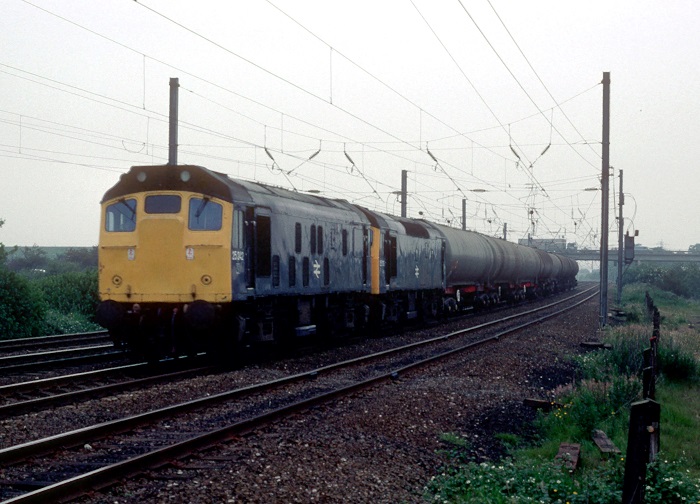 Photograph courtesy Roger Geach
25242 & 25211 with a Stanlow bogie oil tank working near Warrington on June 23rd 1983.
July 4th found 25242 on the Crewe - Cardiff run, working the 08.01 to Cardiff and the 11.40 back to Crewe.
On August 2nd the 6O93 Dunstable - Northfleet cement empties were noted at Dunstable Kingsway with 25089 hauling a failed 25242.
A Derby – Newcastle – York – Newcastle - Derby test train ran on various occasions during July using three laboratory coaches and four Class 317 coaches to investigate 'brake cooling'. On July 20th 25242 was noted in charge of this combination.
When the diesel multiple unit on the 17.58 Nottingham - Sheffield failed before departure on October 10th 25242 was on hand to drag the unit to Sheffield. And on November 4th 25242 was on hand at Carnforth to rescue another failure when the 07.20 Glasgow Central - Birmingham New Street hauled by a Class 87 expired here and was dragged by the Class 25 to Preston.
1984
25242 & 25316 were stabled at Birkenhead Mollington Street on January 14th.
25242 was noted at Blackburn with a light engine movement on March 6th. Three days later (9th) 25242 was noted passing Basford Hall with a southbound parcels train.
25242 was withdrawn on May 4th 1984.
During scrapping at Swindon the cabside number panels were saved.
Distinguishing Features
No.1 cab front 2nd mans side: missing paint on corner midway between handrail & frame: from ?? until withdrawal.
No.1 & 2 cab fronts: electrification flashes were mounted close to the edges of the former gangway door panel (normally centered under each handrail).
61/5379
flk 0217
Page added December 16th 2006.
Last updated February 19th 2021.
Back to 25241
Forward to 25243