D7593, 7593, 25243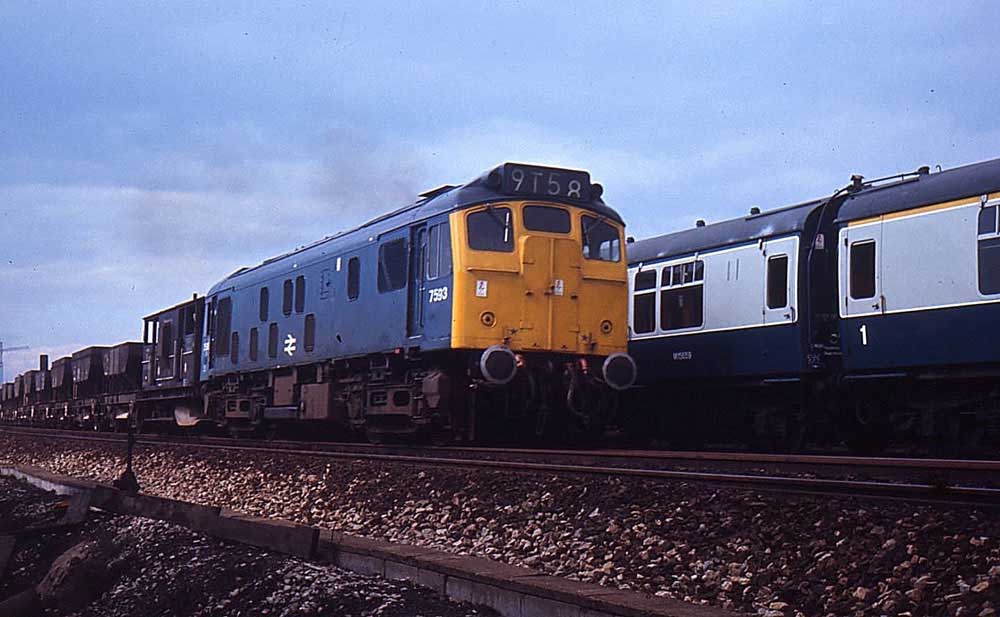 Photograph courtesy Dave Coxon
7593 at Derby with a ballast train sometime during 1972.
The operating career of nineteen years four months for D7593/25243 was split between Eastern Region and London Midland Region depots, and was one of the few Class 25s not to be allocated to a north-west area depot at any time.
Built: BR Darlington Locomotive Works.
Boiler equipped.
Dual brake fitted.
Time between last Classified repair and withdrawal: ?? months.
Time between withdrawal & scrapping: 4 months.
Allocations
D7593 was new to Nottingham (16A) on May 27th 1964. Further transfers were:
June 1964 to Leicester (15B).
July 1964 to Leicester (15A).
January 1965 to London Midland (Midland) Lines (LMML).
March 1968 to Holbeck (55A).
September 1968 to Gateshead (52A).
October 1971 to Holbeck (55A).
January 1972 to Gateshead (52A).
April 1972 to Nottingham Division (D16).
April 1972 to London Division (D01).
May 1973 to Cricklewood.
May 1974 to Willesden.
June 1974 to Cricklewood.
Withdrawn September 11th 1983.
Renumbered March 16th 1974.
25243 was the 194th Class 25 withdrawn, one of two retired during September 1983.
25243 was withdrawn due to fire damage sustained on August 17th 1983 at Bletchley whilst working a Kings Cross - Tring cement train. The locomotive was stored at Bletchley from August to October 1983, moving to Acton on October 30th 1983 and to Swindon Works by November 8th 1983. 25243 was broken up at Swindon Works by the middle of January 1984.
Works Visits
Works visits (records incomplete).
Noted Derby Works April 1966.
Noted Derby Works February & March 1967.
Noted Derby Works February 1968.
Noted Haymarket very ex-works with Glasgow (?) paint job July 1971 (gangway doors present).
Noted Derby Works September - November 1976 (Classified).
Highlights
1964
An early passenger working typical of these early days was the use of D7593 on August 10th 1964 working a roundtrip Leicester - Brighton excursion. At the opposite end of the country, whilst no doubt laying over from an overnight freight turn D7593 was used on the 11.25 Wemyss Bay - Glasgow Central on November 16th (?) 1964.
1966
Noted at Nottingham shed on Sunday September 18th were D5208, D5261, D5262, D5282, D7534, D7539, D7540, D7548, D7574, D7593 & D7657.
1967
Condition October: green livery with small yellow warning panels, square upper corners, gangway doors present, no blanking plates fitted, hand/footholds present, three-rung bogie mounted footsteps, straight sided sandboxes.
1968
On the evening of March 11th D7593 was noted at Manchester Victoria, waiting to takeover (?) the Wigan - Leeds vans.
On the afternoon of May 11th D7593 was at Leeds with a service for Bradford?
On the afternoon of August 24th 7593 was light engine at Leeds.
On the morning of November 11th 7593 was light engine near Heaton (Newcastle).
1969
On April 26th D7593 was noted working a special between Newcastle, Tyne Commission Quay and Walker Gate.
1971
Whilst making its way to Glasgow Works 7593 powered the June 4th 1971 07.00 Newcastle - Edinburgh and returned south on the 14.15 Edinburgh - Newcastle, only to return north light engine that evening!
1972
At about 6pm on August 18th 7593 was noted passing Manchester Exchange with a down coal train.
1975
25243 was noted shunting a freight at Willesden on June 10th.
1976
On January 25th 25243 & 25267 were noted at Chippenham with a very lengthy engineers train which included PWM 653.
On June 19th 1976 25243 & 25266 worked the Derby - Norwich - Yarmouth - Norwich - Walsall diagram.
Condition July: blue/yellow livery, gangway doors in place, blanking plates fitted.
On the afternoon of October 30th 25134, 25243 & 25258 were stabled at Saltley.
1977
On the afternoon of June 27th 25243 was stabled at York.
Nottingham was the destination on September 3rd 1977 when 25243 & 25116 worked the 08.52 Leicester - Skegness to Nottingham, returning from there with the 12.35 Skegness - Leicester.
An Open Day at Cardiff Canton on October 1st featured over fifty locomotives, including 25055, 25109 & 25243. The following month Cardiff would lose its allocation of Class 25s to Crewe.
1978
On the morning of May 2nd 25043 & 25250 were the Euston parcels pilots.
On Tuesday May 9th 25243 worked the the 09.55 Willesden to Norwood and (presumably) the 12.10 Norwood - Willesden.
On Tuesday June 6th 25243 worked the 09.55 Willesden to Norwood and the return 12.10 Norwood to Willesden. Also passing through Clapham Junction this day was 40052 on the 09.30 Temple Mills to Norwood, returning light engine to the Eastern Region. On Wednesday June 7th 25243 worked the 09.55 Willesden to Norwood and (presumably) the 12.10 Norwood - Willesden.
25243 was noted at Acton Yard on the late afternoon of October 27th. On Monday October 30th 25243 worked (presumably) the 12.10 Willesden - Norwood and the return 14.00 Norwood to Willesden.
On Friday November 3rd 25243 worked (presumably) the 12.10 Willesden - Norwood and the 14.00 Norwood to Willesden.
1979
On Friday January 19th 25243 worked the 04.45 Norwood to Willesden. On Wednesday January 31st 25243 worked the 09.55 Willesden to Norwood and (presumably) the 12.10 Norwood - Willesden.
Good and bad befell 25243 on the Midland mainline on August 17th, initially coming to the rescue of a failed 45143 at Bedford on the 05.44 Derby – St Pancras. Unfortunately 25243 expired across the junction at Finchley Road, seriously disrupting traffic out of St Pancras, final arrival being just over two hours late and now behind 45131!
With eleven years allocated to Willesden or Cricklewood the passenger workings did not come easily, one such 'local' job occurred on August 20th when the 10.00 Bedford - St. Pancras diesel multiple unit failed and 25243 worked the trip.
September 4th's Southam trip proved a little strenuous for 25243 as it caught fire at the site of Marton station. 25131 & 25135 rescued the train several hours later.
On September 8th 25243 & 25267 worked the 08.32 Derby - Yarmouth to Norwich, returning from there with the 14.15 Yarmouth - Derby.
On November 10th 25243 provided assistance to a St. Pancras - Nottingham service follwing the failure of 45114 at ?
1980
There was a multitude of Class 25s in the area of Bushey & Oxhey station from February 17th onwards following the dramatic derailment there of the 16th's 20.25 Euston – Manchester due to a track defect. The locomotive 87007 was the only part of the train to remain on the tracks, four of the MkIII coaches ended up on their sides, with one (M12162) bringing down the overhead gantries, which blocked the slow lines. Most fortunately there were only minor injuries. Three breakdown cranes attended, from Bescot, Finsbury Park – brought in by 25279 & 25256, and Old Oak Common – arrived behind 25152 & 25189. The slow lines were reopened late on the 17th, the dc lines late on the 19th, the fast lines by the 25th. Spoil trains used 25222 & 25243 and 25130 & 25173, this first pair returned with track panels on 21st, followed by 25256 on the re-wiring train. Because of the implications of this derailment the Class 86/0s regained their 80 mph speed restriction whilst the use of Classes 81 – 85 on air braked, air conditioned trains was permitted.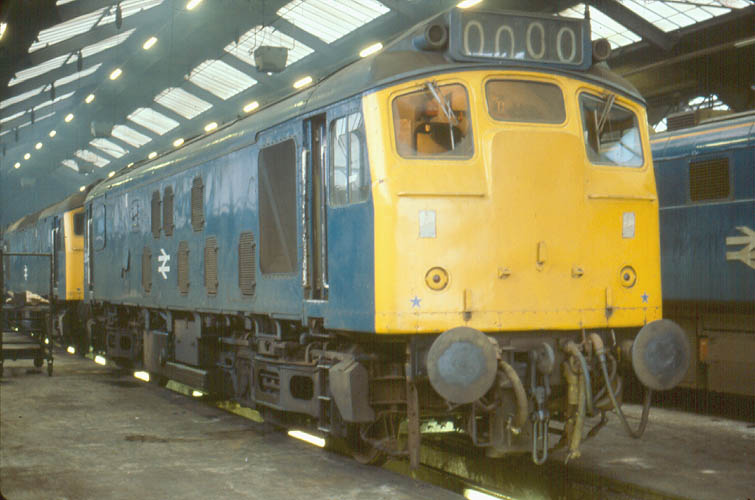 25243 at Willesden on March 29th 1980
On the morning of June 3rd 25243 was stabled at York.
Short workings from 1980 include on July 12th the 09.05 Perth - Kensington Olympia motorail forward from Willesden with 25313.
On August 18th 25243 was shunting fuel tanks at Marylebone.
On December 7th 25243 assisted the 16.35 Rugby - Euston electric multiple unit from Rugby to Northampton because power was off due to engineering work.
At Clapham Junction the freights using the West London lines were often brought to a halt here, 25243 on the November 6th's 02.20 Willesden – Norwood required assistance from 33004 & 33046.
1981
On March 2nd the 07.10 Marylebone – Aylesbury diesel multiple unit suffered a serious fire in one vehicle just south of Rickmansworth. The heavily damaged vehicle was eventually shunted into the south sidings at Rickmansworth, which led to an unusual working to effect its recovery. The next day Bletchley sent out 25194 and brake van to Watford (Met), running round here since this could no longer be done at Ricksmanworth. Unfortunately one set of points on the loop would not operate so the working was abandoned for the day. The following morning the maneuver was successfully carried out using 25243, this being the first working of a BR locomotive over the Watford branch since the mid 1960s.
The motorail services to the north were daily bread & butter workings for the London allocated Class 25s working the two miles between Kensington Olympia and Willesden, going largely unrecorded. During 1981 25243 & 25236 were noted on such workings on May 1st and 25243 & 25254 on May 25th - May 30th. Longer workings were noted on October 29th 1981 with the 14.23 Manchester Piccadilly - Cardiff from Birmingham New Street followed by the 20.00 Cardiff - Crewe. Late in the year, on December 19th 1981 25243 worked the 12.37 Nottingham - Crewe at least as far as Derby.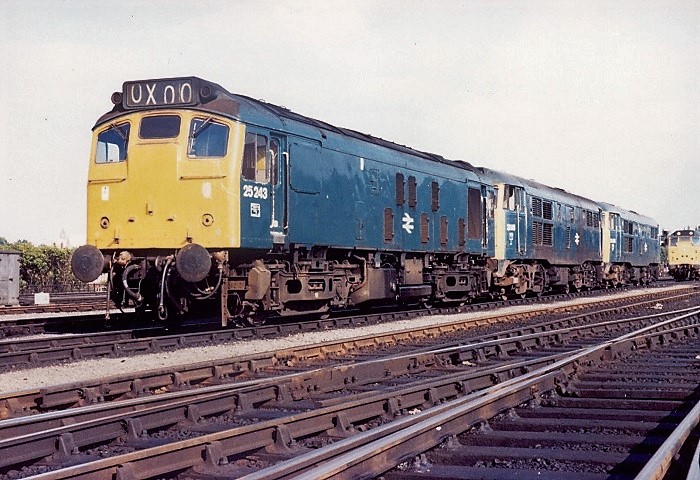 Photograph courtesy Jerry Glover
25243 at York on August 23rd 1981 with 31146 & 31408.
25243 was noted at York depot on August 23rd.
1982
On January 3rd 1982 25243 worked the 02.25 Euston - Bletchley.
25243 was noted passing Rainham with the 6Z47 Purfleet - Derby St. Mary stone train on April 14th.
The allocation of further Class 31s to Toton inevitably brought greater chances of Class 25/31 parings, so noted on March 5th was 31228 & 25243 on an Acton – Toton job.
On August 25th the 16.25 Manchester Piccadilly - Cardiff was worked forward from Gloucester by 25243. On August 27th 25243 & 25236 worked the Cranmore - Ellesmere Port tanks, being noted at Lawrence Hill. Four days later on August 31st the same pair were noted westbound (?) near Giggleswick with four tar (?) shortwheelbase tanks.
1983
The last recorded passenger workings for 1983 including trips over the Cambrian line and a short WCML job. On April 30th 1983 25243 & 25237 worked a roundtrip Euston - Aberystwyth from/to Wolverhampton. Two days later on May 2nd 1983 25243 & 25230 worked a roundtrip Lichfield City - Aberystwyth day excursion. Unfortunately 25230 failed before Talerddig and was dragged. Whilst laying over at Aberystwyth they worked the 11.45 Aberystwyth - Machynlleth and 16.42 return.
25243 was stabled at Cricklewood on April 9th. 25243 & 25228 were noted at Severn Tunnel Junction on April 25th.
25243 & 25262 were noted at Leighton on a damp Sunday ballast job on May 12th.
25243 was noted at Bescot depot on June 5th.
The final passenger working took place on June 12th 1983 with 25250 working a Northampton - Clacton charter between Northampton and Bletchley.
25243 was noted at Northwich depot on a sunny July 27th.
25243 was withdrawn due to fire damage sustained on August 17th 1983 at Bletchley whilst working the afternoon Kings Cross - Tring cement empties train. The Fire Brigade was called, with the power being off for about 75 minutes, which affected the evening peak services. 25089 was dispatched to collect the locomotive & train.
25243 was withdrawn on September 11th 1983.
Not all known passenger workings are recorded on this page.
44/2095
flk 1216
Page added May 26th 2013.
Last updated September 17th 2022.
Back to 25242
Forward to 25244