D7594, 7594, 25244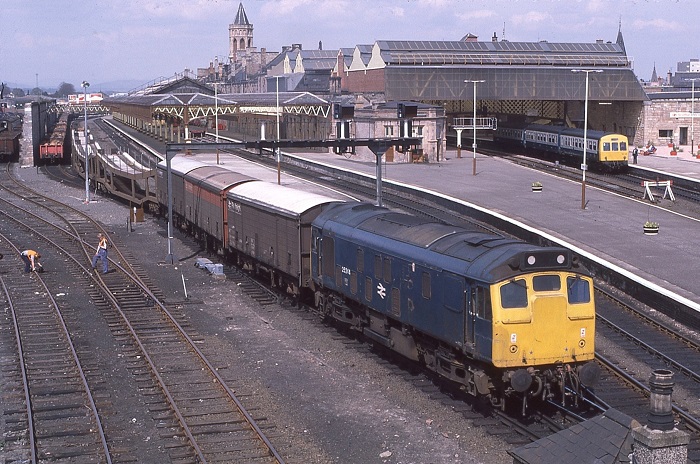 Photograph collection of webmaster.
25244 with a short freight at Perth station, date unknown.
Durings its twenty two year one month career D7594/25244 spent considerable time allocated to Longsight & Eastfield as part of its time spent allocated to London Midland & Scottish Region depots.
Built: BR Darlington Locomotive Works.
Boiler equipped.
Dual brake fitted (Dec 1977).
Center lampbracket & other fittings removed (at least prior to March 1976).
Time between last Classified repair and withdrawal: 102 months.
Preserved.
Allocations
D7594 was new to Nottingham (16A) on June 3rd 1964. Further transfers were:
July 1964 to Derby (16C).
January 1965 to Nottingham Division (D16).
March 1967 to London Midland (Midland) Lines.
June 1968 to Longsight (9A).
June 1968 to Manchester Division (D09).
May 1973 to Longsight.
August 1975 to Eastfield.
January 1982 stored serviceable, then reinstated to Eastfield during the same month.
October 1982 to Longsight.
May 1984 to Cricklewood.
November 1984 to Crewe.
Withdrawn July 28th 1986.
Renumbered October 30th 1973.
25244 was the 288th Class 25 to be withdrawn, leaving 49 Class 25s remaining in service.
After withdrawal 25244 was stored at Crewe depot and Basford Hall. 25244 was moved with 25199, 25249 & 25906 to Leicester Humberstone Road on June 2nd 1987 and into Vic Berry's yard the next day. During the first week of July 1987 25244 was sold to the Swanage Railway Society for preservation. The locomotive left Vic Berry's yard on September 23rd 1987 for Leicester Humberstone Road. The next day it headed for Basingstoke, but the battery boxes hit the platform edge at Banbury. The locomotive reached Basingstoke on September 25th 1987 after movement from Banbury as a control special at reduced speed. 25244 was sent to Eastleigh Works for repair. The Swanage Railway was reached late in May 1989.
Works Visits
Works visits (records incomplete).
Noted Derby Works December 1970.
Noted Glasgow Works December 1977 - January 1978 (Classified & dual brake equipment fitted).
Noted Glasgow Works September & December 1980 (N4 repairs).
Noted Derby Works July 1983 (N4 repairs).
Highlights
1964
D7594 was noted at Derby shed yard on July 6th displaying headcode 2D85, in relatively ex-works condition.
Condition July: green livery with small yellow warning panel, curved upper corners (cannot determine if warning panel covers frame level stripe), straight sided sandboxes, three-rung bogie mounted footsteps, engine exhaust appears to be located above engine room.
1969
The first recorded passenger workings took place about five years after D7594 entered service. Considering D7594 was boiler equipped no doubt like many others in the early years, their passenger workings have slipped unrecorded into history. On June 21st 1969 7594 & 7540 worked the 10.00 Sheffield - Llandudno Town and 14.28 return.
1971
On October 29th 1971 7594 worked the 17.30 Manchester Victoria - York.
1972
A day excursion from Euston to Aberystwyth was worked roundtrip Wolverhampton (?) - Aberystwyth (?) by 7594 & 5143 on April 1st 1972.
1973
On May 26th (?) 7594 worked the 12.50 Manchester Victoria - Llandudno and the 17.06 Llandudno - Manchester Victoria. This working normally utilised the locomotive & stock off the 09.31 Scarborough - Manchester Victoria, due at 12.20pm. The locomotive was normally a York or Healey Mills Class 40.
1975
During the early morning hours of April 30th 25244 was noted eastbound through Huddersfield with a parcels train.
25244 & 25086 worked the 09.20 Manchester Piccadilly - Yarmouth to Lincoln Central, returning from there with the 09.30 ex-Yarmouth on June 14th. 25244 worked the 05.07 Leeds City - Manchester Victoria vans on June 27th.
During August 25244 was transferred to Eastfield.
On September 6th 25244 & 24111 worked the 16.10 Inverness - Glasgow Queen Street.
1976
On January 16th 1976 25244 worked the 06.30 Perth - Inverness whilst on March 21st 1976 the 21.30 St. Pancras - Glasgow Central was worked forward from Carlisle (?) via Prestwick to Glasgow Central by 25244 & 25092.
On June 20th 25244 worked the 11.40 ex-Perth - Aberdeen (may have started from Glasgow or Edinburgh).
1977
Longer distance workings in 1977 included the 23.20 Glasgow Queen Street - Inverness on April 18th with 25244 & 25033. On May 17th 25244 worked the 18.04 Glasgow Queen Street - Oban. The next day (18th) 25244 worked the 16.54 Glasgow Queen Street - Dundee with 27005.
The 08.35 Glasgow Queen Street - Mallaig was worked by 25244 as far as Fort William on September 6th. Two days later (8th) the 11.39 Dundee - Glasgow Queen Street was worked by 25244.
1978
Two runs were noted during 1978 from/to Dundee, on May 19th 1978 25244 worked the 15.57 Dundee - Glasgow Queen Street, whilst on August 29th the 14.44 Glasgow Queen Street - Dundee was worked by 25244.
1979
July 30th was a busy day for 25244 working the 11.05 Perth - Edinburgh, the 12.50 Edinburgh - Perth, the 17.12 Perth - Arbroath and the 18.33 Arbroath - Dundee.
The 12.47 Edinburgh - Perth was worked by 25244 on September 18th.
1980
The Scotland v France Rugby game on February 16th drew a number of specials from Glasgow to Edinburgh, with one being hauled by 25244.
On April 13th 25244 was stabled at Dundee depot and later in the day worked the 22.06 Perth - Glasgow Queen Street.
25244 was stabled at Inverness on May 8th. The next day (9th) the 17.10 Perth - Arbroath and the 18.33 Arbroath - Dundee were worked by 25244.
On June 15th 25244 & 25317 worked the 21.25 Dover Western Docks - Stirling forward from Mossend Yard.
On September 27th the 'Grampian No.2' railtour with fifteen coaches utilised 25072 & 25244 between Edinburgh & Dufftown for a total of 261 passenger miles behind the Class 25s, the route being Edinburgh Waverley - Kirkcaldy - Leuchers - Dundee - Aberdeen - Keith - Dufftown - Keith - Inverness. If the Class 25s were intended to work over the Highland Line to Perth & Edinburgh, they never got the opportunity as Inverness provided 47234, which because it could not heat the train was replaced by 26033 & 26037 at Aviemore.
On November 26th the 20.55 Euston - Stranraer Harbour arrived at its destination 120 minutes late behind 25244 & 47441.
1981
1981 was a year in which the passenger workings of 25244 were well recorded, particularly on the Glasgow - Dundee route, including the 17.33 Dundee - Glasgow Queen Street on March 21st and the 08.44 Glasgow Queen Street - Dundee on March 23rd. A roundtrip Glasgow Queen Street - Edinburgh rugby special was worked by 25244 on March 31st.
On April 20th 25244 worked the 13.15 Glasgow Queen Street - Aberdeen and relief 17.25 return. The next day (21st) 25244 worked the 18.44 Glasgow Queen Street - Dundee.
25244 was stabled at Grangemouth on May 2nd.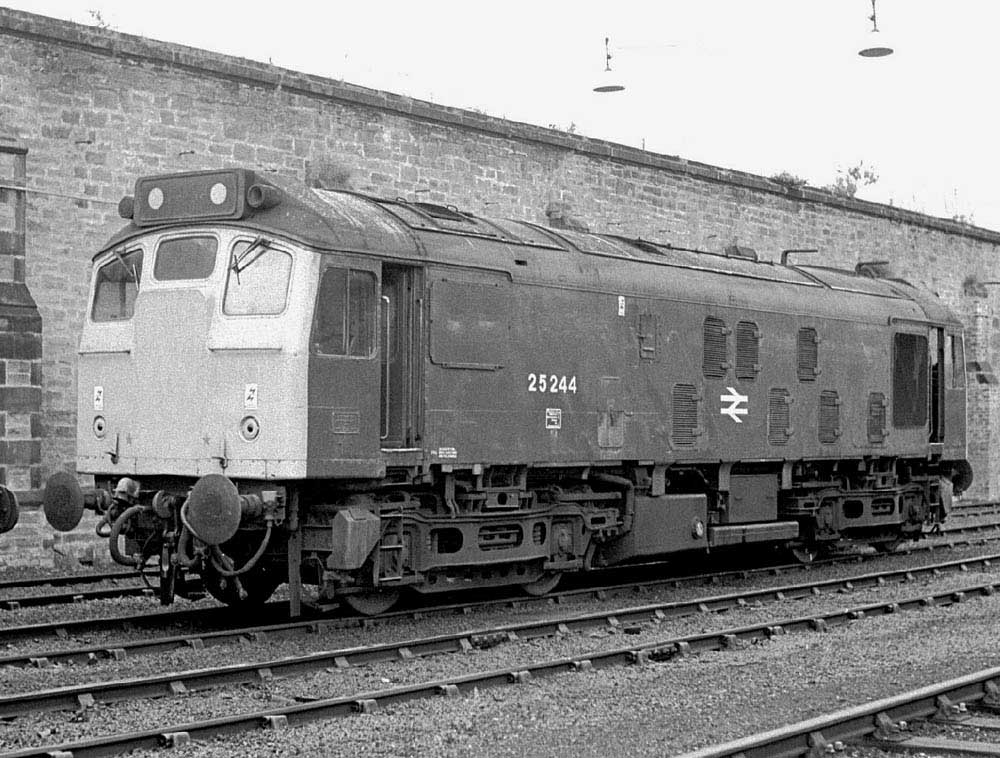 Photograph courtesy Tony Sayer.
A fine portrait of 25244 at the back of Perth station on June 13th 1981. This view well highlights the hinged air filters, unique to those dual braked Class 25s sporting the early style body.
During the morning hours of July 6th 25244 assisted three workings out of Glasgow Queen Street up Cowlairs bank. On July 28th & 29th 25244 worked the 04.20 Mossend Yard - Glasgow Queen Street to Cowlairs Junction, being the Glasgow portion of the Royal Highlander.
On September 4th the 06.49 Dundee - Glasgow Queen Street was worked by 25244 & 25049, whilst the 12.44 Glasgow Queen Street - Dundee was worked by 25244 alone.
The 10.15 Edinburgh - Dundee (diverted via Dunfermline) was worked by 25244 on November 15th, the next day (16th) 25244 worked an Edinburgh - Dundee service.
1982
On July 3rd 25244 & 25218 worked the 07.40 Euston - Aberystwyth from Wolverhampton to Shrewsbury.
Workings over the Settle & Carlisle included the 08.57 Leeds - Carlisle and 15.37 return on August 14th, and the 16.05 Leeds - Carlisle on August 16th.
Possibly 25244's last passenger working whilst allocated to Eastfield took place on September 17th with the 17.35 Glasgow Central - Inverness (only one locomotive?). During October 25244 was transferred to Longsight.
25244 was stabled at Motherwell on September 19th.
1983
25244 with a single wagon of rubbish was noted heading west past Saddleworth on March 5th. Two days later (7th) the 22.47 Crewe - Blackpool North was worked forward from Preston by 25244.
The relief 09.37 Derby - Skegness and the return relief 18.10 Skegness - Derby were worked by 25244 & 25097 on May 30th.
25244 was Manchester Victoria pilot on June 5th & 9th. The Leeds - Red Bank empties, comprised of twelve vehicles, were hauled by 25244 on June 12th.
25244 was stabled at Cockshute on September 17th.
The 15.02 Manchester – Bristol parcels continued with Class 25 haulage, on November 15th 25154 failed on this working at Hereford, remarkably 25244 was available to take the train forward.
25244 was noted at Manchester Victoria on December 28th with a parcels (?) working.
1984
Pairs of Type 2s were still common on the Ellesmere Port – Riverside bitumen tanks with 25244 & 25211 noted on February 14th.
25244 was Manchester Victoria pilot on March 24th.
25051 & 25244 worked the 10.10 Euston - Aberystwyth forward from Wolverhampton on May 25th (or 26th).
25244 passed northbound through Preston station on June 29th with a single Mk1 CK coach.
The month of November saw Cricklewood lose its four remaining Class 25s (25048, 25176, 25244 & 25311) to other LM depots, leaving the London area depots without any BR/Sulzer Type 2s on allocation.
25244 was noted at March depot on November 21st.
On November 29th a lack of a diesel multiple unit saw 25244 and hauled stock used for the 15.25 Derby - Crewe and the 17.20 Crewe - Derby.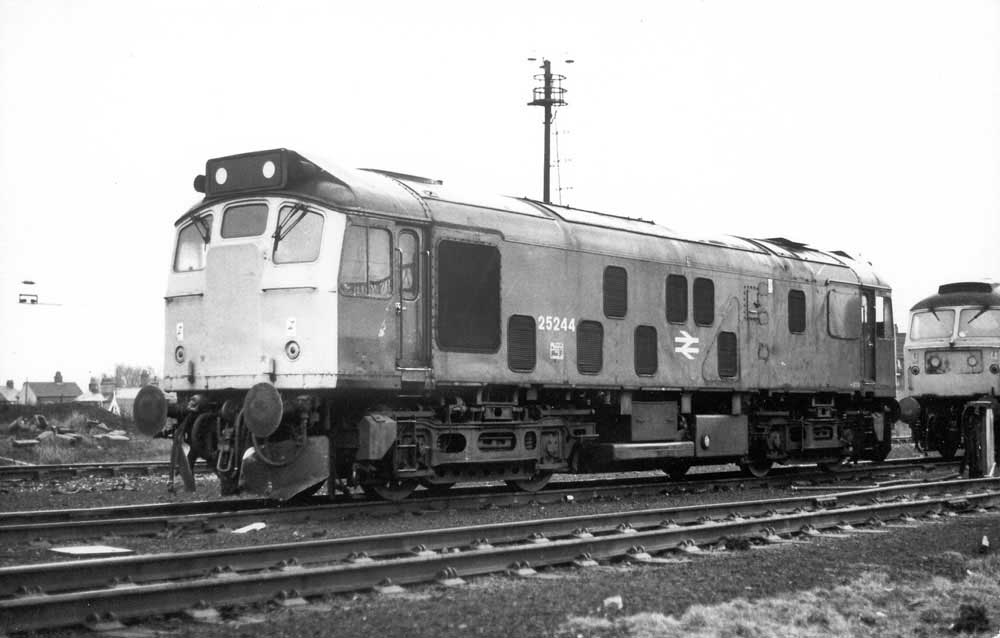 Photograph collection of webmaster.
A work weary 25244 somewhere, sometime. 25244 was withdrawn due to fire damage at Crewe. It made the expected trip to Vic Berry's, Leicester but fortunately left there after being acquired for preservation.
1985
On a snowy January 24th 25244 was stabled at Buxton station.
25244 was noted passing Berkswell on May 31st with a northbound Speedlink.
25244 was stabled at Peterborough station on June 21st.
25244 & 25037 worked the 6V32 Ellesmere Port - Severn Tunnel Junction on July 9th. The next day (10th) 25244 worked the 6S78 18.10 Severn Tunnel Junction - Mossend freight, being noted at Ponthir with eleven wagons.
The 20.48 Crewe - Cardiff was worked to Shrewsbury by 25244 on July 31st, it was replaced by 33047.
25244 worked the Burn Naze - Birkenhead Duke Street special of empty oil tanks on August 12th. Also on this day 25244 worked a short train of cement tanks from Walton Old Junction to Kirkham Yard.
25244 was noted at Crewe depot on August 20th and at Warrington Arpley on August 22nd.
25244 was noted southbound passing Springs Branch depot on August 28th with mineral wagons.
On September 24th 25244 worked a Stranraer – Scunthorpe freight to Tyne Yard, returning with a Tyne – Carlisle cement.
25244 was north of the border for its last recorded passenger working, on September 30th the 21.10 Euston - Stranraer Harbour had 25244 added as pilot from Ayr, a Class 47 was the train locomotive.
The Leeds - Stanlow bogie oil empties were noted passing Healey Mills on November 19th behind 25244 & 25190.
1986
On February 5th 25244 was noted at Stafford with loaded ballast wagons.
February 15th's Heaton – Red Bank parcels, loaded to fifteen vehicles was hauled by 25244.
The extremely cold weather caused major problems for the sand trains operating at Caldon & Oakmoor, with the loads being frozen into the wagons! These workings, once a mainstay for the Class 25s were now usually in the hands of Classes 20 or 47, although on March 6th 25244 visited Caldon. After taking up a string of empties it returned with twenty four loaded hoppers (made in two trips). 25244 was noted light engine at Watford Junction on March 8th. 25244 was stabled at Bescot on March 31st.
On April 7th 25244 was noted southbound through Bescot with a short freight.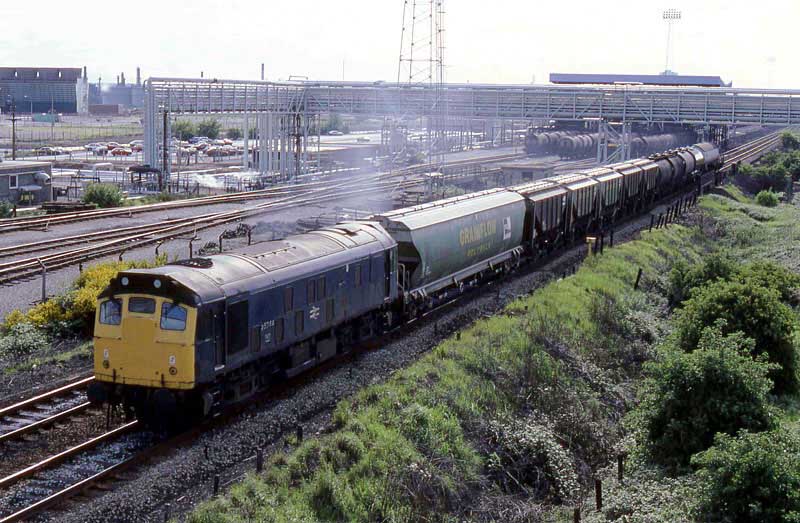 Photograph courtesy Ron Kosys.
25244 passes Stanlow on June 6th 1986 with the 6E93 16.20SX Birkenhead to Whitemoor Speedlink. In the background are some of the facilities used for the loading of the oil trains.
25244 was stabled at March depot on June 8th. 25244 worked the 6E93 Birkenhead Duke Street - Whitemoor freight on June 10th.
On July 2nd 25244 was noted stopped in the down sidings at St Helens Shaw Street station with inspector's saloon DB999503, the staff taking their lunch break.
25244 was withdrawn on July 28th 1986.
1987
During September a number of departures from Vic Berry's yard reflected a brighter future for the chosen machines. First to leave was 25244 on September 23rd, destined for the Swanage Railway. Its journey was notable, being hauled by 97201 (with 97403 & D4) en route to the Basingstoke Railshow (26th & 27th). However at Banbury 25244's battery box cover hit the platform edge, the Class 25 was removed from the consist, going forward after inspection later that afternoon. It was repainted prior to its presentation at Basingstoke.
No.1 & No.2 end central brackets removed (and prior to 3/1976).
Three-Piece Miniature Snowplough (Observations incomplete):
None fitted August 1982
Fitted January 1983, none fitted October 15th 1983; fitted December 28th 1983 - April 1984,
None fitted June/July 1984 - November 21st 1984;
Fitted January 24th 1985, none fitted May/June/August 1985 & March/June 1986.
Not all known passenger workings are recorded on this page.
58/4511
flk 1216 (1)
Page added July 4th 2013.
Last updated November 17th 2019.