D7603, 7603, 25253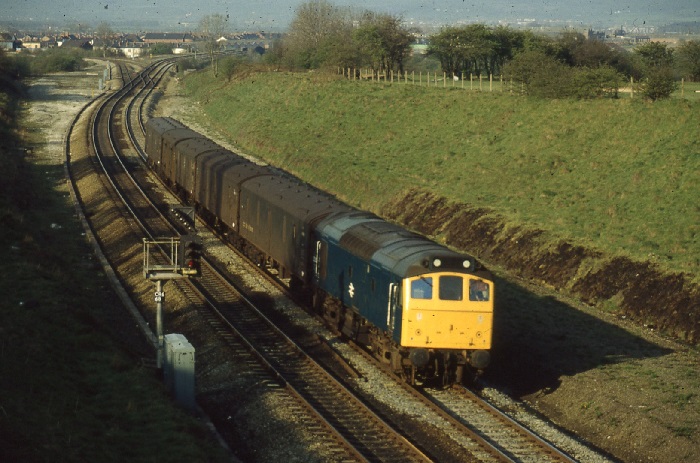 Photograph collection of webmaster
25253 passes Saltney Junction sometime during 1980
The seventeen year seven month career of D7603/25253 included just over three years split between Eastern & Scottish depots, with the remainder allocated to a variety of London Midland depots.
Built: BR Derby Locomotive Works.
Time between last Classified repair and withdrawal: 40 months.
Time between withdrawal & scrapping: 24 months.
Allocations
D7603 was new to Tinsley (41A) on February 25th 1966. Further transfers were:
June 1966 to Barrow Hill (41E).
December 1966 to Haymarket (64B).
June 1969 to Nottingham Division (D16) on loan, then made permanent July 1969.
December 1969 to Birmingham Division (D02).
May 1973 to Bescot.
February 1981 to Crewe.
Withdrawn September 25th 1983.
Renumbered March 21st 1974.
25253 was the 195th Class 25 withdrawn, one of two retired during September 1983.
After withdrawal 25253 was moved to Derby Works. It surrendered its bogies initially to 25320, but this locomotive would never leave the Works, thus they were transferred to 25313 during February 1984. 25253 was moved to Swindon Works on February 4th/5th 1985 (movement detail below) and scrapped there by the middle of October 1985.
25036/049, 25150, 25228/253/277 25304/317/320 as the 9X12 Derby Works – Swindon Works February 4th & 5th 1985, hauled by 20155 & 20174.
1985: The breaking up of 25253 at Swindon in October would see the original fleet of 327 now cut in half.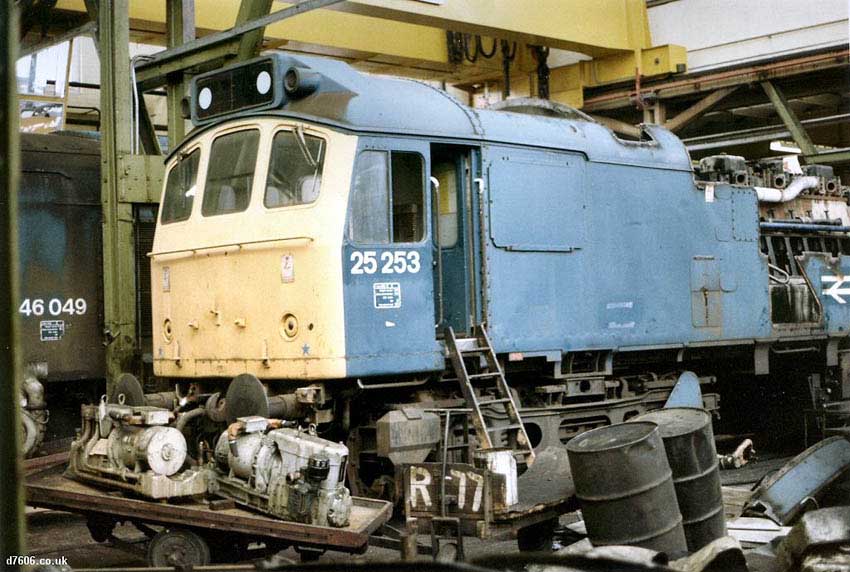 Photograph courtesy Ian Hammond
Swindon, the graveyard for many a life expired locomotive, does the coup-de-grace for 25253 on May 4th 1985 with the side panels cut away for access to the engine room. The foreground already contains some salvaged components.
Works Visits
Works visits (records incomplete).
Noted Derby Works June 1966.
Noted Derby Works June - August 1975.
Noted Derby Works December 1977.
Noted Derby Works April & May 1980 (Intermediate repair).
Highlights
1970
7603 & 7560 were in charge of April 27th's 11.18 Knowle - Parkeston Quay, as far as Acton, returning with the 11.20 ex Parkeston Quay.
1971
On the late morning of January 5th 7603, 7646, 7663, 7664 & 7665 were stabled at Nuneaton, 7645 was shunting and 5232 passed through on a down freight.
June: blue/yellow livery.
Class 25s were occasional visitors to Basingstoke off the Reading line, so noted in July were 7613 (13th) and 7567, 7603 & 7608 (all 14th).
1973
On November 15th 7603 was noted arriving at Exeter with a sugar beet working from the Eastern Region. This was frequently a Class 25 working, but might also utilise Class 31s.
1974
7603 was noted at Exeter on January 4th with a sugar beet special from the Eastern Region, it was still present at Exeter on January 5th.
On June 4th & 5th 25253 was noted at Exeter stabling point.
The first recorded passenger working for 7603 was recorded midway through its career. On July 28th 1974 25253 & 25272 worked a roundtrip Barnsley - Aberystwyth day excursion, a roundtrip somewhere in excess of 400 miles for the lucky travellers, assuming the Class 25's handled the whole trip.
1975
On June 7th 1975 25253 & 25083 worked the 08.00 Walsall - Yarmouth to Norwich (assumed), returning from Norwich with the 14.15 Yarmouth - Derby. The next day (8th) the same pair worked a relief Burton on Trent - Yarmouth. To date no passenger workings have been identified from 1976.
25253 was at Derby Works from June to August, presumably for a Classified repair, but it would not be equipped with dual braking equipment unlike its neighbours 25249 - 25251 & 25254, 25256 - 25259.
On the afternoon of October 28th 25253 was noted at Exeter stabling point.
1976
On April 10th a diverted Paddington - Birmingham New Street passenger service with 47501 saw 25253 added as a pilot at Coventry for the run to New Street.
1977
A day excursion on May 7th saw 25253 & 25248 work a roundtrip Manchester Piccadilly - Spalding.
June 5th proved to be a busy day for 25253 & 25101. They started out on the the 08.45 Birmingham New Street - Barmouth as far Shrewsbury. From here they took over the 06.40 York - Barmouth, out from and back to Shrewsbury, ending the day with the 17.30 Barmouth - Birmingham New Street forward from Shrewsbury.
On July 2nd the relief 08.00 Leicester - Skegness was worked by 25253 & 25290, returning with the relief 10.55 Skegness - Nottingham.
A Stroud - Aberyswyth day excursion on September 4th was worked from/to Birmingham New Street by 25253 & 25262, a total of 250 miles.
The final passenger working for 1977 took place on September 10th with 25253 & 25260 working a Marylebone - Kidderminster, out via Bicester, returning via Worcester/Oxford/Banbury/Bicester.
On the morning of September 19th 25253 was stabled at York.
On December 8th 25253 made a test run from Derby Works.
The snag sheet for December 8th recorded:
No.2 end leading, recordings made from No.2 cab.
25253; December 8th 1977; 1P10 Leicester - Derby
| | | | | | |
| --- | --- | --- | --- | --- | --- |
| Load | Speed | Amps | Volts | Notes | Other |
| 1 | 30 | - | - | - | - |
1978
On July 18th 25253 was noted passing Harlech with a freight train.
Only one passenger working is so far known for 1978. On July 26th 25253 & 25261 worked the 08.10 Walsall - Barmouth day excursion, out and back.
1979
25253 was stabled at Cardiff Canton on January 20th.
On May 4th (or 16th?) 25253 was attached to two new Class 314 Clyderail units at Hyndland.
On June 14th 25253 & 25324 were noted at Seacombe Junction with iron ore empties.
1979 produced three days on the Cambrian line, with 25104 on July 14th, with 25147 on August 4th and 25271 on August 5th.
1980
June 15th was the occasion for an Open Day at Tinsley, partly to celebrate the centenary of ASLEF. Almost fifty locomotives were on display (fifteen different classes) including 25101 & 25253.
On June 19th 25253 was noted on a short freight at Guide Bridge.
On June 28th 25253 & 25172 worked the 07.40 Euston - Aberystwyth from Wolverhampton, returning with the 17.55 Aberystwyth - Birmingham New Street.
On August 16th 25253 & 25290 took over the 10.55 Weymouth - Leeds at Birmingham New Street, working to Derby, where they were replaced by 25115 & 25214! A week later on August 23rd 1980 25253 & 25318 worked a roundtrip (?) relief 07.30 Blythe Bridge - Llandudno Town.
On September 1st 25253 had a run up to the capital when the 17.00 Nottingham - St. Pancras failed at ?? behind 45111.
On October 5th 25253 was noted at Coventry with an engineers train.
1981
On the early afternoon of March 4th 25253 arrived at Warrington Arpley with a freight from Liverpool, 08924 was part of the freight.
On May 23rd 25253 & 25314 worked the 07.40 Euston - Aberystwyth from Wolverhampton, returning with the 16.05 (or 17.55) Aberystwyth - Wolverhampton.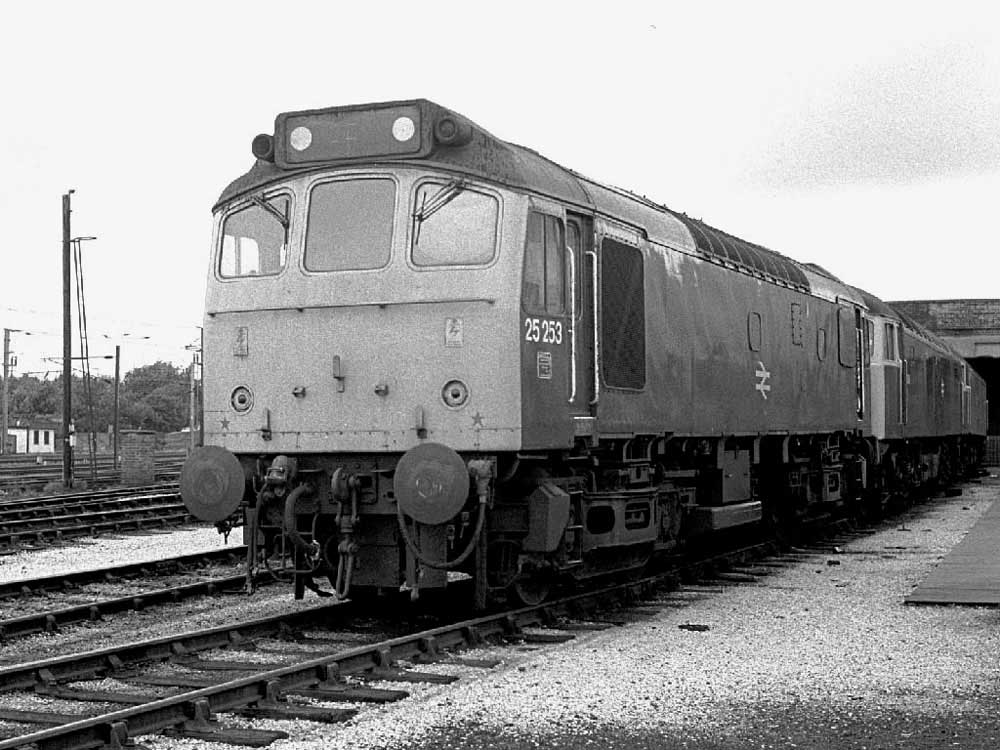 Photograph courtesy Tony Sayer
Crewe allocated 25253 at Springs Branch on July 26th 1981. 25253's last Intermediate repair at Derby gave it three more years service, it returned there upon withdrawal but was eventually sent on to Swindon as part of the second large scrap engine movement early in February 1985, and was broken up during October 1985.
On October 4th the 18.22 St. Pancras - Manchester Piccadilly failed at Bedford behind 47416, with 25253 assisting to ?
1982
25253 was noted at Liverpool Lime Street on January 18th.
On the afternoon of February 23rd 25253 was stabled at York.
Three of the four recorded passenger workings for 1982 were in the north-west. On March 27th 25253 worked a Manchester Victoria - Bangor service. Two days later (29th) 25253 was noted shunting parcels stock at Manchester Victoria.
On June 12th 25253 was noted at Crewe with a northbound parcels train. On June 19th the 06.50 Blackpool North - Manchester Victoria was worked throughout. Two days later (21st, a rainy day) 25253 was noted at Preston with a southbound parcels service. On June 26th it was the turn of the 15.45 Manchester Victoria - Bangor to have 25253 as far as Llandudno Junction where 47553 took over. Finally on October 13th 1982 25253 worked the 18.50 Leicester - Derby.
25253 was noted at Blaenau Ffestiniog on October 25th.
25253 & 25315 were noted westbound at Stoke on Trent with a sand train from Oakamoor on November 16th.
1983
25253 was stabled at Speke Junction on January 7th.
On May 6th 25253 worked an afternoon Llandudno Junction - Warrington mixed freight.
25253 was noted passing Warrington Bank Quay Low Level with Class 506 unit No.003 on June 30th.
On August 5th 25253 was noted southbound through Preston with a lengthy train of ammonia tanks and barrier wagons. The last passenger workings for 25253 took place during August 1983. On August 13th 25253 worked the 19.30 Bangor - Manchester Victoria and on August 16th the 13.25 Crewe - Cardiff and 17.15 Cardiff - Crewe.
25253 was withdrawn on September 25th 1983.
Not all known passenger workings are recorded on this page.
35/4424.
flk 0217
Page added May 25th 2013.
Last updated July 20th 2022.
Back to 25252
Forward to 25254