D7608, 7608, 25258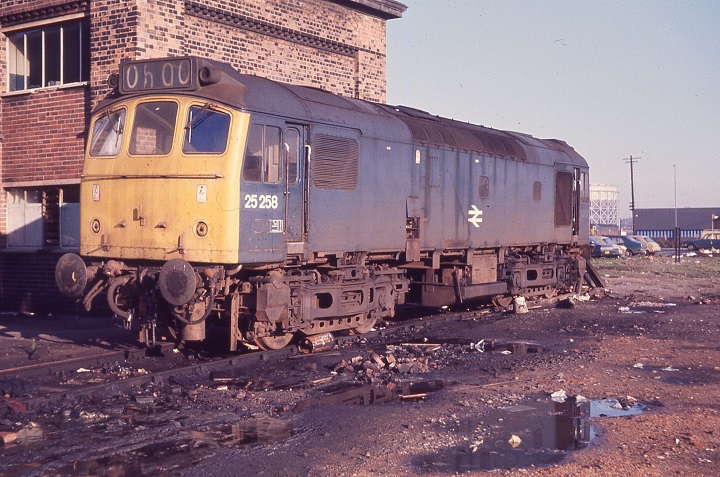 25258 stands at Saltley on a fine Sunday morning during October 1976.
The eighteen year eleven month career of D7608/25258 saw allocations to Eastern, Scottish & London Midland Region depots.
Built BR Derby Locomotive Works.
Dual brake equipped.
Time between last Classified repair and withdrawal: 92 months.
Time between withdrawal & scrapping: 13 months.
Allocations
The frames for D7608 were laid down at Derby Works during January 1966, with the locomotive delivered to Tinsley (41A) on April 2nd 1966. Further transfers were:
June 1966 to Staveley (Barrow Hill) (41E)
December 1966 to Haymarket (64B)
June 1969 to Nottingham Division (D16) on loan, made permanent July 1969
May 1973 to Toton
May 1981 to Springs Branch
October 1982 to Crewe
December 21st 1984 withdrawn.
Renumbered April 1974.
25258 was the 228th Class 25 withdrawn, one of two withdrawn during December 1984.
25258 was stored at Carlisle Kingmoor from December 1984 until April 3rd 1985 when it was moved to Swindon Works, being broken up there during the first week of February 1986.
Movement: 25140, 25239/258 were moved Carlisle – Bescot – Swindon during March 20th – April 3rd picking up 08599 at Bescot.
Works Visits
Works visits (records incomplete).
Noted Derby Works March - April 1977 (Classified Repair).
Noted Derby Works December 1979 - February 1980 (N4 repairs).
Noted Derby Works November 1980 (N6 repairs).
Highlights
1966
D7608 was part of a batch of thirteen (7598 - 7610) Derby built locomotives destined for Tinsley (41A). The frames were laid down during February with delivery occurring during April. D7608 moved to Barrow Hill (41E) during June and by the end of the year it had been transferred to Haymarket (64B).
On July 9th D7608 worked a Sheffield - Chinley service.
1968
D7519 & D7628 were noted at Preston with the 08.15 Leicester - Blackpool on August 3rd.
1969
After thirty months operating on the Scottish Region 7608 transferred to the Nottingham Division (D16) in June.
1971
Class 25s were occasional visitors to Basingstoke off the Reading line, so noted in July were 7613 (13th) and 7567, 7603 & 7608 (all 14th).
1972
On September 9th 7608 & 5235 worked the 14.30 Yarmouth - Walsall from Norwich.
1973
On May 5th 7608 worked a Mayfield - Sunderland (Brian Mills Depot).
On July 14th 7608 & 5226 were noted with the return Llandudno Town - Nottingham, it's presumed they also worked the westbound leg.
Shades of the future were witnessed in the arrival of Class 31 5522 during August at Cricklewood, being transferred in from York. This was the first of the class to be permanently allocated to the LMR. With more Class 31s due to arrive the Class 25s were intended for Scotland, releasing Class 37s to the ER. Concurrently Doncaster was beginning a program to fit electric train heating equipment to the Class 31s, with 5521 being the first. As if in protest on August 2nd a morning Peterborough - Kings Cross service was worked through out by 5190 & 7608.
1974
The 08.09 Leeds - Paignton with 47128 was piloted as far as Sheffield by 25258 on July 6th.
On August 3rd the 07.35 Nottingham - Llandudno Town and the return 13.00 Llandudno Town - Nottingham were hauled by 25258. Two weeks later on August 18th a Leicester - Skegness roundtrip was worked by 25258 & 25038.
1975
On June 21st 25258 & 31144 worked the Derby - Norwich - Yarmouth - Norwich - Walsall diagram.
The 08.00 Walsall - Yarmouth to Norwich and the return 14.15 Yarmouth - Derby from Norwich on July 12th was worked by 25258 & 25136.
Present at Nuneaton stabling point on September 7th were Class 25 Nos. 25076, 25251 & 25258.
On October 4th the 10.23 Derby - Matlock was worked by 25258.
1976
The 07.35 Nottingham - Llandudno Town and the return 13.00 Llandudno Town - Nottingham were worked by 25258 on June 19th.
On September 3rd 25258 worked the 11.05 Cardiff - Taunton. It was later noted at Bristol Temple Meads with the 4M11 23.15 Bristol - Nottingham parcels. A week later on September 11th the 09.49 Nottingham - Paignton was worked throughout by 25258 & 25218, a total of 261 passenger miles. The locomotives returned north with the empty coaching stock as the 5Z97 17.45 Newton Abbot - Sheffield (see image below).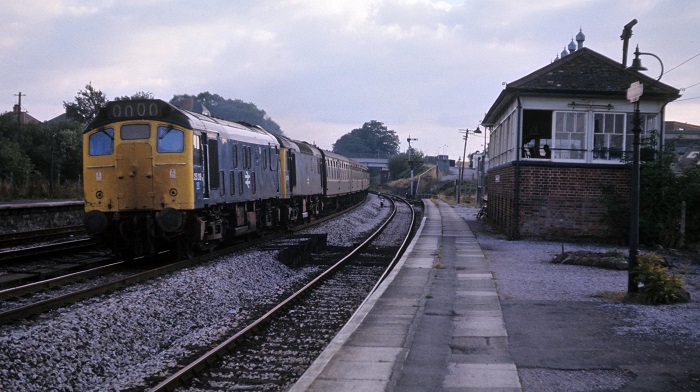 Photograph courtesy Bernard Mills
25218 & 25258 lead a Newton Abbot - Sheffield empty coaching stock working through Tiverton Junction on the evening of September 11th 1976.
1977
25258 was present at Derby Works during March & April for its last classified repair.
On July 15th 25258 & 25145 were noted at Wigston with the loaded Stewartby - Garston brickliner.
1978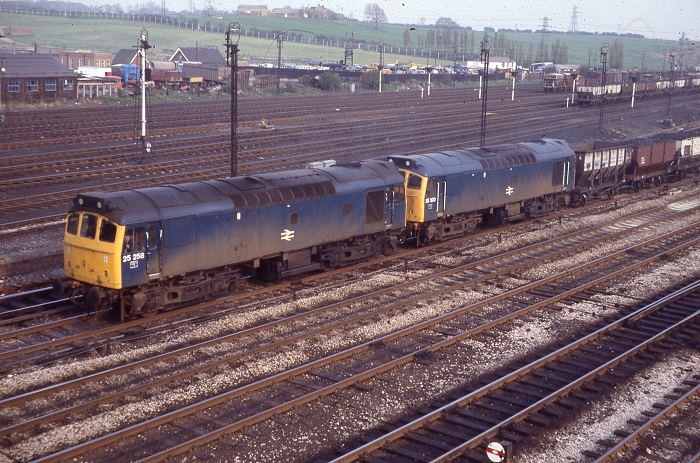 Its May 10th 1978 as 25258 & 25320 pull a long train of hoppers northwards from Toton.
On June 17th the 09.19 Manchester Piccadilly - Yarmouth was worked to Lincoln Central by 25258 & 25264, with the return 09.15 Yarmouth - Manchester Piccadilly worked forward from Lincoln Central. The next day (18th) the same pair worked a Derby - Skegness roundtrip. A week later on July 27th 25258 worked the 17.10 Cardiff - Crewe.
On September 12th 25258 was noted passing Walsall with loaded coal wagons.
Trouble on December 16th involved a return Mountsorrell – Radlett working which became derailed on leaving Radlett in charge of 25258 & 31299, the slow lines being blocked for seven hours.
1979
A test train of Laboratory coaches, APT vehicles and an HST trailer was worked from Derby as the 1X16 08.40 via Reading to Exeter on March 12th by a Class 47?? but was noted outbound at Exeter with 25258 & 25311, which presumably worked the train back to Derby.
On the late afternoon of March 15th 25038, 25258 & 25269 were noted at March depot.
On May 18th 25258 & 25308 were noted northbound at Wellingborough with the loaded Stewartby - Garston brickliner.
On August 5th 25258 was stabled at Birkenhead Mollington Street. 25258 was the Manchester Victoria pilot on August 12th.
The last E exam for 25258 took place at Springs Branch during September.
On the evening of October 5th 25257 & 25258 were noted at Crewe on a down coal.
25258 was present at Derby works for N4 repairs from December 1979 to February 1980.
1980
On June 15th 25258 was one of the locomotives present at Tinsley Open Day.
On July 5th 25258 & 25254 worked the 08.02 Walsall - Yarmouth to Norwich and the return 14.15 Yarmouth - Derby from Norwich. The next day (6th) the same pair worked a Leicester - Skegness roundtrip. On July 9th 25258 was stabled at Speke Junction. On July 26th the 08.30 Glasgow Central - Blackpool North was worked to Carlisle by 25258 & 25300, the same pair then worked the return 15.05 Blackpool North - Glasgow Central forward from Carlisle.
25258 was noted at Derby Works for an N6 repair during November.
1981
On May 6th 25258 was noted passing Rugby with at least fifteen short-wheelbase oil tanks.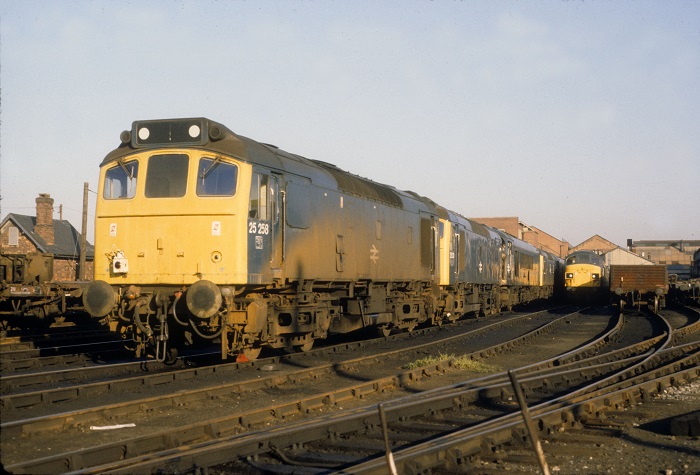 Photograph collection of Roger Geach.
25258 & 25210 in Derby Locomotive Works yard sometime during September 1981.
On September 22nd 25258 & 25325 were noted southbound at Loughborough with a lengthy train of loaded mineral wagons.
On November 5th 25258 & 25297 were noted westbound at Southampton with the 01.45 Coatbridge - Millbrook freightliner.
On December 7th 25258 and one Ferrywagon were noted southbound at Warrington Bank Quay.
1983
On May 21st 25258 was noted at Peak Forest with ICI limestone empties.
A diesel multiple unit failure on June 24th saw the 16.37 Derby - Crewe and the return 18.30 Crewe - Lincoln Central to Derby worked by 25258 with three Mk1 coaches. On June 27th 25258 & 25320 were noted northbound at Stenson Junction with nine bogie cement tanks.
25256 moved to Crewe during July, bring 25256 - 25258 together for one last time.
On August 30th 25258 was noted northbound at York Holgate with empty steel flats.
On December 14th 25258 & 25256 were in charge of a Stanlow - Bishopbriggs block oil train. A late afternoon Euston - Northampton service on December 20th was assisted by 25258 throughout due to the power being off because of overhead line damage.
1984
On April 12th 25258 was noted passing Ashburys light engine.
On May 13th 25258 was noted on the Tunstead - Northwich workings.
25258 & 25288 came to the assistance of 86222 in the late evening of May 26th after the Euston – Manchester was targeted by vandals, the driver requiring assistance from an ambulance crew. The Type 2s were replaced at Rugby by another electric locomotive. The next day (27th) the 15.55 Carlisle - Euston was assisted between Preston & Crewe by 25258 & 25059, due to engineering work requiring a diversion. On May 31st 25258 & 25251 were noted northbound through Crewe with a block sand train.
On June 6th 40152 & 25258 worked the 6L38 loaded special Stanlow - Dalston oil tanks (ten short wheelbase, five bogie tankers).
On July 26th 25258 was noted at Bayston Hill with the 6V93 Mossend - Severn Tunnel Junction Speedlink with at least twenty wagons.
On August 3rd the 14.00 Scarborough - Liverpool with 45119 failed at Stalybridge, 25258 assisted the service to Manchester Victoria. On August 7th 25258 was noted hauling 08374 & 40022 through Guide Bridge en-route from Ashburys to Doncaster Works for scrapping. The next day (8th) 25258 was noted passing through Bescot with an engineer's train. On August 20th 25258 & 25211 were noted on the evening Severn Tunnel Junction - Whitemore speedlink service.
On November 7th 25258 was noted receiving attention at Newton Heath, having been lifted off its bogies. The 17.20 Manchester Piccadilly - Hull was worked to Sheffield by 25258 on November 18th, 31452 worked the train forward.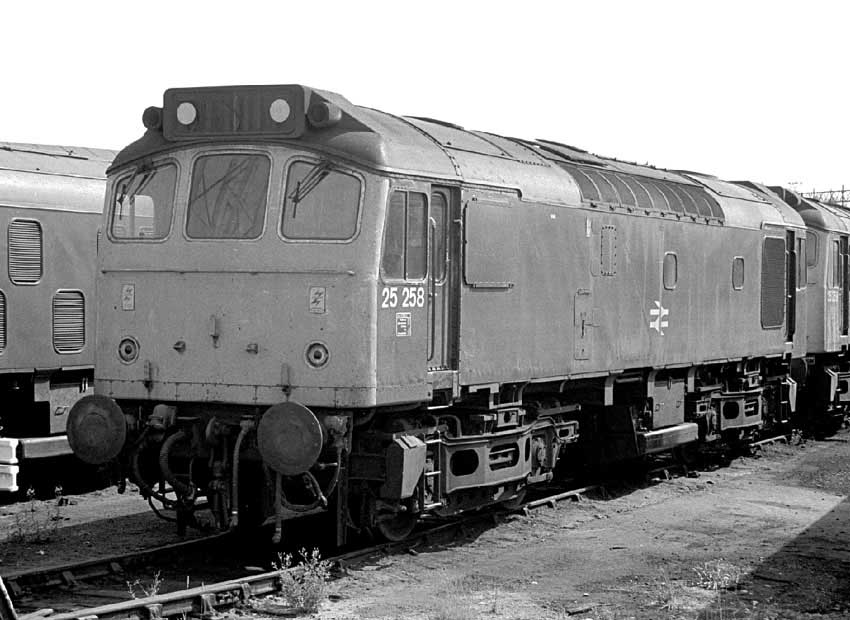 Photograph courtesy Tony Sayer.
A simple portrait of 25258 at Cockshute on November 12th 1984. The locomotive has about five weeks left in service.
On December 9th 25191 & 25258 were noted arriving at Rugby with a crane, possibly for the permanent way work taking place that day. On December 14th 25258 & 25256 worked a Stanlow - Bishopbriggs oil tank train (one bogie tanker, the remainder short wheelbase).
25258 was withdrawn on December 21st 1984.
40/3709
flk 0221 (1)
Page added April 16th 2005.
Last updated February 21st 2021.
Back to 25257
Forward to 25259