D7607, 7607, 25257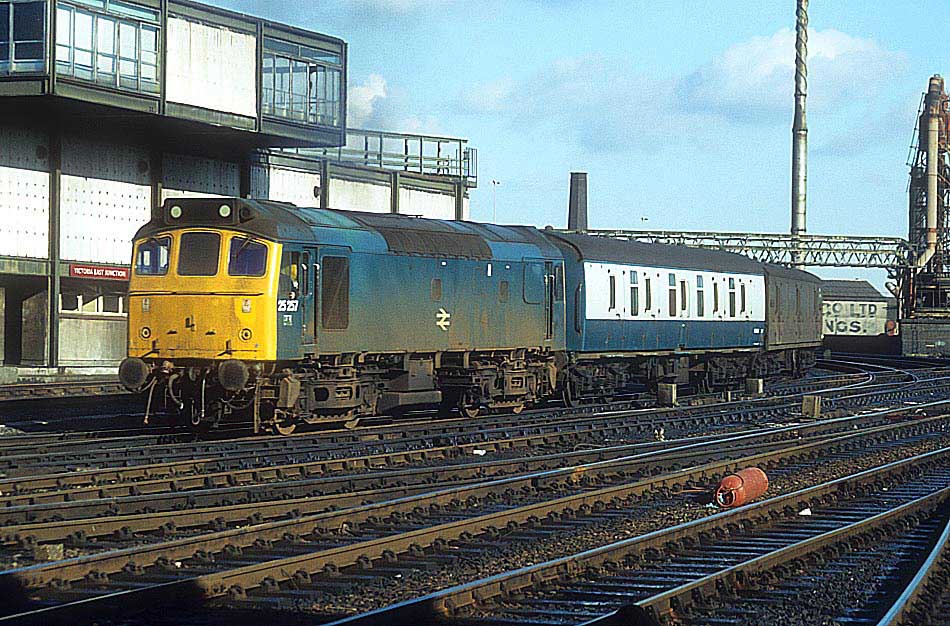 Photograph courtesy Paul Corrie
25257 approaches Manchester Victoria with a parcels train on May 15th 1979.
The nineteen year eight month career of D7607/25257 included allocations to Eastern, Scottish & London Midland Region depots. 25257 was withdrawn three times and reinstated twice.
Built: BR Derby Locomotive Works.
Dual brake fitted.
Time between last Classified repair and withdrawal: 116 months.
Time between withdrawal & scrapping: 14 months.
Allocations
D7607 was new to Tinsley (41A) on March 23rd 1966. Further transfers were:
June 1966 to Barrow Hill (41E).
December 1966 to Haymarket (64B).
June 1969 to Nottingham Division (D16) on loan, made permanent July 1969.
November 1970 to Birmingham Division (D02).
January 1971 to London Division (D01).
October 1971 to Nottingham Division (D16).
April 1972 to Birmingham Division (D02).
July 1972 to Nottingham Division (D16).
February 1973 to Liverpool Divison (D08).
May 1973 to Springs Branch.
September 1973 to Willesden.
October 1973 to Toton.
March 1974 to Bescot.
October 1974 to Haymarket.
November 1974 to Longsight.
August 1977 to Toton.
November 1980 to Springs Branch.
October 1982 to Crewe.
Withdrawn December 21st 1983.
Reinstated January 24th 1984 to Crewe.
Withdrawn February 2nd 1984.
Reinstated July 9th 1984 to Crewe.
Stored unserviceable October 1985.
Withdrawn December 3rd 1985.
Renumbered to April 20th 1974.
25257 was the 258th Class 25 withdrawn, one of ten retired during December 1985.
After withdrawal 25257 was stored at Toton where it remained until March 3rd 1986 moving as the 9Z34 Toton - Doncaster Works comprised of 25078, 25195, 25257/287. The scrapping of locomotives ended at Doncaster Works prior to the disposal of several withdrawn locomotives already present including 25257. These locomotives were moved to Goole Docks for temporary storage, prior to being sold to Vic Berry, Leicester during October 1986. 25060/78, 25195, 25257 were moved as a Goole – Tinsley - Vic Berry, Leicester movement over October 29th-30th. By the end of January 1987 25257 had been scrapped.
Works Visits
Works visits (records incomplete).
Noted Derby Works February 1967.
Noted Derby Works January ?? 1975 (noted ex-works, dual brakes fitted).
Noted Derby Works February & March 1976 (Classified & repaint).
Highlights
1966
The frames for D7607 were laid down at Derby Works at the beginning of 1966, with delivery to Tinsley (41A) towards the end of March. By year's end D7607 had moved twice, to Barrow Hill (41E) during June and to Haymarket (64B) in December.
1968
A failure on the Waverley route involved D6861 failing at Hawick with the 16.45 Millerhill – Carlisle freight, D7607 was commandeered from the following freight, which was sidelined at St Boswell's with Millerhill sending out D1745 to take that over.
1969
After thirty months operating on the Scottish Region 7607 transferred to the Nottingham Division (D16) during June.
1970
7656 & 7607 worked the roundtrip summer dated Nottingham - Llandudno on July 18th.
1971
On September 4th (?) the 14.20 Yarmouth - Derby was worked from Norwich by 7607 & 7564.
On December 4th 7607 worked a Whitemoor - Cambridge one wagon special freight, then returning light engine to March.
1973
At about 6pm on June 5th 7607 was noted passing Ordsall Lane with an up van train (4H07).
At about 6pm on September 14th 7607 was noted passing Miles Platting with an up freight (9T47).
During the early afternoon of December 27th 7607 (Toton allocated) was noted briefly at Exeter stabling point.
1974
On March 3rd 7606 & 7607 dragged a WCML electric service between Birmingham New Street & Stafford via Cannock because of engineering works.
On August 3rd the 08.00 Walsall - Yarmouth to Norwich and the 14.15 Yarmouth - Derby from Norwich were worked by 25257 & 25277.
A Nottingham - Lincoln parcels was worked by 25257 on September 3rd.
On October 17th 25257 was noted working a freight in the Inverness area.
After just over five years and eleven transfers between London Midland allocations, 25257 returned to Haymarket during October, but only for a month. During November it returned south to Longsight and would spend the remainder of its career allocated to the LMR.
1975
25257 was noted at Derby Works during January.
On March 1st the Stalybridge - Manchester Victoria portion of the 21.48 York - Aberystwyth was worked by 25257.
A Leicester - Skegness roundtrip was worked by 25257 & 25100 on May 25th 1975.
1976
25257 was noted at Derby Works during February.
On June 5th the 09.20 Manchester Piccadilly - Yarmouth to Lincoln Central and the return 09.15 Yarmouth - Manchester Piccadilly from Lincoln Central were worked by 25257 & 25053. About a month later on July 10th the same turns were handled by 25257 & 25054.
1977
25257 was noted at Birkenhead North on a permanent way train on January 22nd.
Class 25s were frequent visitors to Cambridge on the 05.10 parcels from Peterborough, so noted were 25154 (9th) and 25257 (12th).
On September 24th 25257 & 25230 worked the return leg of a day excursion returning from Keighley to Wellingborough via the Leeds avoiding line and the Old Road.
1978
On Thursday April 27th 25257 worked the 12.25 Willesden to Norwood and the return 14.10 Norwood to Willesden.
The first week of September proved to be quite busy for 25257 & 25248. On September 2nd they worked the 09.19 Manchester Piccadilly - Yarmouth to Lincoln Central returning from there with 09.15 ex-Yarmouth. The next three days saw roundtrips to Skegness, from Derby on 3rd & 5th and Burton on Trent on 4th.
1979
The daily Northampton - Three Spires freight was hauled by 25189 & 25257 on June 7th & 8th.
On July 23rd the 15.40 Manchester Victoria - Bangor and the 19.30 Bangor - Manchester Victoria were worked by 25257.
On the evening of October 5th 25257 & 25258 were noted at Crewe on a down coal.
On the evening of November 2nd 25303 & 25257 were noted at Crewe on a down coal train.
The 16.10 Birmingham New Street - Leeds was noted leaving New Street behind 25257 on December 2nd.
1980
On the evening of January 11th 25301 & 25257 were noted passing March in the Wisbech direction with Redland stone hoppers.
On the afternoon of April 8th 25287 & 25257 were noted at Preston on up tanks.
During June 1980 25257 received an 'E' exam at Toton.
On June 21st the 06.49 Bradford - Penzance was worked to Leeds by 25257.
On August 25th 25257 & 25301 worked the 07.30 Birmingham – Newcastle and 13.40 Newcastle - Swansea as far as Derby, where 37219 took over.
The 04.10 Shrewsbury - Aberystwyth and the 10.07 Aberystwyth - Euston to Wolverhampton were worked by 25257 & 25178 on September 6th. During the early afternoon of September 8th 25257 was noted southbound at Brookmans Park hauling the prototype railbus LEV1 (headed for Stratford?).
1981
On the morning of April 22nd 25257 was noted at Springs Branch with a down van train.
On June 27th the 10.10 Euston - Aberystwyth from Birmingham New Street and the 18.00 Aberystwyth - Wolverhampton were worked by 25257 & 25088.
Engineering work in the Rugby area on July 5th saw 25257 handle at least one passenger train shunt in the station area, possibly more were handled. Nearly two weeks later on July 17th 25257 worked the 08.40 Carlisle - Glasgow.
1982
25257 was noted southbound at Doncaster station with a freight headed towards Rotherham on the late afternoon of January 6th.
25257 was stabled at Bristol Bath Road on March 4th.
25257 was stabled at Saltley on June 12th.
25257 was noted southbound at Crewe station with mineral hoppers on September 2nd. The failure of the diesel multiple unit working the 16.20 Crewe Derby on September 28th saw 25257 assist throughout.
The daily Whitemoor – Bury St Edmunds freight utilised whatever March depot might have available, on November 5th 25257 handled the turn, Classes 31 & 40 were also regular performers.
25257 worked the lunchtime Bescot to Oxford freight service on December 9th.
1983
25257 was stabled at Warrington Arpley on February 12th & 13th.
25257 was stabled at Buxton on March 6th.
25257 worked a southbound loaded afternoon ballast from Ribblehead on a rainy April 11th. Three days later (14th) 25257 was noted southbound at Blea Moor with three ballast wagons.
On June 1st & 9th the 16.14 Birmingham New Street - Norwich was worked by 25257 to at least March? On June 10th 25257 was noted with a parcels train at Chester. 25257 worked the 9X93 Guide Bridge to Fazakerley loaded track train on June 15th.
On August 5th 25257 worked the 17.03 Euston - Blackpool North forward from Preston. Towards the end of August, on the 27th the 13.22 Newcastle - Liverpool failed behind 47519 at ?? with 25257 dragging the service to Liverpool. 25257 then worked the 18.45 Liverpool - Manchester Victoria. It was also noted shunting parcels vans at Manchester Victoria on this day.
The 10.10 Euston - Shrewsbury was worked forward from Birmingham New Street on September 10th by 25257 & 25250. Six weeks later on October 23rd the 17.15 St. Pancras - Derby failed at Luton with 45131 suffering a broken window, 25257 assisted the service to Derby. During the last week of the year, on December 30th a Euston - Blaenau Ffestiniog charter was worked out & back Llandudno Junction - Blaenau Ffestiniog by 25257 & 40122.
25257 & 25297 were noted at Severn Tunnel Junction on December 16th.
On December 21st 25257 was withdrawn.
25257 was noted at Llandudno Junction on December 29th.
1984
After about a month in a withdrawn state 25257 was reinstated to Crewe on January 24th. During the late evening of January 25th both 25249 & 25257 failed near Roade working a Stanlow - Salfords oil train. Bletchley provided two more Class 25s and a fitter to resolve the problem, with the train finally getting past Bletchley in the early hours of 26th.
25257 was withdrawn for a second time on February 2nd and stored at Bletchley, it was moved to Toton with 08019 on March 21st but was later reinstated to Crewe on July 9th. It quickly handled several passenger workings, on July 15th a Weston-super-Mare - Grange Over Sands day excursion was handed over to 25257 & 25322 from Birmingham New Street to Grange over Sands, returning with the train as far as Crewe. On July 28th the 08.40 Edinburgh - Blackpool North was worked forward from Preston, returning to Preston with the 14.28 Blackpool North - Edinburgh. It then worked forward from Preston with the 16.20 Glasgow Central - Liverpool. The 07.43 Liverpool - Preston was worked by 25257 on August 11th, this being the portion for the 07.50 Manchester - Glasgow.
25257 was stabled at Carlisle depot on a wet September 3rd.
1985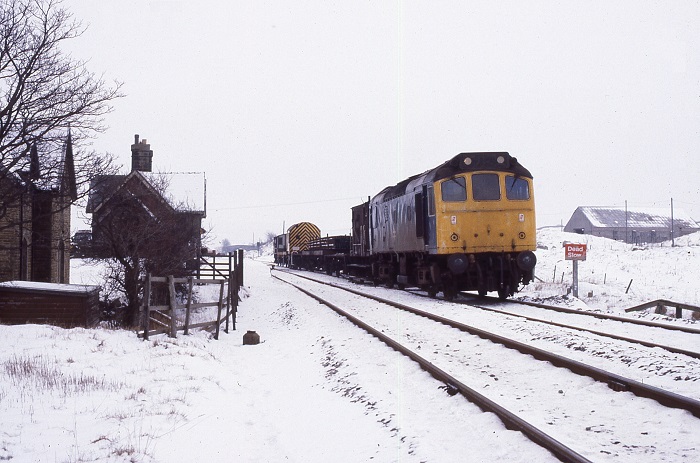 Photograph collection of webmaster
Its January 20th 1985 with snowy conditions at Ribblehead as 25257 heads north with a short engineers train.
On January 20th the 17.20 Glasgow Central - Bristol Temple Meads was assisted between Lancaster & Preston by 25257 due to the power being off for engineering work. Two months later on March 21st a diesel multiple unit failure saw the 15.32 Cheltenham Spa - Swindon assisted to Gloucester by 25257.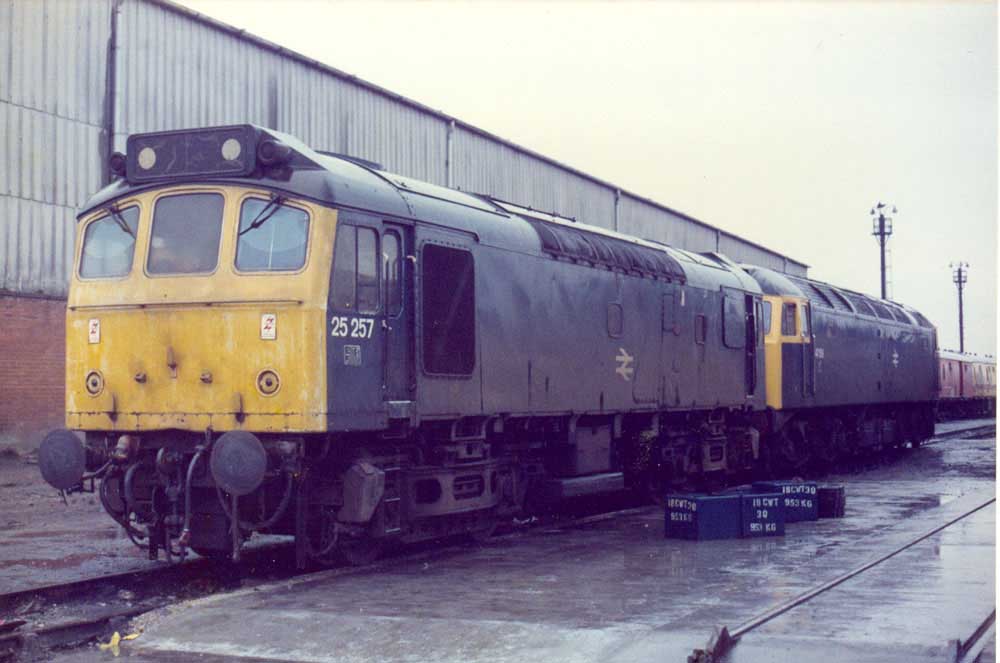 Photograph courtesy Steve Houlker
25257 & 47189 at Springs Branch depot on a very wet Saturday March 23rd 1985.
The failure of 47405 on April 20th at Carnforth whilst working the 21.50 Barrow - Crewe saw 25257 assist from Carnforth to Preston. The first week of May saw 25257 busy in the north west, on May 3rd it worked the 21.16 Preston - Barrow, the next day (4th) the 07.33 Barrow - Preston, the 10.45 Preston - Barrow and the 13.08 Barrow - Liverpool. 25257 was stabled at Warrington Arpley on May 14th.
25257 was stabled at Workington on July 7th. The last recorded passenger duties for 25257 feature workings north of the border. On July 16th the 10.45 Euston - Ayr was worked forward from Carlisle by 25257 & 25316. The next day (17th) the 21.10 Euston - Stranraer Harbour with 47425 was piloted by 25257 from Ayr. 25257 was stabled at Springs Branch on July 23rd. 25257 was noted at Arpley Yard on July 25th. 25257 was noted eastbound at Chester on July 31st with long wheelbase cargo wagons.
25257 was noted southbound passing Springs Branch with a Speedlink service on August 8th 1985. The relief 10.41 Exeter St. Davids - Edinburgh was worked forward from Carstairs by 25257 & 25283 on August 9th & 12th. 25257 was noted at Doncaster station with flat wagons on August 22nd.
25257 was stored unserviceable during October and finally withdrawn on December 3rd.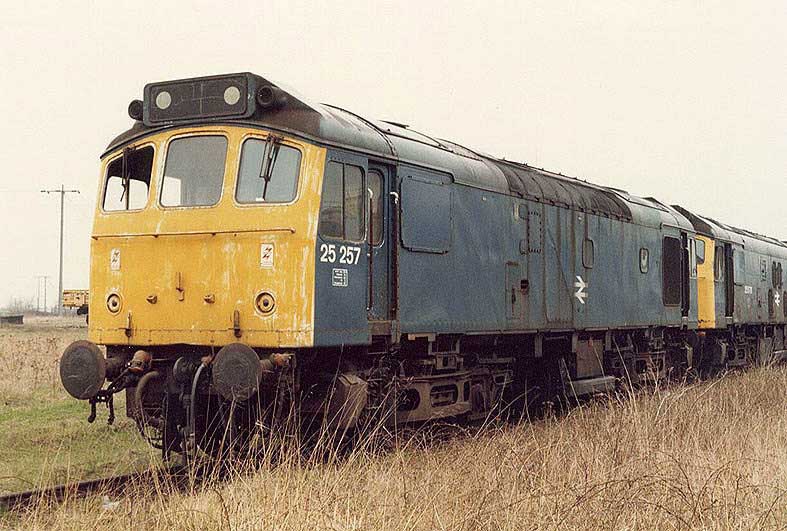 Photograph courtesy Paul Bettany
The end of the line for 25257 at Doncaster Works, April 27th 1986. Surprisingly it would not be cut up here, after further storage at Goole it would be forwarded to Vic Berry's, Leicester for scrapping.
Distinguishing Features
No.1 & No.2 cab fronts: general fading of yellow paint, particularly at the corners initially: April 1984 until withdrawn.
No.1 cab: 2nd man's side: unpainted window frame: August 1984 - January 1985.
59/4379
flk 0317 (1)
Not all known passenger workings are recorded on this page.
Page added April 16th 2005.
Last updated April 16th 2021.
Back to 25256
Forward to 25258