D7614, 7614, 25264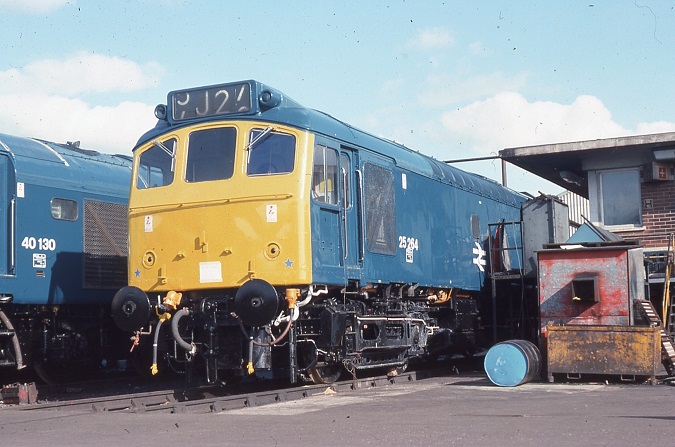 Photograph collection of webmaster
An ex-works 25264 awaits final attention at Crewe Works prior to its return to traffic, September 20th 1975.
The fourteen and a half year career of D7614/25264 commenced with just over two years on the Scottish Region, followed by almost twelve years allocated to London Midland Region depots.
Built: BR Derby Locomotive Works.
Tablet catcher recesses fitted (never removed).
Final exhaust roof panel: raised 'L' shape.
Time between last Classified repair and withdrawal: 37 months.
Time between withdrawal & scrapping: 30 months.
Allocations
D7614 was new to Eastfield (65A) on May 7th 1966. Further transfers were:
July 1968 to Manchester Division (D09) on loan, made permanent August 1968.
September 1968 to Birmingham Division (D02).
January 1972 to Nottingham Division (D16).
February 1973 to Birmingham Division (D02).
May 1973 to Bescot.
September 1973 to Toton.
September 1973 to Bescot.
May 1974 to Toton.
January 1976 to Crewe.
December 1976 to Toton.
Withdrawn December 14th 1980.
Renumbered March 22nd 1974.
25264 was the 82nd Class 25 withdrawn, one of seventeen retired during December 1980.
After withdrawal 25264 was moved to Swindon Works on March 27th 1981 and scrapped there during June 1983.
Works Visits
Works visits (records incomplete).
Noted Glasgow Works April & May 1968 for accident damage repairs.
Noted Derby Works January 1970.
Noted Crewe Works August & September 1975.
Noted Derby Works October & November 1977.
Highlights
1966
Although the Scottish Region had received a batch of brand new Class 24s for use on duties from Inverness depot, the Region had not, so far received any new Class 25s. However between April & September thirteen Class 25s were delivered from Derby Works to Eastfield (65A).
These were the only Class 25s delivered with a cabside recess to accommodate tablet catcher equipment. Although based at Eastfield these Type 2s spent much of their time in South West Scotland alongside the BRCW Type 2s quickly sending many Ayr & Hurlford's Crabs, Black Fives & BR Standards to the storage lines and additionally helped Dumfries lose its steam allocation effective April 30th. At the end of May Ayr placed seven steam locomotives into storage because of the Type 2s arrival. Additionally at this time, with the arrival of these Type 2s, the return of some re-engined NBL Type 2s to service and the tranfer of more Claytons to Haymarket, the Scottish Region were able to put the first of the Class 26s through Works for the fitting of slow speed control equipment & dual braking for use on MGR workings.
On the morning of August 19th D7614 was stabled at Eastfield.
On the early morning of August 20th D7614 was stabled at Dumfries.
1967
A Scottish Region Grand Tour ran on May 27th from Edinburgh behind D276 with nine coaches (327 tons), headed initially for Perth. Here a southwesterly course was taken in the direction of Stranraer. The Class 40 was exchanged at Ayr for D7612/14 which made the round trip to Stranraer, using D2434 to release the stock at Stranraer Harbor. D276 rejoined the train at Ayr to run via Mauchline and Dumfries to Carlisle, across the Pennines to Newcastle, returning to Edinburgh after a fast run over the coastal route.
1968
On August 10th the 09.35 Blackpool North - Glasgow Central and the 11.05 Glasgow Central - Blackpool North were worked between Preston & Carlisle by 7614 & 7542.
1971
On July 9th 7513 (two-tone green) & 7614 (blue livery) were noted light engines passing Saltley.
1972
The summer of 1972 produced at least three recorded workings of 7614 on the Derby - Norwich - Yarmouth - Norwich - Walsall diagram. The diagrams were worked by sisters 7614 & 7613 on July 8th and by 7614 & 5279 on July 15th and August 5th. For the July 15th trip the Derby - Yarmouth and return used the infamous LMR maroon set of coaches, believed to be comprised of eleven coaches. The following weekend (July 22nd) the maroon set was used for a Burton - Skegness roundtrip and again on July 29th with the Derby - Yarmouth again. On August 5th the set was used again on a roundtrip Leicester - Skegness. The LMR maroon set included 15268, 15384, 15444, 15635, 24018, 24581, 24661, 24752, 24902, 25072, 25120, 25273, 25281, 25666, 34070 & 34458.
1973
At about 9.30am on June 15th 7614 was noted passing Bushbury on a down freight. On June 30th the 08.00 Walsall - Yarmouth was worked to Norwich by 7614 & 7619. The next day (July 1st) the same pair worked a Leicester - Skegness roundtrip.
On the afternoon of July 4th and the morning of July 5th 7614 was stabled at York.
On July 25th 7630 & 7614 were northbound through Stafford with passenger stock, headcode 1L00.
1974
On the afternoon of September 16th 25264 was southbound light engine at Skelton (York).
On September 17th 25264 was stabled at York.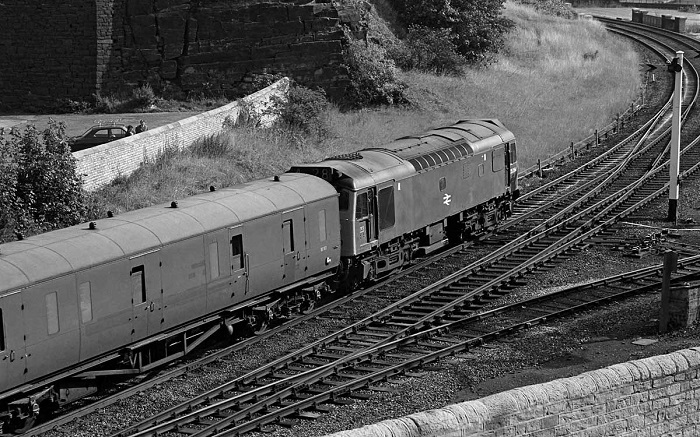 Photograph courtesy Bill Jamieson
25264 and parcels vehicle W161 at Bingley Junction, Shipley on September 21st 1974.
On December 8th 25264 was stabled at Saltley.
1975
At noon on January 3rd 25127 & 25264 were noted coupled together at Exeter stabling point.
On April 19th & 22nd 25264 was noted at Exeter stabling point.
1976
On June 3rd 1976 a Leamington – Aberystwyth excursion was powered by 25055 & 25264, on the return working the latter failed at Upton Magna, both being replaced by 47488 (at Wolverhampton).
On July 18th 25264 ws noted at Crewe with an overhead electrification wiring train.
On July 27th the 13.33 Taunton - Cardiff and the 17.45 Cardiff- Bristol Temple Meads were worked by 25264.
1977
At about 1pm on May 2nd 25264 & 25168 were noted light engines at Sutton Bridge Junction.
On July 2nd the Derby - Norwich - Yarmouth - Norwich - Walsall diagram was worked by 25264 & 25163. On July 30th the 12.20 Birmingham New Street - Newquay was worked to Plymouth by 25264 & 25210.
Trips to Skegness included a roundtrip from Derby on August 22nd with 25264 & 25266 and from Alfreton & Mansfield Parkway on August 29th also with 25264 & 25266. On September 4th a Wolverhampton - Aberystwyth day excursion was worked roundtrip by 25264 & 25272.
On September 1st 25264 was northbound at Rotherham with a loaded ballast train.
1978
The 09.19 Manchester Piccadilly - Yarmouth to Lincoln Central and the return 09.15 Yarmouth - Manchester Piccadilly from Lincoln Central were worked by 25264 & 25258 on June 17th. The next day (18th) the same pair worked a Derby - Skegness roundtrip.
On August 11th 25264 & 25280 were stabled at York.
Visitors to Kings Lynn off the Whitemoor freight included 25264 on September 12th.
On Friday December 1st 25264 worked the 12.25 Willesden to Norwood and the return 14.00 Norwood to Willesden. On Tuesday December 5th 25264 worked the 12.25 Willesden to Norwood and (presumably) the 14.00 Norwood - Willesden.
1979
On February 9th 25264 was noted at Birmingham New Street with a night time Bristol - Leeds parcels.
20013 (leading) & 25264 worked the Cardiff - Gloucester vans on the evening of April 20th.
25264 was noted at Gloucester depot on the afternoon of May 13th.
On June 2nd the 04.15 Shrewsbury - Aberystwyth and the 10.09 Aberystwyth - Euston to Wolverhampton were worked by 25264 & 25151. The next day (3rd) the same pair worked the 08.45 Birmingham New Street - Barmouth and the 17.45 Barmouth - Euston to Wolverhampton.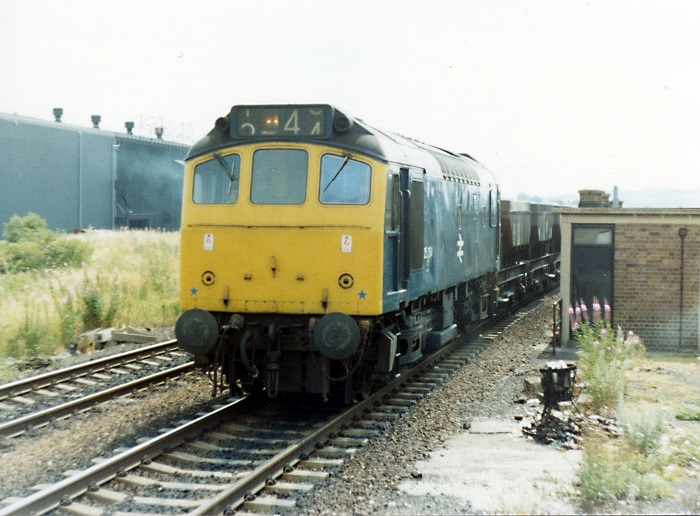 Photograph courtesy Steve Morris
25264 heads north through Chesterfield on July 27th 1979.
25264 was noted shunting parcels vehicles at Bell Lane, Leicester on August 1st.
The second week of July proved to be quite hectic for 25264 & 25267 working roundtrip Leicester - Skegness turns on July 8th, 9th, 10th, 11th & 12th. After a day of rest 25264 & 25267 worked the 09.34 Leicester - Paignton relief on July 14th.
On August 7th a Leicester - St. Pancras service was worked by 25264 & 25179 throughout?
The 07.34 Leicester - Paignton was worked by sisters 25264 (leading) & 25265 on September 1st. On the early afternoon of September 2nd 25264 & 25265 were stabled at Newton Abbot and were also noted at Exeter with a service for Derby, not sure how far they worked. The same pair were still together on September 3rd when they worked the 15.15 Plymouth - Manchester Piccadilly from Gloucester to Birmingham New Street.
On October 20th a Norwich - Birmingham New Street arrived at its destination behind 25264. On October 30th the 17.10 Sheffield - St Pancras with 45030 hauling a steam heat Eastern Region set failed at Kempston Road, 25264 assisted the train to St Pancras.
The Mondays Only 05.49 Toton - Eastleigh freight was worked by 25264 on November 15th.
1980
25264 was noted at Nuneaton on February 9th.
On the morning of March 9th a rail train south of Crewe had 25290 & 25264, one at each end.
On April 1st an evening Coventry – Aston Villa match was cancelled at the last minute, of three specials booked to run, only one set out, behind 25264, this was greeted by police at Coventry, returning immediately to Birmingham New Street without incident.
On April 4th 25264 was at Washwood Heath with a brakevan.
The 07.40 Euston - Aberystwyth from Wolverhampton and the 17.55 Aberystwyth - Wolverhampton were worked by 25264 & 25157 on May 24th.
On the afternoon of June 12th 25264 was stabled at York.
On June 24th 25264 was stabled at Nuneaton.
On a very wet August 6th 25264 was noted at Manchester Victoria with an eastbound van train.
On August 15th the 19.35 Newcastle - Bristol failed at Clay Mills behind 45010. 25264 was sent from Derby but could not release the train brakes. 47105 was also sent from Derby and eventually took the train forward after considerable delay following the removal of the Class 45 by 25264.
The middle of August saw 25264 & 25071 make four roundtrips to Skegness, from Leicester on August 18th, 19th, from Derby on 20th and and Burton on Trent on 21st.
On the late evening of September 27th 25264 was noted at Manchester Victoria with 16 vans (from Red Bank?).
On October 30th the 06.55 Gloucester – Birmingham behind 37180 stalled near the top of Lickey incline. The following Stoke Gifford – Redditch stone train with 25264 & 25327 & banked by 37208/231 were called up to assist in the rear. This stone train was only one of two scheduled double headed workings over Lickey. normally operated by Class 25s, the other working a Port Clarence – Bromsgrove oil train used pairs of Class 31s.
25264 retained its tablet catcher recesses until withdrawn.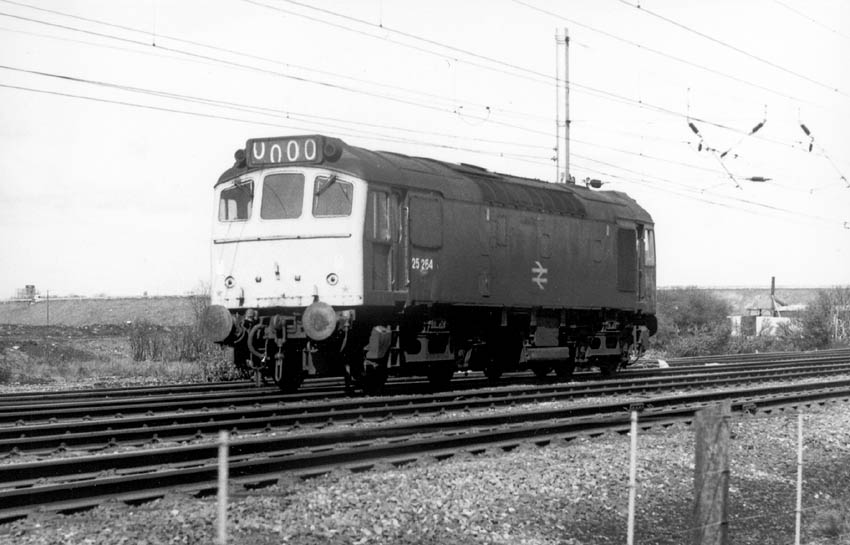 Photograph collection of webmaster
Not quite sure of this location, possibly near Springs Branch, as 25264 passes on the main line. The locomotive still carries the tablet catcher recess, with the number in the typical position for these machines.
25264 was withdrawn on December 14th 1980.
Distinguishing Features
No.2 cab front: center of cab just above valencing: dent with paint missing: (not present July 1976), July 1977.
68/6817
flk 0523
Not all known passenger workings are recorded on this page.
Page added October 5th 2012.
Last updated May 25th 2023.
Back to 25263
Forward to 25265